From the time International Medical Corps launched its first assistance program 35 years ago in Afghanistan, training has been the indispensable ingredient of our humanitarian mission. Our early successes in helping those in great need, no matter where they are or what the conditions, reaffirmed the conviction that, to achieve maximum impact, training must begin early in any program. This is a strategy that has helped us strengthen communities in more than 80 countries over the years.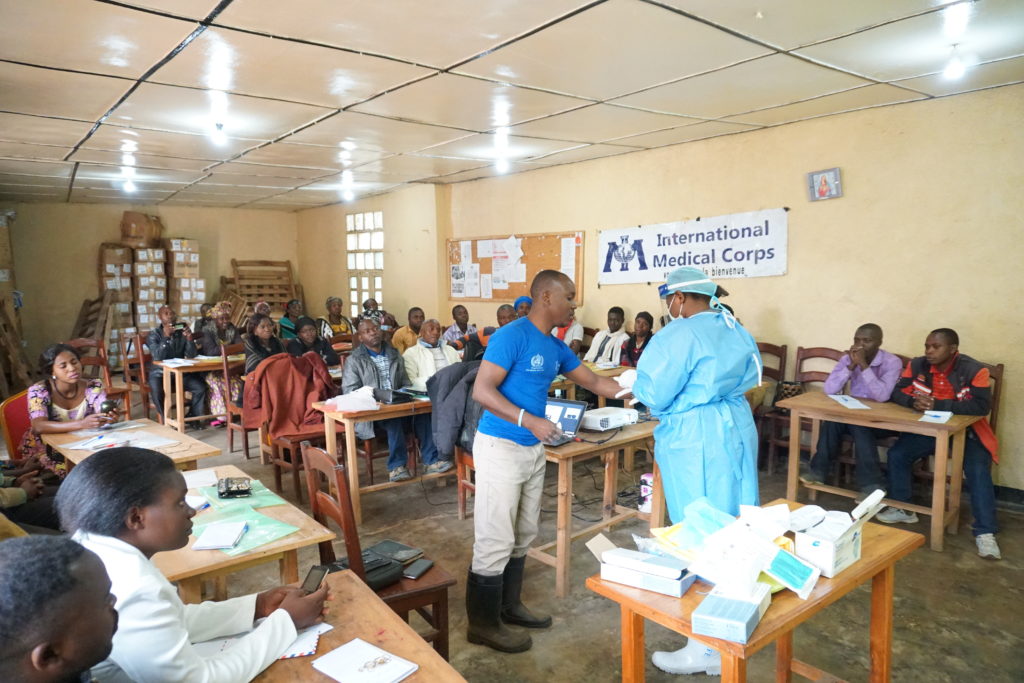 Today, in the Democratic Republic of the Congo (DRC), our commitment to training is being tested as rarely before, as we battle to contain the world's second largest outbreak ever of the deadly Ebola virus.
In the country's politically volatile eastern regions, which include North and South Kivu and Ituri provinces, our teams carry out their work in areas where scores of heavily-armed anti-government militant groups operate. Suspicious local residents, convinced that humanitarian aid workers are somehow fueling the Ebola outbreak rather than fighting to stop it, are often reluctant to cooperate with outsiders. Then there are the dangers of the deadly virus itself.
The DRC's latest outbreak, first reported in August 2018, has claimed the lives of nearly two-thirds of those with confirmed cases, killing hundreds. In the outbreak's early months, the World Health Organization warned that those fighting the epidemic were facing "a perfect storm" that could quickly spin out of control, spreading both elsewhere in the DRC and to neighboring countries.
Because so little is known about the highly contagious virus, training health workers on how to identify and treat it while protecting themselves from infection is critical to containing the outbreak. It requires these workers to master complicated, sometimes cumbersome procedures that include the putting on and taking off full-body personal protective equipment (PPE) that can be unwieldy and uncomfortable.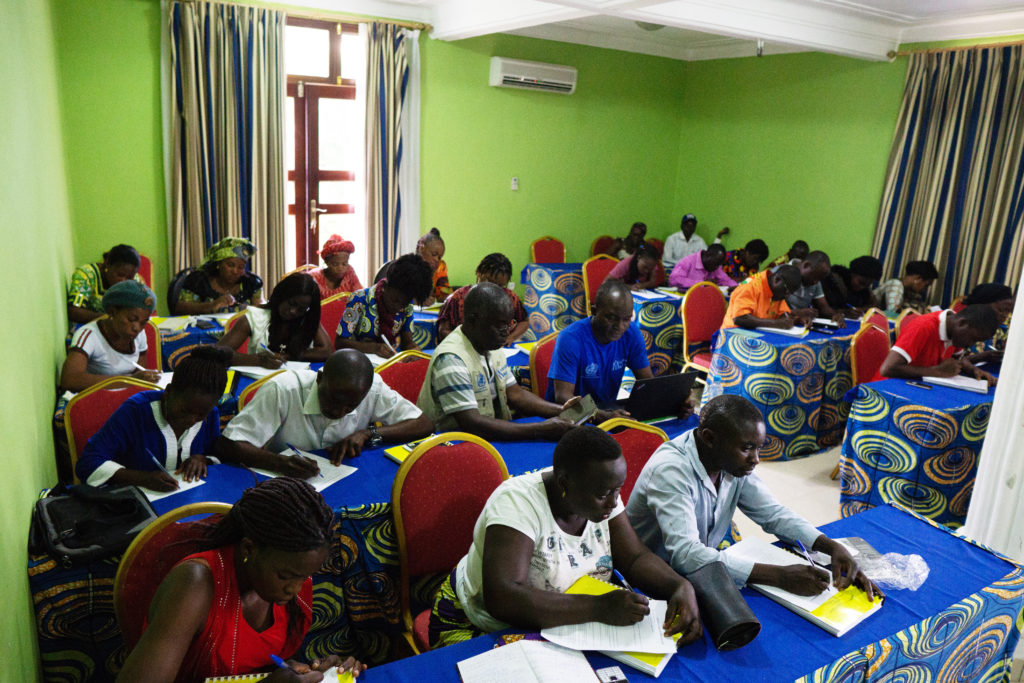 Despite the arduous demands and challenging conditions, our performance has been impressive. Between mid-August and late January, we have trained hundreds of health workers in Ebola infection prevention and control. Many of these training "graduates" work in the many screening and referral units (SRUs) that International Medical Corps has set up in existing clinics to isolate and screen everyone entering for signs of Ebola. Anyone exhibiting signs of the disease is referred immediately for testing. Though the majority of trainees are doctors, nurses and skilled paramedics, they also include cleaners, security guards and any other non-medical personnel who could come into contact with patients.
We have also trained staff employed at an Ebola Treatment Center (ETC) that we operate in Ituri Province to care for those who have contracted the virus.
Preventing the Spread of Disease
Working from a curriculum adapted from one that we helped develop during the 2014 West Africa outbreak, health center trainees receive three days of training: two days of classroom work followed by one day of practical simulation. Classroom studies include an overview of the Ebola response plan, review of commonly made mistakes and case studies identifying symptoms, how to deal with PPE, and how to pick up and transport suspected or confirmed Ebola patients safely. Identifying and isolating an Ebola patient early can interrupt a chain of transmission that could potentially prevent hundreds, if not thousands, of new cases.
"Identifying a case early is extremely important," explains Dr. Cimanuka Germain, the medical coordinator of the International Medical Corps Ebola response program in the DRC and one of five of the program's trainers. It's also important to break down resistance to the presence of health workers involved with the Ebola response, he says, and is proud that staff members have been able to use their newly-gained knowledge to engage leaders of communities.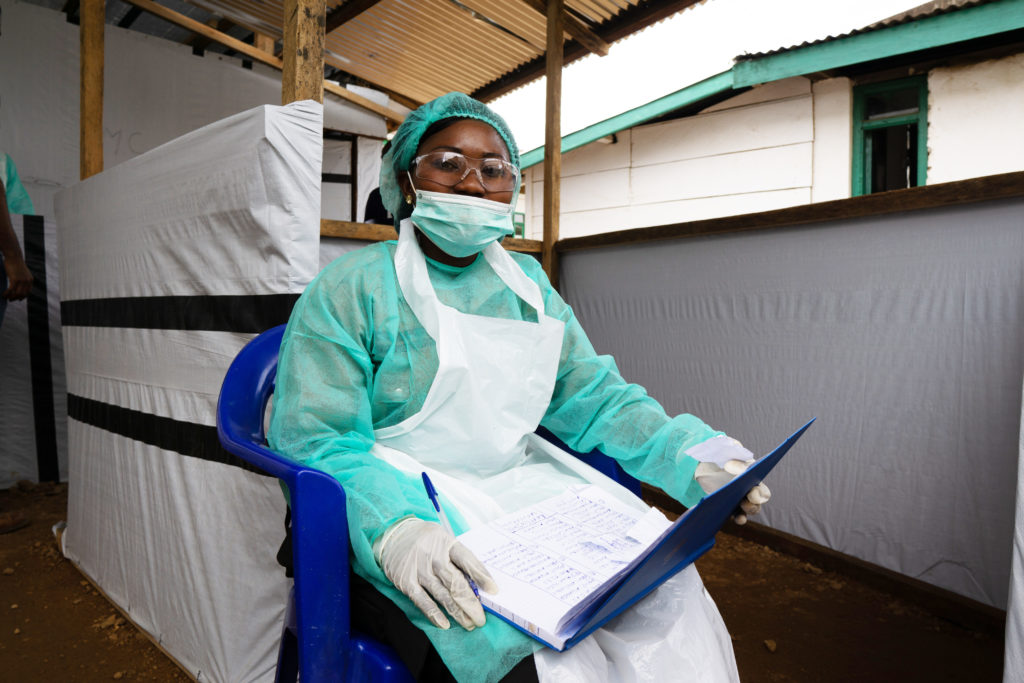 Of course, health workers can't help others if they get sick themselves. That's why the training has focused on providing them with the knowledge they need to protect themselves while caring for patients. It's key that healthcare providers have a healthy respect for just how dangerous Ebola can be.
"The training International Medical Corps has given us will help us avoid contamination at the center," notes Dr. Nzanzu Sivilondire Gracia, the chief physician at the Muhatikani Health Center in Luotu, a village 34 miles southwest of Beni. "It will help us protect ourselves and the entire community."
The center has admitted eight confirmed cases since August 30. Three have died and five survived, including children aged 9 and 3.
"Those who had initial doubts if Ebola was dangerous came to understand quickly just how real and how serious the Ebola Virus Disease is," she says. The training provided by International Medical Corps "was great timing for us."
A Dangerous Job
Successes in the fight against Ebola have come amid especially challenging conditions.
During the first nine months of 2018, an estimated 235 civilians were killed in armed violence in the city of Beni alone, while 165 were kidnapped—among them an International Medical Corps-supported doctor, who was released the following day. Some of our SRUs located in Beni and Butembo have also been attacked and looted. It is the first Ebola outbreak where health workers have had to wear steel helmets and bulletproof vests, and have had to have the protection of armed escorts when moving into insecure areas.
Then there are the dangers posed by the outbreak itself, heightened by Ebola's spread from its more-usual rural surroundings into thickly settled urban areas. In the eastern DRC, this has included the commercial centers of Beni, with a population of 400,000, and Butembo, where about 1 million people live. With a combined population of more than 17 million, North Kivu and Ituri are two of the DRC's most populous provinces.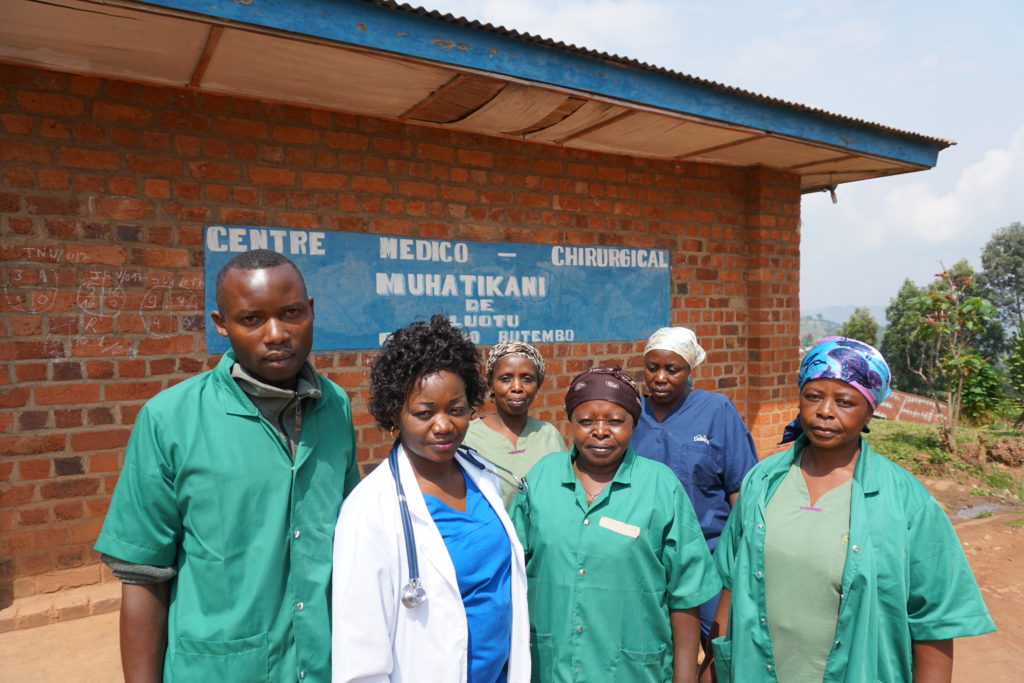 Despite these challenges, our training program has been interrupted only on two occasions: first, following an armed attack by militants in Beni in late September that left 17 dead and triggered large protests, and second, during the contentious presidential election in late December, when some health facilities were looted and attacked amid rioting.
"Our training has been one of the activities least disrupted by the unsettled conditions," Dr. Germain notes proudly.
As the fight to contain the world's latest Ebola outbreak has continued into the new year, International Medical Corps' health worker training program is acknowledged as an important component of the strategy to contain the disease.
Dr. Gracia notes, for example, that because of their training, staff members now strictly enforce the rule that no one is allowed to enter the health center without first going through triage at the adjacent screening-and-referral unit.
"Training enables us to enrich our knowledge," she explains. "The more educated we are, the deeper our understanding becomes."