Vaios Polichronidis usually starts his day at 5 am, hours before the first rays of sunlight emerge from behind the Turkish hills to the east across the Aegean Sea. He climbs into a nine-passenger van with his colleagues and heads towards the coast where he will spend the next eight hours or more receiving rafts crammed with refugees as they land on the shores of Lesvos.
Trained in search and rescue, Vaios said he simply could not sit by and watch as hundreds of thousands of people risked their lives to flee war and chaos at home in the hope of finding refuge and a better life in Europe for them and their families. So the professional architect took a leave of absence from the firm he co-owns with his brother-in-law and joined a 24-hour paramedic team run by Praksis, a Greek NGO that International Medical Corps is supporting to ensure first aid is available as soon as the flimsy rafts drop their exhausted human cargo onto the beaches.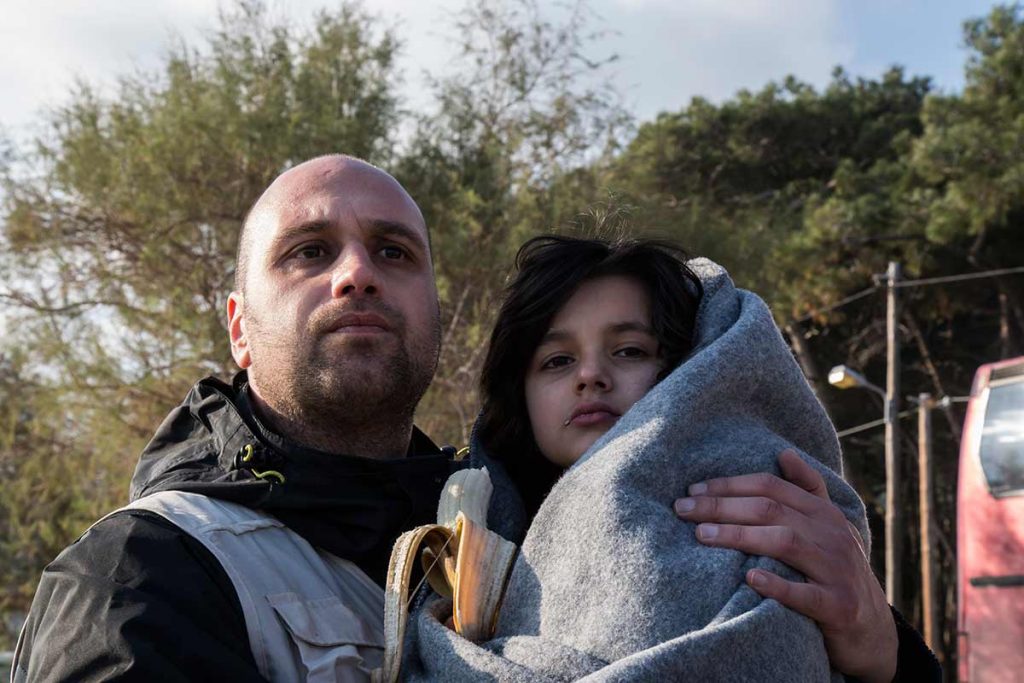 "What is happening in Lesvos right now is the next chapter of the world's history books," Vaios says. "People trained in sea rescue, first aid, and medicine are needed here more than ever."
Vaios was already a volunteer rescuer and head of the first aid department at the Hellenic Rescue Team and he said Praksis gave him the chance to use his knowledge and skills to help people in need.
"It took me less than three hours to talk with my family and job partners and decide to come," he added.
Most of those who attempt the perilous crossing do so either very early in the day or very late at night, making the morning and night shifts the busiest. While arrivals in Lesvos has slowed since their peak in October 2015, more than 46,000 men, women, and children climbed into rafts and headed for Europe so far this year, despite frigid waters and cold air temperatures. Lesvos has received 60 percent of them.
For Vaios, this means that on days when the sea is calm and the skies are clear, he will drive up and down the southern coast of Lesvos to meet raft after raft, each carrying about 50 people. His first priority is to see if someone needs medical attention. If there are no emergencies, he moves quickly to assure people are warm and dry, distributing clean clothes and blankets in a race to ward off hypothermia.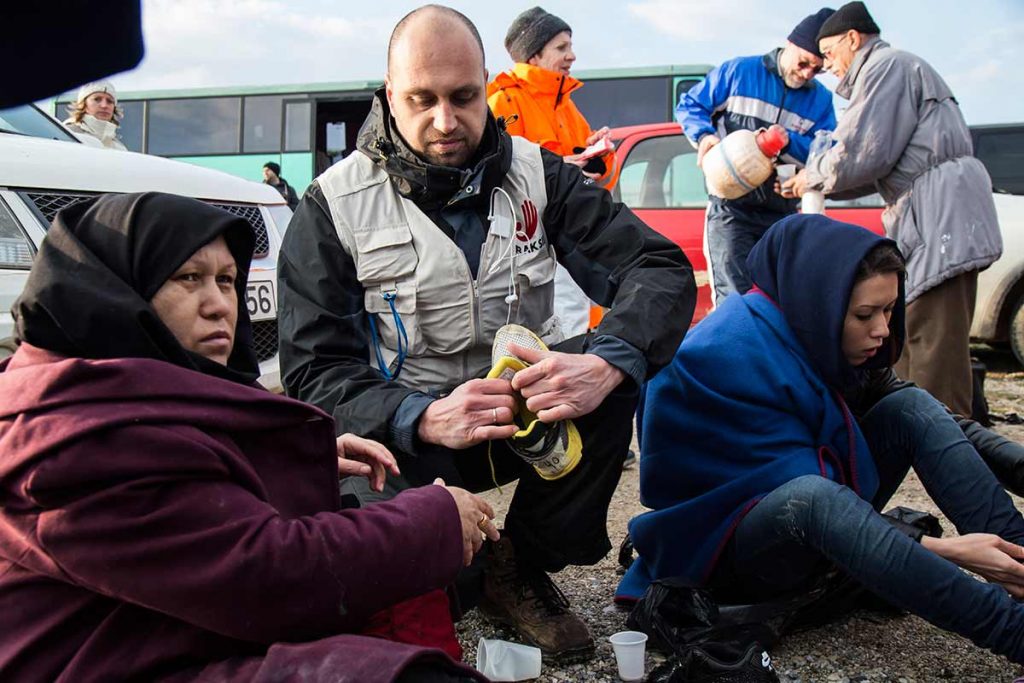 "As a father myself, I look after babies and kids first, especially those who are soaked," Vaios says. He also carries chocolate with him–a small gesture to lift the spirits of children who often arrive wet, cold, and bewildered after a three or four-hour trip.
It is not unusual for entire rafts of people to arrive soaked to the bone, with some already showing signs of hypothermia. For these cases, he responds quickly with winter and emergency blankets and small heat packs.
For Vaios, this is exactly why the paramedic team is so needed on Lesvos. "On the shore, medics and ambulances are not always available, especially if the boat lands somewhere far away from organized camps, which is very often," he explains. "Our duty is to ensure—or at least try our best—that all of them get a chance to live."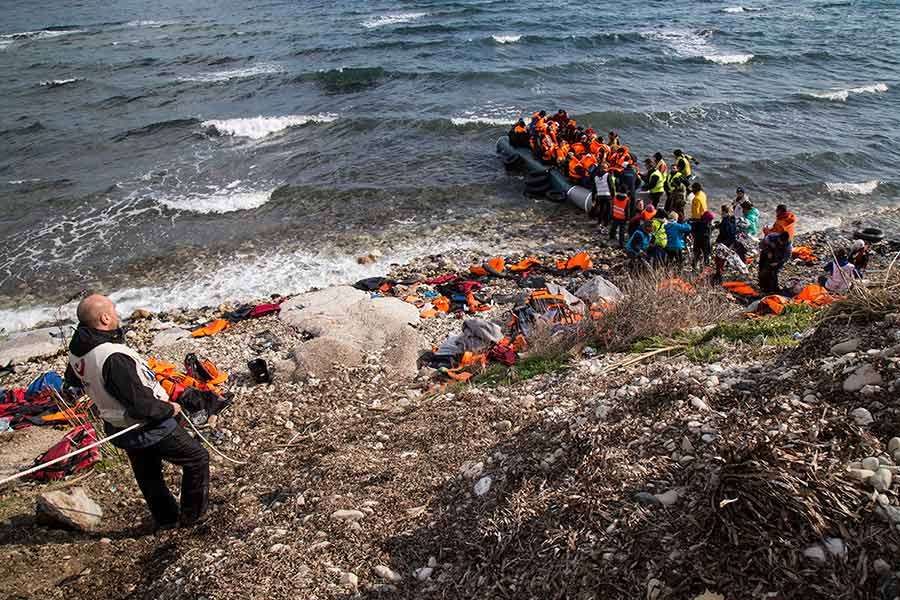 The greatest challenge of his job: juggling the many immediate needs in languages he neither speaks nor understands. While the team has translators for Arabic, Farsi, and Urdu, people get pulled in all directions once a raft comes ashore and Vaios often has to rely on non-verbal cues to communicate and deliver assistance quickly.
"There are women who almost never look straight at you," he says. "But those who do, they do it with gratitude and a faint grin. There also men who, while entirely wet, grab and kiss your hand for a pair of socks you just gave them. And the more you pull your hand away, embarrassed, the tighter they keep it."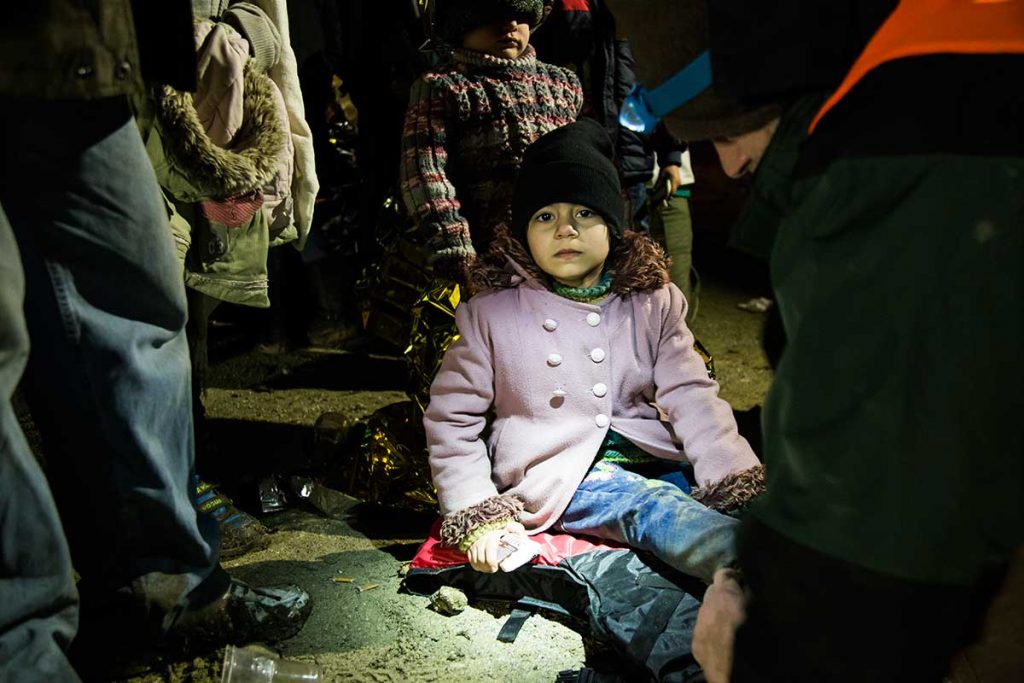 When reflecting on his time so far as a first responder, it is the children who stick with Vaios the most: "Some try to avoid you, crying and asking for their mom. Others grab you frightened by the neck, looking for your hand to hold tight while you try to keep your eyes dry so they don't see you breaking down. And there are two or three children among hundreds who come and do nothing. They don't cry or avoid you or hold your hand. They follow you silently, obeying your signs. They sit without complaining, soaking wet, shivering, with a calm look in their eyes. It is a look that throws the guilt of the entire world on your shoulders."