When Cyclone Idai cut its swath of destruction across Mozambique, Zimbabwe and Malawi on March 14 and 15, International Medical Corps responded to support survivors in areas where the storm's torrential rains, high winds and flooding had claimed more than 1,000 lives and affected nearly 3 million people.
In Mozambique and Zimbabwe, the damage has been especially severe, with countless thousands in urgent need of food, shelter, medical treatment and psychosocial support to help deal with the trauma of lives turned upside down.
Another priority critical to saving lives in such emergencies is safe water, along with two water-based services not always viewed with the same sense of importance and urgency by those unfamiliar with disaster response: functioning sanitation and basic hygiene. Both are essential for protection against disease that can spread easily and frighteningly fast amid the chaos of destruction. Frequently deployed as a package in emergencies because each relies on water, they are known collectively by the acronym WASH: water, sanitation and hygiene.
Zimbabwe had been battling outbreaks of cholera and typhoid even before the cyclone hit, while reports of cholera emerged from the hardest-hit areas of Mozambique during the days following the disaster. With years of expertise in the WASH sector, International Medical Corps was well-positioned to help meet the short- and medium-term needs of survivors living amid the cyclone's debris.
In Zimbabwe, for example, where the storm has affected the lives of more than a quarter of a million people, our WASH team is assessing major challenges as flooding continue to compromise access to safe water, basic sanitation and hygiene—heightening the risk of diarrheal disease in the hard-to-reach districts of Chipeinge and Chimanimani, where International Medical Corps has focused its initial efforts.
Our experience and knowledge in WASH has also played a vital role when confronting other types of public health emergencies—including the world's two largest Ebola outbreaks, both in Africa.
The largest outbreak struck mainly the West African nations of Liberia, Sierra Leone and Guinea in 2014 and 2015, claiming more than 11,000 lives. The second, more recent outbreak began in the summer of 2018 in the Democratic Republic of the Congo (DRC) and has claimed more than 800 lives in the months since. It shows little sign of abating anytime soon.
"Water is critical in Ebola treatment," notes Dr. Adam Levine, who served as the technical lead of International Medical Corps' 2014 response to the West African Ebola outbreak, and is following closely the current response in the DRC.
"There are many components to a successful Ebola response, but water is vital. Without it, you can't operate."
Dr. Levine estimates that each member of staff working in an Ebola treatment center requires about 85 liters of water per day to operate, while the per-patient need is nearly twice that. Others see those estimates as conservative, saying instead that the need to keep treatment facilities and surrounding buildings scrubbed clean and every piece of protective equipment washed and disinfected after each usage, while also keeping patients themselves clean and hydrated, means that the per-person volume can average far more.
In West Africa, International Medical Corps had to drill its own well adjacent to its first newly completed treatment unit before it could receive its first Ebola patients, while part of our work in the DRC involves drilling borehole wells. Operating treatment centers without guaranteed, uninterrupted supplies of water is unthinkable.
WASH also plays a major role in prolonged emergencies, such as the wrenching humanitarian tragedy in Yemen—driven largely by a war, now in its fifth year, that has left 80% of the country's population relying on outside assistance for survival. In 2017, conditions related to the conflict contributed to the worst outbreak of cholera in recent history, with more than 1 million suspected cases registered before it was contained. In early 2019, cholera spiked again, with more than 100,000 suspected cases reported during the first three months of the year. One-third of those cases involved children under five. By mid-April, the total number of reported cases had nearly doubled to about 200,000.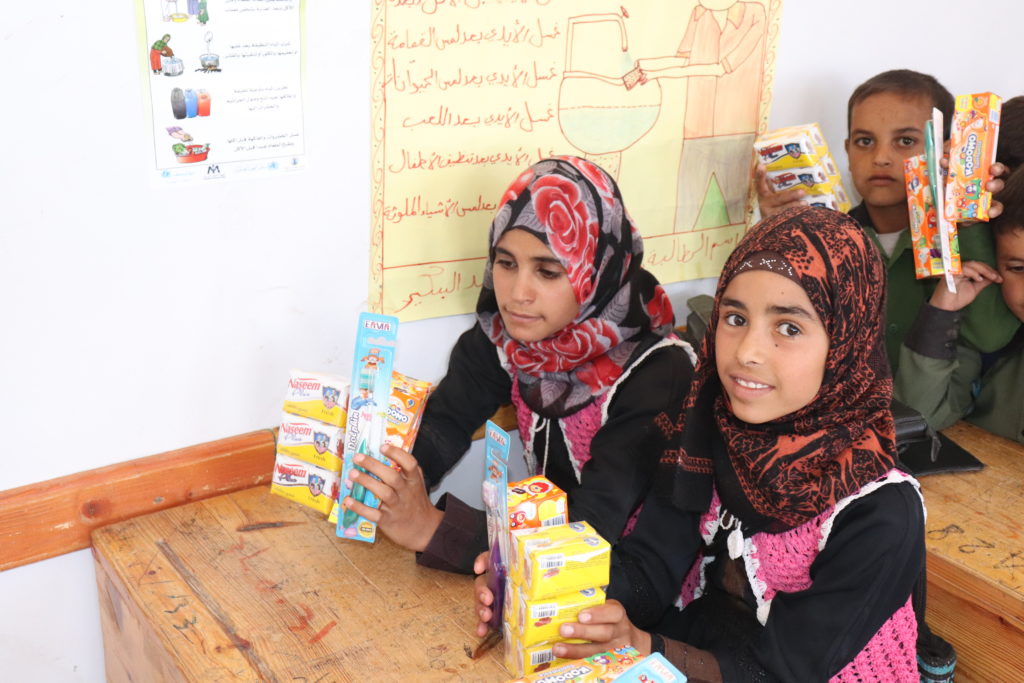 Such numbers have spurred efforts to further strengthen our WASH programs in Yemen, which include such essentials as reliable water points, functioning latrines and the delivery of safe water to community facilities, including hospitals and schools. Such measures are among the most effective frontline tools in the fight to control the spread of waterborne disease, including cholera and diphtheria.
To further fight cholera in Yemen, International Medical Corps has:
· trained more than 500 community health volunteers and health facility staff on cholera preparedness and response;
· assured that oral rehydration points are functioning at any health facility that provides oral rehydration and IV fluids, helping to stabilize patients before referring them to diarrhea-treatment centers; and
· promoted the importance of hygiene awareness among community residents, as a disease prevention tool
As International Medical Corps Global WASH Advisor Syed Yasir Ahmad explains, "the role of WASH remains vital during the initial period of an emergency response. It meets the basic needs of people in need and helps avoid the spread of disease."