What emotions does a war evoke? Fear? Hopelessness? Grief? Anger?
Over the past 10 months, the Ukrainians have felt all these, and more. They have lost their land, livelihoods and loved ones in the invasion, yet continue to show courage and commitment in the face of Russian aggression.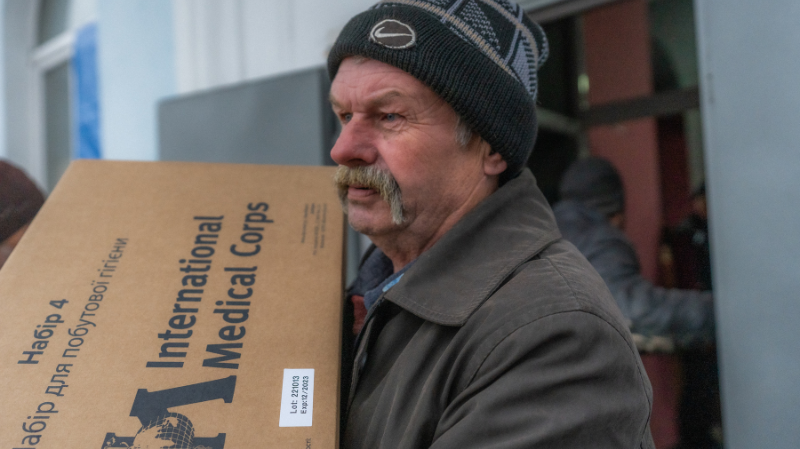 But resilience and bravery are not enough—especially when one's country is battered daily with bombs, drones, missiles and rockets, destroying critical infrastructure and millions of dreams.
International Medical Corps began offering medical and mental health care services in the conflict-ridden Donbas region of Ukraine in 2014. Following the Russian invasion in February of this year, we expanded our services throughout the country to meet the growing humanitarian needs on the ground.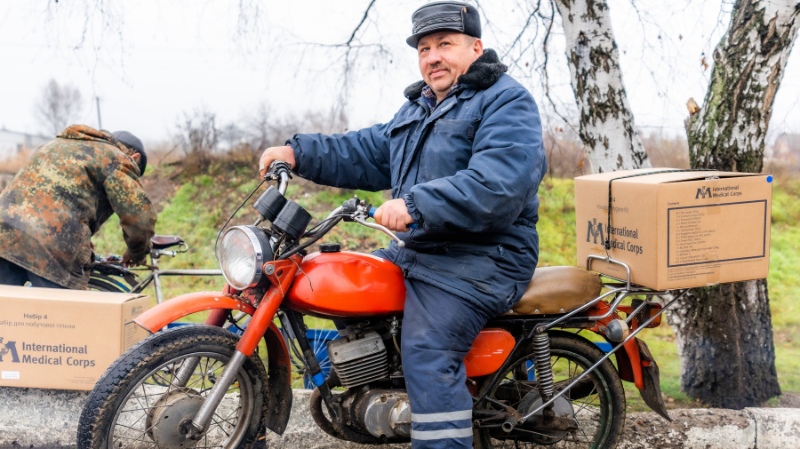 As part of our emergency response strategy, we distribute hygiene kits containing essential supplies to vulnerable groups, including the elderly, people with disabilities, widows and internally displaced persons, including people whose houses have been damaged or destroyed. Because needs evolve rapidly in conflict zones, our response is tailored to meet the needs of each region—including villages that have just become safe to access.
In November, we distributed hygiene kits in newly liberated areas of Kharkiv oblast, located in the northeast, just 30 km from the Ukraine-Russia border. Each kit comprises water, sanitation and hygiene (WASH) products, as well as non-food items (NFIs) for day-to-day use, such as soap bars, towels, sanitary pads, facemasks, gloves, hand sanitisers, buckets and garbage bags. These supplies help ensure that people affected by the ongoing fighting can meet their basic hygiene needs—which in turn helps them reduce the spread of infectious disease.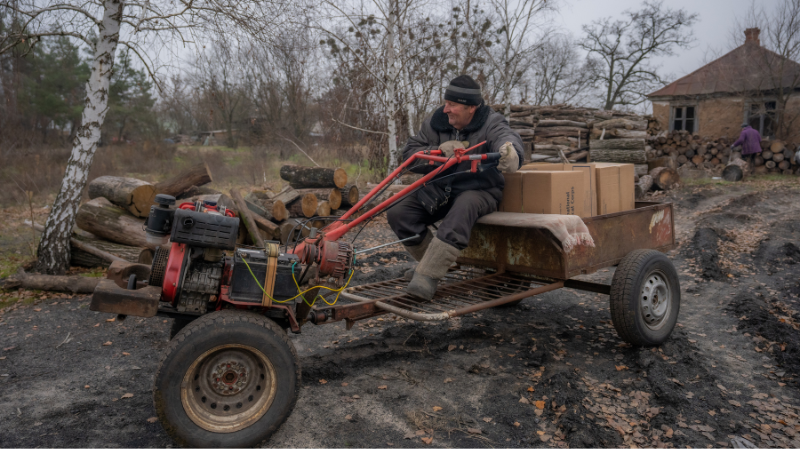 Our teams provided hygiene kits to almost 1,500 families in different cities and villages in Kharkiv, including Dovgenke, Kapitolivka, Komarivka, Kupyansk, Oskil, Snizhkivka and Virnopillya. So far, we have distributed more than 650,000 WASH and NFI kits in Ukraine.
The images show our staff registering people and delivering supplies, and show just a few of the different ways that people transported the hygiene kits back to their homes.
To find out more about our response, visit our Ukraine hub page.