Last week, I traveled first by airplane, then by helicopter and finally via canoe to reach some of the most remote communities on earth: the inhabitants of tiny islands scattered across South Sudan's vast swampland known as the Sudd. Many fled to the islands seeking safety from the country's violent civil war. Now in its fourth year, the war has brought the world's youngest nation to its knees, with 100,000 people facing famine and five million on the brink of starvation.
The islands I visited are in Unity State, the epicenter of the famine and a flashpoint in the war. My colleagues and I went to speak to communities and better understand their needs so that we can bring health and nutrition services to them in our efforts to fight famine and improve health.
Due to weight limits on United Nations flights, I prioritized the essentials: bedsheet, towel, sunscreen, hat, lightweight clothing, water bottle, and communications equipment, including a satellite phone and BGAN.
South Sudan has only 200km of paved road in the entire country. United Nations flights are the primary method of humanitarian transport. Our flight had an unexpected delay in Leer town, the Leer county seat in Unity State. In this photo, the helicopter pilot cleans grass out of the engine to prevent overheating on our 20 minute hop from Leer to Nyal, a town in Panyijiar County, Unity State.
Welcome to the Sudd, one of the world's largest wetlands. Our destination, Nyal, is on a peninsula of land stretching into the Sudd. Canoe is the optimal form of transport throughout the vast network of channels and lagoons that make up the area. Livestock and rain dependent family farms are the primary forms of livelihoods for the rural population.
Our assessment begins from the air as we fly over Nyal. Notice United Nations tarpaulin sheets and thatch for roofing on single story dwellings. The absence of tin sheets, cement, or multistory buildings is our first indication of the level of scarcity in Nyal. We can expect communities outside of Nyal and those on the islands to have even fewer resources as they are further removed from economic centers, education and health services.
This is me flanked by Ponyo, our nutrition manager. This area has seen brutal fighting since the war started in December 2013 and presently, due to its relative safety, receives people fleeing the active fighting and famine conditions in Leer and Meyandit counties. International Medical Corps runs mobile medical units and provides nutrition services in Nyal.
We set up nutrition activities near the mobile medical units so people can access primary health care and nutrition services in one complete package. Here, Ponyo works with one of our nutrition promoters on the metrics used — like mid upper arm circumference — to understand if a child is healthy or suffering from acute malnutrition.
International Medical Corps' nutrition team saw a child with severe acute malnutrition. In addition to her mid-upper arm circumference in the red (severe acute malnutrition), she showed a number of signs of chronic malnutrition, like her reddish hair and skin discolorations on her feet and ankles. She also presented with a medical complication — a respiratory infection — which meant she had to be referred to a stabilization center nearby to provide her with 24-hour care for both her illness and severe acute malnutrition.
We took to the canoes to assess the island populations. I traveled with our security manager, Atiq (middle), Ponyo (not pictured), and other International Medical Corps famine response team members as well as Stephen, a representative of the County Health Department (back), who introduced us to the communities.
One of the three islands we visited was Nyop 1. The needs there — and on all the islands we saw — are enormous. They explained that they drink water from the swamp. People have very little and there is no access to health care. They have little food, no shoes and whatever clothes they have are tattered and worn. The tarpaulin sheets on the roofs of these villages tell us these families displaced to the islands due to the conflict.
I saw some shelters using latrine slabs for doors. These houses — on Nyop 2 — likely belong to families who have lived on the islands for a long time, rather than those who fled to the islands seeking safety from the fighting.
Hunger and malnutrition are widespread. People are surviving off of dried water lily bulbs; here, they are spread in the midday sun to dry.
People eat whatever fish they can catch in the swamp. In this photo, a family dries fish to preserve the catch; they can eat these later or sell them. Apart from fish and water lilies, we did not see other food across the three islands.
We saw a lot of children with distended bellies and reddish hair, both signs of malnutrition. Their living conditions make parasites like worms an everyday reality, which further rob them of nutrients. One of our first priorities will be to provide de-worming medication in the island communities where we work.
The people we met on the islands were enthusiastic and insistent on attaining health services. Today, they have to travel two hours or more by canoe to reach the nearest health facility. This leaves them dangerously isolated and unable to access care for common illnesses as well as dangerous disease outbreaks, like cholera. There are cholera outbreaks in the Sudd and in nearly every county bordering the Nile River which cuts through the center of South Sudan.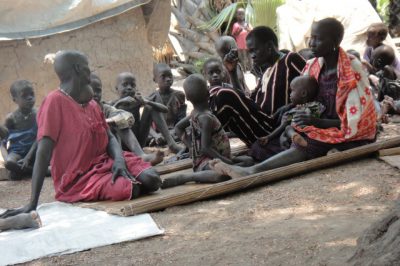 In addition to bringing medical care and nutrition services to the islands, we will train community health volunteers to detect and treat common killers like malaria and diarrhea in-line with Ministry of Health programs nationwide. The community health volunteer can educate families and make referrals as needed. This woman, Katarina, was elected by her community to be their community health volunteer. They said that though she can't read or write, she is sharp. I could see this immediately when I met her. I took this photo to make her volunteer ID; she begins training soon for her new role.