The women of International Medical Corps' mission in the Democratic Republic of the Congo (DRC) are working on all fronts to make sure that our activities there run as smoothly as possible. They don't spare any effort and are as active as they can be. They'll even go as far as carrying boxes of medicines on their heads when they need to, just to make sure people get the help they need. Let's meet some of these women, who are just a few of the dozens of female staff members fighting every day to make sure that poor people in the DRC benefit from quality healthcare and protection.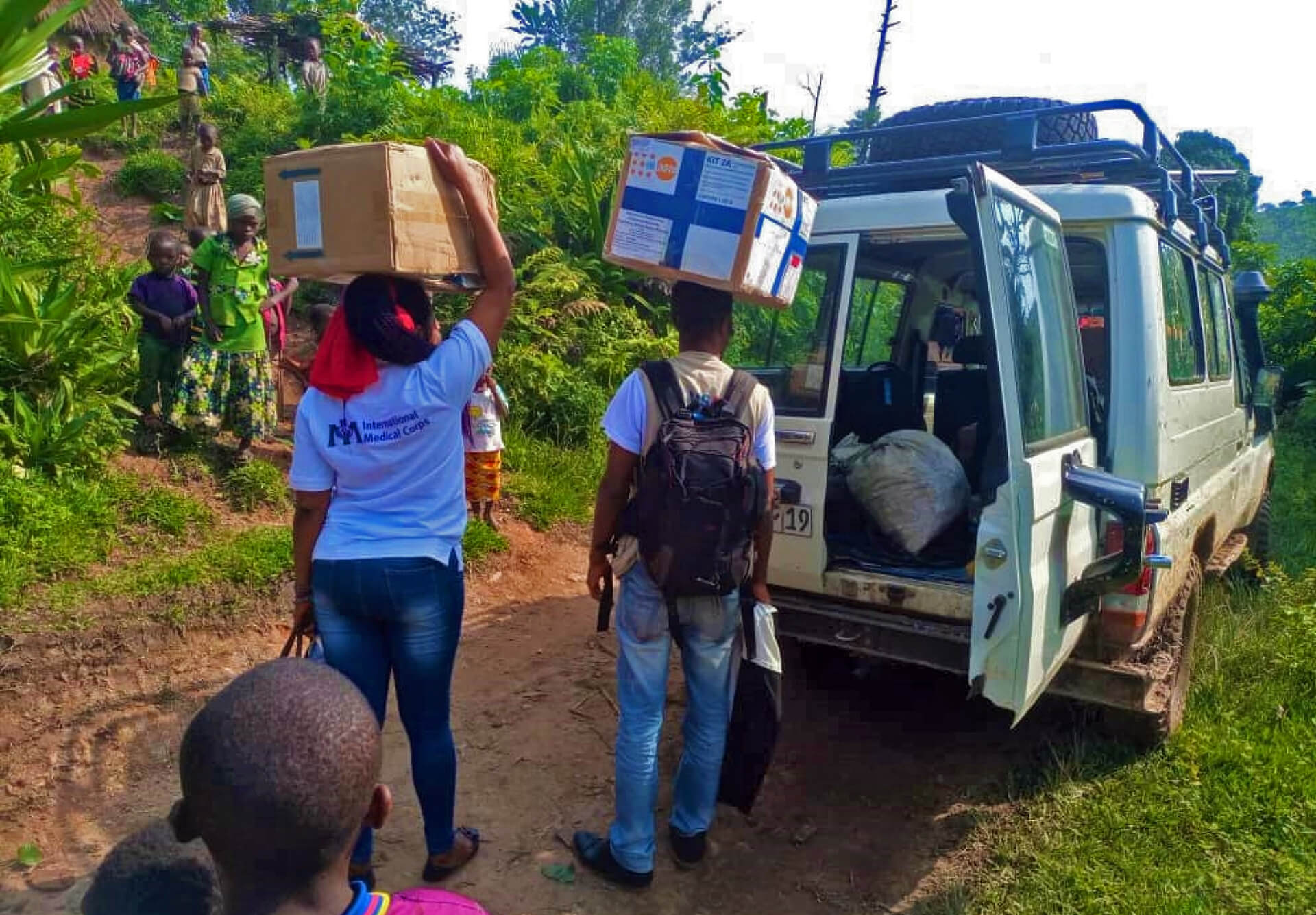 Dr. Lina Kashibura
Dr. Lina Kashibura was the manager of our Ebola treatment centers (ETCs) during the DRC's recent Ebola epidemics. When members of the surrounding communities threatened the ETCs out of ignorance, and fear gripped many healthcare workers in the ETCs, Dr. Lina was there to support her staff—even to the point of helping them put on their protective gear when they entered the "red zone" of the ETCs, where the risk of contracting the deadly virus was highest.
Whenever patients began to recover, Dr. Lina happily celebrated their recovery and took special care of those who were healing. When we asked whether she is afraid of working around such a contagious disease, she answers calmly, with a smile on her face. "The ETC is a really dangerous environment, and that's why we take all the precautions before entering," she says. "But we have to think first of saving those in danger. Just by thinking positively, it encourages us to surpass ourselves to take care of all those sick people who are suffering."
During each Ebola epidemic, the work of International Medical Corps and other partners saved hundreds of lives from this deadly disease. How has Dr. Lina been able to stay so strong? "I am the manager of the ETC, and even when things are not going well sometimes, I have to show optimism, so that everyone who is working is strong in everything they do," Dr. Lina says. "Above all, I must not show signs of tiredness, because the other doctors and nurses have their eyes on me, and I must lead by example. If we have even the slightest slackening, we will lose patients because we are in permanent emergency mode from the moment the patients enter the ETC until they leave."
After fighting Ebola, Dr. Lina went to work in the fight against COVID-19. She was assigned to the Central Prison of Goma, in the North Kivu province in eastern DRC. Because this prison is in a very insecure region, it is home to captured rebels, armed bandits and militiamen who have committed murder or rape. But Dr. Lina refused to be intimidated by the prison population. Always flexible and calm, Dr. Lina went into the prison without worry. "In prison, there are also sick people who need care," she explains. "It is our duty to support them." Through the intervention of International Medical Corps and other partners, not a single one of the prison's COVID-19 patients—who numbered 50 in all— was lost.
Dr. Angélique Masudi
Another woman who has made a difference in the DRC mission is Dr. Angélique Masudi. When working in mobile clinics—where we bring primary healthcare closer to patients who've been displaced by war—she almost seems to be in two places at once. Dr. Angélique is involved in the mobile clinics from the installation of the tents that will house the displaced patients to the loading of boxes when the mobile clinic is moved to another area.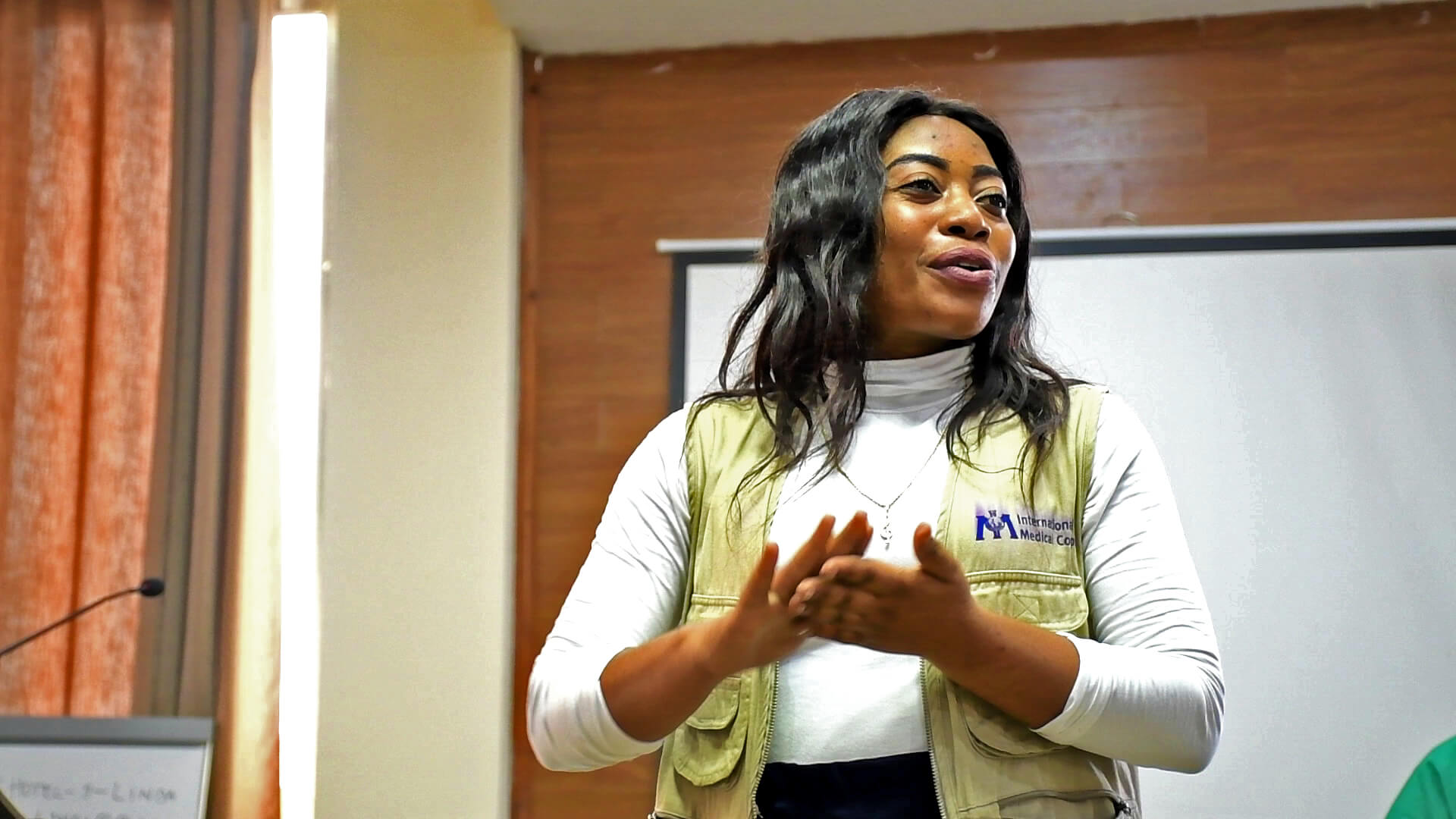 "The task is not always easy because there are so many displaced people. This pushes us to always work to save as many lives as possible," Dr. Angélique says. She has also served as one of our infection prevention and control trainers during the Ebola and COVID-19 epidemics. Dr. Angélique is committed to her work because she knows that when she does her job well, thousands of lives can be saved.
Rosine Ishara
Rosine Ishara is a pharmacist who travels from village to village in South Kivu province, often under the hot sun, to make sure that the pharmacists in the local hospitals and health structures have the necessary training in pharmaceutical stock management. According to Rosine, "We need to train the pharmacists at these hospitals and health centers to make sure that the medicines that International Medical Corps gives them are used effectively for the benefit of the thousands of displaced people for whom we are fighting."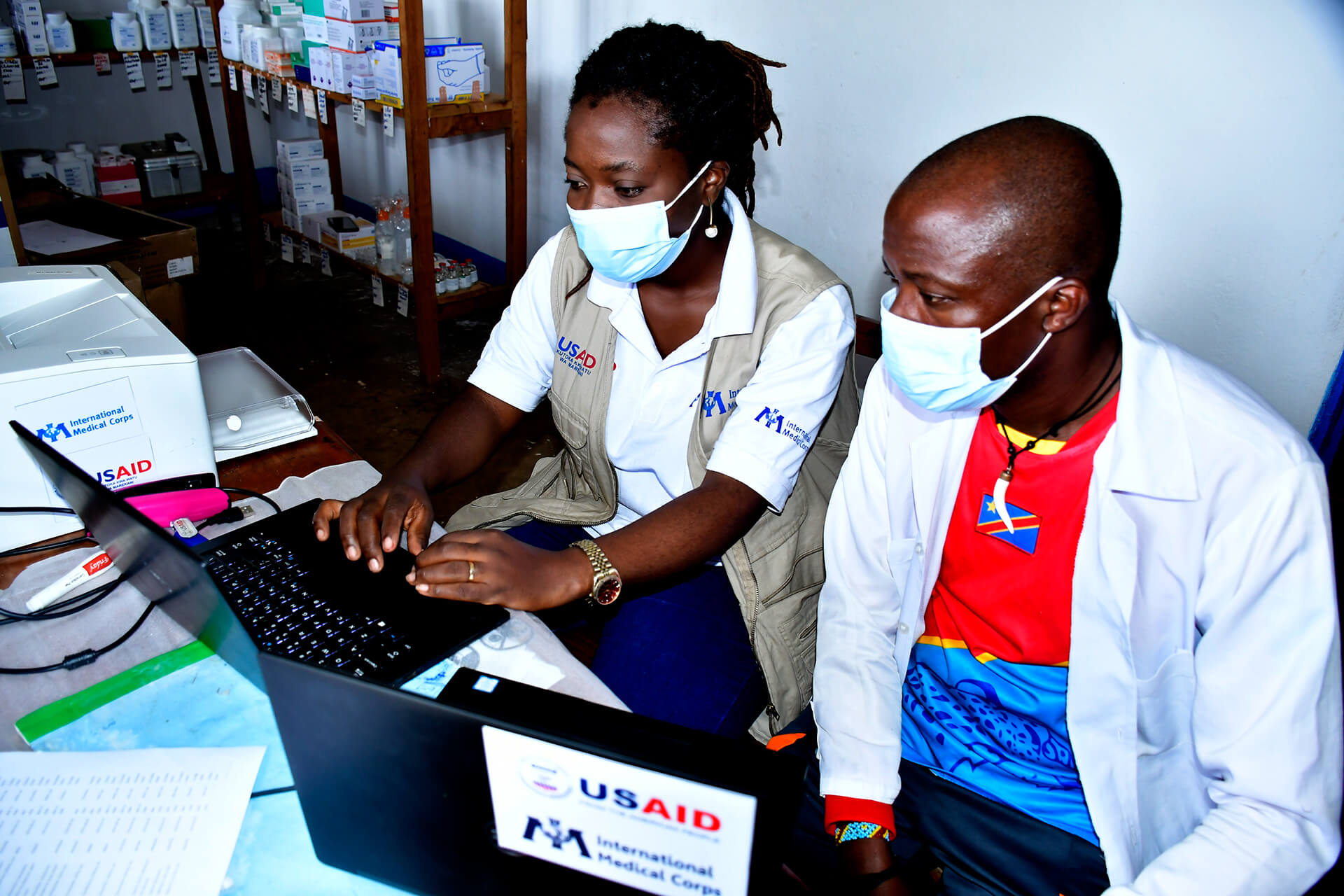 Yvonne Uwimana, Asha Kisitu and Nelly Ngongo
In May 2021, the Nyiragongo volcano in eastern DRC erupted, destroying thousands of homes in the northern outskirts of Goma. Thousands of people were displaced and confined to camps all around Goma. The government and NGOs like International Medical Corps responded to the resulting humanitarian crisis, with our protection interventions benefitting hundreds of women and children in Mujoga camp alone. Staff in our child-friendly spaces prepared meals, organized games and taught young children how to read and write. They also gave out more than 1,200 hygiene, dignity, household and maternity kits to girls and women.
Safeguarding Officer Asha Kisitu, Community Mobilizer Officer Nelly Ngongo and GBV Manager Yvonne Uwimana distinguished themselves in their protection work at Mujoga camp.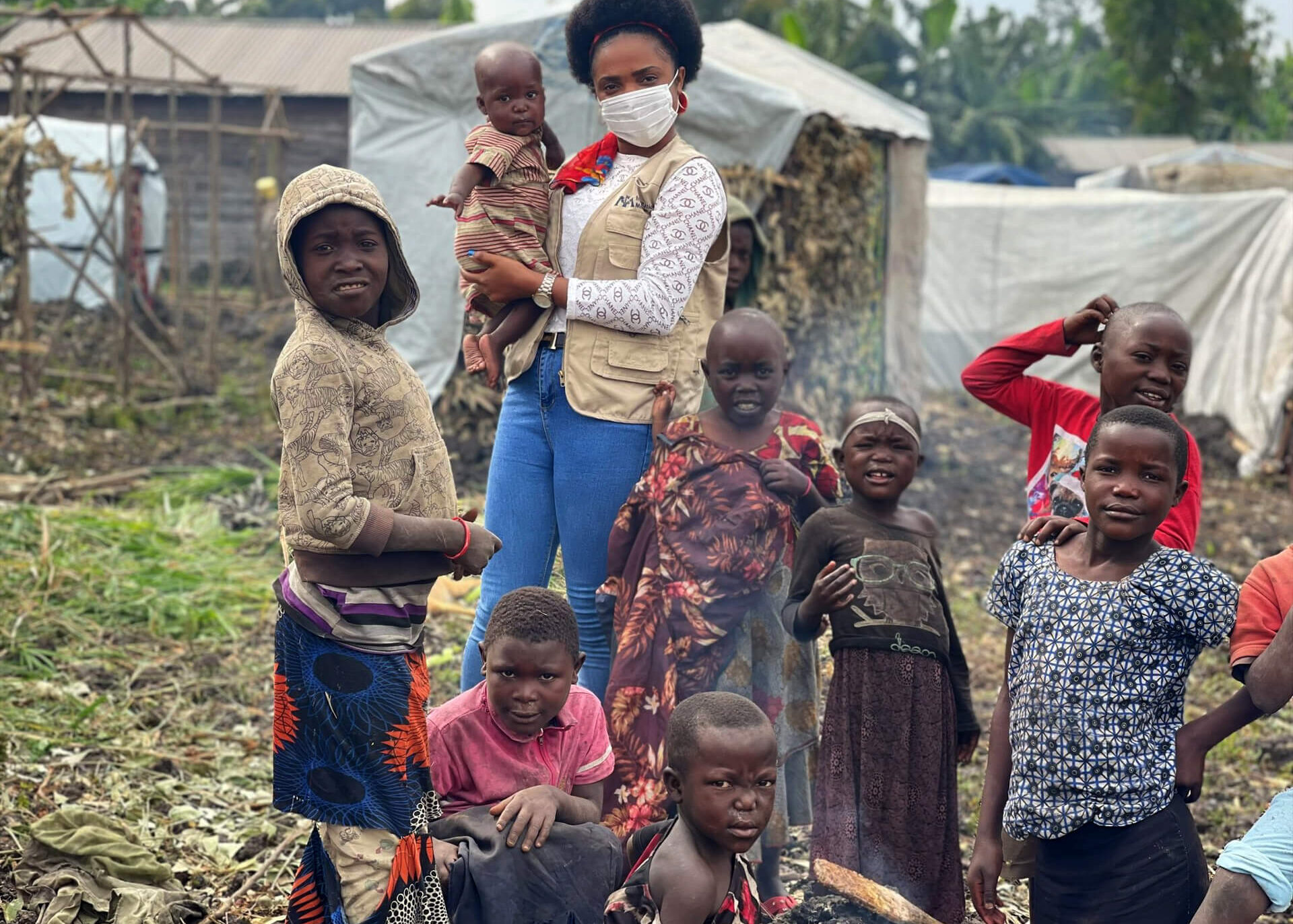 Though there were volunteers in the camps who took care of the children, Asha didn't mind lending a hand, helping to cook and distribute the cups of cornmeal porridge that were served each morning to the children in the camp. When Asha was asked why she didn't mind getting her hands dirty when she had a lot of paperwork to complete, she answered with her permanent smile, "Why keep your hands clean when there is work to do?"
While Asha helped the children and Yvonne paid special attention to the women in the camp, Nelly took care of the young teenagers. Even though they performed small jobs for their parents, some of these young people had a lot of free time. According to Nelly, "When these young people are idle, they can be in danger, and that is why International Medical Corps has provided various types of games for both boys and girls. And that's why we also accompany them, because that's part of doing protection work for these young teenagers."
International Medical Corps has worked in the DRC since 1999, providing more than 2 million people with healthcare, GBV services, nutrition support, food security programs, mental health and psychosocial support services, and water, sanitation and hygiene services. Over the past few years, we have responded to multiple outbreaks of disease, including Ebola, measles, polio and COVID-19. We couldn't accomplish any of this vital work without our staff—including these dedicated women.