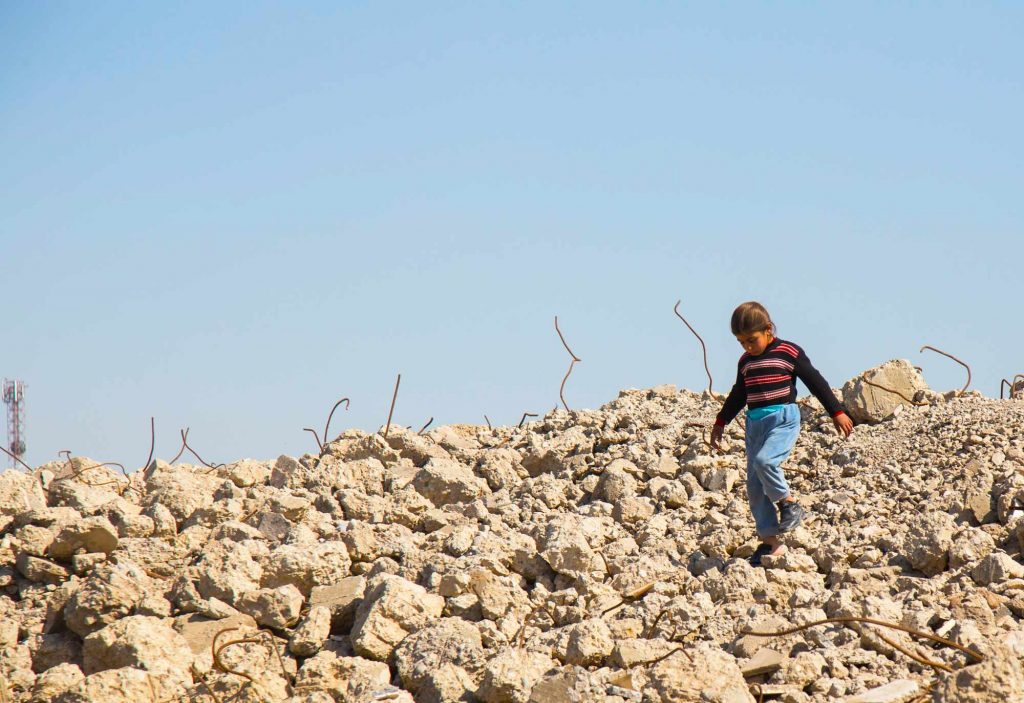 Why we recognize World Refugee Day
Every year, the international community honors refugees and internally displaced persons (IDPs) with World Refugee Day on June 20. What is a refugee? Who is a refugee? Why should we care? Here are the facts you need to know.

---
An unprecedented 68.5 million people around the world have been forced from their homes to escape war, persecution or natural disaster. Among them are nearly 25.4 million refugees, more than half of whom are under the age of 18.

It's estimated that more than 43,000 additional people each day are forced to flee their homes because they fear for their lives.

Many refugees and displaced persons leave not just their homes, but their countries in search of safety.

We reach the people most in need wherever they are and provide emergency relief, comprehensive healthcare and training to help them recover and rebuild.

The majority of refugees do not live in camps but in urban areas, in private accommodation. This is especially true for Syrian refugees.

Most refugees in rural areas live in camps. Some refugees live in these camps for years, waiting to return home or to be resettled in another country.
---
Our work with refugees and displaced people
International Medical Corps works with both refugee and host populations across a number of countries, providing medical relief, including emergency care, primary healthcare and psychological first aid. We also train local health workers so refugee and host communities have more capacity to be their own best First Responders.

Afghanistan
Afghanistan faces one of the world's worst internal displacement crises, with people forced to flee for their safety due to long-term conflict, insecurity and disasters.
International Medical Corps has worked in Afghanistan for more than 34 years.


Central African Republic
Since late 2013, more than 500,000 Central African Republic citizens have fled armed violence in their homeland for the relative safety of neighboring Chad, Democratic Republic of Congo and South Sudan. At the same time, fighting has displaced nearly 700,000 people within CAR – driving them into the woods, into nearby communities and camps. In the first half of 2018, clashes between armed groups and militia attacks against populations spread to new towns and communes.
International Medical Corps provides primary healthcare, nutrition support, and gender-based violence prevention and protection to refugees and displaced people in CAR.


Democratic Republic of the Congo
The DRC has the third largest population of displaced people. Violence among armed groups, communal enmity, land disputes and rampant sexual violence against women and children continue, especially in several areas of North Kivu, a province also dealing with the current escalating outbreak of Ebola.
In addition to working to fight the current outbreak of Ebola in the DRC, International Medical Corps supports 64 clinics and hospitals throughout northeastern DRC, providing primary healthcare; sexual violence prevention and treatment; and water, sanitation and hygiene support.


Ethiopia
Close to three million Ethiopians are displaced throughout the country as a result of internal conflict and drought and flooding cycles. The country also hosts a large and growing refugee population that has been forced to flee armed conflicts in neighboring countries, including Somalia and South Sudan.
International Medical Corps is providing primary health care, mental health care and psychosocial support, nutrition, safe drinking water and hygiene assistance.


Iraq
Years of armed conflict, sectarian violence and political instability have forced nearly 10 percent of Iraq's 37 million people from their homes—often more than once. After the outbreak of civil war in neighboring Syria, Iraq became host to hundreds of thousands of Syrian refugees.
Since 2014, our efforts have focused on meeting the needs of Syrian refugees and conflict-affected Iraqis in northern and central Iraq as we respond to ongoing violence and insecurity.


Lebanon
Lebanon hosts the largest number of refugees relative to their population. In Lebanon, one in six people is a refugee under the responsibility of UNHCR.
International Medical Corps supports mobile medical units and primary healthcare clinics and dispensaries; provides community healthcare; mental health and psychosocial support; and gender-based violence prevention and protection programs.


Pakistan
At the end of 2017, as many as 249,000 Pakistanis were estimated to be internally displaced. According to United Nations figures just under 1.4 million Afghan refugees were living in the country as of November 2018, though the repatriation process for Afghan refugees continues. Pakistan is plagued by both ongoing instability and recurrent natural disasters that uproot families from their homes and destroy livelihoods.
International Medical Corps has worked in Pakistan for more than 34 years. Our current programs focus on preventing gender-based violence across six districts.


Somalia
Some 2.6 million people are displaced within Somalia, while another 900,000 are living as refugees in the Horn of Africa and Yemen.
International Medical Corps provides emergency response to the effects of floods, drought and threat of famine; nutrition and secondary healthcare; gender-based violence prevention and protection services; water, sanitation and hygiene support; and routine and emergency healthcare to internally displaced people.


South Sudan
Key drivers for the displacement of nearly two million people within South Sudan are the escalating armed conflict, inter-communal violence, and recurrent natural hazards such as floods and droughts.
International Medical Corps currently operates in five of the country's 11 states, providing emergency health, nutrition, mental health and protection services.


Syria
As a result of the Syrian Civil War, more than 6 million people remain inside Syria, but displaced from their homes.
International Medical Corps has been helping those displaced in Damascus and other governorates of Syria since the start of the conflict. At the same time, we have been supporting tens of thousands of the millions of Syrians who have sought refuge in neighboring countries, including in Lebanon, Iraq, Jordan.


Ukraine
Following the start of conflict in eastern Ukraine and the annexation of Crimea in 2014, the Government of Ukraine reports some 1.5 million people are internally displaced.
International Medical Corps Ukraine supports increased access to quality child protection, gender-based violence prevention and response, and psychosocial support (PSS) services among conflict-affected communities.


Yemen
Yemen is in the grip of one of the worst humanitarian catastrophes in the world — 3 million people have been forced to flee their homes because of increased violence in the country – and more than 22 million vulnerable Yemenis are in immediate need of humanitarian assistance.
Despite the backdrop of violence, conditions in the surrounding region are so poor that more than 280,000 have sought refuge in Yemen – fleeing violence and persecution in Somalia.
In this challenging environment, International Medical Corps serves areas of Yemen with some of the most pressing humanitarian needs, even though widespread damage to existing infrastructure has restricted access to many areas.