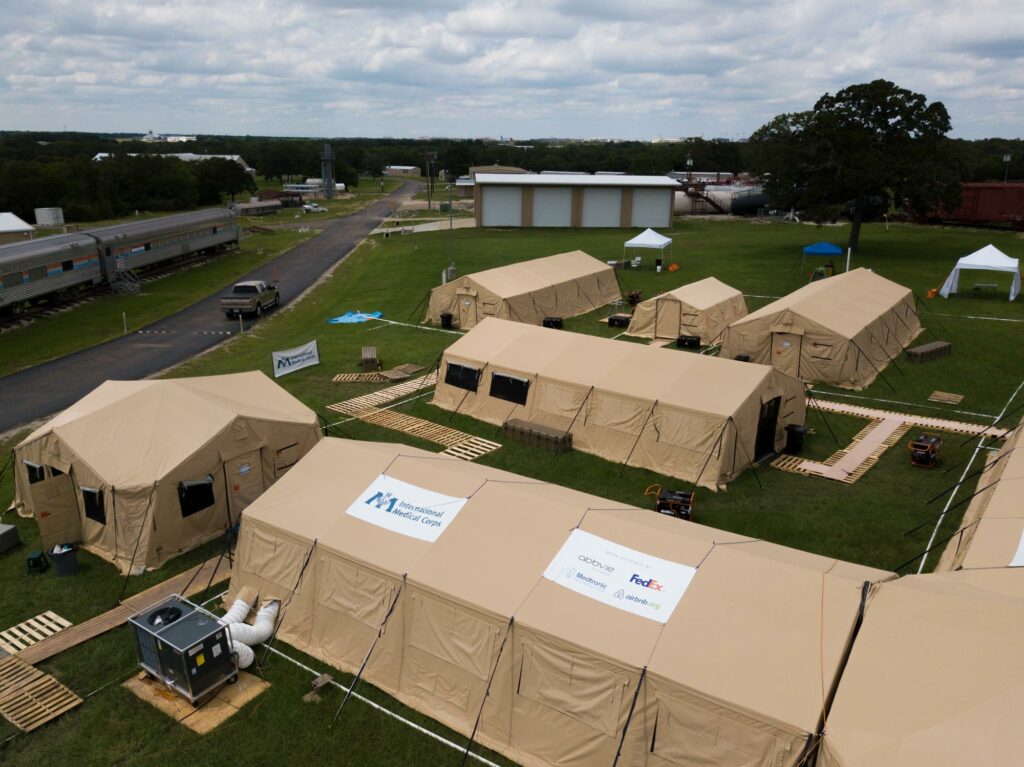 Emergency Preparedness
As a preeminent first responder, International Medical Corps has robust systems and materials in place to ensure that we can quickly respond to rapid-onset emergencies. Our Response Management System encompasses a flexible but standardized set of disaster management practices supporting a whole-of-agency response that enables us to be first there, no matter where.
A key component in our emergency preparedness is our ability to rapidly deploy an emergency medical team (EMT), as well as a fully supplied outpatient medical facility, anywhere in the world within 48 hours of a rapid-onset emergency.
In June 2021, when the World Health Organization (WHO) classified International Medical Corps as an EMT Type 1 provider, we became the only NGO in the world to offer both Fixed and Mobile EMT Type 1 capabilities (only the governments of New Zealand and Norway also offer both capabilities).
Through our Fixed EMT Type 1, we can treat a minimum of 100 patients per day. Our Mobile EMT Type 1 enables staff to treat a minimum of 50 patients per day and has the capacity to splinter into two self-sufficient mobile medical units (MMUs). Our EMT deploys with a team of 21 expatriate personnel, drawn from the organization's emergency roster of more than 200 trained professionals. Additional local staff can be hired onsite, depending on the context and scope of the emergency.
With decades of experience providing medical services and training in difficult and dangerous conditions, we have proven again and again that we can meet and exceed the rigorous standards for emergency response set by the WHO and community of practice. If you'd like to learn more about our EMT and our capabilities, please check out the virtual tour below, created during the WHO classification process in June 2021.
Do you like what you see and want to support our emergency responses around the world?
Find out more about our WHO classification, and hear from our clinical volunteers about the parts of the EMT and the services they provide there:
International Medical Corps is a member of an elite group of first responders. We are the only NGO in the world to offer both Fixed and Mobile EMT Type 1 capabilities, the first NGO in the US to offer Fixed EMT Type 1 capability, and the second NGO in the US to offer Mobile EMT Type 1 capability.
Our EMT deploys with a team of 21 expatriate personnel, made up of two management staff; 11 medical staff; two staff overseeing water, sanitation and hygiene needs; three logistics staff; and three support staff covering finance, human resources and security.
Our EMT can provide patients with a range of free services, including triage; basic first aid and life support; initial wound care and fracture management; minor outpatient surgical procedures; basic obstetric and pediatric care; mental health assessment and referral; pharmacy services.
Help Rush Emergency Relief to Those Who Need it Most