"I do not have enough words to express my gratitude, appreciation and affection to International Medical Corps," says Basheer Farhan. "You changed my life, and I am proud to work as a volunteer for International Medical Corps."
Basheer is a community health volunteer (CHV) in the Al Masnaah district of Ibb, Yemen. His story with us began in 2021, when our water, sanitation and hygiene (WASH) team began an assessment to recruit new CHVs from local camps for internally displaced persons (IDPs).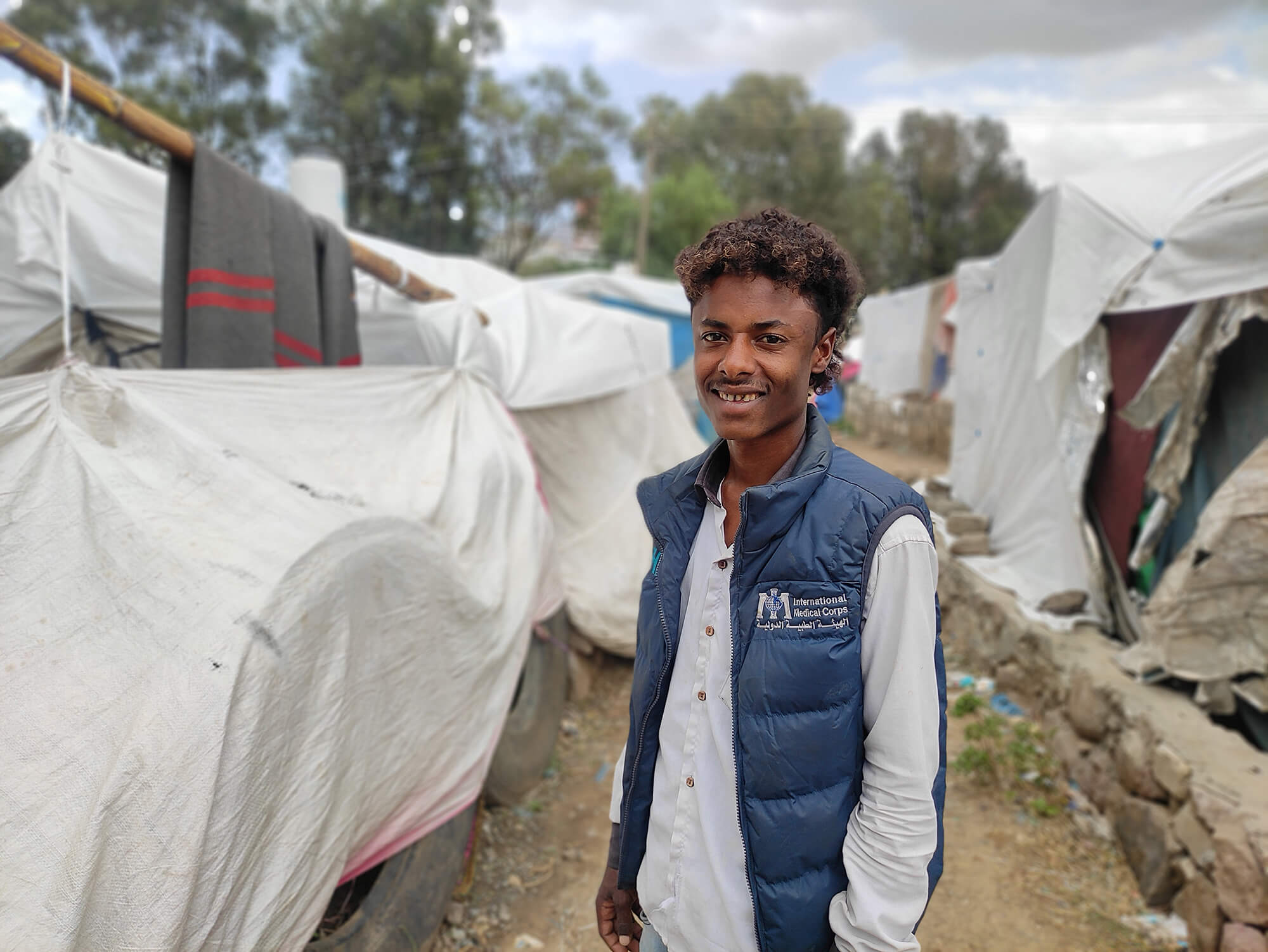 During the assessment, the team met 20-year-old Basheer and listened to his story. He and his family had been safe, comfortable and happy until the war started in Yemen eight years ago and their hometown of Taiz became a hotspot. The war nearly destroyed their lives, and they lost everything. The family decided to leave for Ibb, a city located 60 km to the north. They travelled by bus, and when they arrived, they began to search for a new home. Due to the high cost of rent, they had no choice but to stay in a tent in Authority Road IDP camp. Basheer, the oldest son in the family, had not finished his education due to the war and instead was working to help his family make enough money to survive.
The WASH team selected Basheer to be one of 50 CHVs for the Almashannah and Al Dihar districts of Ibb. The team provided three days of training for the CHVs, covering topics including cholera prevention; handwashing; the management of waste and safe disposal of excrement; personal, domestic, food, environmental and menstrual hygiene; water treatment; water-chain management; and general measures for preventing the spread of communicable disease.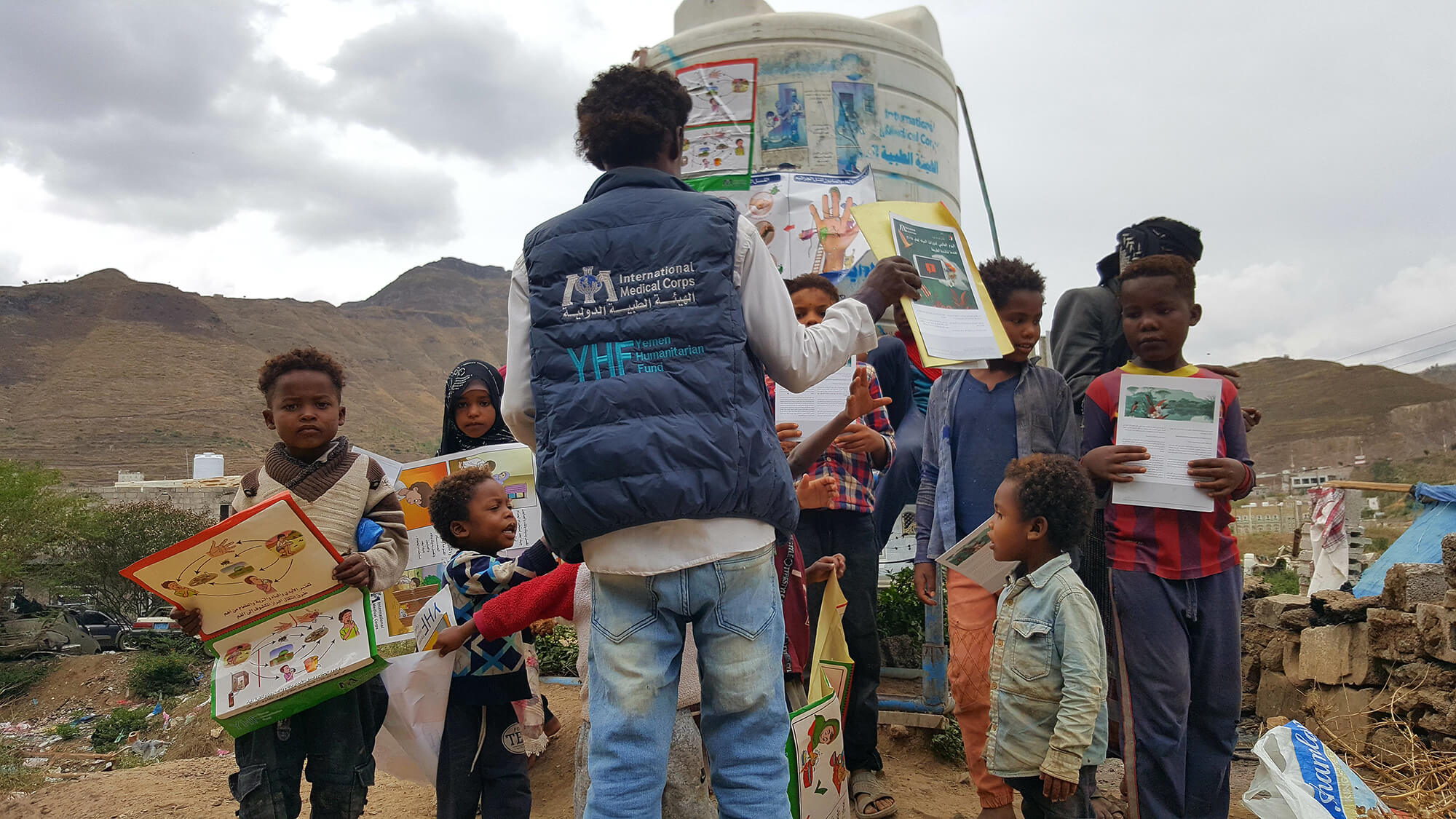 After the training, Basheer started holding hygiene promotion sessions for his family and other people in his area of the IDP camp. He has demonstrated a volunteer spirit and is very self-confident. He regularly sends reports and photos to his supervisor, who has been very satisfied with Basheer's work. According to Basheer's reports, he has reached almost 100 households in the camp with his hygiene promotion sessions.
During their original assessment of the Authority Road camp, the WASH team had noticed many places where people were defecating in the open, but when the team visited the camp after training the CHVs, they could no longer see any open defecation or solid waste in the camp—all thanks to Basheer's awareness-raising work. Today, Authority Road is a much healthier camp, due to CHV activity like Basheer's hygiene promotion, as well as our team's work to construct latrines inside the camp, provide clean water by truck and distribute hygiene kits for personal and environmental hygiene.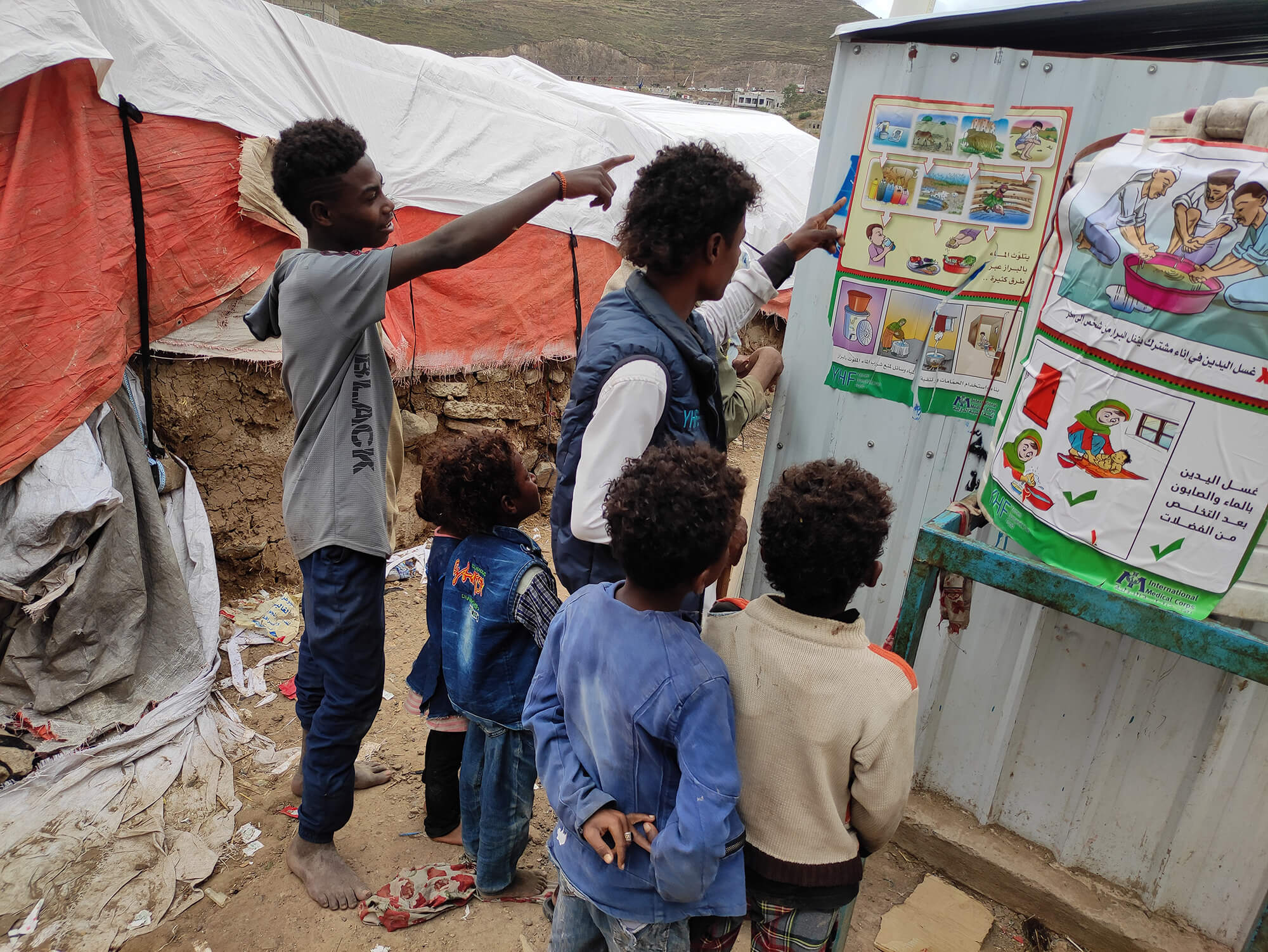 The people in the camp have thanked International Medical Corps for Basheer's work, noting that they appreciate him providing the tools and knowledge that they need to prevent outbreak of diseases in the camp. Basheer himself is happy for the opportunity to help his community. "Thank you, International Medical Corps," he says. "You really changed my life for the better, and as a result, I am thinking about continuing my studies at school."