On July 19, 2015, International Medical Corps officially opened its physiotherapy unit on the premises of the district hospital in Gorkha, the epicentre of a powerful earthquake that shook Nepal on April 25. Built and operated by International Medical Corps in coordination with local government and health officials, the physiotherapy unit is the first of its kind in Gorkha and provides services for patients at the hospital as well as residents across the district.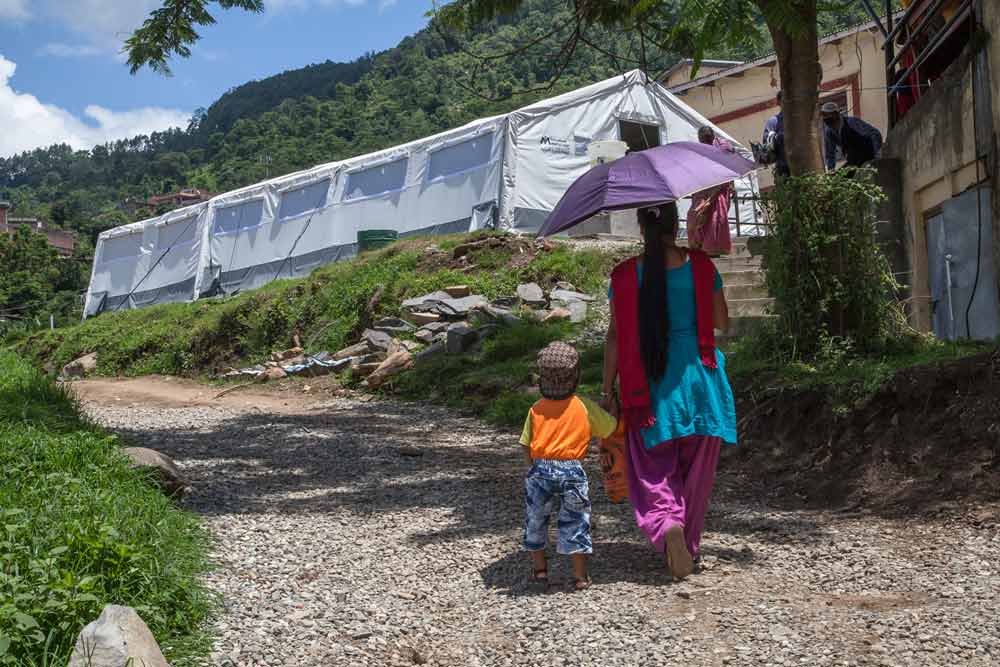 According to Hari Shahi, a local physiotherapist working for International Medical Corps at the new facility, it will have a measurable impact on the lives of those who suffered injuries from the devastating earthquake and also many others who have never had access to this type of care. "It is hard for people whose mobility has been restricted to maintain livelihoods in such agrarian, mountainous communities," Shahi elaborated.
The opening ceremony was attended by local residents in addition to distinguished guests from political parties, security forces, and the Nepali government. Most notably, Chief District Officer Uddhav Timilsina, the highest-ranking government official at the district level, addressed the crowd, expressing his heartfelt gratitude to International Medical Corps for its generous gift to the hospital. Mr. Timilsina urged the organization to run the new facility for some time to come and hand it over to local agencies only after taking measures to ensure it is sustainable.
Hoping to see the organization continue its good work, Timilsina proudly declared that International Medical Corps is the first non-governmental organization with which he has signed an agreement to allow the building of health posts in seven different village development areas under his jurisdiction. "This is unprecedented for any organization," he said.
The country director for International Medical Corps in Nepal, Maria Ibragimova, assured those gathered for the ceremony that sustainability was a foremost concern for the organization. As Ms. Ibragimova has said before, "International Medical Corps will be here helping the people of Nepal as long as it is needed."
As one of the worst-affected districts, Gorkha has seen its healthcare system suffer immensely as a result of the powerful earthquake of April 25 and the hundreds of subsequent aftershocks. Forty healthcare facilities have been destroyed and 39 have been partially damaged, leaving few healthcare facilities to serve a district with a remote and scattered population of more than 280,000 people. Most healthcare facilities in Gorkha are little more than a room or two manned by health assistants that are neither equipped nor trained to treat the health problems that have resulted from the earthquake.
In addition to this new physiotherapy unit, International Medical Corps is also operating a mobile physical therapy unit to expand access to rehabilitative care for orthopedic patients in rural areas who are unable to reach hospitals or clinics for follow-up care.