Ebola is a dangerous and deadly disease, but in the 45 years since the first cases appeared in the Democratic Republic of the Congo (DRC), much progress has been made—on multiple fronts—in the battle to prevent and treat it.
International Medical Corps has helped lead the way on much of that progress, having worked in DRC since 1999, and having played a key role in stopping the world's largest outbreak of the disease, in West Africa from 2014–16. "When we developed our Ebola strategy in DRC, we identified pillars where we wanted to be active and develop methods that can be tested, used and duplicated in the future," says Dr. Rigo Fraterne Muhayangabo, International Medical Corps' Country Director in DRC. "Indeed, we have been more than a leader in these pillars."
The first of these pillars is coordination. Because there are multiple NGO and governmental organizations working in DRC during any given Ebola outbreak, it's critical to work in harmony with them to prevent duplication of effort. "No matter the expertise that you have, if the work on the ground is not coordinated, it will not be easy to implement projects and to achieve results," Dr. Rigo says. "Over the years, our coordination has improved, and a lot of mechanisms have been put in place to show that there is good coordination between partners—that strategies are aligned, that protocols are clearly defined and that there is an extensive exchange of knowledge."
Because our intent in any emergency is to be "first there, no matter where," International Medical Corps also developed a rapid response mechanism that enables us to act quickly in the face of a burgeoning outbreak. "When there's an outbreak, we've been able to deploy within 24 hours," Dr. Rigo says. "We have developed checklists for how to do everything immediately—whether it's logistics, finance or community engagement. It has been really important for our partners to see how fast we can respond to unforeseen situations."
Although an Ebola outbreak is an emergency and must be treated as such, our staff members in DRC also take a long-term approach, making sure that human resources and infrastructure are in place and that supplies are stockpiled for the next Ebola outbreak. "We provide training so that when there's an outbreak, we have teams on the ground that can respond," says Dr. Rigo. During the 10th and 11th outbreaks in DRC, which together lasted from 2018 to 2020, International Medical Corps constructed Ebola treatment centers (ETCs) and other healthcare facilities, with a focus on creating lasting structures that could be used by communities once the outbreak had ceased. "We're trying to improve the materials we use for ETC construction, to show that we have a structure that can remain behind and also to know that, for future outbreaks, a place already exists where treatment can start," he explains.
A new approach to construction
Constructing healthcare facilities specifically for an Ebola outbreak has additional benefits. In earlier outbreaks, Ebola spread more easily because suspected cases weren't kept in strict isolation. Keeping healthcare-worker and patient safety in mind while designing and constructing facilities has helped stem spread of the virus.
For example, during the 10th outbreak—which was the world's second-largest, lasting from August 2018 to June 2020—International Medical Corps built 104 screening and referral units (SRUs) where suspected Ebola cases could be detected and then referred to an ETC for isolation and diagnosis. If construction of an SRU wasn't possible, we set up "soft triage" locations where staff could screen patients under an umbrella or a tree. Previously, patients who came to the hospital to be screened for Ebola but tested negative ran the risk of contracting the disease while they were being examined in the hospital. The ability to diagnose suspected Ebola cases in separate triage units outside and then isolate them once they've been admitted to a hospital "helps to reduce in-hospital infection," Dr. Rigo explains.
Keeping Ebola patients at home or in communal hospital rooms fell out of favor as healthcare workers learned that self-contained patient rooms slowed the spread of Ebola. And some self-contained rooms could create transparency around the treatment of Ebola—literally. Made of translucent materials, such rooms allow family members to see and communicate with their loved ones. "We tried to be sure that the communities could easily visit facilities and understand where their loved ones were being hospitalized, because previously, there were a lot of rumors about ETCs," Dr. Rigo says. "People thought they were places where patients only die or where doctors kill people and take their organs. Families would hold patients in their communities out of fear, and by the time they reached the hospital, it was too late. We have constructed these rooms to ensure that family members can visit their loved ones and see how they are being treated. Now, with that, people trust the system."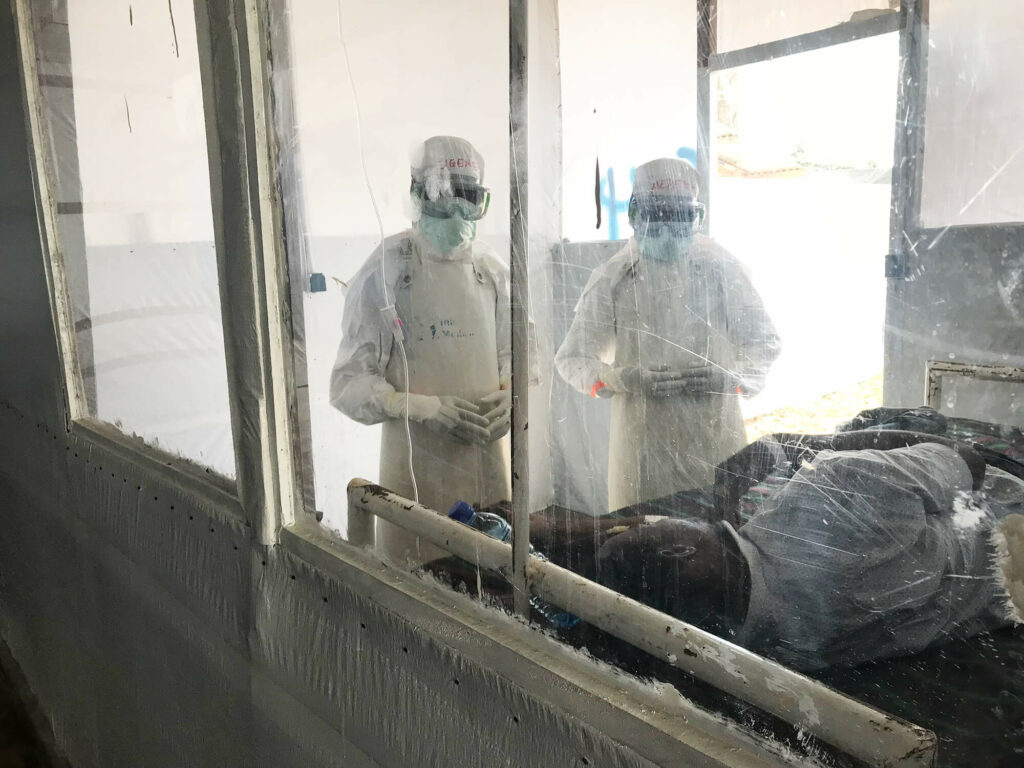 Furthermore, these rooms help to protect healthcare workers, who can check on patients without having to put on full PPE. "They can more quickly see what changes are happening in the patient and can address those changes," Dr. Rigo says.
And in those crucial moments when the survival of an Ebola patient is in question and every second counts, healthcare workers have another powerful tool at their disposal: Ebola survivors. Because survivors develop high levels of antibodies that protect them from acquiring Ebola a second time, many feel comfortable transporting patients or assisting in the ETCs. "They can feed the patients, monitor their well-being and alert the health team if there are any abnormalities," Dr. Rigo says. Their presence can make all the difference in situations when patients quickly take a turn for the worse.
All hands on deck
Controlling Ebola is a group effort, and every team at International Medical Corps gets involved in the fight, using their unique skills to confront the disease head on.
Because Ebola is spread through direct contact with the blood or bodily fluids of infected people, International Medical Corps' water, sanitation and hygiene (WASH) experts fill a vital role in ensuring the safety of healthcare workers and people in the community. "It is difficult to combat Ebola without water," Dr. Rigo says. "Our WASH team has drilled boreholes in some communities because we can control the chain of transmission by increasing the availability of water for handwashing and ensuring the cleanliness of spaces."
The WASH team also ensures that healthcare workers are educated about infection prevention and control (IPC) protocols—including how to properly handle waste, safely draw blood and transport specimens safely to the laboratory. "Healthcare workers must be trained to understand the risks," he says. "We also need to ensure that they have the supplies that they need, including soap and PPE, that they're trained in how to select PPE, and that they know how to don, doff and dispose of it after seeing an Ebola patient."
And because human remains can still harbor and spread Ebola virus, the WASH team also works with members of the community to conduct safe and dignified burials of those who've died from Ebola.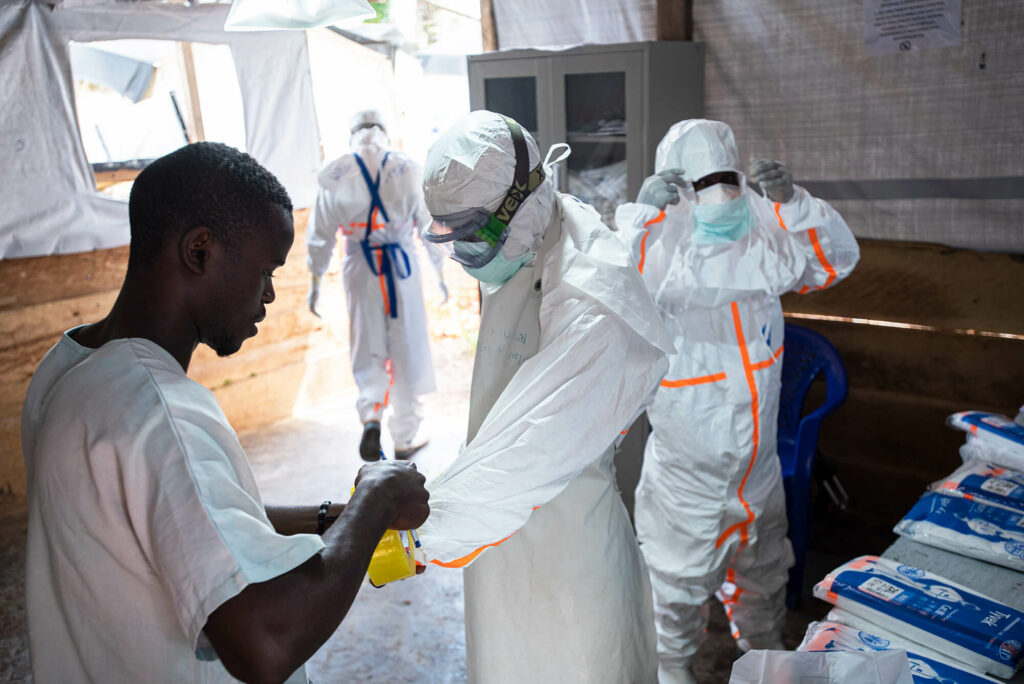 During an Ebola outbreak, the virus isn't the only thing that spreads: rumors and misinformation also circulate in communities throughout DRC. To counter this misinformation, International Medical Corps' community health teams work with local organizations, such as women's associations and youth groups, to disseminate accurate public health information and conduct community surveillance. Those same teams also join with our mental health and psychosocial support (MHPSS) staff to help families accept when a sick relative needs to be transferred from home to the hospital. "Because some communities are afraid that their loved ones are going to die once they leave the house, we send MHPSS workers and community engagement teams in ahead of the patient transport team," Dr. Rigo says. "Once they've talked to the community and we get the green light, then the patient can be transported to the hospital."
After patients arrive at the ETC, our nutrition team attends to their dietary needs, making sure they receive nutritious food adapted to their symptoms and the proper fluids to prevent dehydration, which is vitally important in battling a hemorrhagic fever like Ebola.
Protecting women and girls from harm is a vital part of International Medical's work throughout the world, and that work doesn't stop during an Ebola outbreak. "We've integrated protection from gender-based violence into the Ebola response, to show that beneficiaries will not be exploited and to make sure that patients are given a voice," Dr. Rigo explains. "International Medical Corps is lucky to have contributed strongly to the Ebola response in this way."
And in a country like DRC, which has seen ongoing violence since 1996, our security team plays a crucial role. "Working in areas where militia groups operate, it's important that we have good security," Dr. Rigo says. "We negotiate our own humanitarian space, and we keep a secure perimeter, to control who's coming into the area."
Helping to develop vaccines and drugs
During early outbreaks, there was little that doctors could do to treat Ebola, other than provide supportive care. But several recent breakthroughs in medicine and vaccination have transformed how healthcare workers approach Ebola treatment and prevention—and International Medical Corps has played a key role in moving these innovations forward, from the research stage to implementation.
In May 2019, DRC approved the use of a new—and highly effective—Ebola vaccine, giving the nation a powerful weapon during its 10th outbreak of the disease. More than 300,000 of those most likely to be infected received the vaccine, including frontline workers, the contacts of confirmed Ebola patients and the contacts of those contacts. "The vaccine has been a major contributor to the control of the outbreak," Dr. Rigo says. Though International Medical Corps has not been directly involved in distributing the vaccine in DRC, we have worked in the country with the World Health Organization to provide contact tracing information, and our engagement teams have gone into communities to dispel rumors and answer questions about the vaccine.
Following on the heels of the vaccine came a major breakthrough in Ebola treatment. As the 10th outbreak raged in DRC in late 2018, International Medical Corps joined with the Ministry of Health and several medical NGOs to conduct a randomized controlled trial to study the efficacy of four drugs used to treat Ebola. The results of the study, released in 2019, led to the validation of two treatments: the single monoclonal antibody ansuvimab, and a monoclonal antibody cocktail known as REGN-EB3. "These drugs have been actively used in Ebola treatment, and that has helped to reduce the length of stay for patients in the ETCs and improve chances of survival," Dr. Rigo says.
These new treatments, when used in combination with the aforementioned interventions and best practices, created new hope for those who contract the terrifying disease.
"Survival rates have improved," says Dr. Rigo. "The Ebola-specific survival rate for patients seeking early care early at ETCs, as well as those taking Ebola anti-viral medicines, is about 65%. Without these interventions, it can be as low as 20% to 40%."
What is the future of Ebola?
DRC's most recent Ebola outbreak, its 12th, ended on May 3 of this year, after leading to 12 cases and six deaths. However, many dangers still remain. Studies show that the Ebola virus can remain in survivors' bodily fluids, particularly semen, for up to 23 months.
"We can't predict what will happen in the future, but with the number of Ebola survivors from the past four outbreaks, the likelihood of having a new outbreak is high, given the possibility of sexual transmission," says Dr. Rigo.
Still, now more than ever, optimism is justified. The Ebola prevention and treatment advances that International Medical Corps and other organizations have helped pioneer—along with ongoing vigilance—will ensure that future outbreaks are quickly detected and contained. And that will lead to many more lives saved.