In this post, Azahra WIt Ichrache—a 30-year-old mother living in the village of Boya, in northern Mali—shares the story of her son's recovery from malnutrition, and how International Medical Corps doctors and nurses helped her at the Rharous Health Center in October 2018.
"I am married and the mother of three children. In October 2018, the youngest of my children became ill.
Aboubacrene was two years old when he became ill. At first, he was vomiting and had diarrhea, but just three days later, he refused to eat and began to lose weight, so I took him to see the village's traditional healer. She told me that my child was possessed by wizards and gave me a blend of herbs to treat him. The herbs had no effect, and as my son's weight dropped, my anxiety grew.
One of my friends advised me to bring Aboubacrene to the Rharous Health Centre. I began to worry because my husband and I are poor—we would not be able to afford the treatment. My friend told me that the people at the health center had saved her daughter's life for free.
The next morning, my husband and I decided to travel the 9 miles on a canoe to get to Rharous Health Centre. When I saw the many women who were there with their sick children, I feared that I would have to wait a long time for my son to get help. But a nurse quickly came over to see us.
Aboubacrene was given sugar water and examined while I answered the nurse's questions. The nurse explained to me that my son was malnourished. She told us that his body had lost a lot of water, which is serious, and that he must go to the Referral Health Center to be hospitalized—I panicked and started crying; I thought I was going to lose my child.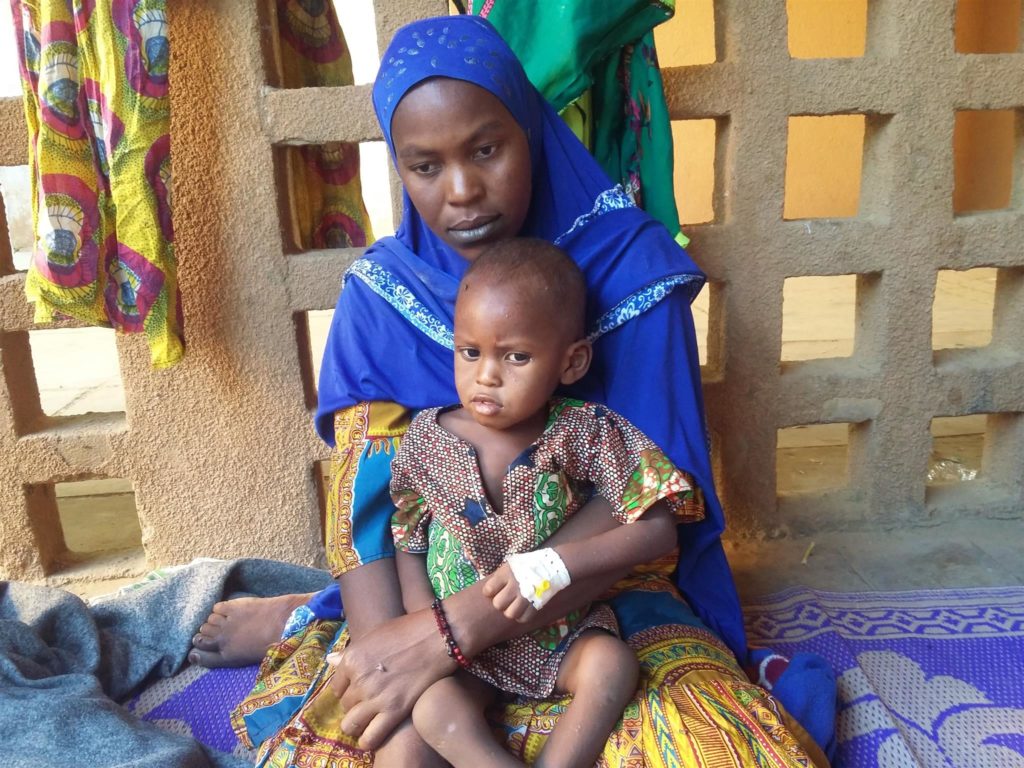 When the nurse told my husband, he said that he needed to borrow money to pay for the drugs and hospitalization. The nurse told him that this care would be free. I was relieved that we would be able to get my son the help he needed—but I was worried that it would not be enough to save him.
At the Referral Health Center, I recognized the smile of a woman from my mother's village. She told me that when she arrived, her child was sicker than mine was—now he was happily playing with a doll.
The nurses told me Aboubacrene would soon be well.
I was not allowed to give him any food besides the milk that was brought to him several times a day. Every morning a doctor came to check on Aboubacrene and give him his medication. But what really struck me was that when we slept during the night, the nurses stayed awake to feed my child.
After three days, Aboubacrene was already better and began asking for food. On the fifth day, the doctor gave him a packet of Plumpy Nut [a peanut-based paste], which he liked. After eight days, the doctor told me we could go home, but should revisit the health center for further treatment.
When we returned, we were met by the same nurse as the first time, who was happy to see us again. She gave me advice on how to help Aboubacrene, and gave us 15 more packets of Plumpy Nut. She told us to come back every Thursday, for weekly health monitoring and to receive Plumpy Nut. After that, we were taken home in an ambulance. Everyone was happy to see that Aboubacrene was better.
Since then, I have been to Rharous Health Center every Thursday. I have already made three visits and my child is almost cured; he has grown well. Next week, Aboubacrene will move onto Plumpy Sup [a lipid-based nutrient supplement].
It's really interesting to find the other women who bring their children for the weekly visit. There are sessions to help us keep our children healthy. The nurses show us how to measure their arms to know if they are malnourished. I was given a tape to take home so I can measure the other children in my village.
Today, my son is healthy and I continue to screen the children of my neighbors, to make sure that they are healthy too.
We thank the doctors who provide care to the people for free, because without them I would have lost my son."