Safe, clean and reliable access to water and sanitation services remains an urgent, global challenge, with more than 1 billion people lacking these basic services worldwide. As displacement becomes increasingly prevalent—more than 65 million people are displaced today—stopping the spread of water-related illnesses is a top priority for humanitarian organizations like International Medical Corps. Yet providing water, sanitation and hygiene (WASH) services can be especially complicated and risky in countries experiencing conflict—such as Nigeria, where critical infrastructure has been destroyed and people who have fled their homes often have to live in crowded, temporary and unsanitary conditions.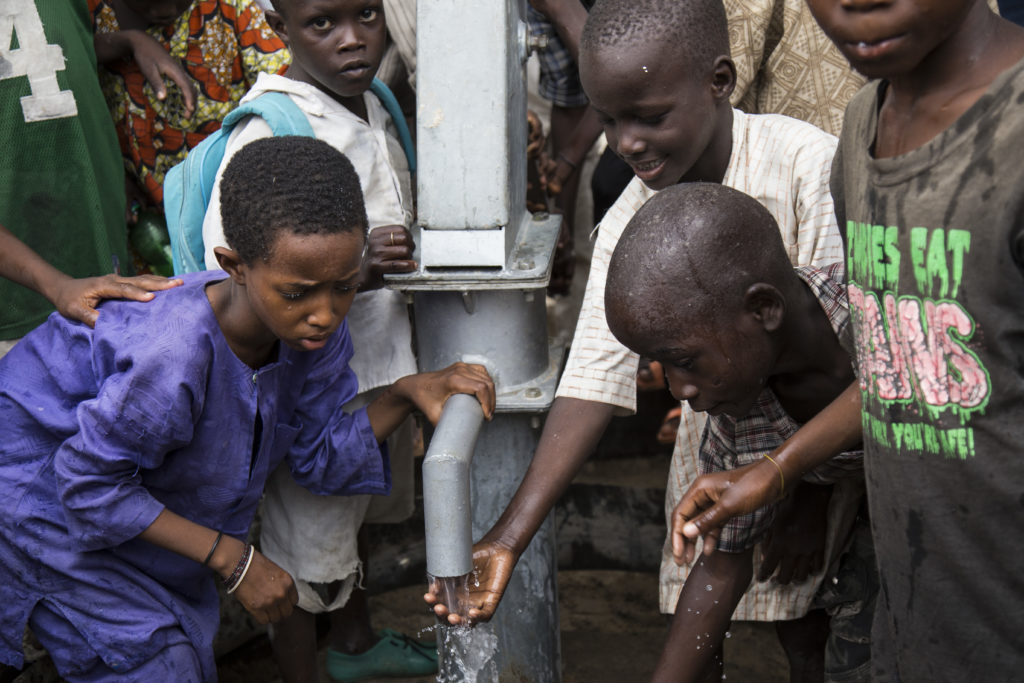 Africa's most populous country, Nigeria is home to more than 170 million people, with nearly 2 million people internally displaced and nearly 5 million facing severe food insecurity. Since 2010, the militant group Boko Haram has been waging violent attacks on civilians across the country, wreaking havoc on social, economic, education and health services. Delivering humanitarian aid—particularly aid that involves creating a sustainable WASH infrastructure—in this highly insecure environment remains incredibly challenging and dangerous.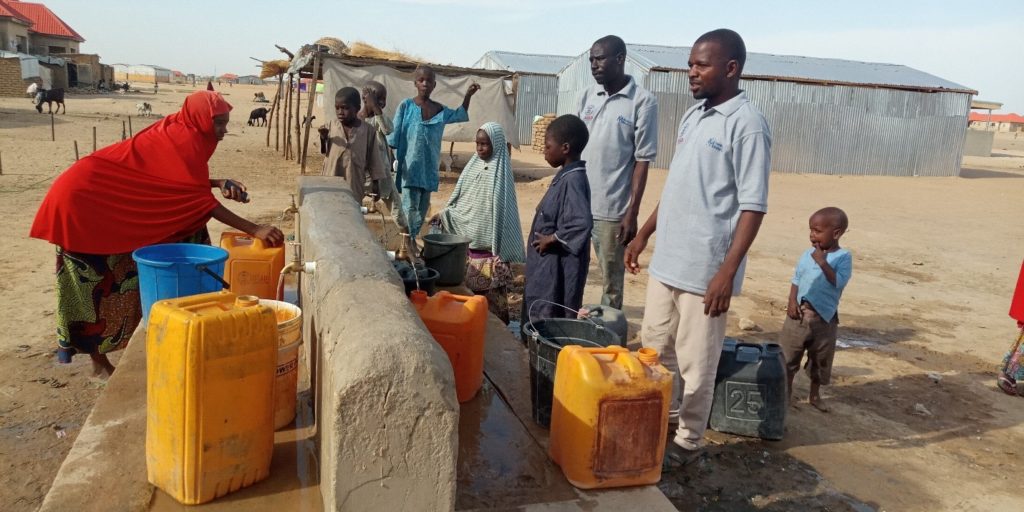 When insurgents strike, families are forced to relocate to displacement camps with little or no notice, leaving humanitarian organizations like International Medical Corps ill-prepared to reallocate already overstretched resources. Civilians sometimes are also relocated back to their communities just as suddenly, further disrupting any form of assistance that they had been receiving. Additional unique challenges in this setting include:
*difficulty accessing highly insecure locations except with high-level security clearance and protection (even then, risks remain);
*difficulty transporting and delivering essential WASH supplies to those in need, due to frequent military blockades on key access roads;
*restricted movement of WASH personnel due to imposed curfews, causing delays of days or even weeks for essential services;
*general apprehension among staff members due to constant security threats, sometimes accompanied by frequent heavy-artillery sound, day and night; and
*heavy vandalism and deliberate destruction of constructed WASH infrastructure during insurgency attacks.
In this volatile climate, International Medical Corps is nonetheless improving WASH in six local government areas of Borno State, reaching more than 334,000 people. One key service involves improving displaced persons' and host communities' well-being by providing sustainable access to safe water, sanitation facilities and good hygiene practices. We meet the demand for potable water for nearly 91,000 people living in displacement camps by trucking in water and constructing boreholes and jet wells, while continuing to rehabilitate and repair existing WASH facilities within the camps. Through our trained community WASH volunteers, we also provide water-quality testing and treatment materials.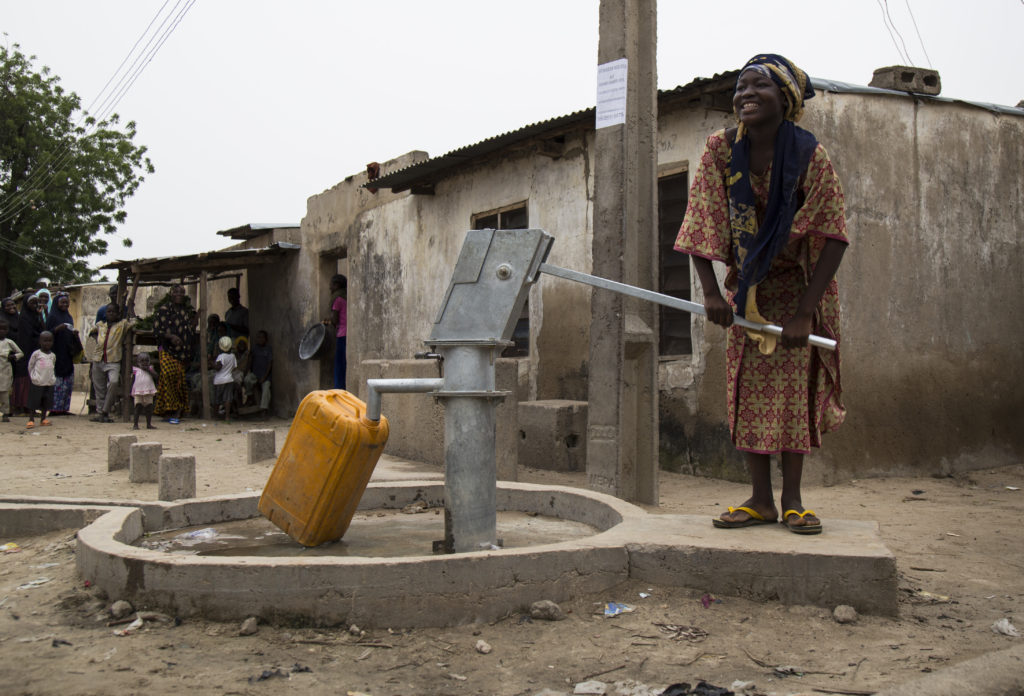 To ensure sustainability and maintenance, it's important that communities participate in and feel a sense of ownership of the governance of WASH infrastructure. Consequently, we pair improvements in WASH infrastructure with hygiene education activities, and ensure that community volunteers oversee day-to-day activities that facilitate proper use of WASH facilities and help raise awareness of our services. In addition to promoting hygiene, we provide community members with hygiene kits that include bars of soap, kettles and jerry cans, as well as sanitary pads for women and adolescent girls.
Binta Lawan is a 48-year-old woman living in Bakassi camp who has benefited from our WASH services. Attackers struck her community of Gwoza in 2014, killing her husband, burning down her home and displacing her children. Terrified and alone, she moved to Gulak to find shelter—but after a month, insurgents mounted an attack on that town as well. Again forced to move, Binta Lawan ended up in Maiduguri camp in Borno State, where she found shelter in an Arabic teachers' college camp and eventually reunited with her children. A year later, the Borno State government moved her and her family to Bakasi camp, where they have lived for more than three years.
Binta Lawan expresses gratitude for the support that she and the rest of the displaced communities are receiving through International Medical Corps' various WASH activities. International Medical Corps staff taught her about the importance of safe water, menstrual hygiene, handwashing, domestic hygiene and toilet practices. They also provided her with a hygiene kit and water purification tablets, which she says made her family less susceptible to waterborne illnesses.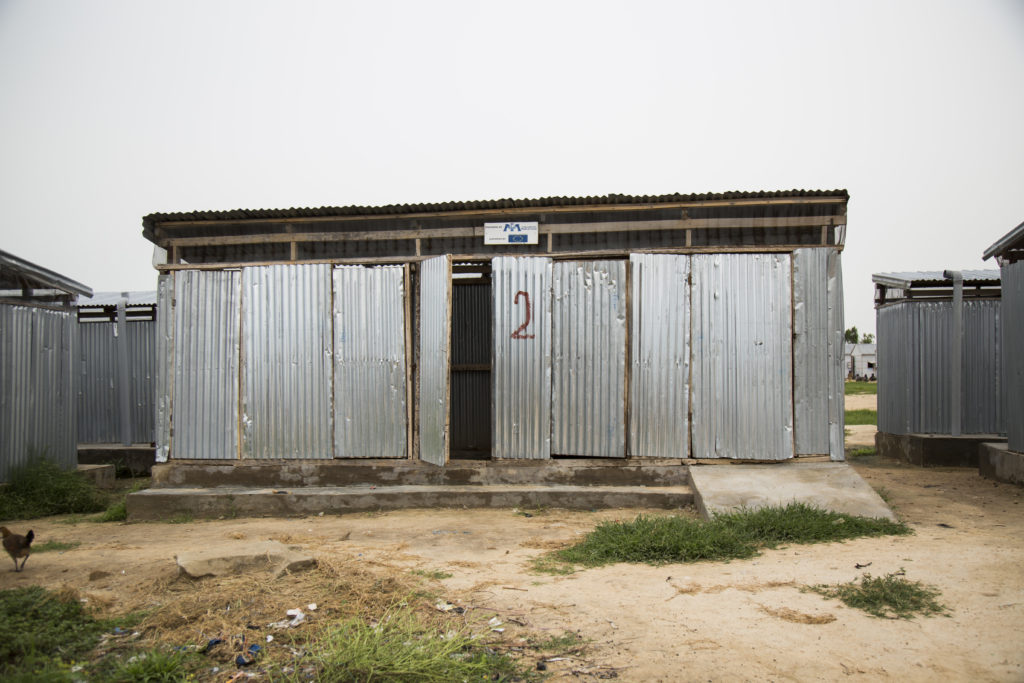 Amidst so much poverty, violence and upheaval, basic access to adequate WASH services saves lives. It is truly essential to upholding the health and dignity of people displaced by war, like Binta.
International Medical Corps has worked in Nigeria since 2013 and currently has teams in Sokoto, Kano, and Borno states, delivering programs in health, nutrition, WASH, gender-based violence prevention and response, and food security. Learn more about International Medical Corps' WASH interventions in Nigeria and around the world, and find out how you can help.