Editor's Note: This week, we publish the first in a series of features written by Arshad Ali Sodhro, a community mobilizer in Pakistan, where International Medical Corps has worked since 1985. In 2022, the country experienced an extreme monsoon season, with weeks of heavy rainfall causing widespread flooding and landslides. Some 33 million people were affected—with more than 1,600 people killed and more than 2 million homes damaged or destroyed. Because of water system contamination and lack of access to clean drinking water, water-borne diseases, respiratory tract infections, skin infections and malaria increased. International Medical Corps has been providing essential medicines and medical supplies to treat these illnesses, in addition to providing water purification tablets.
As Arshad navigates this reality as a community mobilizer, he writes about what he witnesses on the ground every day. This week, he helps discover the root cause of an outbreak of skin disease in a Pakistan community.
As I walked into the village of Anab Novel, I felt a sense of purpose and fulfillment, knowing that I was there to help the community. I was tasked with conducting a mobile medical camp with the International Medical Corps' team, and I was ready to serve.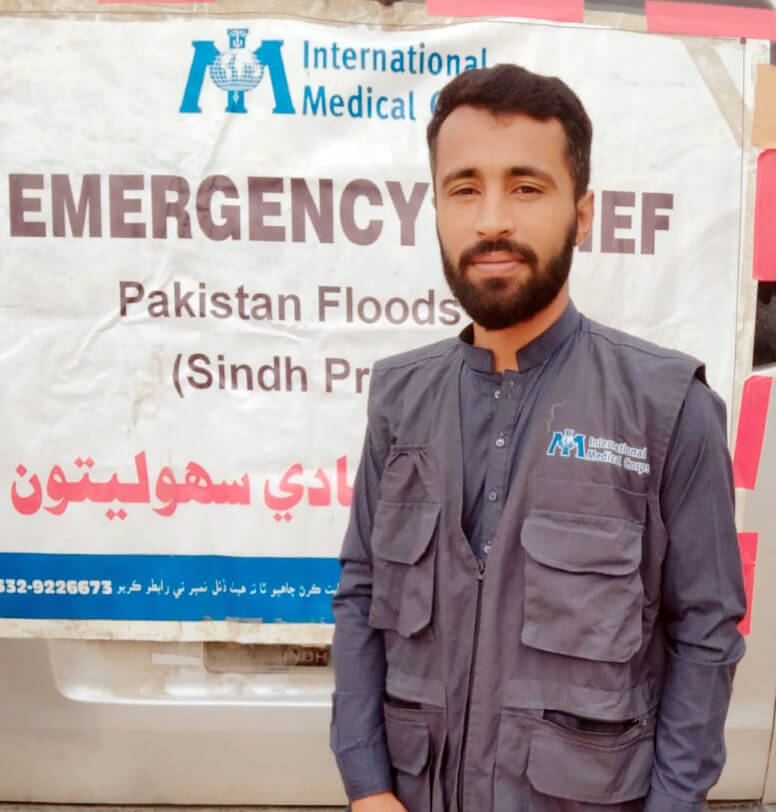 I began by conducting an awareness session on hygiene and safe drinking water. As I was finishing up the handwashing demonstration, my eyes fell upon a young girl named Sitara. She was just 6 years old, and her hands were covered in bumps and a strange rash. What was even more heart-wrenching was that other community members were showing me their own infected hands, indicating that whatever was causing the condition had spread widely—ultimately affecting almost half of the village's population.
My heart sank at the sight of it. I immediately referred the case to the mobile camp's doctor, Nimra Sheikh, who was quick to diagnose that the bumps and rashes were caused by a number of diseases—scabies, candidiasis, furunculosis and staphylococcus aureus—and provide the necessary medication. But I knew that treating the symptoms wasn't enough. I had to find the root cause of these diseases to prevent them from spreading further.
I began visiting houses in the entire village, conducting a small oral survey to determine the root causes of the diseases. It didn't take long to realize that they were caused by the unavailability of safe drinking water, sanitation and hygiene. Due to the recent floods, many homes had been destroyed, and people were forced to drink contaminated water.
I knew I had to do something to help the community. So, I worked with our team to provide the necessary resources—including hygiene kits and water purification tablets—to improve the situation in the village. We also educated the villagers on the importance of proper handwashing and clean drinking water.
The villagers were overjoyed with the help they received from us. They expressed their gratitude and praised our efforts. It was a heartwarming moment, and I knew that I had made a difference in the lives of people in need.
As I left the village, I felt a deep sense of fulfillment and satisfaction. Moments like these make me proud to be a community mobilizer for International Medical Corps. It was a reminder that working together can create a better world for everyone.