Our Philippines team's journey from their office in Manila to Siargao Island, in the municipality of Del Carmen, was challenging and tiring. It required seven hours of travel and three different modes of transportation—a flight from Manila to Butuan, followed by a drive from Butuan to Surigao, then another two hours of travel via ferry to Siargao Island. But the journey didn't end there. The team's goal was to reach Halian Island—one of the most isolated places in the country—to deliver COVID-19 vaccinations and primary healthcare services.
Halian is a small island roughly 20 kilometers off the coast of Surigao, with a population of about 1,100. Unlike other islands in the Philippines, where nearby islands and mangroves act as buffers against the waves, Halian faces the ocean—and COVID-19—on its own.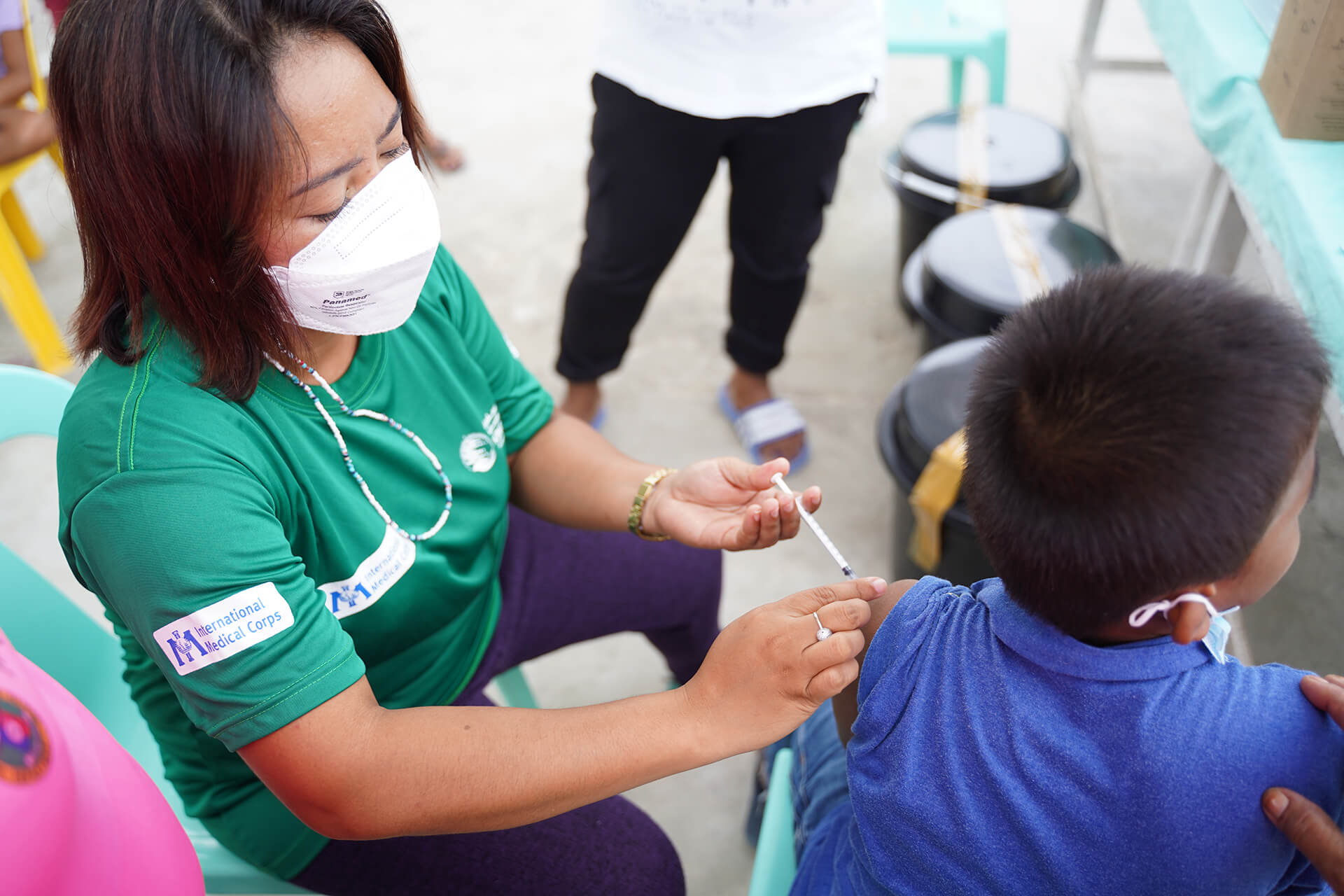 After arriving in Siargao, the Municipal Health Officer of Del Carmen recommended that our team stay overnight, because the waves were too rough to navigate safely to Halian.
The following day, our team left while the sky was still dark. By daybreak, they had reached the Rural Health Unit (RHU) office of Del Carmen, where they collected supplies—including vaccines and equipment—and then traveled to the pier of Del Carmen, where a small boat was waiting to take them to Halian. With two outriggers on each side to balance the boat against the waves, the eight-person boat skimmed gently across the water. An hour later, they arrived in Halian.
Life on the Island
Halian residents lined up outside a local indoor basketball court that was converted for the day into a vaccination center, while our team assembled vaccination stations inside. Some children were accompanied by their parents; others arrived with a barangay (district) health worker.
"We learned about the free vaccination in the barangay yesterday through the bandilyo," says Queenie Escobido, a Halian resident who accompanied her daughter to the vaccination site. A bandilyo is a type of announcement made by local barangay officials through a megaphone in the barangay hall or while they walk through the barangay.
Escobido's daughter received her first dose from the RHU two months ago, but she hadn't received her second dose because the RHU didn't have the resources to return to Halian. In addition, Halian's sea ambulances were destroyed by Typhoon Rai a few months ago and haven't been replaced.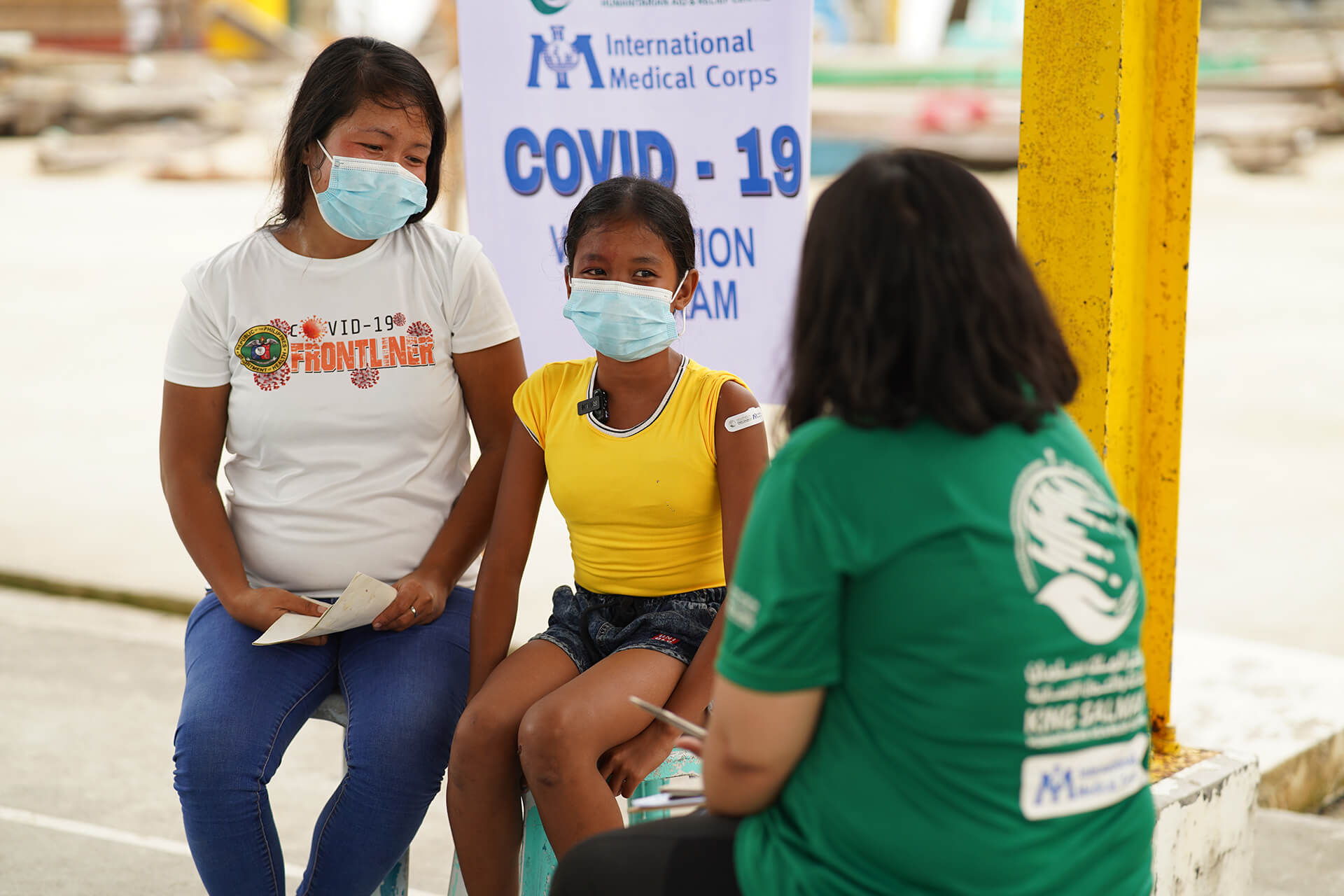 "We want to avoid getting diseases, and our children want to attend school in person. Gasoline for a private boat is too expensive for us, so we are thankful that International Medical Corps came here to vaccinate us," says Escobido.
"Our island is far. This kind of thing is helpful," adds Mary Joy Corbera, another Halian resident and mother of two. Corbera arrived at the vaccination site early to get her newborn checked by Dr. Linyfer Chun, a volunteer doctor with International Medical Corps' Philippines team. "Many of us have kids, and for a mother like me, who just gave birth, this is a big help."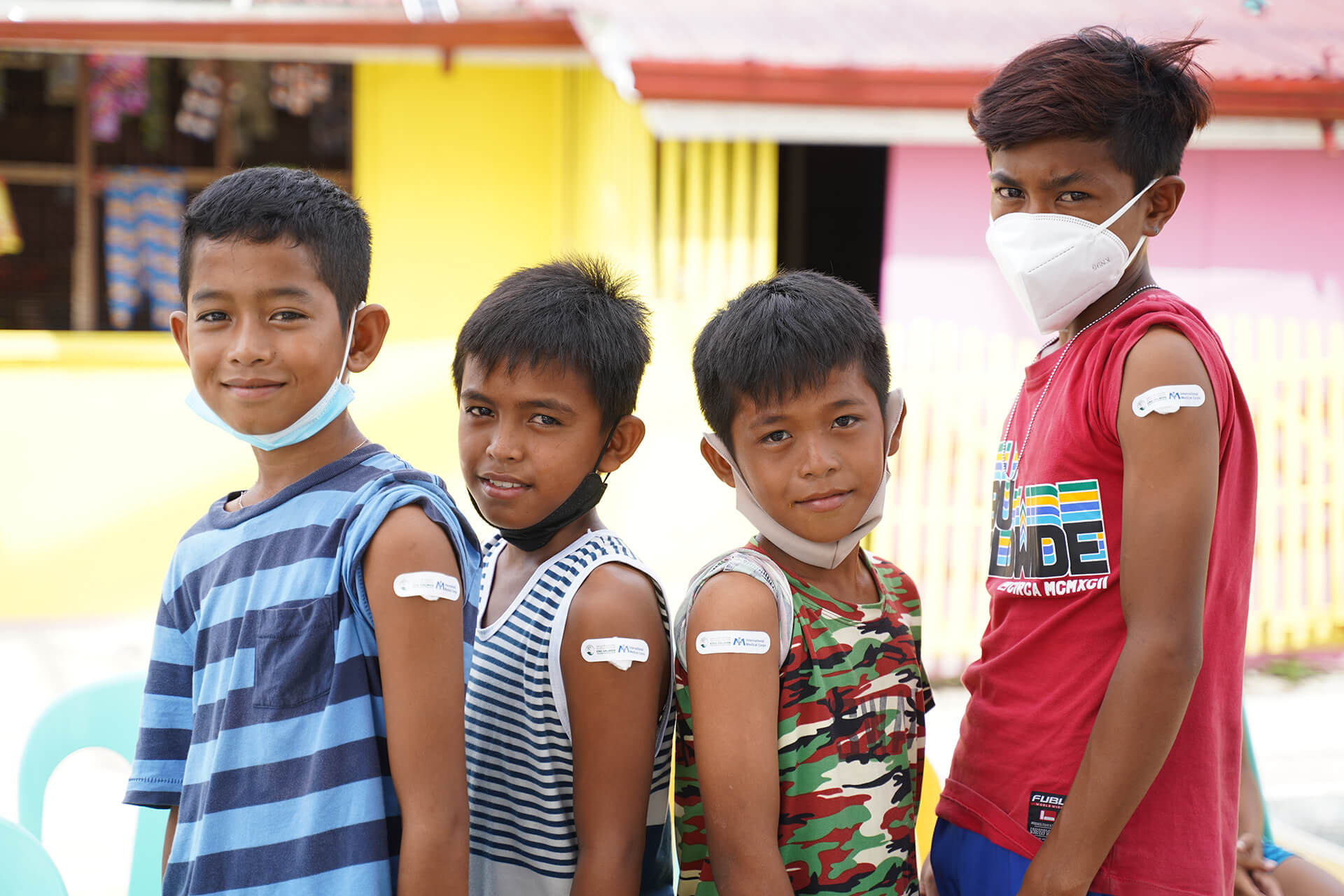 The RHU of Del Carmen was also grateful that our team was there.
"We're grateful to International Medical Corps for the manpower," says Celica Tan, a public health nurse from Del Carmen who traveled with our team to Halian. "We only have one doctor for Del Carmen, which has a population of more than 20,000. With International Medical Corps' assistance, we can reach far-flung areas we could not have otherwise."
An Unexpected Challenge
This partnership shone even brighter when Tan and the International Medical Corps staff insisted on staying in Halian into the late afternoon, just in case more people wanted to get vaccinated. However, it was raining when they finished, and local boatmen deemed the waves unsafe for travel.
Thanks to the generosity of the local barangay, Tan and our team spent the night in the barangay hall, hoping the weather would be better by morning. But the next day, the drizzle of rain had turned into howling winds and heavy rains—a low-pressure area had suddenly appeared. They waited several hours until the boatmen said it was safe to travel, and then packed up and boarded the small boat.
As the boat trip began, conditions worsened. The boat flew up in the air, bouncing among the waves. Thankfully, the skilled boatmen knew how to guide the boat safely back to Siargao Island.
Despite the distance and the weather, International Medical Corps is committed to returning to Halian Island and other remote islands like it to conduct COVID-19 vaccinations and other health programs. As long as there are people in need, International Medical Corps will do its best to reach them, through the ocean and beyond the storm.