Rumors can be like viruses, spreading a disease of half-truths and lies, and damaging the health of communities. And during a pandemic, the power of rumors is magnified by the very real threat of disease and death.
"At the onset of the COVID-19 pandemic, it became clear that misinformation was going to affect our COVID response everywhere, fueling rumors about how and why the virus spreads, as well as promoting harmful remedies," says Dr. Javed Ali, Director of Emergency Response at International Medical Corps.
In Somalia, as part of our comprehensive, community-based COVID-19 response, International Medical Corps formed a task force of female health workers (FHWs) first to identify rumors and misinformation, and then to go into communities and share accurate information to dispel these rumors.
We also established a risk communication and community engagement (RCCE) team to support our FHWs. In collaboration with our staff, who speak and understand local dialects, the RCCE team held extensive discussions with community leaders and other local groups. These discussions enabled our teams to engage and build relationships with communities, making it easier to share vital information.
At the same time, the RCCE team worked with FHWs to gather information about rumors circulating in settlements for internally displaced persons (IDPs), as well as their host communities. The team then would work with relevant stakeholders—such as community leaders—to verify the rumors as prevalent or persistent, and compare them with rumors circulating on social media. Once the rumors were confirmed, our network of FHWs went to work countering them by sharing accurate information, and encouraging those who were already sick to seek treatment.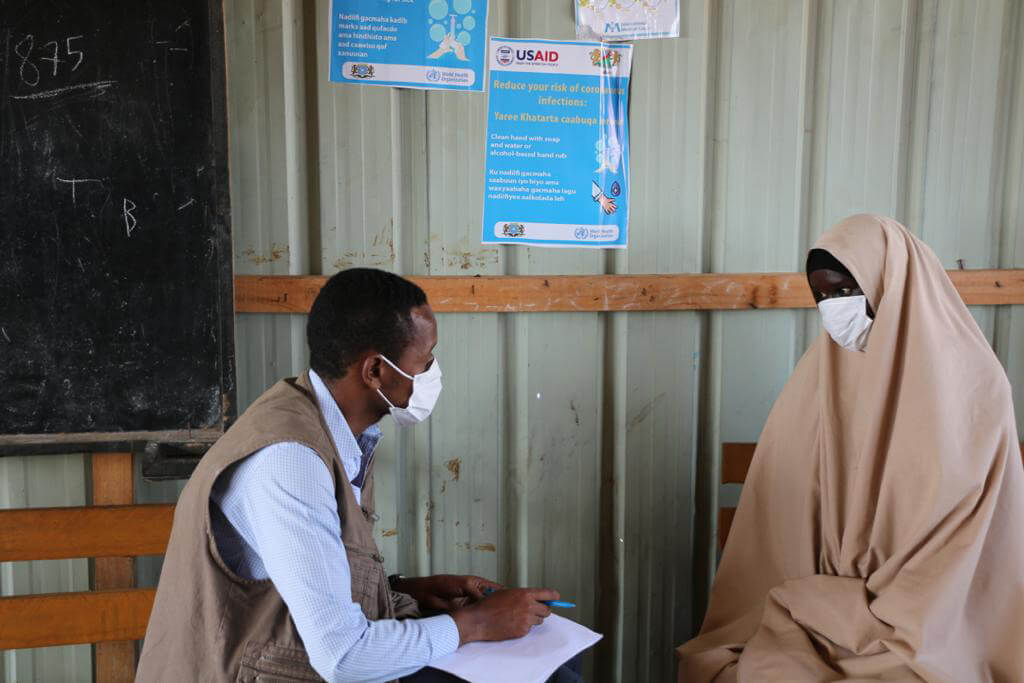 The RCCE team also provided mobile hotline numbers where people could call in for advice about COVID-19. The hotline enabled community members to discuss the rumors they had heard with our staff and receive accurate information. In addition, our team used a logbook to document the rumors from the hotline as part of the reporting process, which enabled us to analyze trends, patterns and recurring issues, and facilitate information sharing with other organizations.
Mohamed Ali Hafow, a social and behavior change communication assistant with International Medical Corps at the time, handled the hotline.
"We shared the mobile hotline number with the beneficiaries and explained to them that it was solely meant for questions related to COVID-19," explains Mohamed. "On the first day, the beneficiaries overwhelmed us with myths and misinformation. We gave them a chance to share their beliefs with us, and then we deconstructed the misinformation for them. I am happy to report that, over time, most beneficiaries changed their perceptions and accepted the reality of the COVID-19 pandemic."
The effort was hugely successful. We collected rumors and misinformation from 5,625 people. Many people sought answers on whether COVID-19 could be transmitted through sex and whether home remedies such as garlic, black pepper and black seed could cure or prevent COVID-19.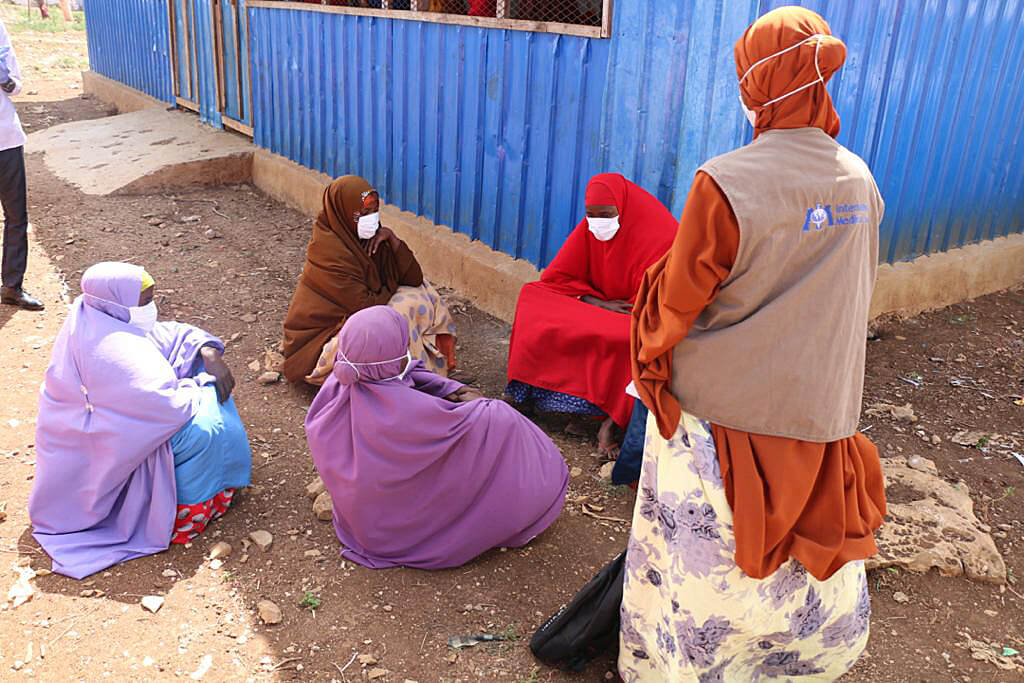 Rowly Humow is one of 10 FHWs at Banow IDP Camp, one of the five IDP camps International Medical Corps supports as part of its COVID-19 response. According to Rowly, people in the camp were living in denial even as the virus spread at an alarming rate. Yet despite many people experiencing COVID-19 symptoms, there was a stigma associated with getting tested.
Hawo Aliyow, a mother of six children and a resident of Banow Camp, confesses that she was skeptical about the existence of COVID-19.
"I remember when the female health workers came to my house," she says. "I asked them what they were up to, and they told me that they wanted to share information regarding COVID-19. At first, I did not believe them or the supposed threat of COVID-19. I appreciate that they were patient with me. With their help, I am now well-versed with COVID-19—including how it's transmitted and how to prevent it. Now I can recognize the signs and symptoms. I really appreciate their efforts."
In addition to the efforts of the RCCE team and FHWs, our teams in Somalia initiated mass information campaigns—holding COVID-19 monthly community meetings, transmitting radio messages about COVID-19 prevention, and supporting call-in sessions, also on radio, hosted by a popular doctor who addressed questions and concerns from the public.
Since our COVID-19 risk communications program in Somalia launched in June 2020, nearly 850,000 people have received information about COVID-19. Currently, our teams of FHWs and other community health workers are promoting COVID-19 vaccines and addressing any associated rumors. Together with the Somalia Ministry of Health and community leaders, we are working to ensure that government-run vaccination campaigns are as effective as possible.
Additional reporting by Ahmed Abdullahi Mohamed, former Information and Communication Officer, and Abdikani Alibashi, former SBCC Officer.