This week, International Medical Corps is proud to be celebrating World Breastfeeding Week. This year focuses on "strengthening the capacity of actors that have to protect, promote and support breastfeeding across different levels of society."
According to the United Nations, progress is being made on exclusive breastfeeding, with nearly 44% of infants under six months of age being exclusively breastfed worldwide in 2020. However, this still falls short of the target of 50% set out for 2030. COVID-19 has halted progress and caused an "unprecedented decrease in breastfeeding rates." On top of this, global hunger rates are rising—with children making up a large proportion of these figures. Promotion and awareness around breastfeeding could help tackle this problem.
Immediately breastfeeding after birth and exclusive breastfeeding for the first 6 months are encouraged worldwide due to the immune-boosting benefits of breastfeeding. According to the World Health Organization (WHO), the risk of mortality due to diarrhea and other infections can increase in infants who are either partially breastfed or not breastfed at all. However, there are a number of reasons why new mothers make the decision not to breastfeed and seek other alternatives, particularly in developing countries.
For example, the benefits of breastfeeding are not widely known in some cultures and communities. Instead, alternatives such as formula or other foods are used—meaning that babies miss out on the nutritional benefits of breastfeeding. The timing of pregnancies also can pose a barrier to breastfeeding. Pregnancies are often not within the control of women due to challenges surrounding family planning, and they often stop breastfeeding their children once becoming pregnant again. Changing these ways of thinking when appropriate poses a challenge, but training mothers, caregivers and healthcare professionals about the benefits of breastfeeding is an important first step.
This year's World Breastfeeding Week's focus, on "strengthening capacity," fits with International Medical Corps' ethos: building the capacity of communities to promote both recovery and independence. Our nutrition teams work closely with mothers, caregivers and communities around the world to combat myths surrounding breastfeeding and educate individuals on its benefits.
In refugee camps in Jordan, for example, frequent pregnancies, myths around breastfeeding, lack of family support and misinformation are just a few of the obstacles to breastfeeding. Our 57 nutrition teams and community health workers work in Jordan's two biggest refugee camps—Azraq and Zaatari —benefitting thousands of mothers.
Breastfeeding awareness courses in the camps cover the importance of breastfeeding within the first hour of life, of exclusive breastfeeding up to 6 months and of continued breastfeeding until the child is 24 months old. Israa Al Mufarj, a health worker in our Nutrition team in Azraq camp says, "Breastfeeding protects children from diseases and is better for their life and the mother's. Mothers don't have to pay for formula and breastmilk is always available."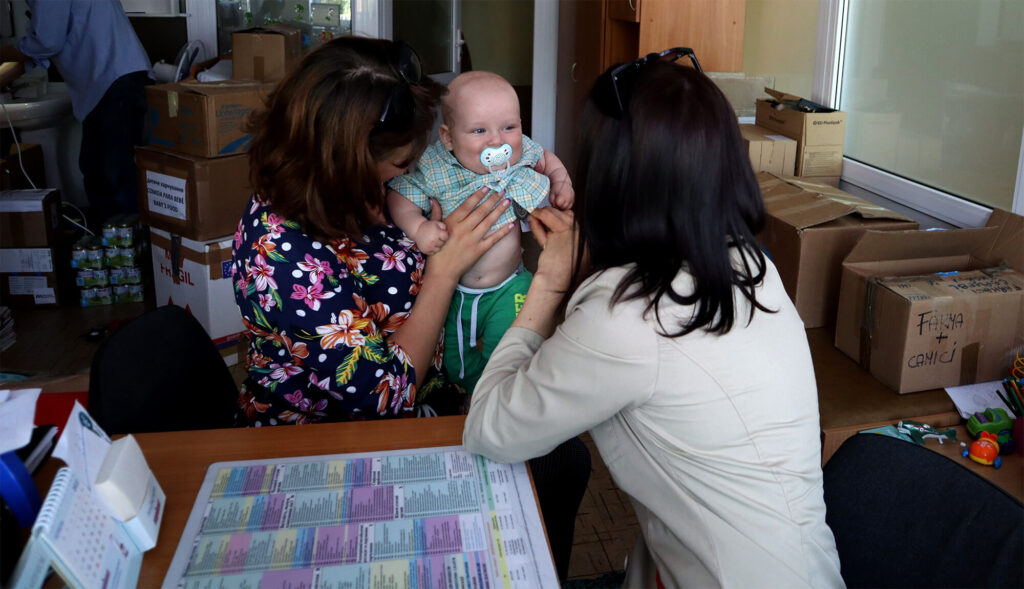 In Ukraine, nutrition staff operating in cities around the country are working to train family doctors, nurses and pediatricians on the importance of breastfeeding in emergencies. Studies have shown that when conflict in the country began in 2014, stress levels resulted in women believing they were producing less milk. Use of breast milk substitutes, water and early complementary foods was common among internally displaced persons (IDPs).
Our nutrition team in Ukraine is aiming to train 90 community-level health workers over the last week of August and the first week of September—with a particular focus on locations that have seen an increase in IDPs and families seriously impacted by the ongoing war.
Providing women with the knowledge to make an informed decision on whether or not to breastfeed has the potential to benefit families, communities and countries. Against a backdrop of rising global hunger, awareness surrounding the nutritional benefits of breastfeeding has never been more important.