"When the Ebola outbreak was declared, community health workers came to my house to talk to me about Ebola prevention, but I did not believe I was at risk and I strongly resisted," says Mayongezo, a man who lives in a remote community named Ngoyo in the Democratic Republic of the Congo (DRC). "Then I saw my neighbor get infected with Ebola, and I started trying to learn more—but by then it was hard, due to insecurity, to find someone who could tell you how to stay safe."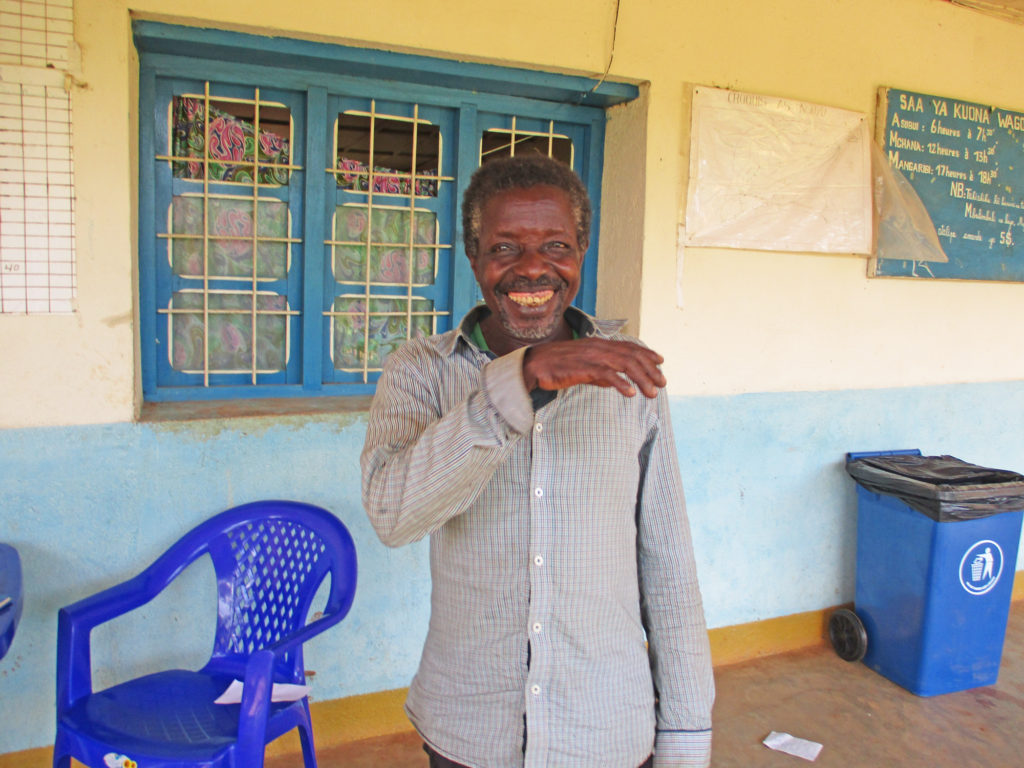 From August 2018 until June 2020, the DRC was grappling with its tenth, longest and most complex Ebola outbreak. Unlike previous outbreaks, which occurred in the country's western regions, this outbreak has taken place in the conflict-ridden east, which already faces multifaceted humanitarian crises. With support from the Paul G. Allen Family Foundation, International Medical Corps has expanded community engagement and risk-communication activities in Ngoyo, which is located near Beni, the site of the most recent cluster of Ebola cases.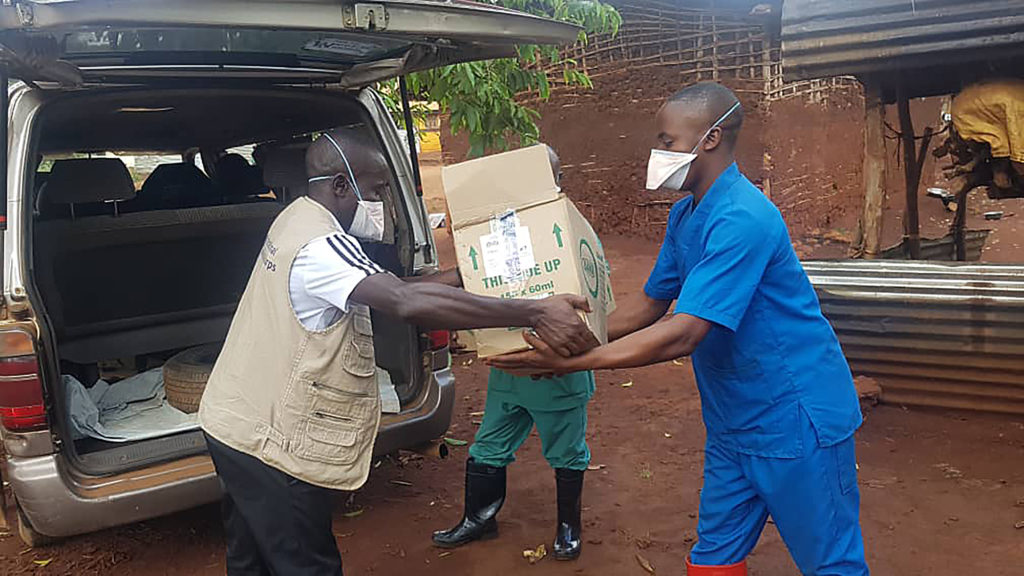 Community health workers (CHWs) are key to building trust within communities and helping them not only protect themselves against Ebola—and now COVID-19—but also to adopt healthy lifestyles. Volunteer CHWs are trained in basic infection prevention and control (IPC) measures, and serve as a reliable source of communication in remote and insecure communities. CHWs also identify unusual events in the community, like unexplained deaths and people with Ebola- or COVID-like symptoms, and alert health authorities to investigate and provide treatment as needed.
Before they were reached by International Medical Corps-trained CHWs, Mayongezo says his family would often fall ill due to the many rumors circulating on how to stay safe from Ebola. But things have changed significantly. "Community health workers visit us and talk to us in small groups about hygiene practices," says Mayongezo. "It's fun, and I learn quickly and eagerly." He's even been inspired to take part: "I look forward to someday volunteering like the community health workers do."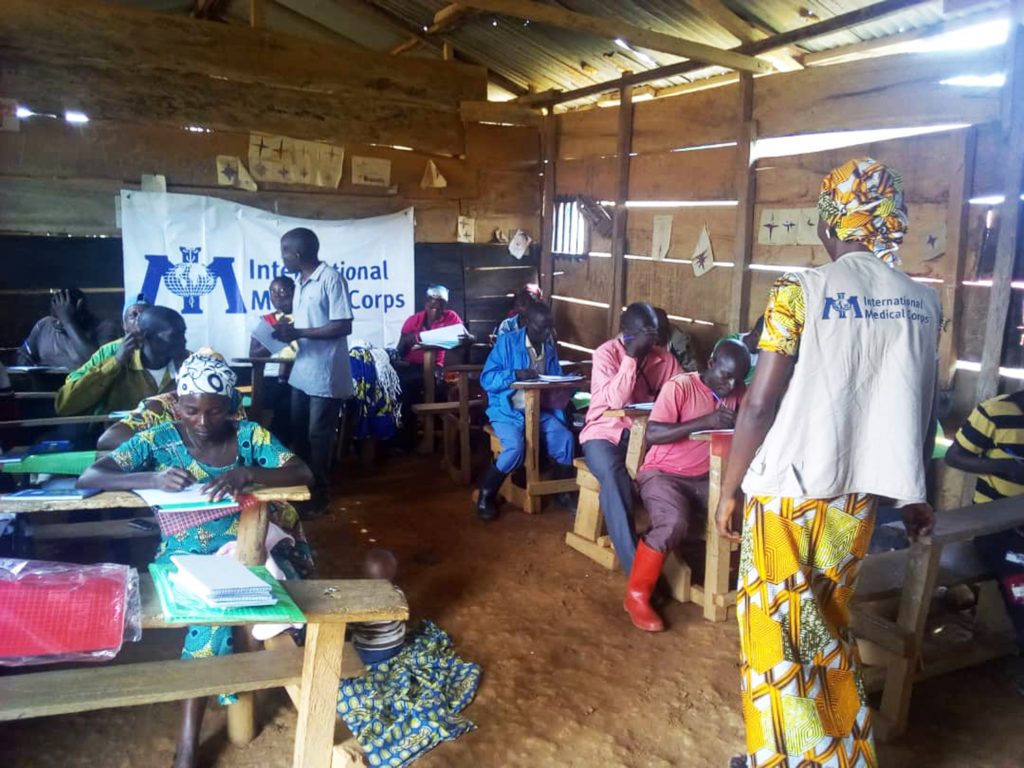 One of the village's CHWs is Solange, whose name was put forward by her community thanks to the positive energy she brings to everything she does. Solange is convinced that community education is especially important now, "with Ebola and COVID-19, which require that we refrain from shaking hands and engaging in other physical contact—especially touching an infected or dead person—and that we regularly wash our hands." Although she often is seen joking and laughing, Solange feels a strong sense of responsibility for disseminating accurate information to reduce risks. "There are a lot of rumors that we need to counter," she says. "Communities reinforce messages, so it's important that, as community health workers, we talk to community members and give them the right messages."
Masika, a mother of ten in Ngoyo, says, "Learning by doing makes life better and healthier." She and her husband were taught IPC measures by International Medical Corps CHWs and have adopted them ever since. "We taught our children to wash their hands after using the toilet and before carrying the baby or cooking, and they all fall sick less often now because of this," says Masika. "We appreciate International Medical Corps and its partners for this education, which will prevent Ebola and other infection in our community's families."
International Medical Corps has extensive experience and expertise in stopping the spread of Ebola, having responded in Guinea, Liberia, Sierra Leone, Mali and Guinea-Bissau in the wake of the 2014 West Africa Ebola epidemic. Since August 2018, International Medical Corps in DRC has conducted more than 1.2 million screenings for Ebola and trained more than 1,700 health staff in infection prevention and control. International Medical Corps has been on the frontlines in DRC since 1999, working in some of the country's most remote, volatile and underserved areas.