Akinyi finished her college education and thought that with her qualifications, she would easily find a job. But after months of job-hunting, she was no longer as optimistic. Living in Sindo, a remote area in Homabay County in southwestern Kenya, she could not find any opportunities. She struggled day in day out to make ends meet.
Months turned into years and nothing came up. "I was frustrated and turned into something else out of desperation," she said. "I became a heavy drinker and started going out with different men as my source of income."
This was very risky because she never knew the HIV status of the men she went out with.
At the same time, International Medical Corps was implementing a program targeting people at high risk of contracting and transmitting HIV/AIDS. This program reached more than 12,000 commercial sex workers with services to empower them to protect themselves against HIV and other sexually transmitted infections (STIs) as well as counseling and psychosocial support.
International Medical Corps' approach for reaching the target population involved identifying a peer leader who could share key messages and information to others. Akinyi was identified as having the exceptional skills and was soon hired to be a peer leader. "I later joined TEKELEZA drop-in center (DiCE) as a volunteer peer educator where we were trained on how to protect ourselves and engage others on prevention of HIV and AIDs and STIs," she said.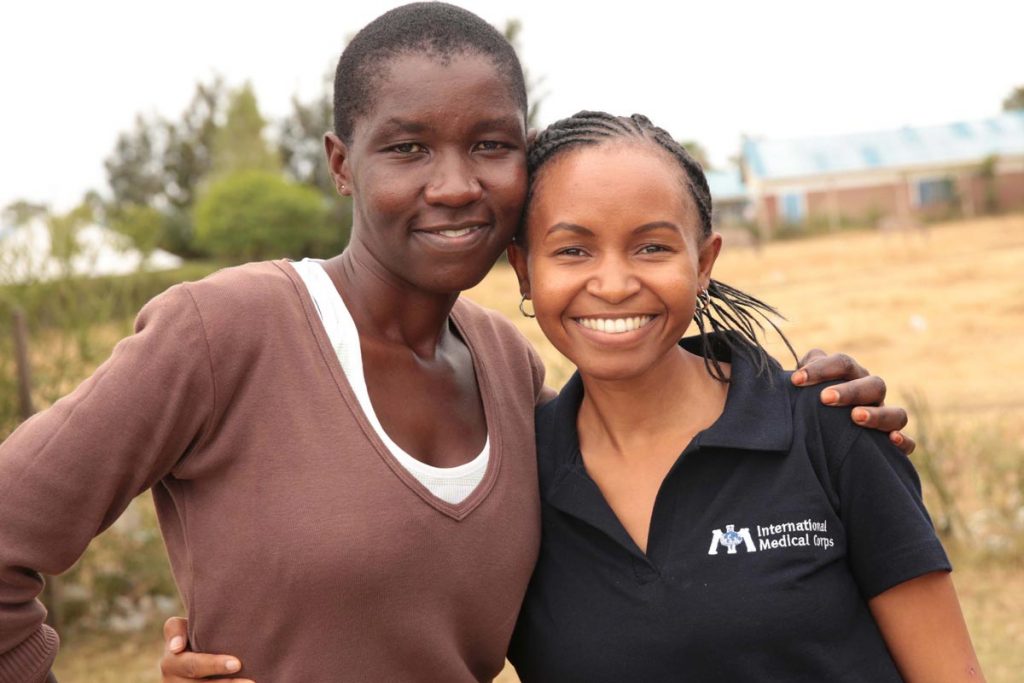 It was through her interaction with the International Medical Corps nurses that her interest in assisting those suffering from the infections and providing health care services grew. She was further encouraged by the International Medical Corps staff and opted to go back to school and study.
"A year later, I decided to go back to school and study to become a nurse, thanks to the staff of International Medical Corps who encouraged me to try another course," Akinyi said. "I pleaded with my mother, who was more willing to help me than I expected. I got an opportunity to join Kabarnet Medical Training College to study nursing."
Akinyi currently holds a diploma in nursing which she pursued as a result of the motivation she got from the International Medical Corps staff working at Sindo DiCE. She is now a volunteer nurse attached to one clinic in Homabay County serving Key Populations, some of whom are her former peers.