Yarmah J. Cooper, Laundry and Burial Supervisor
Bong County Ebola Treatment Unit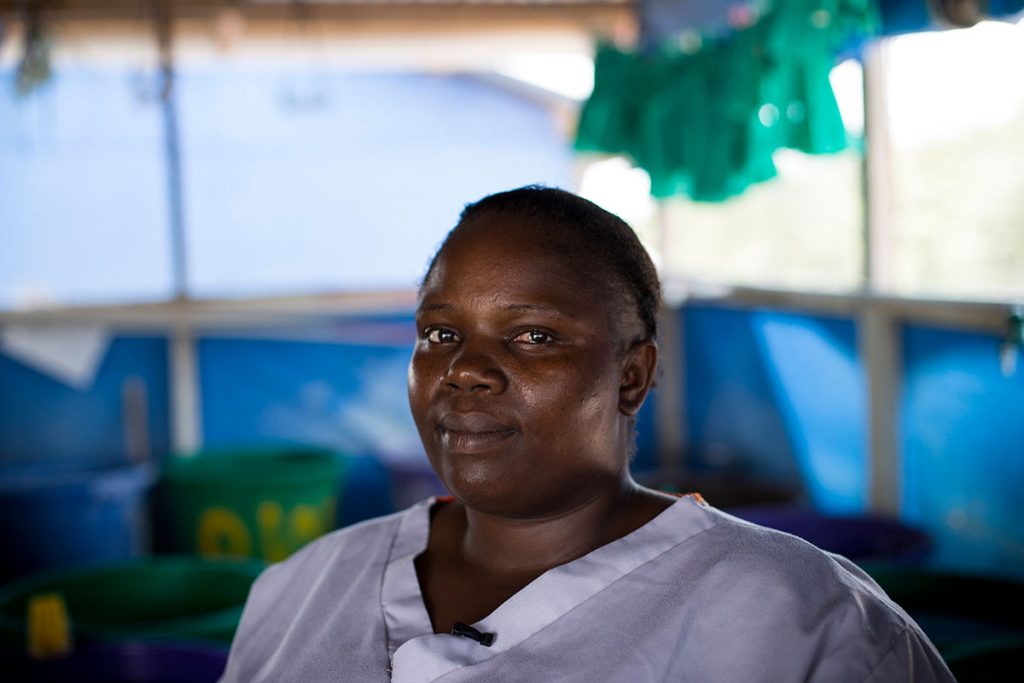 Like her friends and family, Yarmah Cooper was afraid when Ebola first came to Liberia, but after seeing so many people lose their lives to the virus, she decided that she needed to take action. "I got the courage, seeing my people dying," she says. "I decided to come in the ETU to save lives for my brothers and sisters."
She joined International Medical Corps' team at the Ebola Treatment Unit (ETU) in Bong County as a waste handler. "I came and the confirmed ward was very, very packed with our brothers and sisters," she recalls. "Even if you stood out there and saw them, you would shed tears."
Multiple times a day, Yarmah put on personal protective equipment (PPE) and entered the confirmed ward to collect patient waste—which is highly infectious—and take it to the incinerator to be burned. It was dirty and dangerous work, but without her, the ETU would have been unfit for patients and too unsafe for staff to work in.
Yarmah was soon promoted to laundry and burial team supervisor, where she was responsible for making sure all of the equipment used at the ETU daily was fully decontaminated and that anyone who died at the facility was buried following strict safety protocols. "The hardest thing about all the job was to make sure all staff were protected," Yarmah says. "Cleaning the materials—the scrubs, the boots, the aprons, the gloves, and the goggles. We made sure we cleaned them good and prepare for the next day for the staff to use."
The ETU cared for 160 people with Ebola. Seventy-eight of them survived. "We worked hard," Yarmah says. "The harder you worked, you got more survivors. Because we payed time to our patients. We catered to them. We gave them more care. I think they liked the care we gave to them. That's why they came out as survivors."
---
Harris T. Kollie, Nurse and Psychosocial Supervisor
Bong County Ebola Treatment Unit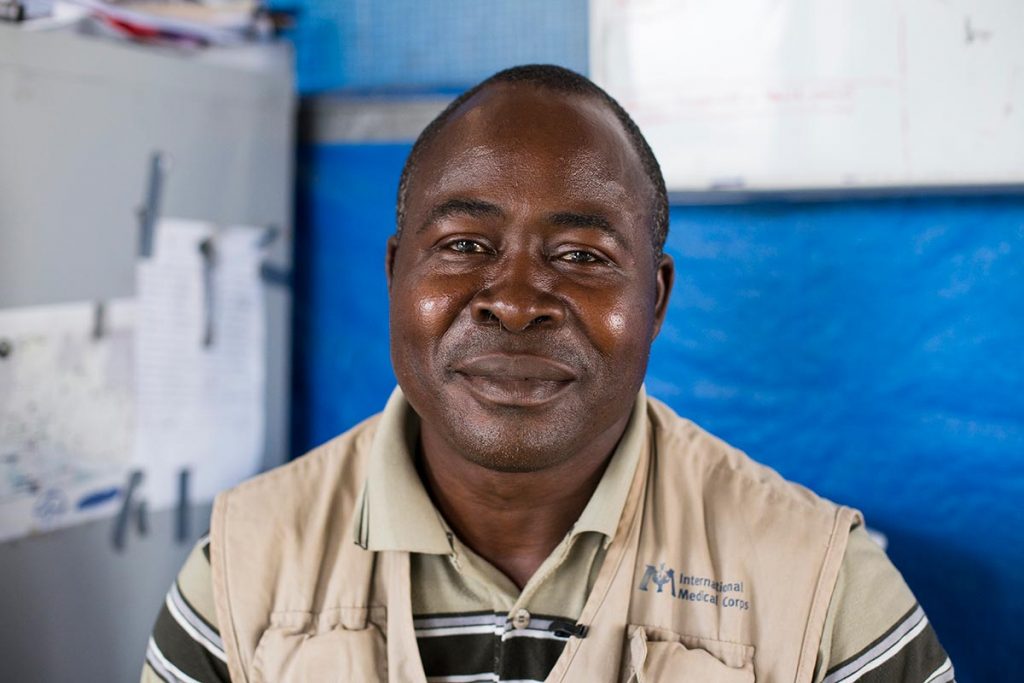 As a Liberian, Harris Kollie could not sit by and watch as people from other countries came to fight Ebola. With so much misinformation about the virus, Harris believed that he had a far better chance of gaining communities' trust than foreign health workers, as he could relate to his fellow Liberians in a way outsiders could not. When International Medical Corps opened the ETU in Bong County, he joined the psychosocial team, where he spent time inside the ETU talking to patients and outside speaking with communities to earn their trust and offer emotional support.
"The biggest challenge in the beginning was to get people to trust us at the ETU because people had so many misconceptions in the community that if they came to the ETU they were going to be killed," Harris says. "Or poisoned with the food that was going to be served to them. So we were taking time to talk to people, to speak in our own vernacular. So that they would be convinced that we were here to help them, not there to kill."
He recalls one patient who was so afraid that the ETU staff would kill him that he hid a knife in his bag. "I introduced myself as a psychosocial officer and that we were there to help him and that no one was against him," Harris says. "I asked him, 'What is in that bag?' He said, 'It's a knife.' And I said, 'What are you doing with it?' He said it would peel an orange. I said this was a medical area and we had other patients and really couldn't allow people to come inside with a knife…I told him, 'We are not an enemy to you. We are Liberian brothers.'"
It took some time, but the man slowly began to trust Harris and his colleagues. He started to eat and take medicines as instructed—and was soon discharged as a survivor.
While he may no longer be working at the ETU, Harris is still helping communities cope with the destruction that Ebola left in its wake. He and his colleagues are working in four hard-hit communities to help them heal and forgive after the virus took the lives of so many of their friends and family. "Some are divided in their own community because of Ebola," Harris explains. "There were divisions and there were other conflicts. For now, we are in the community to talk to them so they can see the reasons why they can reunite. It was Ebola that brought all of this into our country."