As of September 21, there have been 2,170 confirmed cholera cases in South Sudan. Thirty-one have resulted in death. The majority of these cases have been in the capital, Juba, where International Medical Corps has been fighting cholera in the city's largest displacement camp.
Known as UN House, the camp or "protection of civilian" (PoC) site sits on a UN base on the outskirts of Juba and hosts more than 39,000 people. Many of them have sought refuge there since South Sudan's civil war first erupted in late 2013, but others poured into UN House this July, after deadly fighting once again broke out in the capital between government and opposition forces.
It was on the heels of this violence that the first cholera case was confirmed in the PoC.
"Our cholera response was immediate," said Dr. Meroni Abraham, International Medical Corps' Medical Coordinator in Juba. We test any suspected case right on the spot—and when the first patient tested positive, we started treatment right away."
As the health care provider in the camp, International Medical Corps set up two cholera treatment units (CTUs) in UN House, one with a 13-bed capacity and the other with 15, to isolate and treat patients who tested positive for cholera.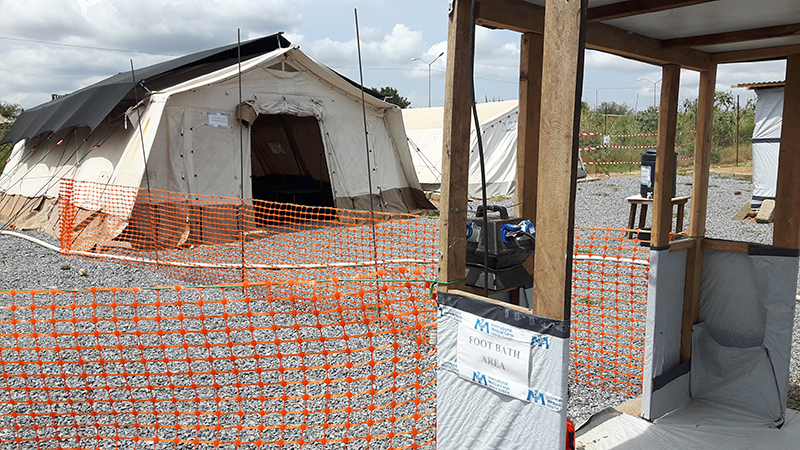 While this was not the first time International Medical Corps had responded to cholera in the camp, the aftermath of the July violence made the disease more difficult to prevent. "Sanitation in the camp deteriorated significantly and water supply was disrupted for a number of days, as the fighting prevented road traffic in and out of the camp," said Dr. Meroni. "This, combined with the onset of heavy rains, created a perfect storm for a cholera outbreak."
But Dr. Meroni and his team were prepared. All clinical staff were trained on cholera case management and disease surveillance. Cholera bed, medicines, supplies, and testing kits were all prepositioned in the camp so that response could start immediately if it was needed. "It was because of this preparation that we were able to begin testing and treating people immediately," said Dr. Meroni. "Cholera is treatable, but timely treatment is critical."
Cholera is an acute diarrheal infection caused by ingesting food or water contaminated with the bacteria Vibrio cholerea. The incubation period can run from a few hours to five days and can spread like wildfire. This is partly because the majority of the people infected with the bacteria never develop symptoms, but can still be carriers and make other people sick.
Those who do develop symptoms are at risk of dying of severe dehydration, as the bacteria triggers severe watery diarrhea. However, cholera can be treated successfully if patients receive oral rehydration salts and, in severe cases, IV fluids. The WHO estimates that if timely treatment is available, the case fatality rate should be under one percent.
In addition to being curable, cholera is also preventable, if people follow strict hygiene practices and have access to safe drinking water and sanitation services. It is because of this that Dr. Meroni and his team trained 20 community health workers (CHWs) to equip families with the knowledge they need to keep themselves safe from the disease and know the signs and symptoms and where to seek treatment.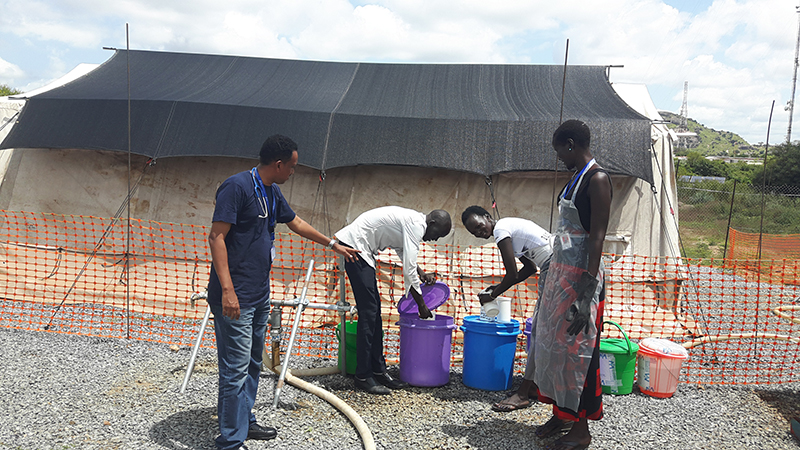 "The CHWs have been an integral part of our cholera response," said Dr. Meroni. "They have gone house-to-house, talking with families about how cholera is spread. Stopping a cholera outbreak is as much about education as it is about timely treatment. They also connect the community to our treatment facilities, as they can identify suspected cases, provide immediate support like oral rehydration salts, and refer them for care."
While International Medical Corps treated cholera patients in its two CTUs, Doctors Without Borders built a cholera treatment center (CTC)—a stand-alone facility with a higher bed capacity—in the camp. International Medical Corps took the CTC over as soon as it was completed on August 10th, giving Dr. Meroni and his team more space to care for their patients.
In the first three weeks of September, International Medical Corp's saw five cholera patients—compared to 43 during the same period in August. The last two patients were admitted on September 23rd. If no new cases are reported for 10 days—twice the incubation period—it's a signal that the outbreak in the PoC may be over.
In total, International Medical Corps treated 87 cholera patients in UN House since the first case on July 21. All of them survived.
"Every case that we have treated in the CTUs or the CTC is a success story," Dr. Meroni said. "The outbreak in the camp may be reaching its end, but Juba is not yet cholera-free and we still have occasional rain showers. This means we may still see new cases emerge in the PoC. Our CHWs are still active and our CTC is ready. We have to remain diligent."