As countries in the Horn of Africa experience worsening food security issues, our team in Ethiopia has been sharing home gardening programs that give community members the tools they need to grow their own vegetables and provide nutrient-rich meals to their families.
With generous support from Earth Council Geneva, International Medical Corps has implemented sustainable backyard gardening projects in Ethiopia for more than three years. Beginning in the Oromia region and then expanding to the Wolayita zone in the Southern Nations, Nationalities, and Peoples' region (SNNPR), these projects have helped hundreds of families prevent and treat malnutrition in young children.
Birhanesh Beyene is a farmer in a village in Wolayita. Her 18-month-old son, Abenezer, was suffering from malnutrition. Like most farmers in her village, Birhanesh practiced subsistence farming, which is rain-fed, single-crop and season-dependent. The most common crops in the area are enset (a banana-like plant) and maize. Unfortunately, these crops did not meet her or Abenezer's basic nutritional needs. In July 2021, Birhanesh enrolled in our gardening program.
"I had no idea how I should feed my son, and he used to get sick frequently," says Birhanesh. "International Medical Corps provided the necessary start-up supplies and taught me the skills I needed to produce a variety of vegetables in my backyard. Today, providing a balanced diet has become as easy as going out to my garden, and my child's health has improved dramatically."
"By teaching families how to practice sustainable, organic gardening—and providing the supplies to do so—we help ensure that the communities we serve not only have enough food this year but for years to come," explains Nazrawit Yohannes, Nutrition Program Coordinator at International Medical Corps.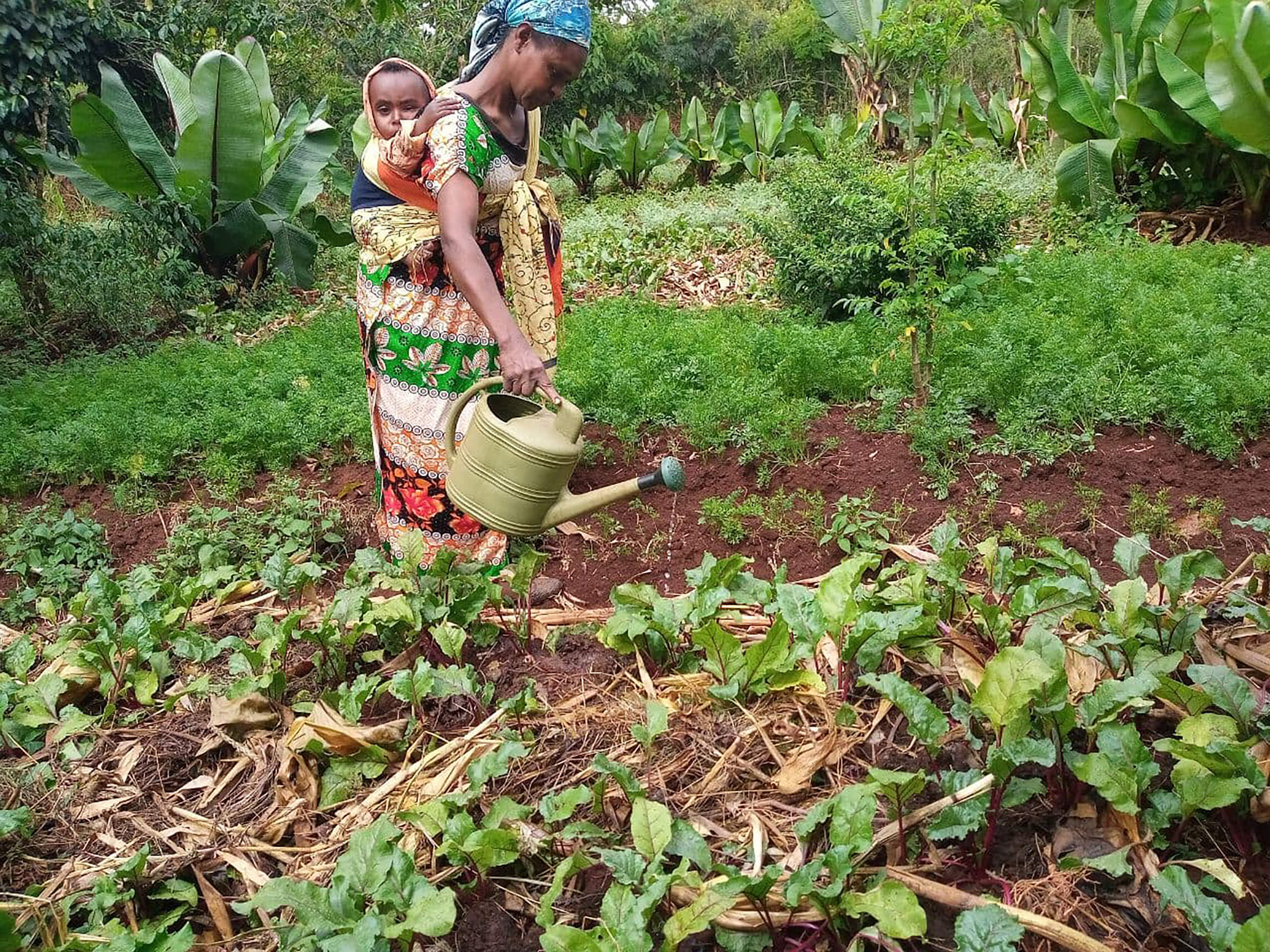 The gardening program includes training in basic gardening skills as well as garden design and layout, and how to mulch and fertilize the soil organically to prepare it for planting. Our teams also provide participants with seeds and gardening tools.
Abebech Elimo is another subsistence farmer who enrolled in our program. Like Birhanesh, she has a young son named Abenezer. The common crops in Abebech's village are maize, roots and tubers such as taro and sweet potato. After enrolling in the gardening program, Abebech learned how to grow other vegetables—including cabbage, tomatoes, onions, beetroot and carrots—creating a more diverse, nutrient-rich diet for her son.
"I knew my son was small for his age, due to my limited means," says Abebech. "Thanks to the backyard gardening project, I now have what I need to grow vegetables in my garden for my son. Thank you to Earth Council Geneva and International Medical Corps for this knowledge, which will help me my whole life."
After seeing the success in her garden, Abebech began teaching sustainable farming techniques to other farmers in her village—planting the virtual seeds that will help grow more nutritious diets for others in her community.