"When you go abroad for an emergency response, you know that you will eventually come back home, get some rest and the response will be all over," says Suha Mhanna, International Medical Corps' US Deputy Country Director and COVID-19 Response Manager. "But with COVID, everything changed. In this response, we're already home. No one is safe."
As a US-based global first responder for more than 36 years, International Medical Corps has been on the frontlines of crises, braving violent conflict, devastating natural disasters and deadly disease. But COVID-19—a still-uncontained threat reaching all corners of the globe—has eroded the distinction between work abroad and work at home, bringing an inescapable crisis right to our own backyards.
Amid global shelter-in-place orders and travel bans, International Medical Corps launched its biggest emergency response to date, with most of our staff—seasoned humanitarians used to traversing the world—working from home. We quickly mobilized to support overwhelmed hospitals and long-term eldercare facilities in the US while safeguarding our staff and continuing our programs in 30 missions abroad. "With everything locked down, it was very difficult at the beginning to understand the situation and get all the supplies we needed. Everyone was unsure about what would happen," says Mhanna. "But we are International Medical Corps—we have an obligation to provide support wherever we are needed."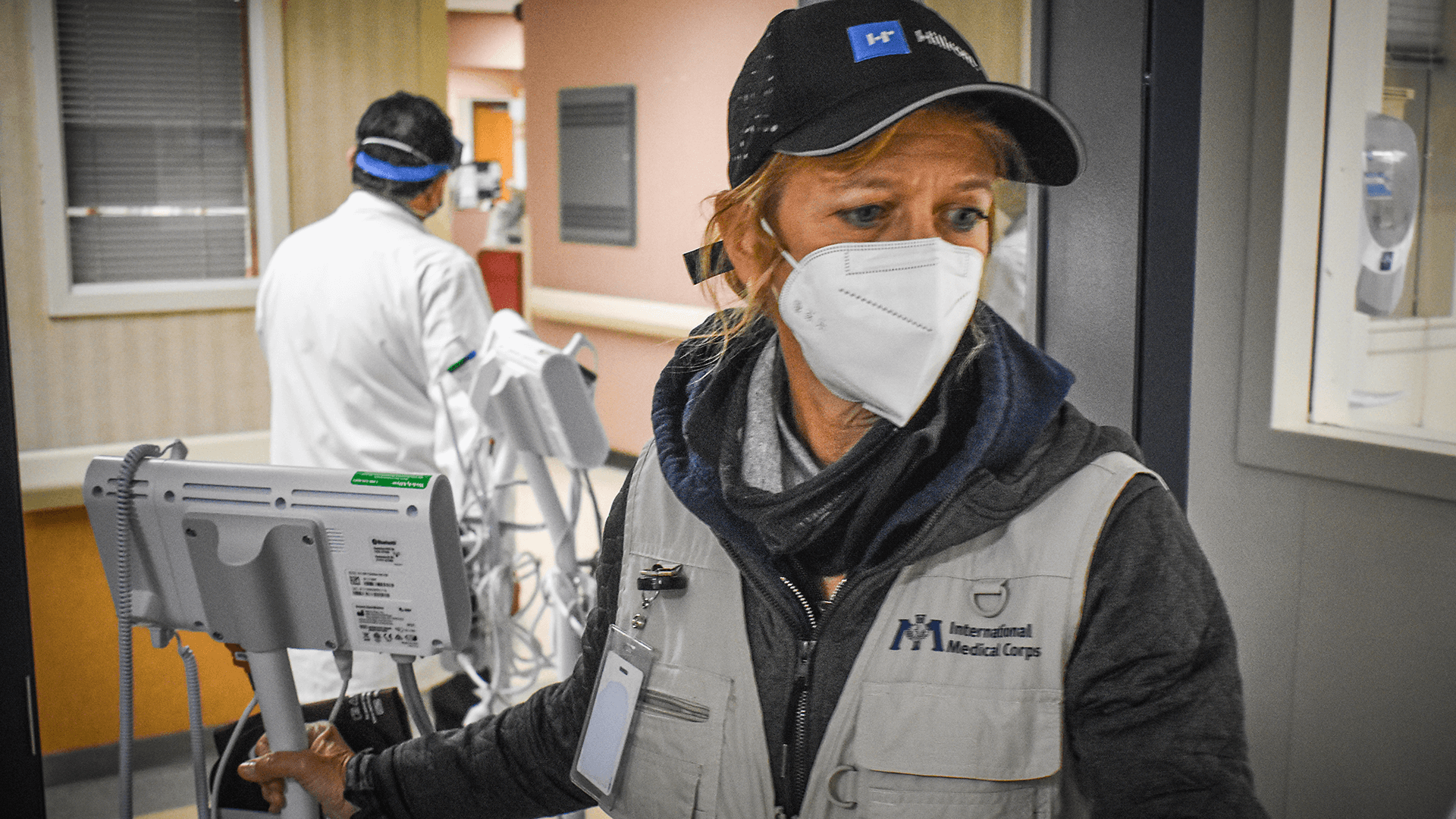 International Medical Corps' COVID-19 response in the US initially focused on five main pillars: emergency medical field units, medical equipment, medical supplies (including desperately needed personal protective equipment, or PPE), clinical staff and training. In contrast with our overseas programs, which tend to prioritize primary care, our focus in the US has been on critical care, due to the tremendous shortages of equipment and staff faced by hospitals nationwide. Some hospitals—like those we helped supply with clinical volunteers in New York City at the height of the pandemic—had nearly 100% occupancy by COVID patients.
"It was a terrible situation," says Scott Lillibridge, International Medical Corps' Director of Emergency Response. "Every bed in the hospital was filled with COVID patients, staff were sick and there was no equipment or PPE. We knew we had to help."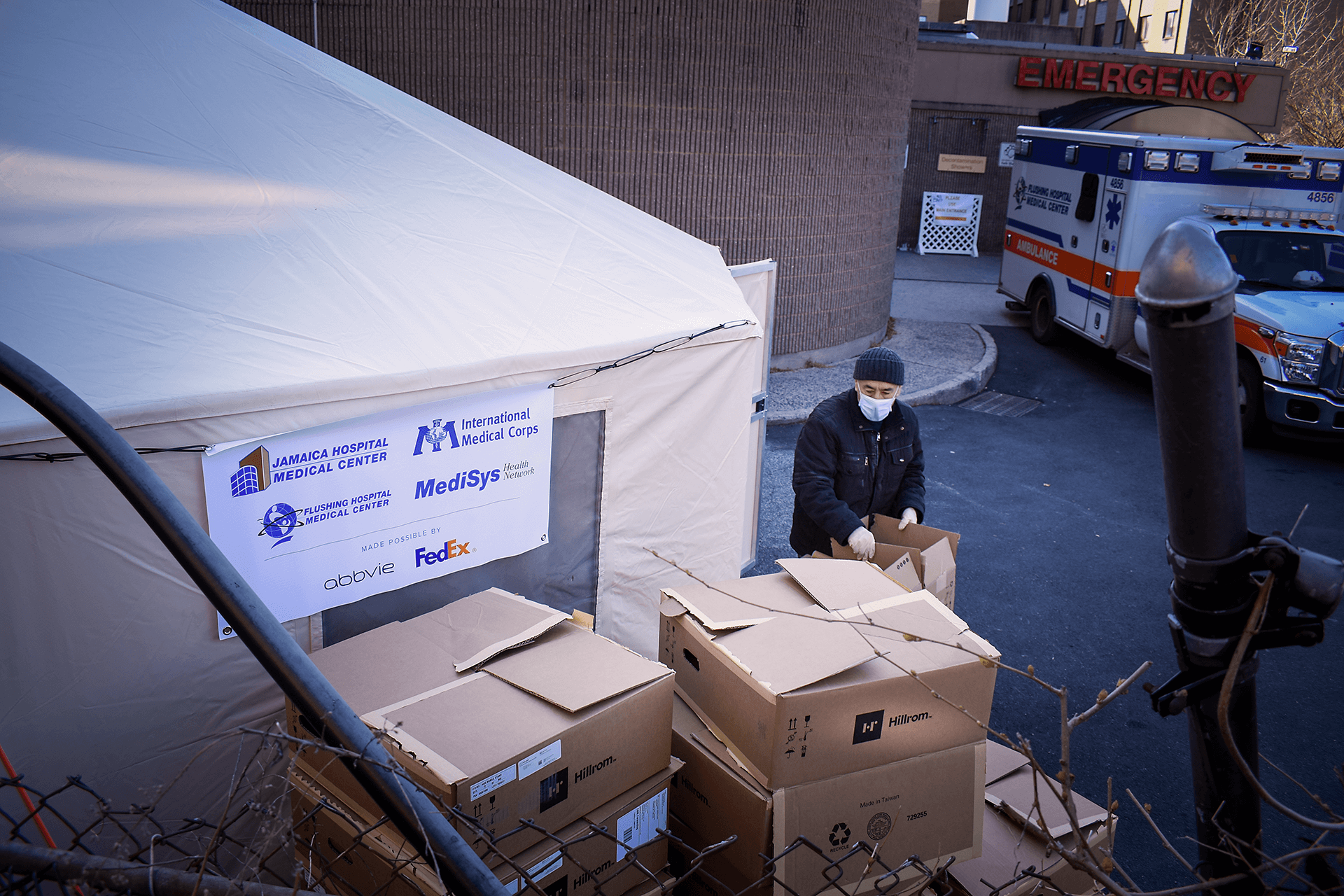 Working around the clock during those first few months, our goal was to "fill the gaps," says Lillibridge. "So we gave it our all and emptied our warehouses for stricken hospitals—and have been doing that ever since." Despite heavily strained global supply chains, our teams managed to secure and deliver 4 million items of PPE in the US, and deploy 33 emergency medical field units, which hospitals could configure for tasks such as testing, triage and treatment, or even additional patient beds. We also deployed 75 medical volunteers to hard-hit hospitals to relieve exhausted frontline professionals. Since the start of the pandemic, International Medical Corps has supported 38 hospitals and 51 long-term care facilities in 27 cities across six states and Puerto Rico.
Eight months later, our efforts continue unabated, with COVID-19 cases across the globe again on the rise. "I personally have exceeded the point of 'Groundhog's Day' exhaustion," says Trevor Rhodes, International Medical Corps' Emergency Response Unit Manager. "I think it's just become a part of a normal day's operations, and it will be for the foreseeable future." However, he adds, "we do benefit from the hindsight of the past two waves in the US and our ability to clinically manage those as inpatients in critical care settings. So while we are seeing an uptick in the mortality associated with this wave, it isn't reaching the proportions that we saw in the first two waves, largely due to many practices that we've learned and the care techniques we've modified."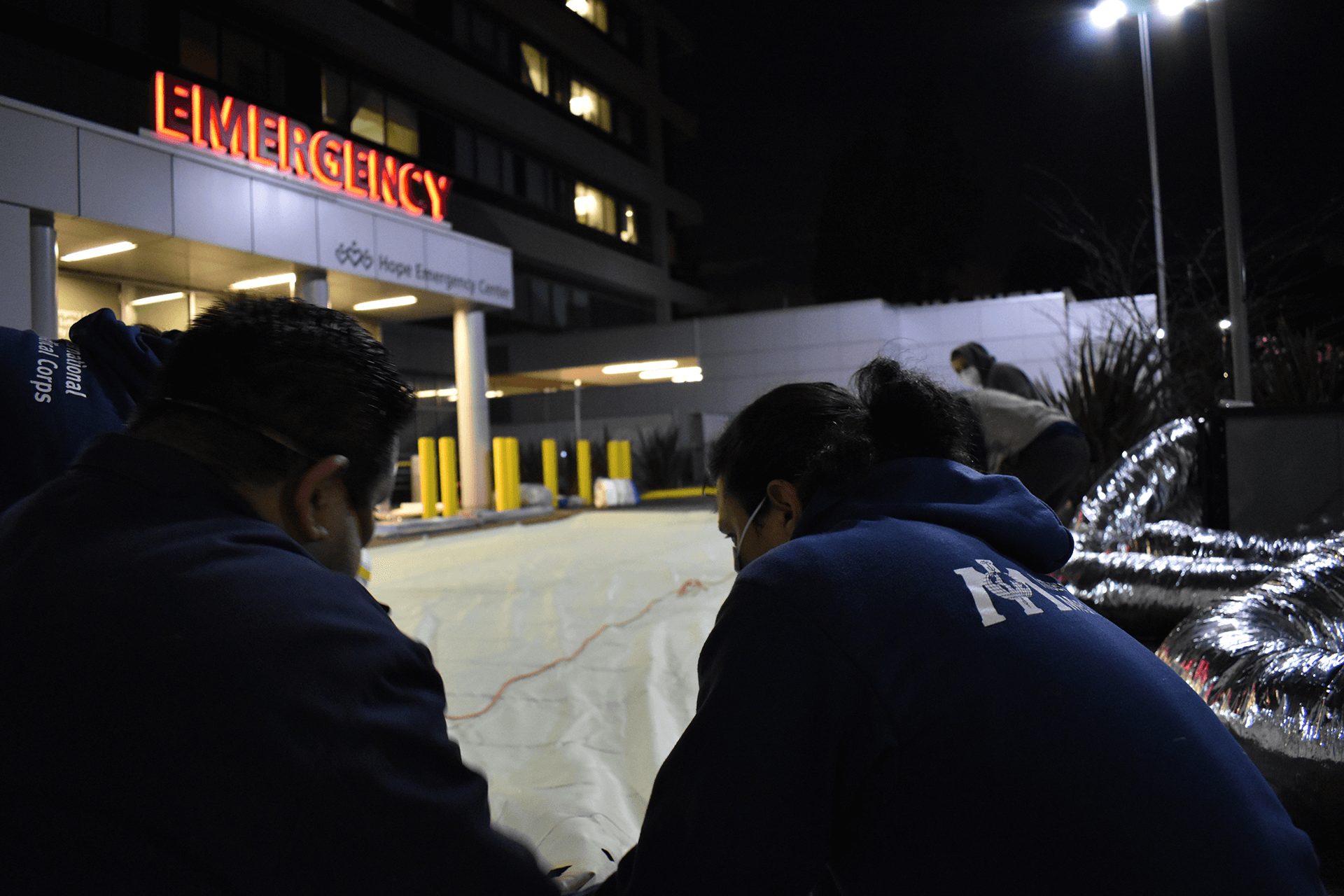 Still, Rhodes wonders whether supplies of PPE will keep up with the demand as the country's third wave continues. Hospitals are once again beginning to ask staff to reuse PPE in the face of increased cases, and the quality of medical services could suffer because of overwhelming caseloads. "We don't want to get to the point again where medical professionals will have to ethically choose who gets critical-care treatment because they have more patients than the system can support," says Rhodes. Adds Lillibridge, "We're going to see our partners through until things return to a place where hospitals are fully able to manage on their own."
Meanwhile, three promising vaccines have materialized in recent weeks, turning the attention of the medical community to a new mission: distributing billions of doses of vaccines as quickly and as safely as possible. International Medical Corps is uniquely poised to contribute to this effort, having developed a national network of partner healthcare facilities in the US and strong relationships with pharmaceutical and medical supply companies through the course of our COVID-19 response.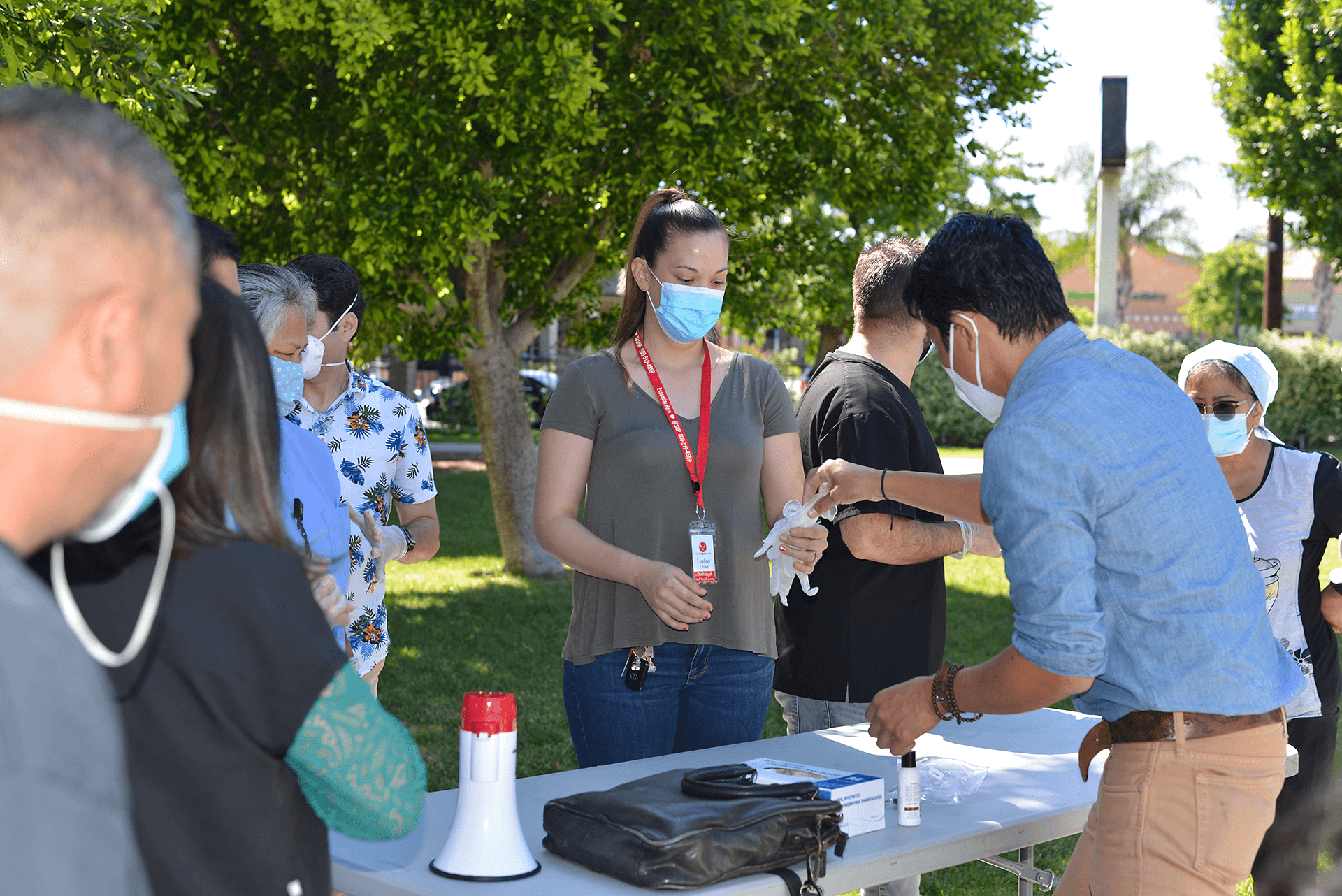 "I believe there are some interesting opportunities for us as an organization to support the delivery of the COVID vaccine around the world, particularly in our missions in lower-resource environments," says Rhodes. "In addition, with our proven expertise in cold-chain management and overcoming 'last mile' challenges in other countries, we can play a key role in helping to distribute vaccines right here in the US."
Such collaboration will be key to defeating the COVID-19 pandemic globally. Perhaps this virus, experienced so collectively and so painfully, has driven home more than ever the responsibility we have to one another—and the importance of working together, both here and abroad. "This pandemic is a joint responsibility," says Mhanna.
"We will overcome this crisis by being responsible not only toward ourselves and our loved ones, but also toward our communities, our country and our world."

Suha Mhanna, International Medical Corps' US Deputy Country Director and COVID-19 Response Manager
To learn more about International Medical Corps' efforts to fight COVID-19 in the US and around the world, visit https://internationalmedicalcorps.org.uk/covid19.