Between 2018 and 2021, a series of Ebola outbreaks in the Democratic Republic of Congo (DRC) claimed more than 2,300 lives. At the same time, a protracted war, mass displacement and a lack of water services have contributed to a slow deterioration of the country's health system and working conditions for health staff, while diminishing the glimmer of hope and normalcy onto which many health facilities were clinging. International Medical Corps, which has been on the frontlines in the DRC since 1999, has focused on meeting the country's most urgent health needs—including a lack of access to clean water and poor sanitary conditions that contributed to the spread of disease across this already-fragile healthcare system.
Access to safe and sufficient water and improved sanitation, as well as maintaining good hygiene, is crucial to human health, and a critical part of our broader health interventions. Through a partnership with the US Agency for International Development, International Medical Corps provides water, sanitation, and hygiene (WASH) support to underserved communities in the DRC, which both helps save lives and improves working conditions for health professionals. "Now that we have the water for which we were waiting for so long, joy has returned to my face," says Kavira Mandolani, a hygienist at the Vuthike Health Center. "I get to be young again, rather than having to spend my days searching for water and clinging to life."
In March 2021, International Medical Corps visited the health facility in which Mandolani works—which treated 25 cases of Ebola during the country's 10th outbreak, the second-largest in history—and recognized the urgent need to connect the site to the national water grid and set up laundry services. "During the Ebola outbreak, due to water scarcity, we had no way of cleaning the excessive amount of diarrhea, blood and vomit we encountered, and we had to search by foot for water, which was very hard to come by," says Mandolani. "Soon, people were unable to come to the facility for treatment." In addition to supplying and installing a water tank and constructing a laundry system, International Medical Corps provided extensive training to the health facility on proper sanitation and hygiene.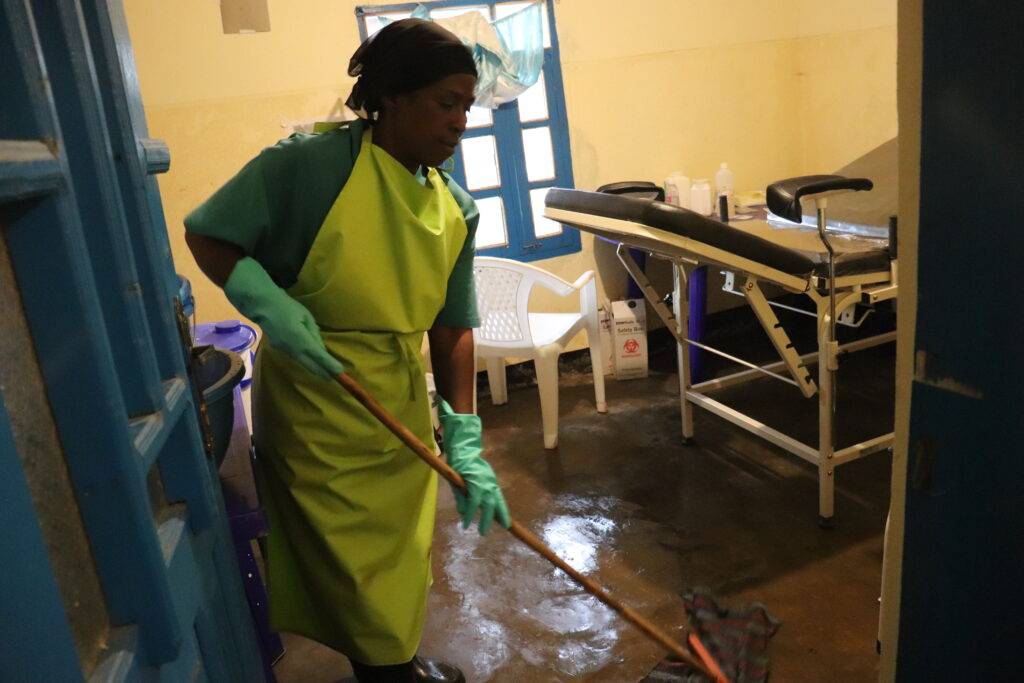 "I'm so happy," beams Mandolani. "I feel like a privileged hygienist now! I learned that water is the most valuable thing in life, and I have started to love working in the facility. International Medical Corps has changed our working conditions and the lives of our people."
Helima Bosombo, a 75-year-old hygienist at Wangata General Hospital in Équateur province who has devoted her life to helping people in need, agrees wholeheartedly. "We used to have to bring water from far away, to clean the hospital and even to drink," she recalls. "Daily cleaning was a real chore for the patients and staff, and often we were so tired and exhausted that it was difficult to concentrate on what to do, due to lack of water." Thanks to a borehole drilled by International Medical Corps with support from Zaman International, Bosombo now only has to walk a few steps to get water. "Every day, we draw water to clean the facility, drink or fill the handwashing station," she says.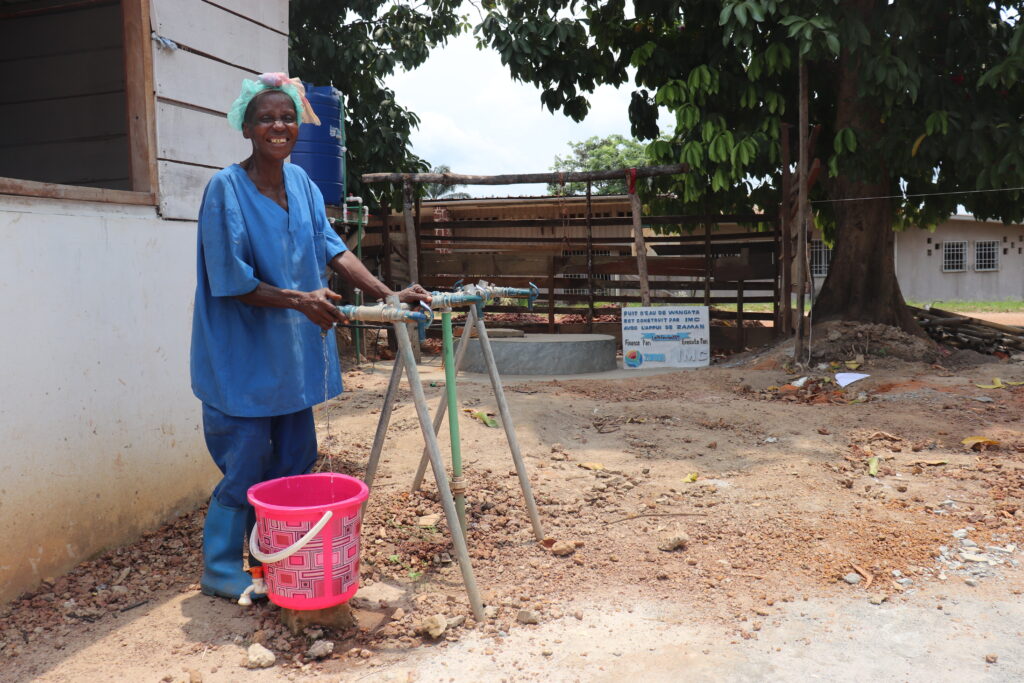 Hygienists are not the only ones to benefit from this borehole. People from the surrounding community used to have to spend 100 francs for three cans of water. Now they can save their money for other means. "What is happening in our facility through this project gives hope to healthcare workers and to the community," says Bosombo.
Kavira Lutshunvi, a nurse in charge of infection prevention and control at Kihinga Health Center, calls International Medical Corps' water project in her community "a necessary and resounding success." It brought water to her health facility, which drastically increased her and her colleagues' ability to provide care for patients, she says: "The availability of readily accessible water also opened new chapters for the community and allows our people to participate in health and hygiene activities that were previously hindered by water scarcity."
Since 2018, the 95 Ebola screening-and-referral units supported by International Medical Corps in the DRC have enabled healthcare staff to conduct more than 2 million Ebola screenings and 1.2 million COVID screenings. In addition, we have trained more than 1,700 health staff in infection prevention and control. To learn more about our Ebola response in the DRC, please visit: https://internationalmedicalcorps.org.uk/ebola.