In 1994, Dr. Abdou Sebushishe's hometown of Goma, in the Democratic Republic of the Congo (DRC), was overwhelmed as hundreds of thousands of people sought refuge from the genocide against the Tutsi in Rwanda. A relatively small city, Goma did not have the food, water and shelter necessary to handle the influx of people streaming over the border. The international community's response was badly delayed, and the situation quickly turned into a humanitarian crisis.
Because of the lack of resources in Goma, the refugees went to nearby Lake Kivu to wash their clothes, to fetch water—and to defecate. This created one of the worst cholera outbreaks in modern history, resulting in an estimated 12,000 deaths over a three-week period. Dr. Abdou, who was 9 years old at the time, recalls that he and many other Congolese children stopped going to school because anytime they left home, they'd see bodies, wrapped for a traditional burial, lining the roads. "It was so traumatizing," he says.
But then the cholera outbreak hit even closer to home: Dr. Abdou's father had become friends with some Rwandan refugees who later fell ill with the disease.
"I could see how people were suffering," Dr. Abdou says. "I got the feeling that I needed to do something in my life to help people, at least in the future. I said, 'I have to be a doctor so that, next time, no one will die of cholera.'"
Throughout his childhood, he remained so single-minded in his focus that his classmates and parents affectionately called him "Doctor"—long before he ever entered university.
After graduating from the University of Goma with his medical degree 17 years later, Dr. Abdou worked in Rwanda as a general practitioner. But when he took a job in Liberia during the 2014 Ebola outbreak, he began studying infectious diseases, tropical medicine and vaccination in greater depth. It was a decision that has since served him—and International Medical Corps—very well.
In March 2019, as the Ebola epidemic was raging on the eastern edge of his home country of DRC, Dr. Abdou came to International Medical Corps as a technical coordinator, charged with preparing neighboring South Sudan for a potential outbreak of the disease. "I was the national co-lead for case management in South Sudan, coordinating efforts to operationalize isolation facilities," he explains. "In high-risk states, we supported the Ministry of Health in developing guidelines for Ebola preparedness, and we began training healthcare workers to respond to Ebola, because it's an unusual disease that requires a lot of skill and dedication to treat."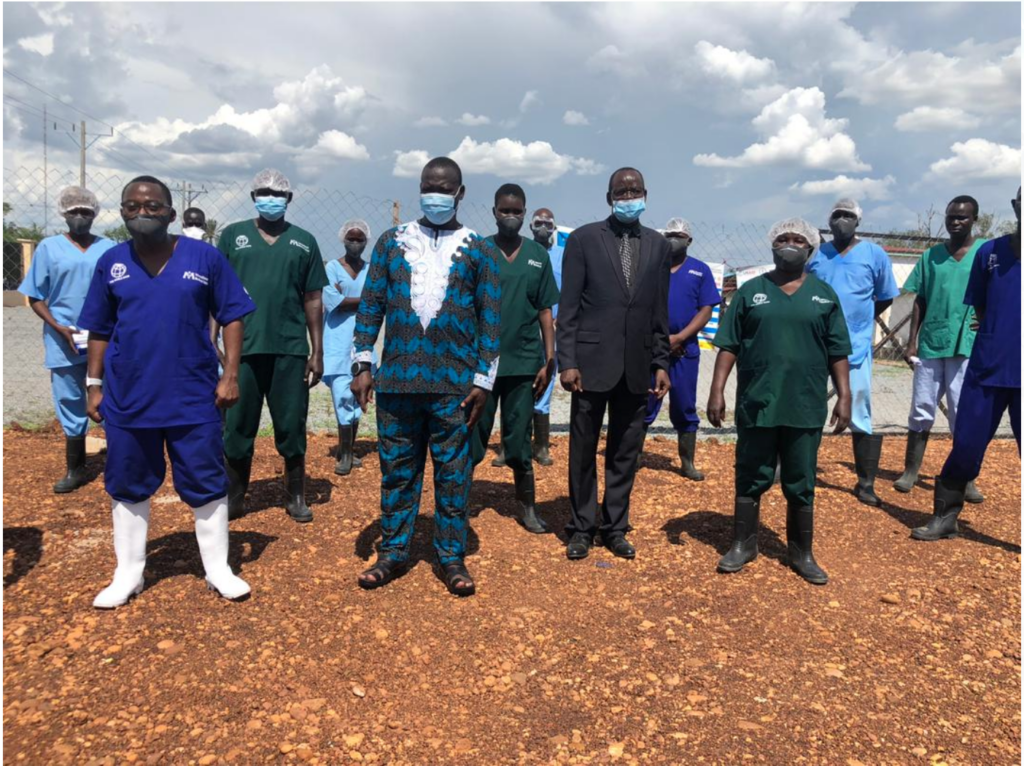 By February 2020, Ebola was waning in DRC. Thankfully, it hadn't spread into South Sudan, and the Ebola preparedness program there was set to close. But then COVID-19 came along, giving Dr. Abdou a second chance to use his specialized knowledge. He rejoined the South Sudan team as a technical lead, putting a COVID-19 response plan in place, coordinating treatment facilities and providing clinical training to doctors and nurses. He also supervised one of the largest isolation facilities in South Sudan.
In December 2020, Dr. Abdou took a larger role in ensuring the health of people in South Sudan when he was promoted to medical director. It's a complex and unpredictable job, he says, especially given the ongoing COVID-19 outbreak. "Most of the time, I plan the next day the night before, writing down what I will do. But as soon as I step foot in the office, everything changes immediately," he says, smiling.
Though there's no such thing as a typical day, Dr. Abdou tries to follow a routine whenever possible. After checking emails and attending regular meetings with the Minister of Health to coordinate various health projects, he visits the protection of civilians (POC) site or infectious disease unit in Juba. Later in the afternoon, he calls the field office in Malakal to find out how local health projects are doing, providing technical guidance if needed. "I make sure that the quality of health service we are providing is high, and I work with the clinicians to see where I can help them improve," he says. "Once I identify those areas, I come up with an improvement plan that includes training, additional supportive supervision and on-the-job material for reference."
Despite his supervisory role, Dr. Abdou still makes time to meet and treat patients himself. "Seeing patients is one of the things I love the most—I don't think I can abandon that. It's priceless because you see the result, and you feel so good. I do it at least once a week to make sure I understand what is happening, and what the field doctors are feeling or what challenges they're going through. And that helps me see what areas can improve."
The Right Skills at the Right Time
Dr. Abdou believes that the recent Ebola and COVID-19 outbreaks have created a greater awareness among healthcare providers of the importance of employing experts who understand infectious disease and can develop plans to mitigate it.
"There will always be outbreaks of measles or cholera or other infectious diseases in many African countries—it's something we just need to get used to," he says. "But the principles are the same, no matter the disease—you need dedication and you need to avoid panic. Go forward and respond to it, while respecting the protocols."
For Dr. Abdou's team of doctors and nurses, that last principle—fastidiously following the safety guidance for controlling and preventing the spread of COVID-19—has been key to keeping cases as low as possible.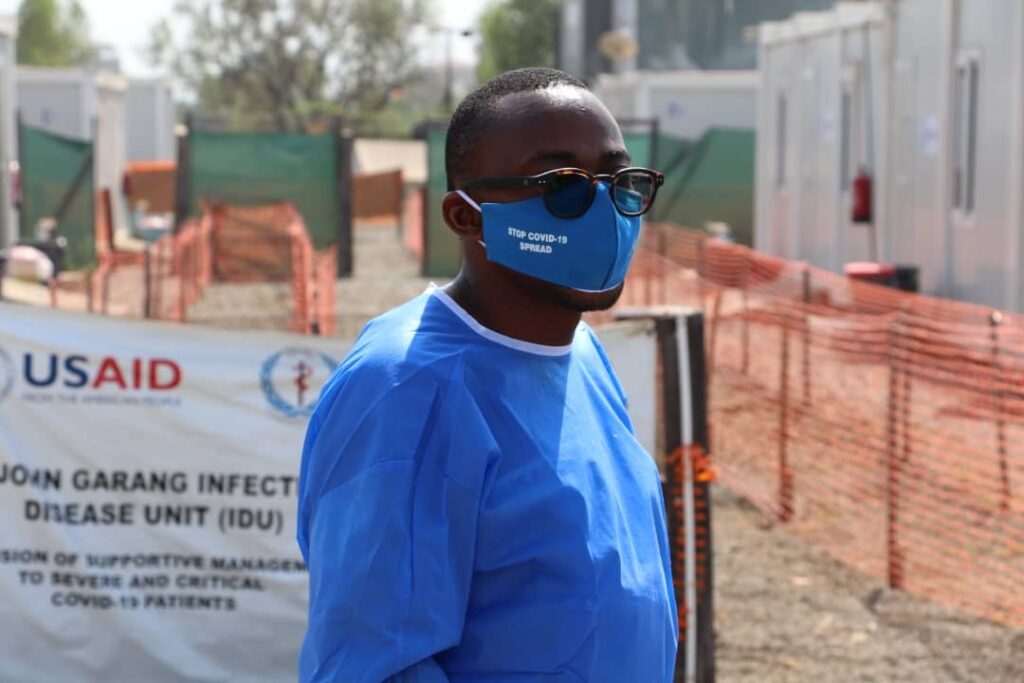 "Our greatest achievement has been keeping all the health facilities operational during the peak of COVID-19. When the pandemic started, my biggest worry was that many of our workers would get infected, and we would end up closing our health facilities in the POC—which would be a disaster, because no one else is there to provide healthcare," he explains. "And we succeeded—none of our health facilities closed because of COVID. We put a lot of safety measures in place, and we talked to staff on almost a daily basis to make sure they follow those protocols, because people tend to do things for a few days, and then they forget. International Medical Corps management also supported us quickly, making sure PPE was readily available on time."
It's an incredible success in what has been a difficult and busy year. And it's clear that Dr. Abdou—who, as a 9-year-old boy in the DRC, once longed to help save lives—is right where he wants to be.
"Providing support to the most vulnerable people—I'm able to do that here," he says. "Anytime I feel low, I think about how there is someone who got care because we are here. Then I feel fine, and I can move forward."