Irbid is a city in northern Jordan, located 43 miles north of the capital Amman and only a short drive from the Syrian border. I recently returned from Irbid, where—among other things—International Medical Corps runs a maternity ward, thanks to the support of the European Civil Protection and Humanitarian Aid Operations (ECHO).
The facility supports 70 percent of all Syrian refugees who require maternity care in the area, providing a cost-free lifeline to Syrian mothers and babies who otherwise would find themselves having to pay for care they couldn't afford. Lack of financial resources can lead to deliveries where mothers aren't assisted by a skilled birth attendant—a practice that ultimately puts both mothers and their babies at risk.
Eighteen trained midwives work at the maternity clinic. Along with sharing the stories of people who are rebuilding their lives in the face of almost overwhelming challenges, the greatest privilege of my job involves meeting the people who devote their lives to supporting these refugees, as well as other people who have had their lives ripped apart by conflict, disease or disaster. Ines, a 27-year-old midwife, is one of those people.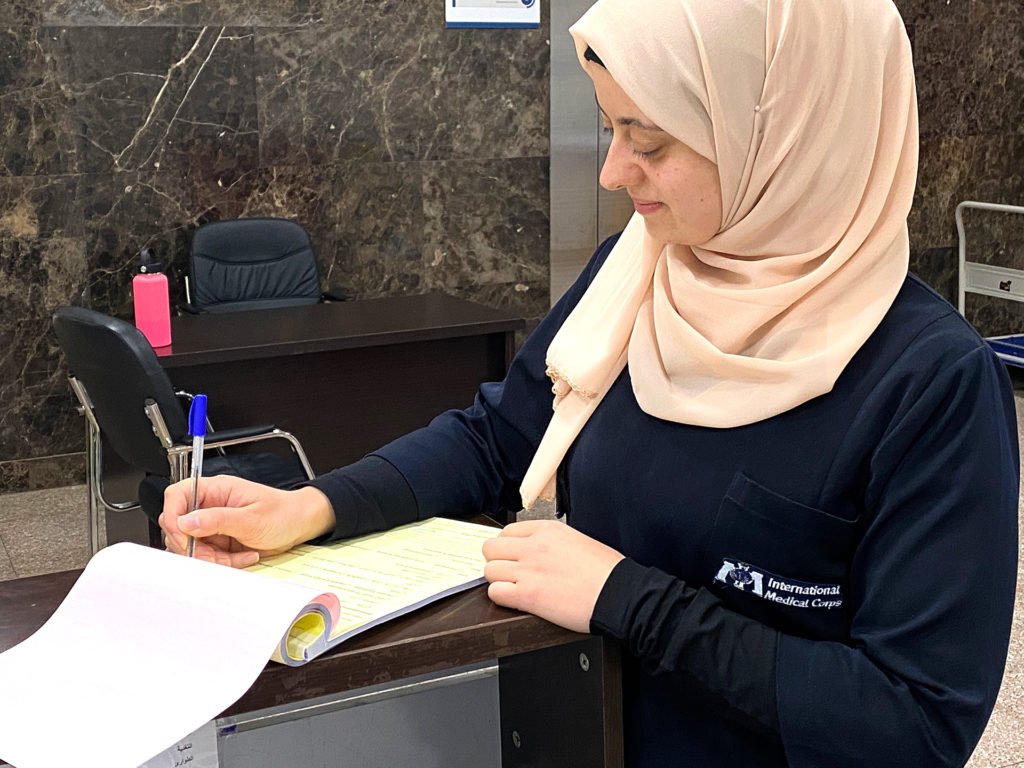 Ines: Inspired by Her Mother to Care
Jordan has a long legacy of welcoming refugees, a legacy that is still strongly reflected in Jordanian society today. Ines and her family are a perfect example of why.
Ines was born and raised in Irbid, and studied there to become a midwife. Only 27, she already has served the refugee community for six years. For a little more than a year, she has been a member of International Medical Corps' team. At the clinic, located in the central part of town, Ines supports mothers throughout and after their pregnancy. Of course, she also helps to safely deliver and care for newborn babies.
When I ask her what she loves most about being a midwife, she tells me, without hesitation, that it is the moment when a mother sees her child for the first time. She also enjoys the "privilege" of working in a medical field where almost all cases end happily.
As Ines explains to me why it is so important for her to support the refugee community in Jordan, it becomes clear that she isn't the only member of her family who cares for civilians afflicted by war—it's a commitment that spans generations. Ines's mother has supported the United Nations Relief and Works Agency for Palestine Refugees (UNRWA)—a humanitarian mission dating back to the 1948 Arab-Israeli conflict—as a midwife for 30 years.
Jordan: Providing Safety for Generations
Irbid isn't just Ines's hometown. It's also home to 20% of all registered Syrian refugees living in Jordan. This is because it's located close to Dera'a, a city in southwestern Syria as well as one of the initial frontlines of the brutal and relentless war. Given the proximity between the two cities, the majority of Syrians who live in Irbid originate from Dera'a, and arrived in Irbid almost a decade ago. According to the many Syrians who shared their story with me during my visit, few see themselves returning to the place they once called home. Instead, most of them hope to continue building their lives in Jordan, or dream of starting a new life in another country.
The Syrian war isn't the first time Jordan has opened its arms to refugees. The country, though far from a big economy itself, has a long and proud history of caring for people in the crosshairs of conflict. Of the 5.5 million registered Palestinian refugees around the world, more than 2 million live in Jordan. One of them is Aisha, Ines's 80-year-old grandmother, a Palestinian refugee who arrived in Jordan during the first Arab-Israeli war. She provides a personal link to the plight of refugees and is a driving force behind Ines's steadfast commitment to those who, in her own words 'really need us and have nowhere else to go'.
Midwives: Keeping Mothers and Babies Safe
Midwives save lives. 'A midwife's most important job is to keep the mother and baby safe', Ines tells me as she explains her responsibilities. The World Health Organization (WHO) estimates that more than 80% of all maternal deaths, stillbirths and neonatal deaths could be averted if all midwives received the same, internationally recognized level of training. But it doesn't stop there. Quality midwifery care improves more than 50 other health-related outcomes, including immunization, breastfeeding, malaria and postpartum depression.
These stark facts, and listening to Ines tell her story, remind me of the truly vital role that midwives and nurses play. In recognition of the 200 years since the birth of the pioneering nurse and humanitarian Florence Nightingale, the WHO has declared 2020 the year of the nurse and midwife—a global opportunity to celebrate these heroes. Often working in challenging and changing conditions, they are more than just health workers, they have always been the voice of—and relentless advocates for—people in need.