At International Medical Corps, we know that people are at high risk for psychological distress and mental health conditions when they lose everything in a natural disaster, live in the midst of ongoing conflict or are forced by crisis to flee their homes. That's why, in many contexts, we offer robust mental health and psychosocial support (MHPSS) services, in addition to training frontline workers and first responders in psychological first aid (PFA) so that they can support people in distress.
But disaster and conflict can hit just as close to home for the staff who work in our country missions—the vast majority of whom are locals—as it can for beneficiaries. That's why International Medical Corps is launching staff well-being programmes in Ukraine and Ethiopia. (A similar staff well-being programme has existed in Lebanon for more than two years.)
"With these programmes, we are talking about how to take care of our staff, and how to recognize that our staff—both international and national—go through pain and suffering at the same time they're expected to provide support to others," says Hazem Hajaj, Ukraine's Senior Manager of Staff Well-being.
Ukraine
Ukraine's pilot programme began in April 2022, just weeks after Russia invaded the country and upended the lives of millions of Ukrainians. Hazem deployed to Ukraine from Iraq, where he had worked as a MHPSS trainer, to launch the programme.
"Our job is to facilitate space for staff where they can explore different services, they can engage in conversations or they can just be in a quiet place where, without talking so much about mindfulness, they can be mindful by engaging with artwork and making connections with other people," he says.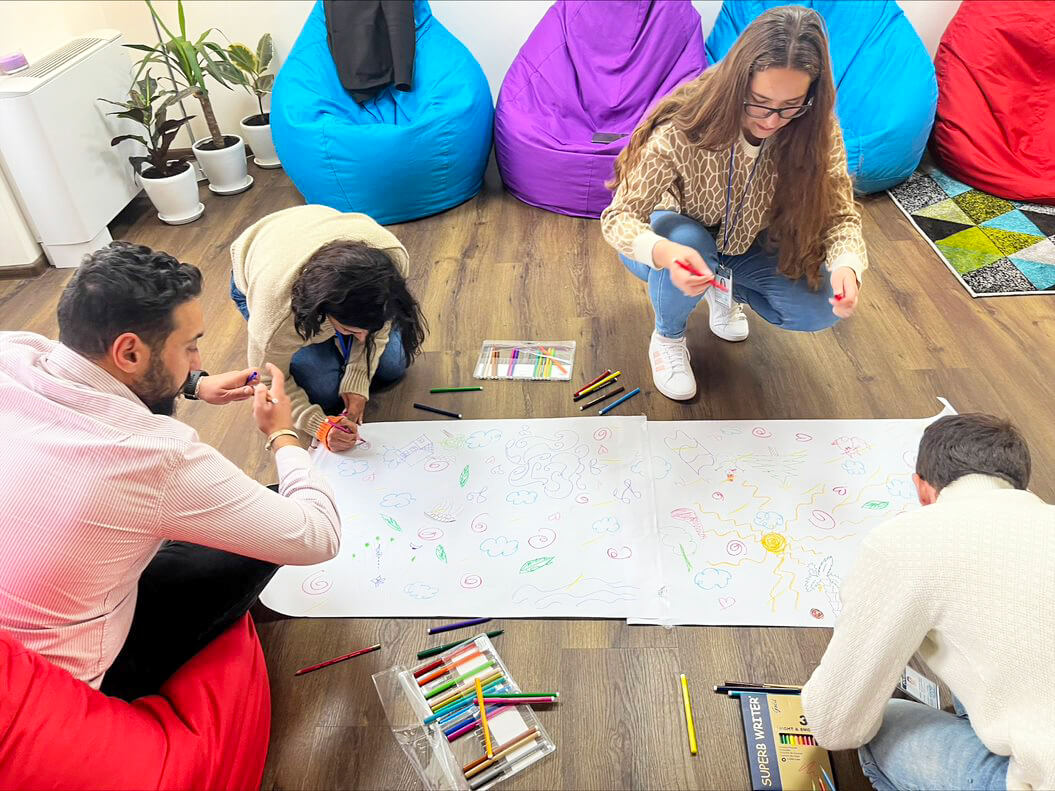 The well-being team in Ukraine—which also includes Well-being Officer Olha Ivanova—started by laying out specific guidelines for how the programme would function, in addition to creating an action plan that can be applied in other contexts. They began communicating through multiple channels to let staff know that their well-being matters. As Hazem puts it, "How you are is as important as what you do."
From the moment new hires come onboard at International Medical Corps, their well-being is prioritised. As part of their orientation, new staff members meet with a well-being officer who tells them about the services offered and explains why well-being is important. Then, the new staff members take PFA training.
"Psychological first aid training is interesting because it allows you to reflect on your own experiences," Hazem says. "It's a training that tackles how you feel in a way that also teaches you to support other people."
Both international and national staff can access counselling sessions or take workshops on topics like resilience, self-care or coping in an insecure environment. The well-being team talks a lot about stress management, emotional intelligence and preventing burnout.
The well-being programme also offers mind-body sessions. "For us to heal from whatever we go through emotionally, we have to acknowledge that it's also stored in our bodies," Hazem says. "So we have to engage our bodies if we need to talk about trauma, self-care and stress management."
The mind-body sessions include yoga, massage and movement-focused practices such as tai chi and qigong. During mindfulness breaks, staff can also engage in art projects that include candle making—an activity prompted by the power outages that much of Ukraine experiences regularly. "We invited people to make a candle," Hazem says. "Most of us have no electricity or water, so we had a conversation about it: 'Let's talk about this. How do we feel about what's happening?' You talk about something hard, but you talk about it in a more lightweight way, and you engage your hands. And then you make connections with other people, and you feel that you're not alone."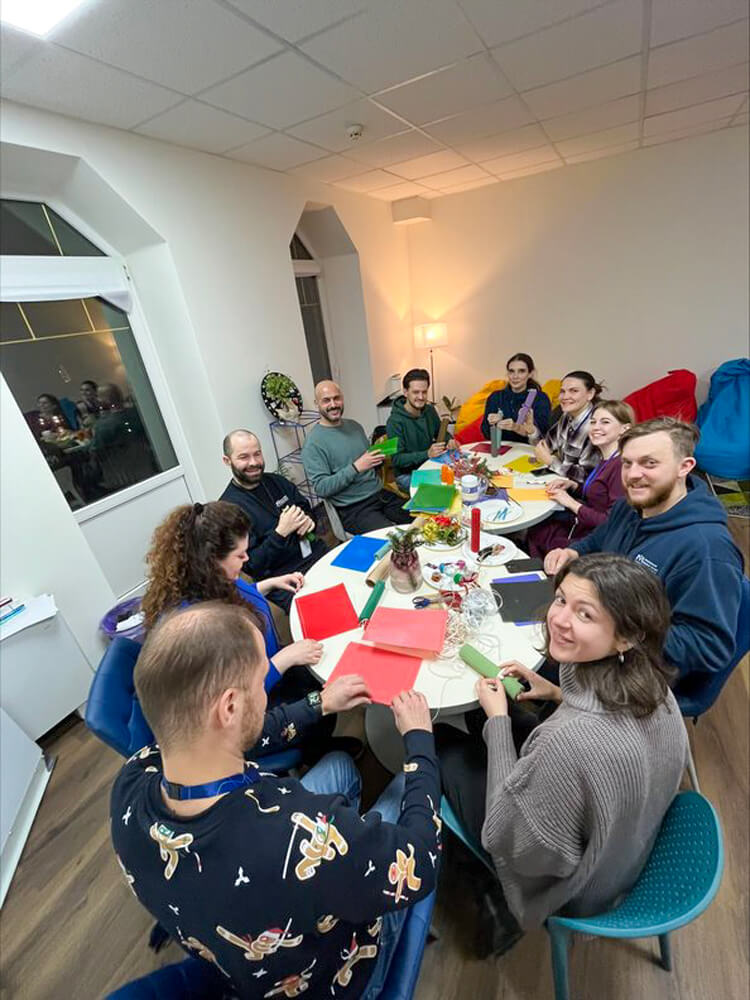 Most activities take place in a dedicated space called the Well-being Zone. The plant-filled room is decorated in bright colours, with cushions littering the floor, to differentiate it from the rest of the office building. "Our idea is to create an environment where we are more at peace. It's a place where you can go away and recharge your batteries for 10 minutes," Hazem says. "We have seen a number of people come into the Well-being Zone and engage in conversations—and the number is increasing all the time. We have seen that for some people, it's easy now to come and just feel safe. I have seen the dynamic change, and I see more trust among our staff."
Ethiopia
As Ukraine's program continues changing the work lives of staff, Ethiopia's staff well-being programme is in its infancy. Staff Well-being Consultant Ariel Zarate came on in late 2022 to lay the foundation for the program using guidelines for well-being (including the 2016 International Medical Corps Staff Care Program Guidance note and the Antares Foundation guidelines for managing stress in humanitarian workers), and to conduct a needs assessment of more than 1,400 staff countrywide. This assessment will help shape the direction of the emerging programme, which will support staff from the hiring process to critical incidents and beyond.
"The nature of staff roles and the intensity of compounding challenges in the country—the ongoing drought, tenuous political landscape and the still-fresh impacts of the conflict in Tigray—mean that mental health needs are significant," Ariel says.
The Ethiopia team recently hired locally recruited staff well-being officers to support the creation of the programme and promote a culture of wellness. They will form the core of the well-being programme, which is expected to grow over time to meet the needs of the staff. The new team will conduct workshops across field offices that introduce the idea of well-being and talk about sources of stress, basic stress responses, resilience, grounding techniques and responding to acute stress in the short term. Each field office will eventually have staff committees so that staff members can take the lead on identifying and facilitating activities to create a culture of staff wellness.
Ariel emphasizes that although the well-being programme will initially focus on helping the staff who are most exposed to risk—including those in the field and at the forefront of International Medical Corps' emergency responses—staff well-being won't be just for them. "It's not just for people providing direct service," she says. "Staff well-being is valued and taken seriously at all levels."
She is also focusing on specific support for Ethiopia's MHPSS and gender-based violence (GBV) staff. "It's a really heavy experience for these teams to help people manage difficult experiences on nearly a daily basis for the life of a grant or project," Ariel says. "For the preservation of these programmes, ongoing services for affected communities and the well-being of our staff, they will need some extra support."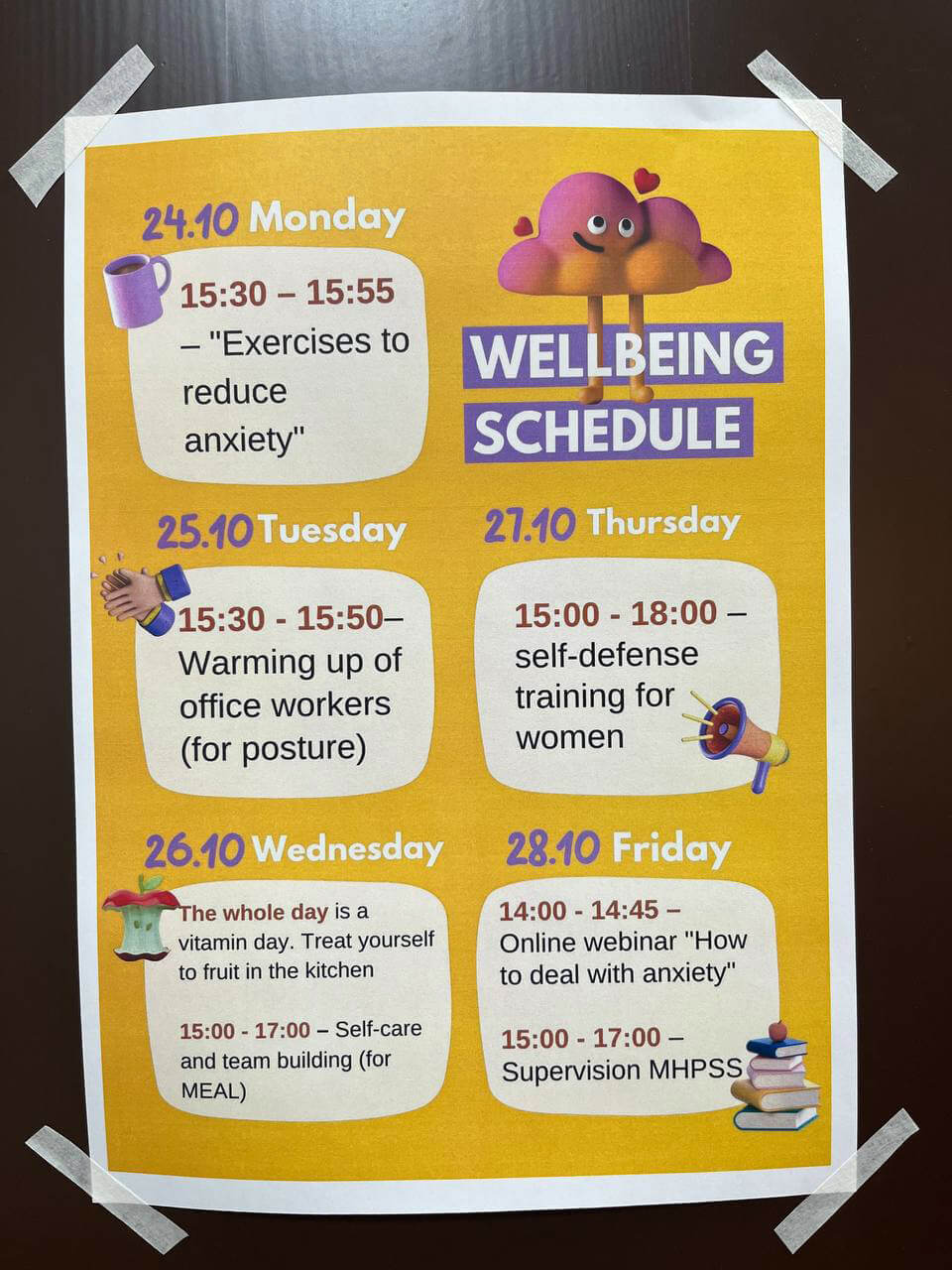 Ariel says that the success of the programme will rest on an ongoing investment in the holistic well-being of the team and the ability to build a culture of prioritising well-being. 
"Having a successful programme will require building awareness, competence and trust within the teams that this service is there to support them, is non-judgmental and is safe," she explains. "It will also require ongoing support and resources. If we want to shift the culture from staff trying to get through these experiences on their own to having the ability to access and seek support, the services must be sustainable."  
Lebanon 
After a massive explosion tore through Beirut in 2020, Lebanon's MHPSS and Human Resources teams developed a staff care programme to support staff and provide tools for them to cope with daily stressors through group and individual sessions with a mental health professional. The group sessions help with team building, while individual sessions vary depending on the person's needs. To learn more about the program, watch this video.