An invasion that began in the cold month of February has dragged on into the cold months of the next winter. Russian forces have continued their attacks, focusing recently on Ukraine's energy infrastructure with rockets and missiles—and leaving millions without power and heating at a time when temperatures have dropped well below zero.
International Medical Corps, which has been helping Ukrainians affected by conflict continuously since 2014, has expanded its services to provide multi-purpose cash assistance (MPCA)—which includes cash or vouchers for goods and services—to qualified people in need. MPCA provides the flexibility that vulnerable populations need when confronting the rapidly evolving challenges found in warzones.
In November, we completed our single-largest registration for cash assistance ever—in Zaporizhzhia, one of the hardest-hit oblasts in the war-torn southeast. Though our initial attempts at registering families for cash assistance were unsuccessful due to constant bombardment, our cash assistance team eventually managed to successfully register 5,000 people in the program by re-evaluating our security strategy, consolidating efforts among staff and coordinating with government authorities.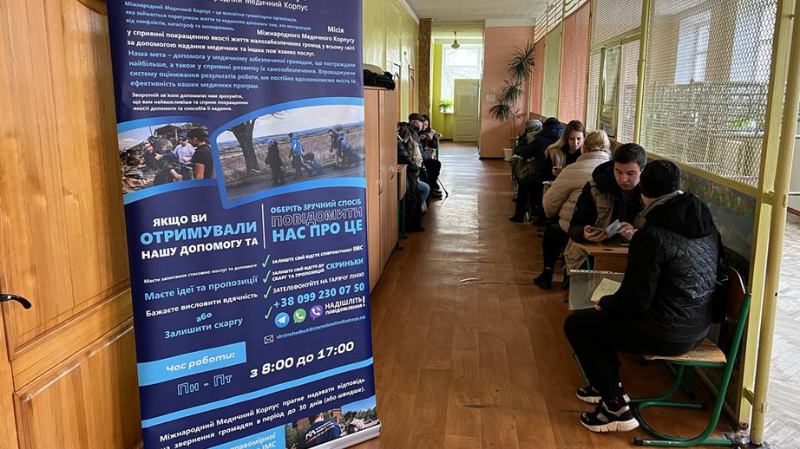 "We wanted to minimise risks to our staff and to the Ukrainian people," says Joshua Zakary, Cash and Voucher Assistance Manager. So he and his team worked with our security team and government authorities to find locations with underground shelters that could accommodate the registration event while serving as a place of refuge in case of an attack. The team identified three suitable locations, ultimately selecting a school to hold the registration.
To ensure safety during the registration process, the Ministry of Social Protection (MoSP) told people to arrive at the designated location only at their allotted time, helping to minimise large crowds. More than 20 staff members from our Monitoring, Evaluation and Learning (MEAL) team in Kyiv and Dnipro worked to register community members while the MoSP deployed more than 30 workers to help with crowd control and community outreach.
"This event would not have been successful without the help we received from the MoSP. Its presence sent a message to the Ukrainian people that the government trusts International Medical Corps," Zakary explains, adding that a good working relationship with the local government is essential to successfully carrying out operations in the region.
Ensuring That the Right People Get the Right Help, Safely
Since March, International Medical Corps has supported nearly 7,000 people in Ukraine with cash assistance, distributing more than $1.5 million in cash to affected people in Bucha, Chernihiv, Dnipro, Lviv, Stryi and Zaporizhzhia, with plans to expand to Kharkiv, Kherson and Mykolaiv. Cash assistance is just one component of our extensive efforts to help citizens prepare for—and survive—the cold Ukrainian winter.
The cash programme involves a detailed process, requiring multiple levels of follow-ups, coordination, consultations and assessments, including needs-based, security and market assessments, group discussions and key informant interviews. These help us understand which areas and communities need help that have not been yet supported by other organisations.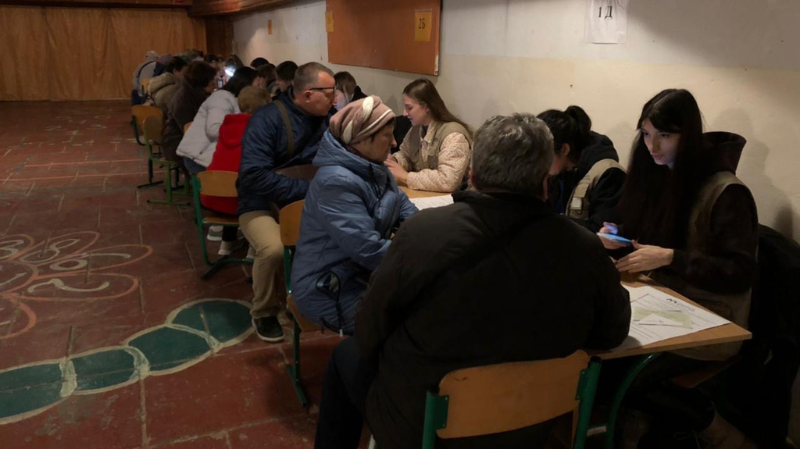 "An important factor to consider for cash assistance is the market," Josh says. "Cash assistance is not practical in areas without established markets or banking systems. During our assessment, we ask people whether they prefer cash or in-kind distributions. While most prefer cash, there have been instances where people specifically asked us for food and blankets. So, we need to establish the needs of the communities we support before we meet those needs."
How It Works
International Medical Corps does not have local partners to implement the cash programme. The cash team—comprising a manager, cash officers and enumerators—engages with communities to conduct assessments, coordinate with the local government and organise registration events. After completing the registration and verification processes, the team asks the finance department to release funds to Red Rose, a data management platform. Once the money is available in International Medical Corps' Red Rose account, the cash team sends a text message to the registered beneficiaries with a confirmation code. They then collect the money by visiting their bank and presenting their code, or by going to a post office if they do not have a bank account. To gather feedback, the MEAL team conducts post-distribution monitoring by random sampling of people who received cash assistance.
Zakary notes that every registration event is an opportunity to learn and improve. He cites an instance in Irpin, a suburb of Kyiv, where there was a miscommunication about who would receive cash assistance. After creating a list of what they thought were the most vulnerable populations—such as the elderly, people with disabilities, widows, people whose houses have been destroyed and internally displaced persons—the team discovered that many people on that list did not qualify for assistance. This enabled the team to fine-tune its assessment methodology.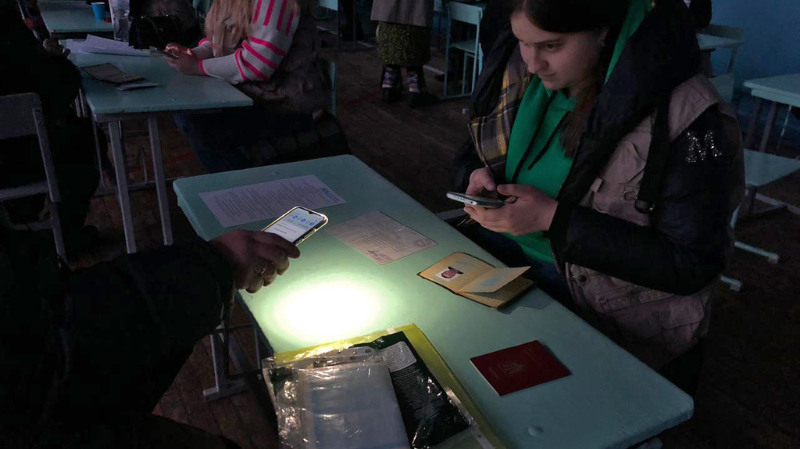 And, as previously mentioned, there are dangers to operating in a conflict zone. When they realized the dangers in Zaporizhzhia, Zakary recalls that "We got together and asked, 'How can we do this safely? How can we minimize the risks?'" Luckily, the relationship the team had established with MoSP ensured safety during the registration event. "Zaporizhzhia restored my faith in humanity. It was the first time we had worked there, but it was a fantastic experience," Zakary says.
According to him, the need for cash is especially high during winter. "This need is not limited to rural areas or the front lines of the war," he explains. "Everyone has been affected by the energy crisis. People have additional needs for shelter, for sealing off of homes, for heating and power—so they urgently need money. The cash assistance we provide is easy and quick, and the people can use it in a way that best meets their family's needs."
Zakary has made many memories of the past several months. "I have seen people arriving on crutches and in wheelchairs, with a missing leg or arm, doing whatever they can to get to our registration, because they are desperate for assistance. You can see it in their eyes. I have had so many people come up to me and hug me. They shake my hand and thank me, even though they don't know me," he says with a smile. "It shows how much they appreciate our support."