The Russian invasion has changed the daily life of every Ukrainian. Though the Ukraine army has been defending the country on the frontlines, medical workers have played a pivotal role, treating wounds and injuries caused by war, as well as "internal wounds" caused by acute stress.
Dr. Taras Kushnir is living with the consequences of the war in the west of Ukraine. He works as the head of the emergency medical care department in Stryi, part of the Lviv Regional Center for Emergency Medical Aid and Disaster Medicine. During the first days of the invasion, he experienced both professional and personal stress, as he coordinated his department's work and tried to cope with the uncertainty of war. So the training in psychological first aid (PFA) offered by International Medical Corps was a breath of fresh air for him.
Dr. Taras was attending his master's program at Ukrainian Catholic University in Lviv when the Russian invasion began. Despite being on leave for studies, he left the university immediately and headed to Stryi. On his way, he saw military equipment moving to the east, while planes roared overhead. "I have terrible memories and bad feelings," Taras says.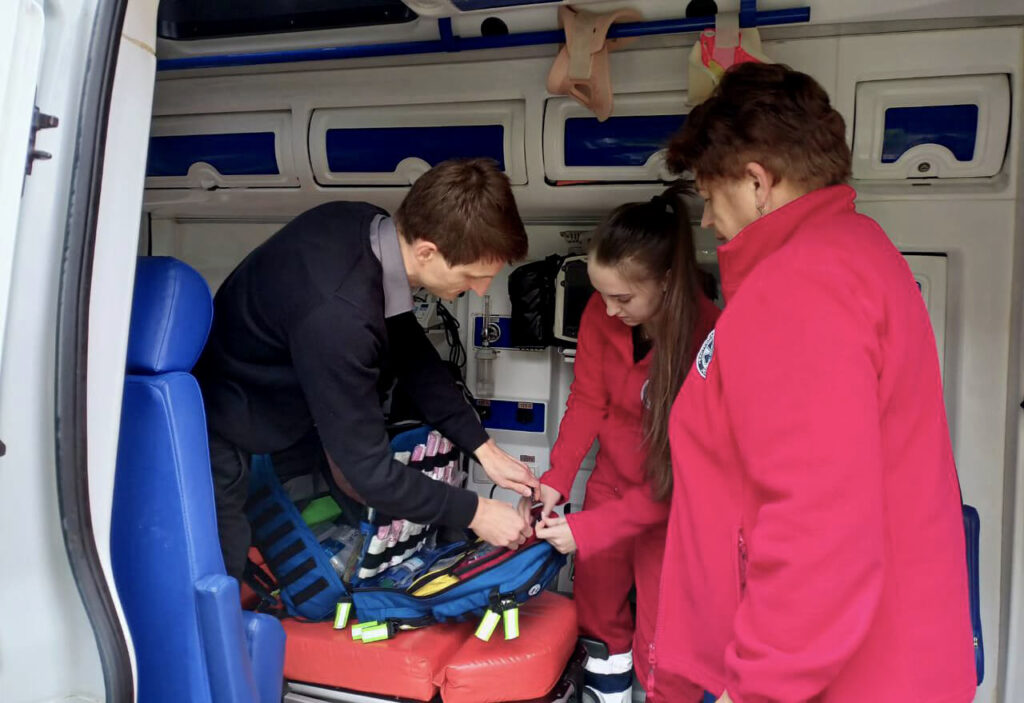 Even though his ward had received information from the Ministry of Health to use in an emergency, his workers were stressed and confused, because no one expected the war in the 21st century. Moreover, no one knew if Ukraine would stand if Russia invaded.
He didn't want to leave the country where he was born, studied, married and had children. The only question that Dr. Taras had at that moment was, "How should I behave as a responsible father, husband and citizen of my country?"
Dealing with the Consequences of War
Dr. Taras admits that his workload during the war has increased significantly. The number of requests have increased by 20–25% because of internally displaced persons (IDPs) who fled to the west from warzones in the east (the population of Stryi, for example, has doubled during the war). In addition, his center has taken on the role of acting as a logistics hub for transporting heavily wounded people abroad for specialized care. Meanwhile, many medical workers have quit or fled abroad to seek safety. The workload today is so heavy that it's hard not to burn out.
However, the biggest problem is the lack of funding because of the war. "We're experiencing a significant resource limitation, except for critical costs. There is not enough money for wages, capital expenditures or everyday recreation for workers," Taras explains.
Also, the authorities have cut overtime pay, so even if his workers work more than one shift due to high demand for services, they won't be paid—which frustrates and demotivates people during emotionally hard times.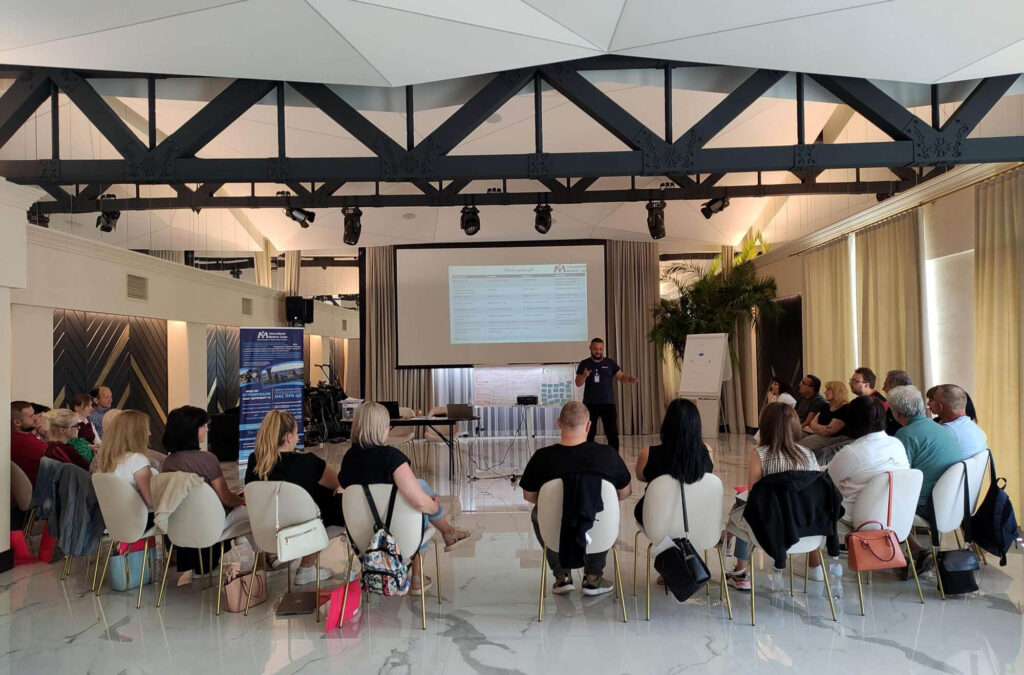 These are just some of the reasons why Dr. Taras says that the PFA training offered by International Medical Corps is useful both when offering assistance to patients who are experiencing emotional distress or mental health conditions due to the war and for himself and his staff in the context of their daily work. He and his colleagues are used to helping patients first, and not themselves. Yet such self-care is essential.
"When you arrive at a call," he explains, "it's hard to keep hold of yourself, especially if it's a situation like a traffic accident, where there could be a lot of blood or even injured children. It's a stressful situation. If you don't keep your composure, you can't provide help adequately and competently. Therefore, learning how to take care of yourself is essential."
International Medical Corps' PFA trainers helped them understand how to practice healthy coping mechanisms and promote their well-being, rather than unhealthy coping mechanisms like alcohol or smoking, to maintain emotional stability and practice techniques that release stress, particularly at work.
"It's a shame that we only got to this training now, when the war gave us a reason to think about our mental health," Dr. Taras say. "In fact, this knowledge is essential, even without war."
Caring for Yourself, Caring for Others
Now Dr. Taras's team is equipped with the knowledge they received during the PFA training on how to help themselves first after a hard day or even during the workday. It helps them endure the times when they're feeling low and not self-blame themselves during those times. In addition, during the course the staff learned terms they could use to describe their emotions, and started talking to each other to provide support during everyday conversations.
"When they communicate, they begin to advise each other to temporarily leave the task or drop it"—a technique that teaches people to, if possible, walk away from a problem when it can't be solved right away, he says. "Or, on the contrary, they say: 'Stay grounded, friend, because you don't look very good.' People began to pay attention to their own well-being. This is a huge step forward for my people," he shares.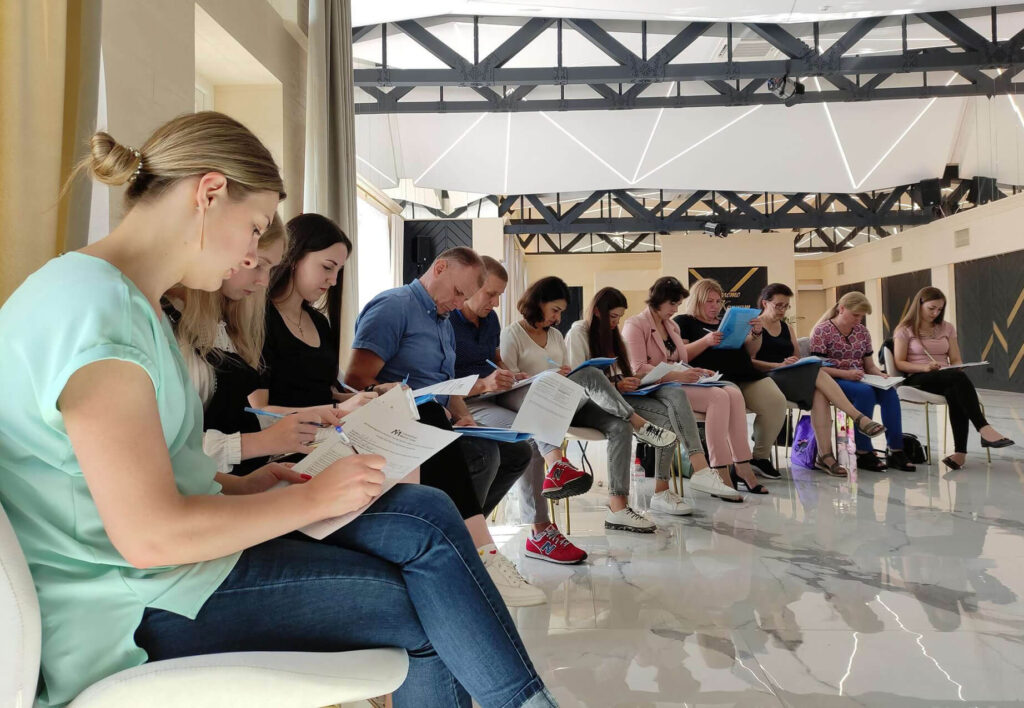 International Medical Corps conducts in-person PFA training for IDPs, healthcare and social workers, and for representatives from the local administration. However, Dr. Taras is convinced that this training could be useful for anyone.
International Medical Corps agrees, which is why it offers an abbreviated "Principles of Psychological First Aid" training course online. The free, two-hour course is available in Arabic, English, French, Spanish and Ukrainian.
Dr. Taras is also working to spread the word about the importance of self care in a culture that has a bad perception of—and sometimes stigmatizes—mental health support, even in the midst of war. But he thinks that the PFA training could help, since it's easy to take and simple to understand: "If you want the jam to be sweet, you need to add sugar. If you put a little, it will still be sour. It is necessary to dedicate as many people as possible to the issue of psychological and mental health."