Two years ago, the Global Commission for the Certification of the Eradication of Poliomyelitis (GCC) certified Nigeria as free from the wild poliovirus type 1. After an international effort, Nigeria was the last African country to earn the GCC certification. Nigerians celebrated with their families and communities, while health experts and humanitarians acknowledged a qualified victory against an illness that has paralyzed thousands of children in Nigeria, and millions of children globally. Peter Hawkins, UNICEF Representative in Nigeria, said, "This is the time for Nigeria to strengthen its primary healthcare system and give routine immunization a vital boost."
In the years since, International Medical Corps has remained in Nigeria, strengthening the nation's healthcare system and boosting routine immunizations, as a member of the CORE Group Partners (CGPP). Recently the Federal Ministry of Health and the National Primary Health Care Development Authority in Nigeria gave the CGPP the Polio Heroes Award for the group's outstanding work. "Overall, in Nigeria, the general feeling is that of elation, accomplishment and reward," said Dr. Samuel Usman, who has been serving as the Secretariat Director of CGPP Nigeria since its inception in 2013.
He added, "This is a testament to the hard work and dedication of all of our team. The volunteer community mobilizers who go house-to-house before, during and after supplementary immunization activities and outbreaks, to raise awareness and dispel rumors and misconceptions that hinder acceptance of the oral polio vaccine are the real heroes."
CGPP members receive the Polio Heroes Award from the Federal Ministry of Health and the National Primary Health Care Development Authority in Nigeria.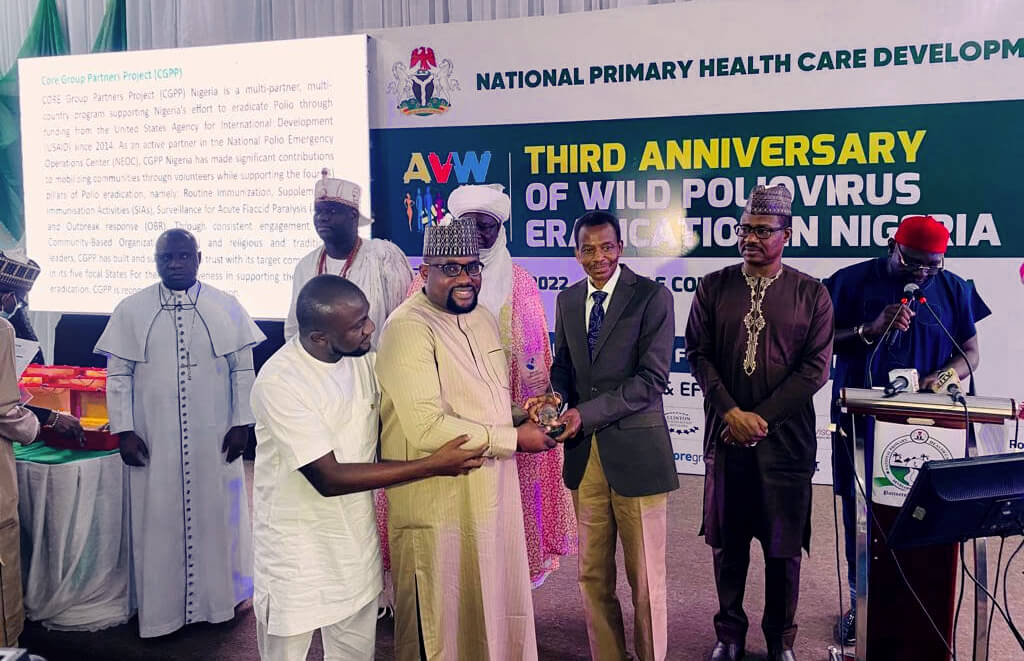 Even during the lockdowns of the COVID-19 pandemic, International Medical Corps and its CGPP colleagues continued their immunization efforts against polio throughout Nigeria, working in remote and dangerous areas of the country with local implementing partners, including religious leaders, to communicate the safety of the vaccine to their neighbors. Shehu Ibrahim Ramat, who coordinates the polio response program in Nigeria, said, "To us, every child in Nigeria is like our own child. It is our duty to ensure that vaccination teams reach the children in every corner of the country. As security worsened in Borno, we persevered and earned a reputation as a cadre of well-respected health workers. Today, we are among the foot soldiers who kicked wild poliovirus out of Nigeria and Africa."
International Medical Corps is proud to be recognized for our work in this area, and we applaud our CGPP colleagues who share in this honor. We are eager to see future generations of Nigerians succeed in a nation without polio.