In many European countries and the United States, autumn/fall marks the end of summer holidays and signals the start of a new school year. While some children may not want their holidays to end, others eagerly await reuniting with their friends. But for millions of children in other parts of the world, school is a far-fetched dream.
The lack of such basic needs as water, sanitation and hygiene (WASH), along with the stigma around menstruation and the high prevalence of violence against women and girls, forces school-aged children to give up their studies and stay home. But it does not have to be that way. International Medical Corps is helping to make school a reality for such children. Our teams are building clean and safe WASH facilities in schools, installing solar-powered projects in villages to provide clean water, and breaking the taboos associated with menstruation so that young boys and girls can set aside their worries and continue their education.
Building Clean and Safe WASH Facilities in Afghan Schools
Many families in Kunar province in Afghanistan have no access to clean water, which puts them at risk of water-borne diseases. School children particularly face a hard time. Muslimabad School in Sarkani district had no WASH facilities, so the students could not access clean drinking water, which forced them to go through long hours without any water break, causing fatigue and dehydration among many. Some students had stomach problems because of drinking contaminated water in their homes. The existing hand pump in the school was constantly in need of maintenance, which the school administration could not afford.
There were no sanitation facilities either, and students, especially girls, missed classes for fear of not having access to safe sanitation, especially during their menstrual cycle. Menstrual hygiene is challenging for Afghan girls, affecting their health, education and overall well-being. Many schools lack basic amenities such as clean water, separate facilities and sanitary product-disposal systems, making it difficult for girls to manage their periods safely and in a dignified way. In addition, social constraints and stigmas associated with menstruation prohibit female students from attending school during their periods, resulting in absenteeism and poor academic performance.
After an initial assessment, our WASH team constructed a solarized water supply system comprising a reservoir with a capacity of 10,000 liters, a tap stand, four latrines and a handwashing facility next to the latrines. We also built a menstrual hygiene management (MHM) room for the female students to use during their periods with privacy.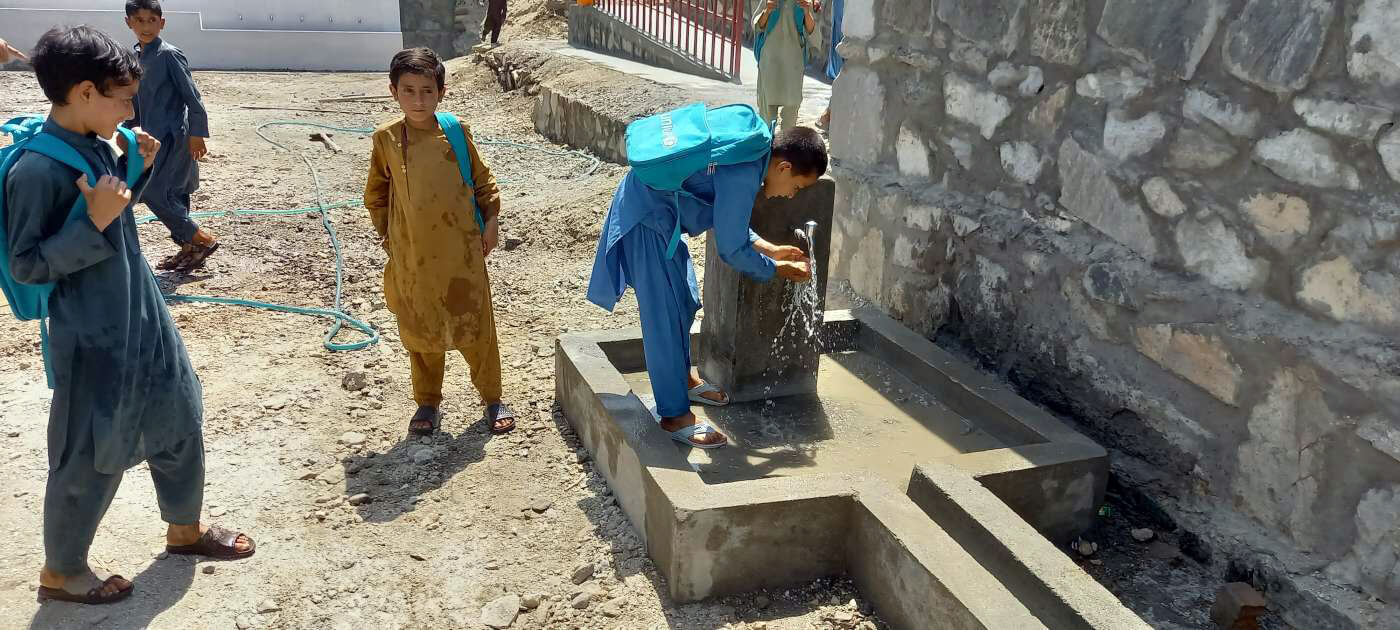 With the new WASH facilities, the students started to practice good hygiene habits, such as properly washing their hands before and after meals and after using the toilet. Hamas and Yousuf, two fourth-grade students, took the initiative to educate their classmates about the importance of good hygiene. In addition, all the students now have access to clean drinking water throughout the day. This change has helped them to focus on their studies and improve their academic performance. "We can now enjoy a healthy school environment," says Hamas. "The availability of clean drinking water and sanitation facilities in our school has improved our quality of life."
Reducing School Dropout Rate in Yemen with Solar Water Projects
In two remote villages in Sana'a governorate, a water supply system powered by a fuel generator had stopped working due to fuel scarcity in the region. Without another water source in the two villages, women and teenage children had to travel long distances on foot to fetch water, forcing the children to lose precious school hours or miss school entirely. In addition to the physical challenge, traveling through a conflict area was risky, exposing women and girls to the risk of violence.
International Medical Corps' WASH team assessed the situation in both villages. After consulting with community members, the team installed an integrated, submersible water pumping unit in each village, with a capacity of 37,000 watts and 105 solar panels for each unit. We also fitted the submersible water pump with a chlorine-dispersing mechanism to keep the water free from pathogens. The solar project provides 200,000 liters of clean drinking water to nearly 9,000 people in the two villages.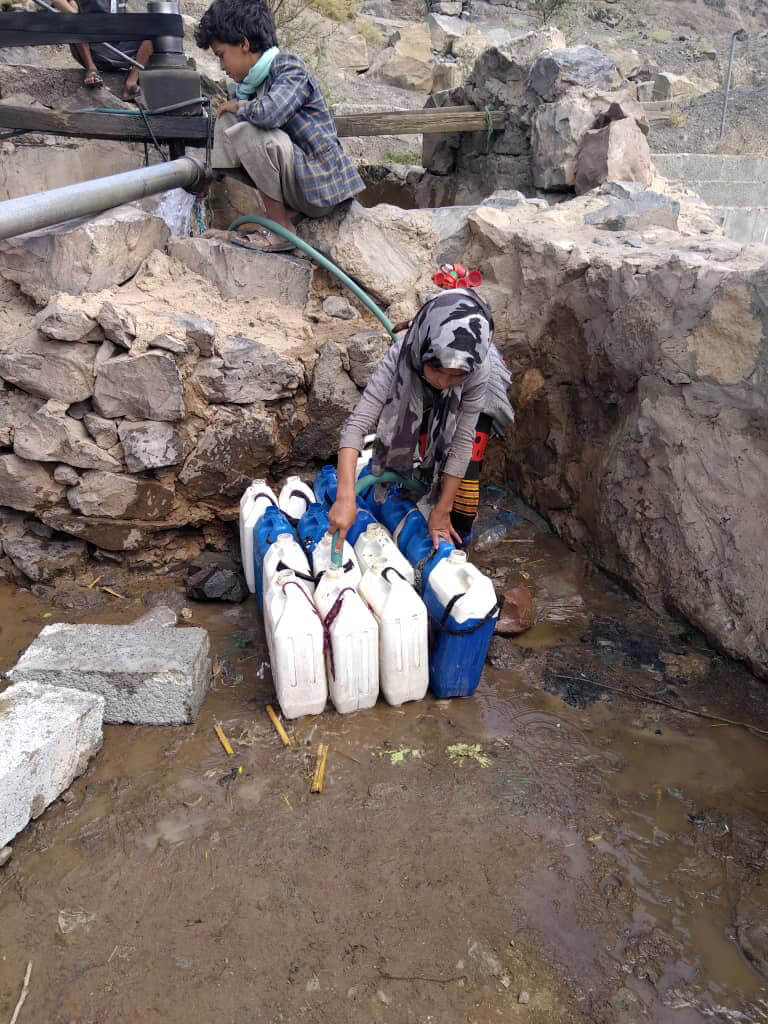 With clean drinking water now available in their village, women and children don't need to travel long distances. According to Amer Mohammed, Senior WASH Engineer, incidents of cholera and acute watery diarrhea have come down, and children no longer have to miss school—following the installation of the solar water project, the school dropout rate in one of the villages has come down from 20% to less than 1%.
"I will now get some relief from my back pain from carrying heavy jerrycans of water," says 9-year-old Amani Mojaheed Mohammed. "I don't have to get home wet and dirty. I don't have to worry about missing school, and I will now have the time to play with my friends."
Breaking Menstrual Taboos in Zimbabwe
Being a woman of menstruating age in Zimbabwe isn't easy. Most women experience some form of period poverty—72% of schoolgirls report never using sanitary pads. Adolescent boys, who have little access to information about menstruation, mock menstruating girls, some of whom feel so ashamed that they skip school to avoid the humiliation.
In Masunda village in Bikita district, most women and girls from low-income families struggle to afford menstrual products. Masunda Secondary School has a low enrolment of 117, with only 49 girls in attendance. Almost all the female students lack access to sanitary pads. As such, they end up using unhygienic and unsafe alternatives, including newspapers and rags. Due to cultural taboos and norms, most parents avoid speaking directly to girls about puberty and menstruation.
"The learning atmosphere, especially during summer, would become quite unpleasant, as the girls use rags during their periods and do not change them throughout the day," says Raviro Taruberekera, a female teacher at the school. "The classroom would smell foul from the stale blood on the girls."
International Medical Corps, in collaboration with the Ministry of Health and Child Care, commemorated Menstrual Hygiene Day (MHD) at the school, where community members and school children participated. The commemoration raised awareness of MHM and called for the support of families and communities to improve MHM for women and girls in the district. The day's theme was "Making Menstruation a Normal Fact of Life by 2030," and was the first of its kind in the Masunda community.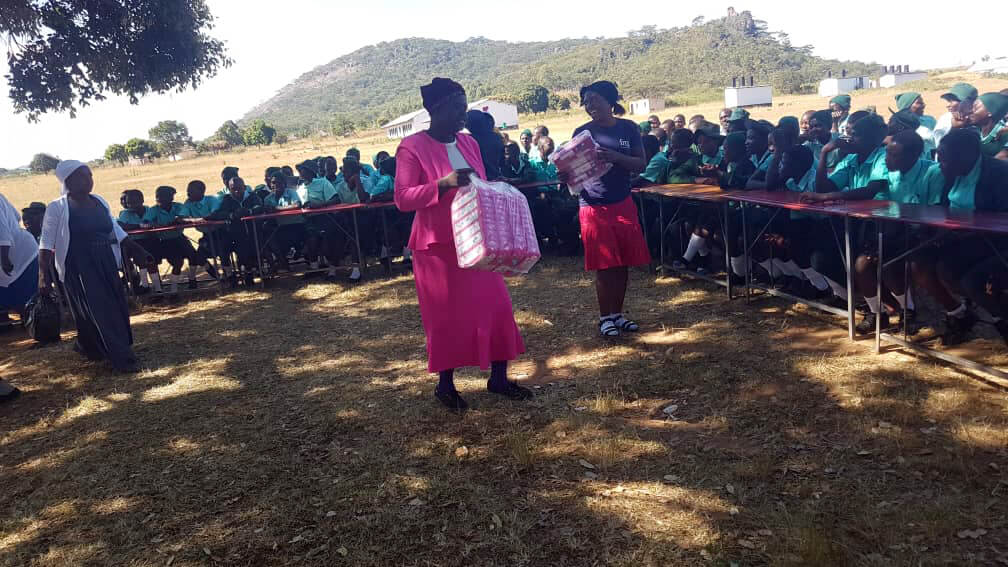 International Medical Corps' WASH team donated 49 packets of disposable sanitary pads during the event. The students of Masunda school and members of community health clubs staged dramas raising awareness on menstruation and MHM to send a message on how the community can address these challenges. The dramas depicted the lack of support for women and girls among their families, period poverty and how it forced female students to miss classes, stigma at school and poor dialogue on menstrual issues.
The Environmental Health Technician thanked International Medical Corps for creating the groundwork for MHM through the MHD commemoration. "We'd like to applaud International Medical Corps for prioritizing the Masunda community," says Rosamary Masunda, the health mistress of Masunda Secondary School. "We value the knowledge the team has shared and the donation of sanitary pads. They will make a big difference when our girls are caught unaware during lessons."
Learn more about the work of our WASH teams.