Sean Casey is International Medical Corps' Regional Director for the Ebola Response. Sean was the first person deployed to West Africa for International Medical Corps' Ebola Response in early August 2014, and he has since overseen the start-up of five Ebola Treatment Units that have screened over 1,600 people and discharged 172 Ebola survivors.
In April 2015, as the number of new Ebola infections each week fell to single figures, Sean finally took a break from his work in West Africa to go on holiday and visit friends in Asia. He describes what happened:
"I will be leaving Nepal tomorrow after three weeks here that we will never forget. Talk about bittersweet.
I arrived on the afternoon of April 24th, with my friend Claire. The next day, when we were exploring the ancient capital of Bakhtapur along with a Nepalese friend, Ajay, the largest earthquake in more than 80 years hit Nepal. We were almost crushed by a falling building, and spent the rest of that day sprinting through Bakhtapur's narrow streets, running from square to square through the destroyed 800-year-old city, to escape the recurring terror of the aftershocks.
We walked for several hours and eventually made our way back to our hotel, which had partially collapsed, and set up camp.
That same evening, we started mobilising International Medical Corps' response. Claire and Ajay weren't International Medical Corps staff, Claire had only days before started her two-month sabbatical, but they threw themselves into the response as hard as any colleague I have ever worked with. We were joined by a handful of strangers-come-friends who shared our campsite and who wanted to help.
Over the days that followed, more staff and volunteers arrived, and our response scaled up.
Our team and our reach grew before our eyes as the global Facebook community generously contributed to our efforts.
On May 12th, we experienced yet another earthquake. I was in Gorkha District with several incredible colleagues where our team was running a mobile medical unit bringing health care to communities that had been cut off from help. During this second quake, the building we were in partially collapsed and the hills around us started sliding away. Thankfully everyone was safe.
We flew back to Kathmandu and linked up with Claire and other colleagues to immediately start assessments – going first to Bakhtapur, where Claire, Ajay and I were the day of the first earthquake. We worked late into that evening, setting up a makeshift ward for patients coming out of operations in one of the hospitals we are supporting in Kathmandu. The patients were too scared to stay inside the hospital building any longer than they had too, and the hospital's courtyard was becoming overcrowded with patients and their families.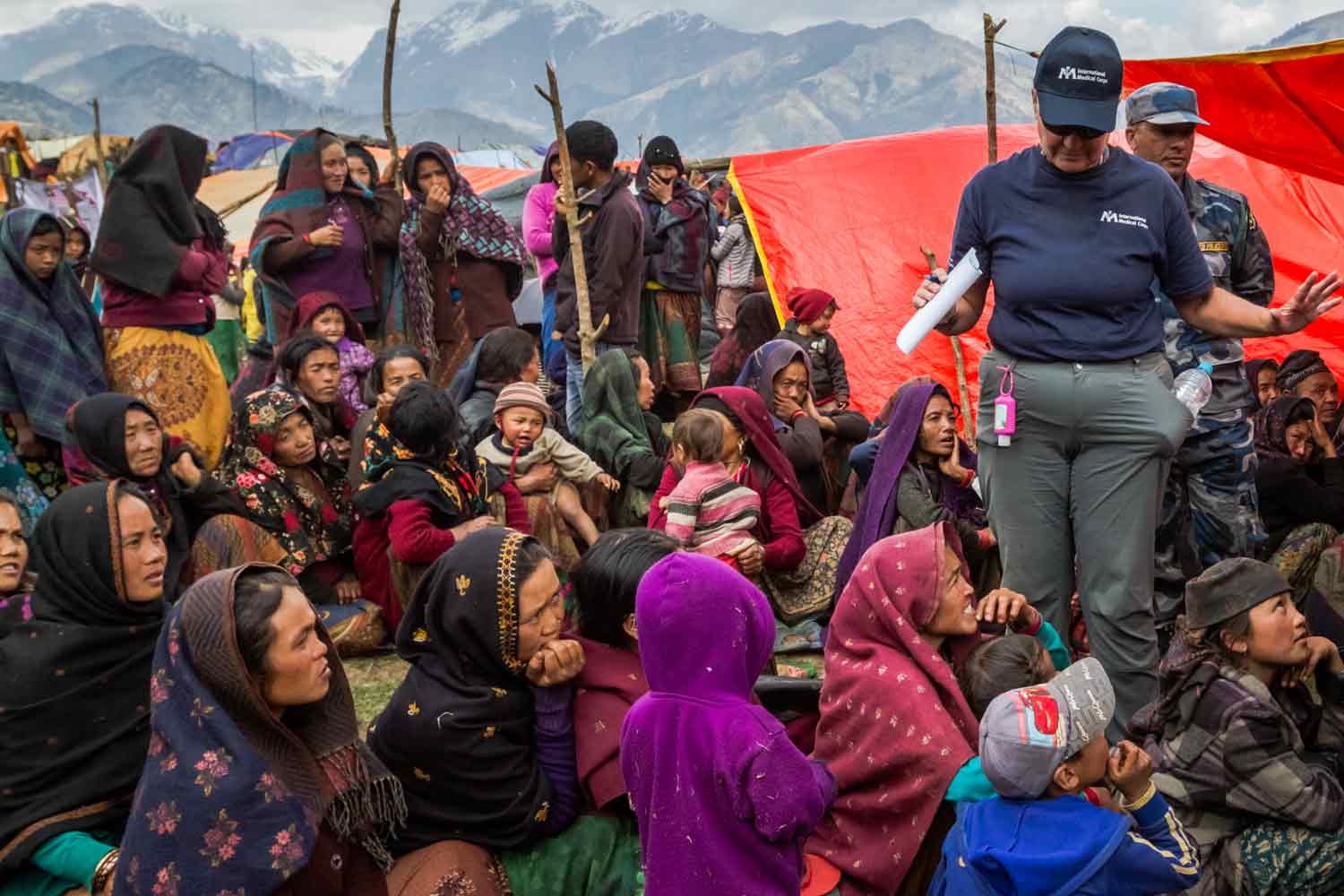 Claire and I came to Nepal on vacation. We certainly didn't have the experience we expected, but we're both grateful that we had this time here, and that we were able to contribute in some small way. We're leaving Nepal with heavy hearts, as there is still an enormous amount of work to be done. But we're leaving our work in good hands, and we will continue to stand by Nepal from afar. We look forward to coming back under better circumstances, and to once again experiencing the beauty and kindness of this country."
Whilst in Nepal, Sean missed the celebrations marking 42 days free of Ebola transmission in Liberia – a key milestone in the efforts to bring the devastating Ebola outbreak in West Africa under control. He returns to work with colleagues in Sierra Leone, Guinea, Mali and Guinea Bissau to the fight in getting to zero new Ebola infections.