The Central African Republic (CAR)—a landlocked country at the heart of the African continent—remains one of the poorest nations in the world, with only Niger rating lower on the 2018 Human Development Index. Struggling with instability dating back to the 1960s, the current conflict broke out in 2013, leaving an already struggling population in an acute need of humanitarian assistance.
Central Africans seeking peace have faced enormous challenges. A tenuous truce was marred by an upsurge in violence at the end of 2017. Then, despite the signing of a peace accord between 14 different armed groups in February 2019, at least 54 civilians were killed in a brutal attack just a few months later, in May 2019.
Men, women and children living in the country face needs that transcend comprehension: one in five have been forced from their homes, while 2.9 million people—a majority of the population—rely on aid simply to survive. For 1.6 million of them, the situation is desperate: accessing aid is a matter of life and death.
International Medical Corps began its work in CAR in 2007, serving refugees who fled neighboring Sudan during intense phases of the Darfur conflict. We currently are providing services in three of the country's 16 prefectures: Vakaga, Haute Kotto and Ouaka.
To save lives and alleviate suffering in what is now the third biggest humanitarian crisis in the world, International Medical Corps provides basic and reproductive health services, psychosocial and clinical support for survivors of gender-based violence, activities aimed at strengthening women's economic empowerment, and nutrition services, including treatment for malnutrition.
Childhood should be a precious time, but in CAR—where one out of three children suffers from severe malnutrition—many children are fighting simply to stay alive. Although malnutrition is widespread throughout the whole country, the situation is catastrophic within sites hosting internally displaced persons (IDPs). There, rates have breached the so-called emergency malnutrition threshold in all but two locations.
In many of these makeshift camps, IDPs are inadequately sheltered and lack even the most basic household items. Some IDPs have been uprooted from their homes or shelters more than once, causing them to lose whatever modest belongings they had managed to gather during their repeated search for refuge. And during the recent dry season, fires broke out around the IDP sites, dealing yet another blow to this already vulnerable group.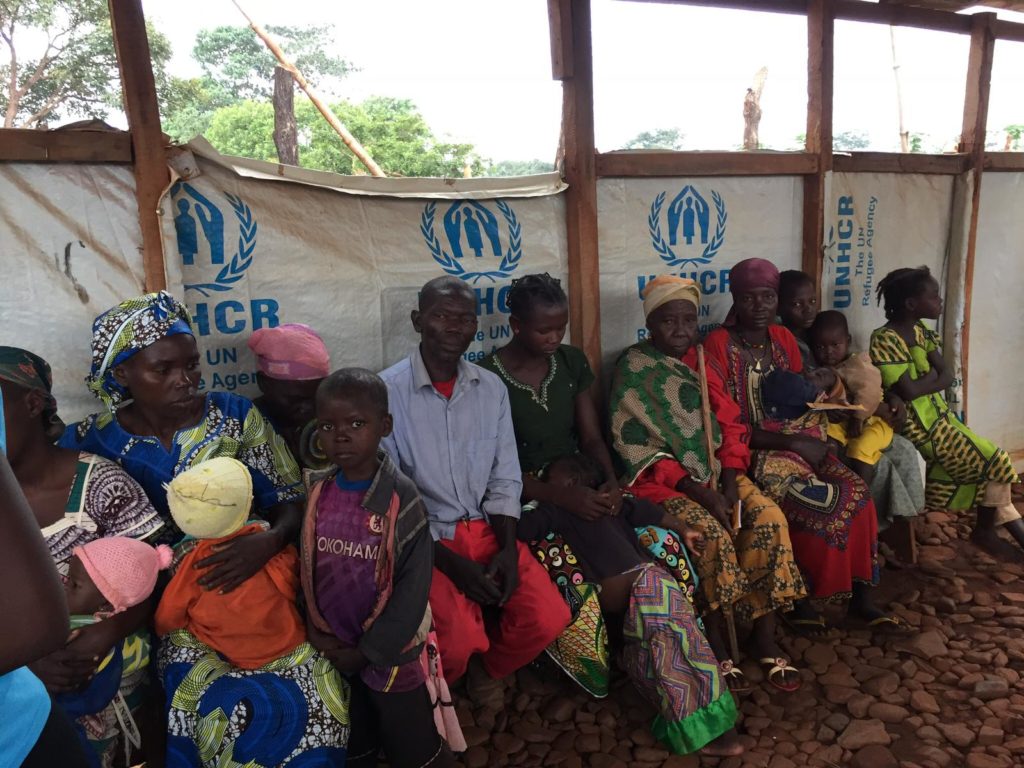 For the majority of the rural population in CAR, agriculture is the main source of food and income. This means that, when forced from their land, displaced Central Africans lose not just their homes but also their livelihoods.
Along with children, women face a deeply harsh reality in CAR. The country has one of the highest maternal mortality rates in the world: some 890 deaths per 100,000 live births. Several factors make being pregnant a life-threatening risk in CAR, including an alarming shortage of trained midwives and a lack of accessible health centers. High levels of teenage pregnancy increase the risk of complications. And even if a woman reaches a clinic, many facilities struggle with minimal resources, limiting the ability to perform such services as cesarean sections.
A majority of CAR's IDPs have sought safety in the prefecture of Ouaka. In Bambari, the region's capital, International Medical Corps supports the maternity ward inside Bambari Hospital—an effort made possible thanks to generous funding from the European Civil Protection and Humanitarian Aid Operations (ECHO). In 2018, nearly 7,300 women delivered in a health facility supported by International Medical Corps, while more than 12,000 women received at least one consultation before giving birth.
In a country where becoming a mother can be a life-threatening affair and the chances of a child surviving birth are one of the lowest in the world, the maternity ward run by International Medical Corps, with ECHO's support, provides an ongoing lifeline to mothers and babies.