In 2005, Hurricane Katrina ripped through large areas of the American South, decimating homes, businesses and hospitals, and leaving thousands of people across Alabama, Louisiana and Mississippi in despair. Native Mississippian John Roberts, in college at the time, volunteered to help local communities recover. What he saw there inspired him to become an emergency- and disaster-medicine doctor—and introduced him to International Medical Corps.
"I was in Pass Christian, a town on the coast of Mississippi, and I remember looking around," says Dr. Roberts. "As far as you could see, it was just slabs of concrete where houses used to be. There was not a structure that was still standing."
Even though it was nearly 20 years ago, he vividly remembers entering a field hospital and meeting members of a humanitarian emergency response team.
"While I was volunteering, I came upon this medical clinic, a massive tent hospital in the parking lot of a Kmart. When I went in, I saw the way that the doctors and nurses were working and how they were so kind, energetic and compassionate in this absolutely devastated place. I knew that this was it—this was what I wanted to do for the rest of my life. I wanted to be a doctor in this space."
Inspired by his experience, Roberts went on to graduate from the University of Mississippi School of Medicine and completed both an emergency-medicine residency and a disaster-medicine fellowship, which was rare at the time.
"There's this big split between international emergency medicine and disaster medicine," he explains. "Those of us who want to do international disaster medicine have to make a decision: which way are you going to go? I was lucky enough to find a disaster medicine fellowship—the Carolinas Medical Center Fellowship in Disaster Medicine—that was internationally focused."
After completing his medical training, the now-Dr. Roberts joined Team Rubicon, where he led medical teams responding to emergencies around the world, including Cyclone Idai in Mozambique, Typhoon Yutu in the Northern Mariana Islands and the Syrian refugee crisis in Greece.
Throughout his career, he kept track of International Medical Corps, continuously inspired by our mission and approach—until one day in early 2020, when he got the opportunity to join our team.
"Our Chief Operating Officer, Ky Luu, reached out to me on LinkedIn," Dr. Roberts explains. "International Medical Corps needed a doctor who was familiar with infectious diseases, including COVID-19, and who had a background in designing medical protocols. He connected me with two directors of our Emergency Response Unit. We discussed how to respond to the COVID-19 pandemic in the US, as well as an emergency medical teams project. I joined shortly thereafter as a medical consultant on those projects."
In August 2021, just weeks after receiving that classification, International Medical Corps deployed the EMT for the first time, in response to a devastating earthquake that struck Haiti. Within a matter of days, the EMT—which is roughly the size of an American football field—was up and running, with air-conditioned clinics for people in need, internet access, clean water and a fully stocked pharmacy.
Dr. Roberts, who led this emergency response, was inspired by our staff and volunteers, as well as the local teams he worked with there.
Dr. Roberts then led our COVID-19 response in the United States, as well as International Medical Corps' successful efforts to be classified by the World Health Organization as an Emergency Medical Team (EMT) Type 1, Fixed and Mobile, which made us the only NGO in the world with that distinction.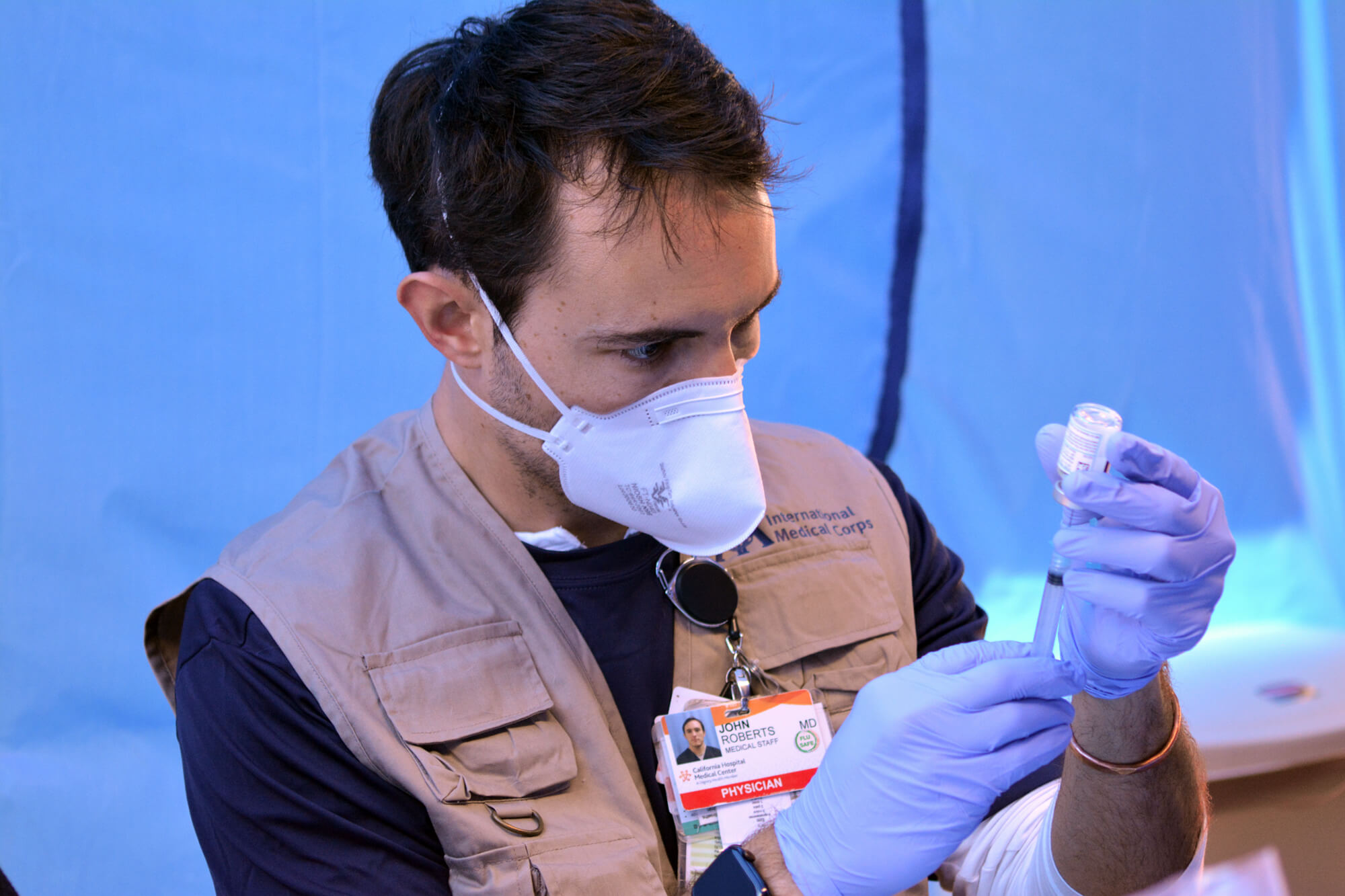 "The earthquake was extremely powerful, and it knocked out a lot of the healthcare infrastructure—hospitals, pharmacies and local clinics," he says. "We set up the EMT in Aquin, on the southern coast, and our staff and volunteers hit the ground running, immediately providing outpatient care. We also worked with the director of a local hospital, Dr. Jackna Durand. Due to earthquake damage, she moved the hospital's operational centre to its parking lot. When we got there, it was amazing to watch her do her job. She was responding in the best way that she could—but she didn't have the resources or the personnel to do that effectively."
A core tenet of International Medical Corps' mission is to support local healthcare systems by providing supplies, staff and training—rather than building parallel systems—so the health system can recover and be stronger after the emergency recedes. This is the approach we followed in Haiti, providing a wide range of outpatient services at the EMT, taking pressure off the local hospital and referring patients requiring advanced care to other hospitals in the area.
"International Medical Corps provided the support and resources Dr. Durand needed, so she and her colleagues could continue seeing some critical patients," Dr. Roberts explains. "It's one of the best parts of my job—meeting people who are doing amazing work with what they have, and providing them with the personnel, supplies and training they need to move from relief to self-reliance. They're doing what matters, they're doing what needs to be done in challenging and often dangerous conditions, and they don't ask for applause or favours. It's incredibly inspiring."
In 2022, in the immediate aftermath of the Russian invasion of Ukraine, Dr. Roberts deployed to Moldova, Poland and Ukraine to conduct assessments and provide strategic guidance as the war progressed.
"One thing that I'm really proud of is International Medical Corps' dynamic response in Ukraine," he says. "The way that an organisation responds in Month One should not be the same as the way it responds in Months Two, Three or Four—or even week by week. We were able to put in a dynamic strategy of interventions that responded to where the front line was, and to the changing needs on the ground."
Dr. Roberts was instrumental in planning our approach and programmes in the region.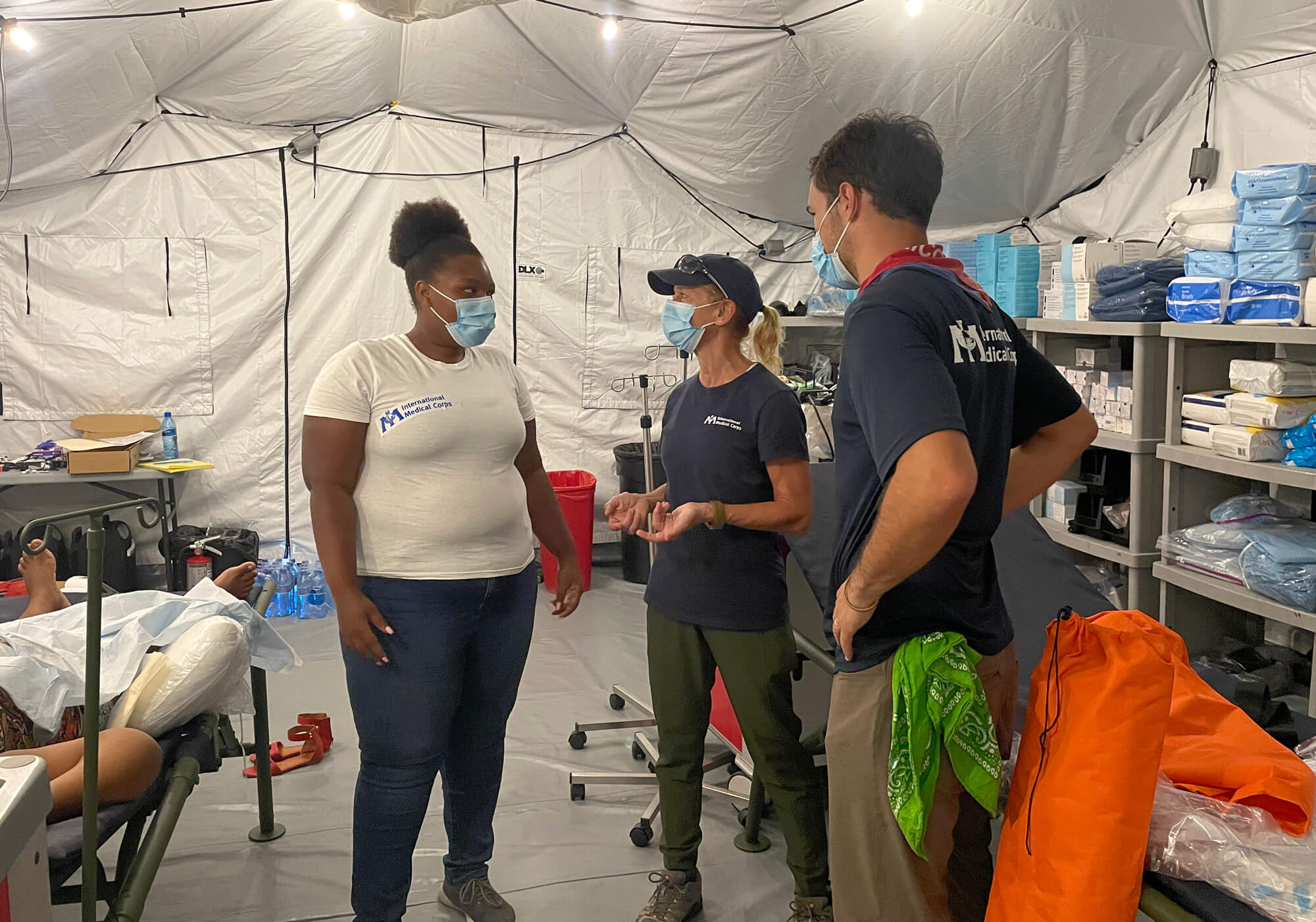 "Just because there's a war going on doesn't mean that people stop having diabetes. People don't stop having babies, and people don't stop having cancer or COVID-19," he explains. "Across Ukraine, we're delivering medicines, medical supplies and equipment, mental health services, psychological first-aid training and trauma-care training. We established multi-purpose cash assistance programmes to help people with their basic needs and are distributing hygiene kits, among other community-based programs. And on top of all that, we're helping to rebuild the healthcare system, rehabilitating hospitals and local clinics while focusing on the safety and security of our staff."
And this approach is working: since the Russian invasion in February 2022, International Medical Corps has improved access to health supplies and services for more than 6 million people.
In addition to his lifesaving work with International Medical Corps, Dr. Roberts works as an emergency-room physician every Friday at hospitals in downtown Los Angeles.
Despite these successes, Dr. Roberts understands that the seemingly never-ending disasters around the world can feel overwhelming. He knows it's not always easy for people to see how they can make a difference—and even though he did, you don't have to go to medical school to do it.
"The best way that people can support International Medical Corps is to spread the word about our work and why it's effective," he says. "Because of our approach, monetary donations reach local people where they are and support community-based programs that bring lifesaving care, confidence and joy, even in dire circumstances. And I think that's the reason why all of us—staff, volunteers and supporters—do what we do. We're part of a global community of people who are helping other people."