Fighting COVID-19 Around the World
Throughout the year, we've continued to fight COVID-19 and support vaccination efforts in the US and around the world.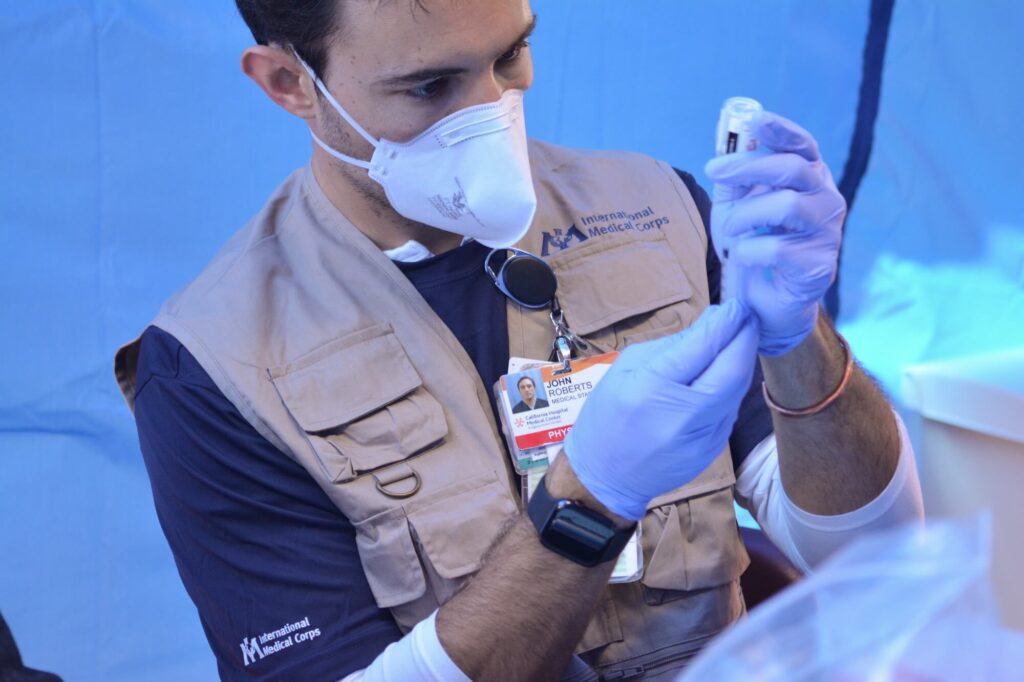 We worked with local partners to provide critical care at overwhelmed healthcare facilities and COVID-19 treatment centers. We also provided critical equipment such as oxygen generators, oxygen delivery and storage supplies, and personal protective equipment (PPE). And because training is the foundation of all we do, we trained healthcare workers around the world on COVID-19 prevention and control measures.
Supporting Vaccination Efforts
From the United States to Jordan to the Democratic Republic of the Congo, we've been supporting the rollout of vaccines—but as the virus continues to spread, so does another dangerous challenge:  vaccine misinformation. That's why we've been working to reduce vaccine hesitancy and build trust in vaccines by providing factual information.
In addition to working with ministries of health in individual countries, we are offering assistance to COVAX — an international partnership that is supporting the research, development and manufacturing of a wide range of COVID-19 vaccines for distribution to countries choosing to participate.
Get the latest on our vaccination efforts
Responding to Disasters Around the World
Earthquake in Central Croatia
On December 29, 2020, a 6.4 magnitude earthquake struck central Croatia. Given our long-standing presence in the country, we deployed more than $50,000 worth of PPE within hours of the earthquake to support Croatian health authorities involved in relief efforts. Our work to help affected communities continued until the fall of 2021, when our work to rehabilitate healthcare facilities damaged by the quake was complete.
Battling Ebola Outbreaks in the DRC and Guinea
In early February 2021, new cases of Ebola emerged in North Kivu, on the Democratic Republic of the Congo's conflict-ridden eastern edge. Our teams, already on the ground, immediately began work with the Ministry of Health to battle the disease. Though that outbreak was contained in early May 2021, a new outbreak in the same area was announced in early October. Thanks in part to our support, that outbreak—the DRC's 13th—was officially declared over in mid-December.
On February 14, an outbreak of Ebola was declared in Guinea. It was the first time the disease had been reported in the region since the world's largest outbreak of the disease — which we played a key role in ending — was officially declared over in 2016. Our team in Guinea stayed in touch with local health authorities and remained ready to respond as appropriate.
Flooding in Germany
After extreme levels of rainfall in July, a deadly flood swept across Germany, leaving more than 60,000 people displaced and causing at least 173 deaths. The floods damaged homes, washed away roads and destroyed utilities.
Our response team worked with local partner Luftfahrt ohne Grenzen (Wings of Help) to bring relief to severely affected communities by delivering safe water and hygiene supplies, as well as sanitation and clean-up equipment.
Haiti Earthquake
A 7.2-magnitude earthquake struck Haiti on August 14, leaving approximately 650,000 people in need of emergency assistance. We deployed our Emergency Medical Team (EMT) Fixed Type 1 medical facility and staff to the hard-hit city of Aquin.
Our team provided a wide range of outpatient medical services to thousands of people over the three-month deployment. We also provided mental health and gender-based violence (GBV) services, trained local healthcare providers on how to provide GBV and mental health services, and provided clean water and other hygiene and sanitation services to the community.
Hurricane Ida
In the wake of the powerful Category 4 storm that hit Louisiana in August, we partnered with the United Way of South Louisiana to support door-to-door medical visits. These visits were particularly beneficial for marginalized communities.
We also deployed an emergency medical field unit to the basecamp at Legion Park, which acted as temporary lodging for volunteer medical teams providing care to affected residents of Houma, Louisiana, who had been isolated by the storm.
Kentucky Tornadoes
On December 10–11, a series of more than 50 tornadoes spawned by powerful storms swept through six states in the central and southern US. We immediately mobilized an emergency response team to assess the damage and determine needs in the hardest-hit communities in Kentucky.
We continue to work with local partners in Kentucky to support the ongoing response and meet the recovery needs of people affected by the tornadoes, as the communities there face a number of challenges, including COVID-19.
Providing Lifesaving Support
Here are some highlights of our work in 2021, in technical areas where we have specific expertise, as well as in countries experiencing particular hardships.
Clean water, sanitation and hygiene (WASH)
Our teams in Yemen continued to provide lifesaving medical assistance, equipment and access to clean water. For example, at the Heratha camp for internally displaced persons (IDPs), we continued to ensure that the community has access to clean water by supporting latrine and water-system construction, and distributing hygiene kits.
Easy access to water is a necessity — and one that is tragically inaccessible to many. That's why, for example, our WASH team has been building new solar-powered water pumps across Zimbabwe in communities like Mpumelelo and Zumanana.
Mental Health
In Irbid, Jordan, we run a mental health clinic that serves Syrian refugees and vulnerable members of the Jordanian population. At the clinic, local mental health staff whom we helped to train provide more than 720 mental health appointments every month, in collaboration with the Ministry of Health.
The need for mental health services remains high worldwide during these stressful times. Another example of our services in this area involves our team in Puerto Rico, who held a suicide-prevention training session with first responders, as well as an Emotional Regulation Art Workshop that helped people understand their emotions and provided them with an outlet to express their feelings through art.
Nutrition Services
Food insecurity has devastating effects. In Somalia, we're fighting hunger at our malnutrition and stabilization center in Galkacyo South Hospital, where sisters Amina, 4, and Anissa, 5, were both suffering from malnutrition when they came to see us. But thanks to treatment we provided, they made a full recovery and are happy and healthy again!
Another example involves our team in Puerto Rico, who hosted a nutrition and agriculture workshop in Pezuela, where community members joined our staff in learning how a nutritionally balanced diet helps keep them healthy.
Maternal Health
Since September 2018, we've been running a maternity ward in Irbid, in northwest Jordan. In this city close to the Syrian border, we serve one of the biggest urban refugee populations in the country. Refugees living in urban areas often face greater hardships than those living in camps. Our clinic in Irbid is trying to change that. Read more.
In Zimbabwe, we established three shelters for mothers and newborns in Nkayi, where mothers can stay overnight to access maternal healthcare.
Gender-Based Violence (GBV)
To help fight GBV, our community volunteers in Pakistan held activities where they discussed how everyone can work together to end violence against women and girls, including events for the male refugee community in Haripur district that helped raise awareness about women's rights.
In South Sudan, GBV prevention and response remain at the core of our assistance in the country. Our programs supported and empowered women and girls affected by, and at risk of, violence and other abuse — especially those facing conflict, disasters and displacement. Learn more about our programs.
Continuing in the Face of Instability in Afghanistan
Due to political turmoil and ongoing conflict, Afghanistan is tragically becoming one of the world's largest humanitarian crises, with 8.7 million people facing emergency levels of hunger this winter. Despite this instability, we continued to provide emergency and primary healthcare, as well as training, as we have since our founding there in 1984.
Supporting Communities Facing Unprecedented Hardships in Lebanon
In the face of crippling economic decline, a struggling health system and a dire medication shortage, our teams in Lebanon continued their lifesaving work throughout the year. From GBV treatment and support, to COVID-19 vaccinations, to medical and mental health services, they've continued to provide services to communities in need.
Responding to the Crisis in Tigray
It has been more than a year since the start of the conflict in Ethiopia's northern district of Tigray, and the security situation there continues to deteriorate, displacing millions of people and rendering more than 1,500 health facilities non-functional.
Our teams continued to provide integrated healthcare and nutrition services, GBV support, mental health and psychosocial support, and water, sanitation and hygiene services.
Providing Emergency Medical Care and Support in Gaza
In May, we responded to the humanitarian crisis in the Gaza Strip, providing medical care and working with local partners to reach people in need, in the midst of conflict. Our teams also provided mental health services to affected communities.
Receiving Classification by the WHO as an Emergency Medical Team Type 1 Provider
In June, we were classified by the World Health Organization (WHO) as both a Fixed and Mobile Emergency Medical Team (EMT) Type 1 provider — making us the only NGO worldwide recognized by the organization for these emergency response capabilities.
This classification was tested soon after, when we deployed our Fixed Type 1 EMT facility in response to the August Haiti earthquake. In the future, it will help us respond even more quickly to disasters worldwide and provide lifesaving support to people in crisis.
And Being Supported by People Doing Amazing Things!
We love it when people find creative ways to support our work! In 2021, Dr. Michael Paterson, who is part of our emergency roster and volunteered in New York during the early days of the COVID pandemic summited Mount Everest. A few months later, high school graduate Nicolas Chien cycled almost 3,000 miles from New York to Los Angeles to raise awareness—and funds—for our work helping people in need. We're so thankful that they used those incredible achievements to raise awareness and funds to support our lifesaving work!
This year, people supported our work in so many ways—proving time and time again that we're strongest when we work together. As we look ahead to 2022, we know that—together with our generous and caring supporters—we will rise to meet any challenge and continue to provide care to communities in crisis, helping them move from relief to self-reliance.