Responding to the Earthquake in Central Croatia
At least seven people were killed after a 6.4 magnitude earthquake struck central Croatia on December 29. In recent days, the area has suffered from strong aftershocks.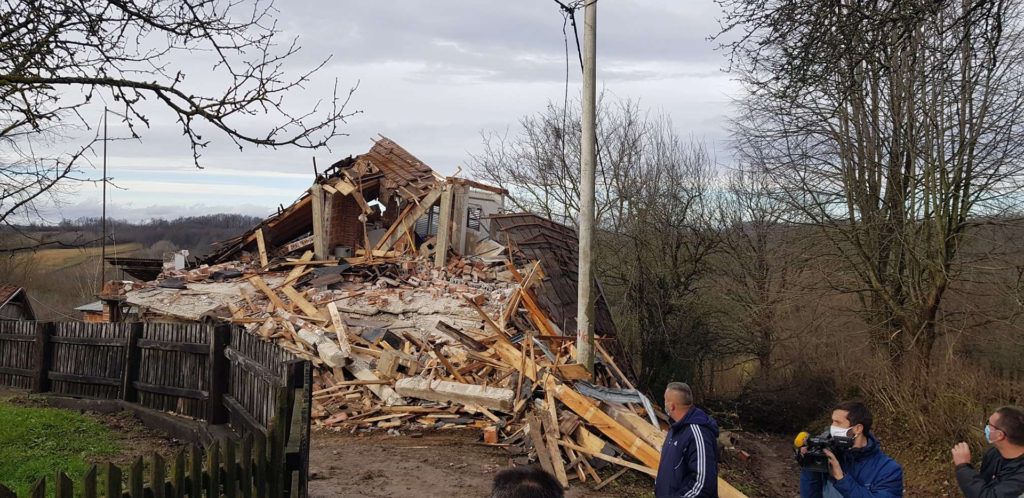 Within hours of the quake, we deployed a team from our Split, Croatia, office to assess the most urgent needs. Touring the hard-hit towns of Petrinja, Sisak and Glina, we found that health infrastructure and medical equipment across these areas were heavily damaged.
Our team also visited the town of Strasnik, where they joined President Zoran Milanović's delegation as they assessed the damage and met with residents. In the photo below, one of our staff members explains to the President the process of liquefaction during an earthquake, and its effects on buildings.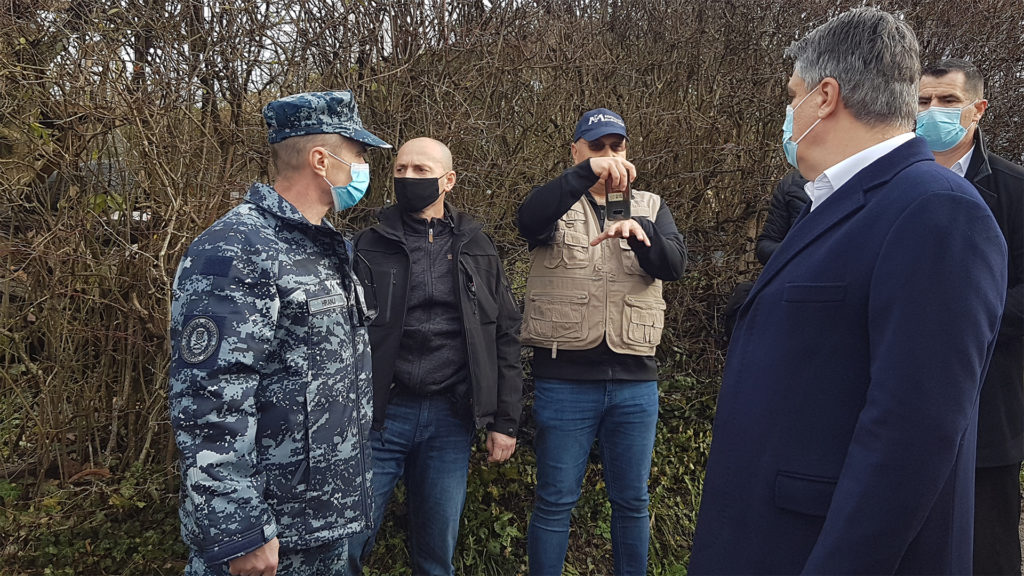 We're working closely with the Croatian Ministry of Health's Crisis Management Center, providing food, hygiene items and personal protective equipment (PPE) to meet the immediate needs of displaced families. Our teams are also coordinating with the Ministry to deploy two temporary health sites and to provide additional supplies to those affected, helping to restore crucial access to medical care.
Continuing to Fight COVID-19 Around the World
In the 28 countries where we operate, we're ensuring continuity of operations in our programs while working to slow the spread of COVID-19 and treat those affected by it.
Responding in the United States
In response to the growing number of COVID-19 cases in the US, we're supporting 40 hospitals across the country — including in California, Illinois, Massachusetts, Michigan, New York, Puerto Rico and Texas — with a range of services and equipment.
"We had no bed availability at all and had to open up portions of the hospital that would normally not house patients," says Dr. Suzanne Pham, Weiss Memorial Hospital's COVID-19 medical director. Our emergency medical field unit donation helped turn things around at the Weiss Memorial Hospital in Chicago. Read how.
Highlights of Our Global Response
We're fighting COVID-19 in all the countries where we operate while continuing to provide a wide range of humanitarian services.
In the Democratic Republic of the Congo, we're supporting health facilities across the North Kivu, South Kivu and Tanganyika provinces. Our team is helping to protect those communities from COVID-19, raising awareness of the virus, sharing how to help prevent the spread of it and delivering crucial water, sanitation and hygiene supplies.
In Venezuela, we've reached 63,132 people and screened 10,208 patients for COVID-19. Our team is also continuing to provide critical donations and PPE to the overtaxed healthcare systems, with a total of 13,186 items of PPE donated to date.
Highlighting Important Humanitarian Issues
World AIDS Days
On December 1, our Pakistan team marked World AIDS Day by raising awareness of HIV, tackling stigmas and misinformation around the virus and providing health kits to community members who attended discussions.
International Day of Persons with Disabilities
On December 3, we marked International Day of Persons with Disabilities. Our team in Lebanon has provided services to persons living with disabilities since the onset of the pandemic, as well as in the aftermath of the Beirut blast. This support is essential to enabling families affected by the economic crisis to access specialized services.
"I am happier now and my life is a lot easier. I also take good care of my wheelchair because it is now part of me."

This #IDPWD, read how a wheelchair ♿ helped change 8-year-old Ahmad's life ⬇️ @EUinLebanonhttps://t.co/Rmlie1j3mq

— International Medical Corps (@IMC_Worldwide) December 3, 2020
16 Days: We Stand United Against Gender-Based Violence
We joined the global community in raising awareness of gender-based violence (GBV) during the 16 Days of Activism Against Gender-based Violence campaign that spans November 25 through December 10.
Despite the movement restrictions caused by the pandemic, our teams have worked hard to adapt our GBV services to ensure that they remain open and accessible to anyone who needs them. In Lebanon, our GBV teams have worked creatively to continue providing services online, and in-person with extra precautionary measures in place.
2020 has been a challenging year. But our gender-based violence team in Lebanon 🇱🇧 has been adapting to the challenges. Watch the video below to find out how. ⬇️ #16Days pic.twitter.com/GM7JO42S14

— International Medical Corps (@IMC_Worldwide) December 10, 2020
World Human Rights Day
On December 10, our team in Pakistan wrapped up the 16 Days campaign and marked World Human Rights Day by hosting a community discussion examining why gender-based violence is a human rights issue and how we can all work together to end it. Check out these awesome young advocates below!
Join us for the International Medical Corps LR3 Virtual Race Event!
We're excited to be part of the LR3 Virtual Race Series! It's a build-your-own socially distanced event where you can engage in any activity: walk, run, bike … or even mow your lawn! Pick your race, and complete it your way. 15% of your registration fee will support our lifesaving work worldwide. Don't wait! Register with family and friends.
New Year, clean slate. Step into 2021 and don't look back! Join us for the International Medical Corps LR3 Virtual Race Event! 🏃‍

Complete your event by January 31 and 15% of your registration fee goes to support our work. Register now ➡️ https://t.co/FxX5CGmmzs pic.twitter.com/VdI1cccgZW

— International Medical Corps (@IMC_Worldwide) January 9, 2021
2020: A Challenging Year in Review
Throughout our 36-year history, we've faced some of the toughest challenges imaginable. But we have never experienced a year quite like 2020. We worked in conflict zones, helped people who've lost everything in terrifying and deadly disasters, and helped to end deadly epidemics — including two Ebola outbreaks in the Democratic Republic of the Congo this year alone. Take a look back at the highlights.