Combatting COVID-19 and Vaccine Misinformation Worldwide
Vaccinations are crucial in the fight against COVID-19. As the virus continues to spread, so does another dangerous challenge — vaccine misinformation.
Our team in Puerto Rico conducted a vaccination information session with church leaders from Lares to answer questions and dispel myths surrounding vaccines.
In Lebanon, we're supporting vaccination efforts by continuing to deliver additional supplies to health centers. We're also raising awareness about the vaccine to increase trust in the community, especially among vulnerable groups.
As India continues to experience a devastating surge of COVID-19 infections, we're distributing essential medical supplies like oxygen concentrators and personal protective equipment, with help from our local partners.
Responding to Flooding in Germany
A deadly flood swept across Germany after extreme levels of rainfall, leaving 60,000 to 70,000 people displaced and causing at least 173 deaths. The floods have damaged homes, washed away roads and destroyed utilities.
Our team on the ground has partnered with a German NGO, Luftfahrt ohne Grenzen (Wings of Help), to bring relief to severely affected communities by delivering safe water, maintenance and repair equipment, and hygiene supplies.
And we're bringing relief to Belgium and the Netherlands, which also have been heavily affected by the flood's ongoing effects. Learn more here.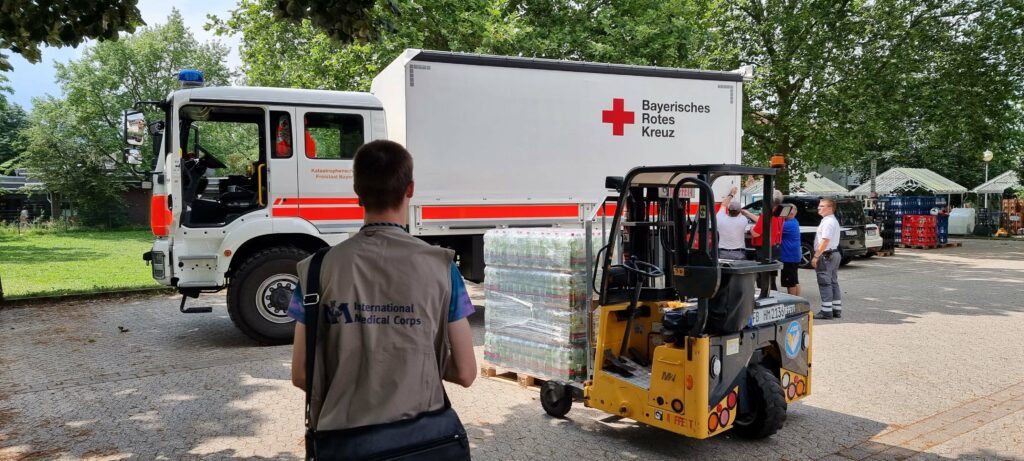 Delivering Medical Supplies in the Democratic Republic of the Congo
Our teams in the Democratic Republic of the Congo have been working hard alongside community members to deliver lifesaving medical supplies to the Nemba Health Center and the Makabola Health Center.
🚲 We love these pictures of our team and community members working together to deliver medical supplies and equipment to the Nemba Health Center in the #DRC 🇨🇩! It's a 3-mile walk to the health center, but they're committed to getting the supplies there! pic.twitter.com/nAobLDi0EX

— International Medical Corps (@IMC_Worldwide) July 27, 2021
Despite facing long journeys as long as three miles on foot, our local staff is dedicated to getting supplies to communities in need, no matter what.
Our Community Health Workers in Butembo are also raising hygiene awareness in local communities to curb the spread of infectious diseases and promote healthy sanitation practices.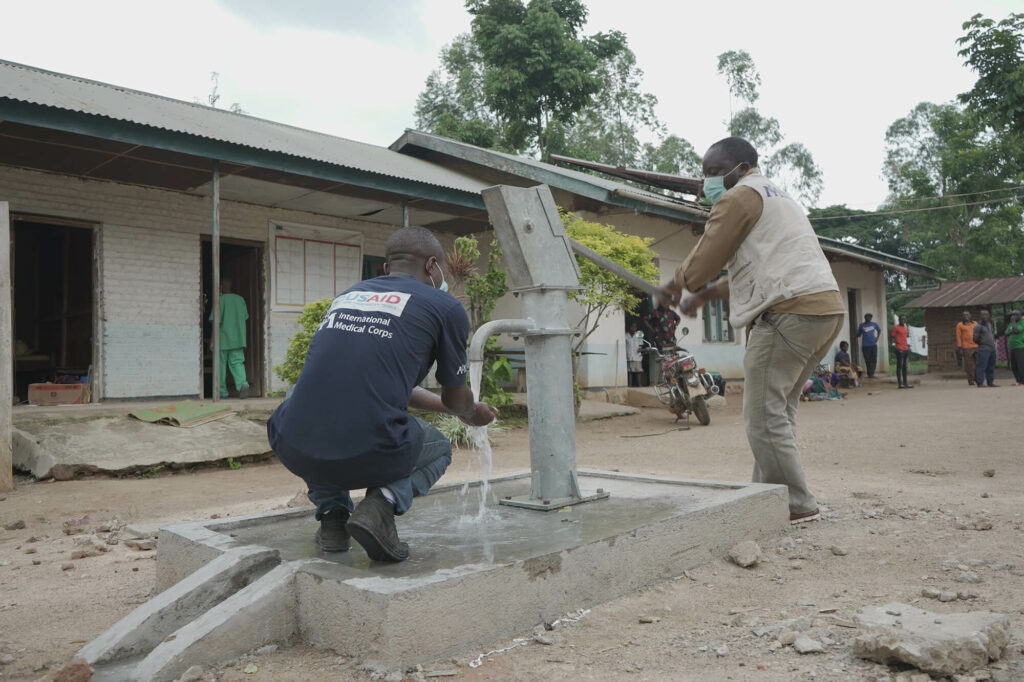 Celebrating Mothers and Babies Worldwide on #BumpDay
On #BumpDay, July 21, moms and moms-to-be highlighted the effects of disparities in maternal healthcare around the world and advocated for equal access to maternal healthcare. Every mom deserves a healthy pregnancy, a safe birth and a healthy, happy baby.
🤰💜 Thanks to all who spread the word and shared the love on #BumpDay!

Inspired to take further action for moms and babies worldwide? Learn how here ➡️ https://t.co/xAom8L3wVg pic.twitter.com/lPrBAv2SGh

— International Medical Corps (@IMC_Worldwide) July 22, 2021
Providing Relief Amid Conflict in Tigray
As the conflict continues to displace people from Tigray, we're responding by delivering medical supplies, food and other key resources that prevent the spread of COVID-19 (such as masks, soap and handwashing stations) to refugees who have fled to Sudan.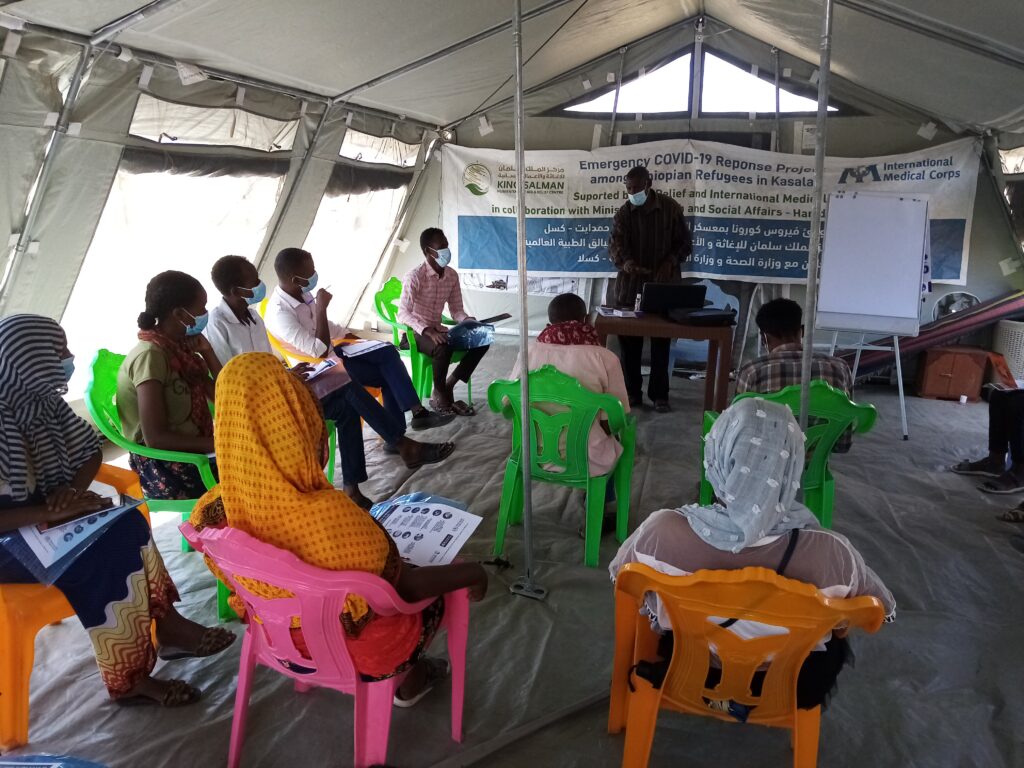 In response to rising levels of malnutrition, our teams also are screening children and pregnant women to provide appropriate healthcare and prevent malnutrition in vulnerable populations.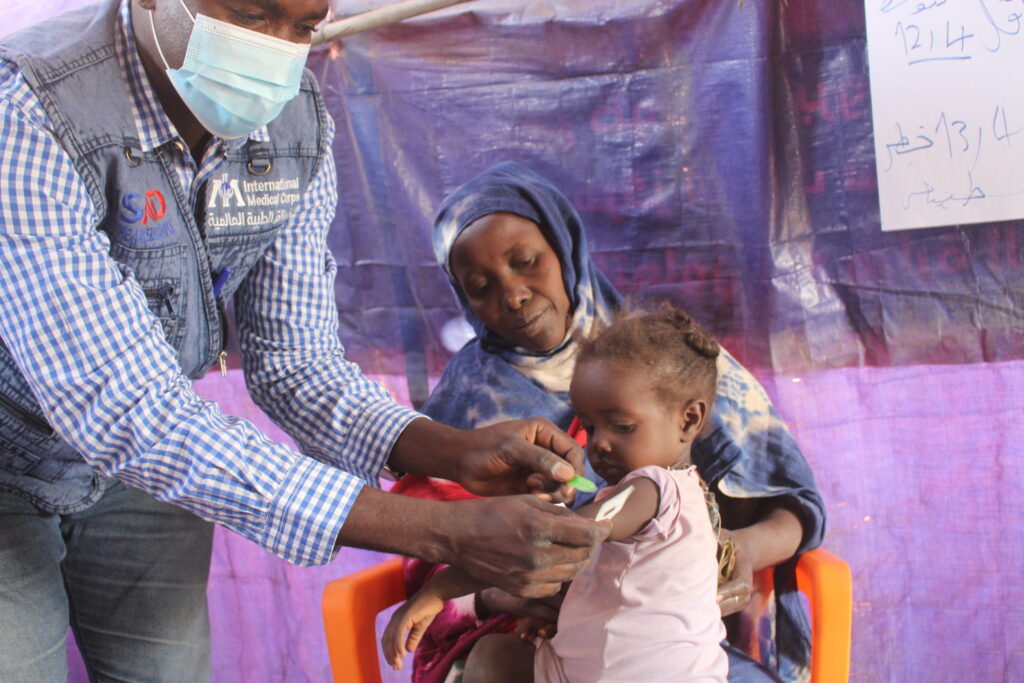 Vaccinations Are Important for Animals, Too
Our team in the Al Hussein district of Yemen has partnered with the Ministry of Agriculture to vaccinate local livestock.
Livestock vaccinations, which can preventing outbreaks of such diseases as goat pox and tetanus, are vital to community health. Such outbreaks can have fatal consequences, which in turn create a shortage of food and milk.
Building Water Systems and Maternal Shelters in Zimbabwe
Easy access to water is a necessity — and one that is tragically inaccessible to many. That's why our water, sanitation and hygiene team has been building new solar-powered water pumps across Zimbabwe, in communities like Mpumelelo and Zumanana.
Additionally, we've established three shelters for mothers and newborns in Nkayi, where mothers can stay overnight to access maternal healthcare.
Congratulations to Nicolas Chien for Completing his Ride Across America!
Nicolas Chien has successfully completed his cycling journey from New York to Los Angeles!
Go Nick! 🚴‍♂️ We're so thankful that he used his ride across America to raise funds and awareness for our lifesaving work!

Some of our team members joined Nick on the last stretch of his journey from New York to Los Angeles! Meet him here➡️ https://t.co/f3Yuc4YABc pic.twitter.com/re18xYiDdP

— International Medical Corps (@IMC_Worldwide) July 28, 2021
We're so grateful for Nicolas's dedication to raising awareness and funds so that we can continue providing lifesaving relief to people around the world.