When government health worker Brima Kamara arrived in Pate-Bana, a small town of some 2,000 souls in north-central Sierra Leone, it was eerily quiet, the sun-baked, red dirt streets empty. He went straight to the community health post, where he opened the doors to find nine corpses, all still on IV fluids. Spilled blood covered the floor.
"They had locked up the hospital and people ran away," says Brima. "The remaining nurse ran away because her colleagues had died."
The date was September 12, 2014. Ebola had just exploded on the community like a silent bomb and Brima had been asked to go to Pate-Bana because he had experience working with Lassa fever, a fatal, highly infectious hemorrhagic virus.
Brima spent the following months as a one-man Ebola response team. He banged down doors to collect suspected Ebola patients and even went deep into the bush at night to attend traditional healing rituals against the virus. "For a good six months, things were hard," Brima says. "It was very difficult in this area."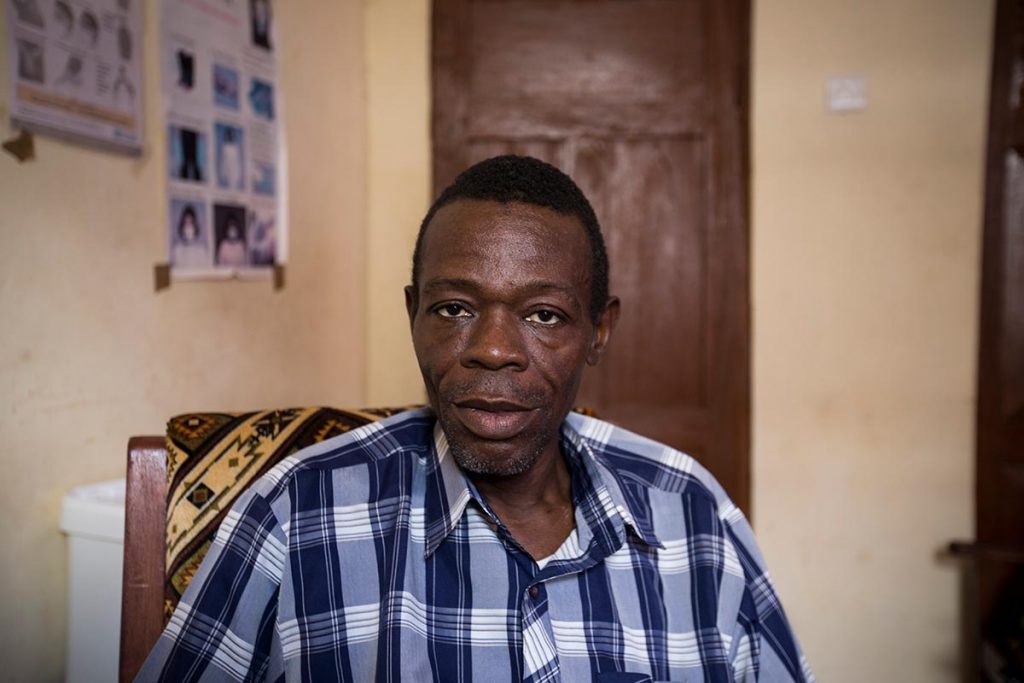 Ebola Takes Hold
As in countless communities across West Africa, Ebola found fertile ground in Pate-Bana. No one had heard of Ebola when nurses at the community health post began to fall ill in September, allowing the virus to quietly enter the homes and infect entire families of patient they came to treat.
One of Ebola's first victims in Pate-Bana was Doris Kano, who worked as a volunteer nurse in the health post and was the wife of the town's chief, Pa Santigie Keirgbo. When she died, Pa Santigie and his family gathered in their home to wash her body and prepare it for burial—a practice heavy with meaning in Sierra Leone.
The family was completely unaware that the rituals they were performing would become the catalyst of a devastating domino effect. "All of the people who were involved in [the burial] process, they died," says Pa Santigie, sitting on the front porch of the home where they all gathered around his wife's body 14 months ago.
Of the 31 members of his family who contracted Ebola, Pa Santigie is one of only three survivors, along with his two sons. "Everybody in this community found it very difficult to tackle this virus," he says, "Nobody knew what [was] Ebola. That is one reason why so many people died because nobody knew if it was Ebola or not Ebola. The idea was not there."
He believes the virus peaked in September and October. "During that time, the virus destroyed this community," says Pa Santigie. Slowly, cases began to subside in November, the same month that International Medical Corps arrived to the area and began teaching local residents how to prevent spreading the disease. In December, whatever new Ebola cases flared up were taken immediately to International Medical Corps' newly-opened Ebola Treatment Center in Makeni, a city just a few miles away. The measure increased Ebola survivor rates in the area.
"Up to February we had very serious cases here," says Brima.
The Ebola Orphans
The story of Pa Santigie's family was replicated again and again across the tin-roofed homes of Pate-Bana. In total, 158 people contracted Ebola in the town. Just 39 survived. Most of those who died were young and middle-aged women and men because they were the most able to care for the sick and carry bodies of those who died to be buried.
Those who Ebola claimed were also mothers and fathers who left behind roughly 200 children.
Now under the care of surviving relatives and neighbors, the Ebola orphans of Pate-Bana underscore the devastating ripple effects of Ebola on Sierra Leone. In one of the epidemic's cruelest ironies, the more families came together one year ago to care for their sick and bury their dead, the more Ebola tore them apart. For rural communities like Pate-Bana, the extended family is more than a family. It is the most reliable, significant social security system. With so many lives lost to Ebola, residents must now care for more children than they had ever anticipated.
After his brother and sister died from Ebola, Pa Santigie took custody of their six children. He and two of his neighbors are collectively responsible for at least 20 children, most of whom are under 10 years old. "The situation is very rough, especially in the areas of food and medical support," he says. "I don't have enough food to take care of them. How I feel, other people are feeling the same thing."
Shattered Livelihoods
When Ebola hit Pate-Bana, the town was put under strict quarantine in a desperate attempt to keep the virus from spreading further. This prevented farmers from venturing to their fields, leaving them with nothing to harvest once the quarantine was lifted. It was also impossible for goods to come into and leave Pate-Bana, strangling small businesses that kept families afloat.
"It's not easy," says Alhasan Koroma, a Pate-Bana resident. "Before Ebola, I was doing small, small business. Then people were afraid [to come here], so now I have no business. It is hard to get money to live."
An Ebola survivor, Alhasan lost seven members of his family to the virus, including his son and daughter who helped him with his small business. He is also one of the adults who is helping Pa Santigie take care of orphaned children. He tries to support them by selling fish that he occasionally catches nearby. "I didn't go to school," he says. "I am worried about the future."
The Outbreak Ends
In September 2015, Brima learned that a 14-year-old girl in a neighboring village was suffering from symptoms similar to that of Ebola. He tracked down two Ebola survivors, put them in personal protective equipment (PPE), and sent all three on a motorbike to International Medical Corps' Ebola Treatment Center (ETC) in Makeni, a city a few miles away. His suspicions proved to be true: she tested positive for Ebola and tragically passed away in the ETC.
Sierra Leone was declared Ebola-free in November 2015, but a new case emerged in January, a reflection of the ongoing risk of new flare-ups of the virus.
Meanwhile, the needs remaining in Pate-Bana are many. The community's crops and livestock are dead and their businesses ruined. Residents struggle to restart their livelihoods. For families like Pa Santigie's, support to recover lost assets and restore an income stream will be critical after Ebola callously left the care of so many children in the hands of too few survivors.
"The orphans need taking care of," Pa Santigie says. "The orphans we are left with."