Already plagued with conflict, instability and numerous health disasters, the Democratic Republic of the Congo (DRC) has suffered persistent outbreaks of Ebola since 2018. International Medical Corps, which has helped those in need in this war-torn country for more than two decades, has leveraged our significant experience fighting the world's largest outbreak of Ebola (in West Africa from 2014–2016) to respond to the 9th, 10th, 11th and 12th outbreaks in the DRC. Over the past three years, we constructed 95 screening-and-referral units, which staff members have used to conduct more than 2 million Ebola screenings, while training more than 1,700 health staff in infection prevention and control.
Bilepo Biempe is one of the patients we treated during the 11th Ebola outbreak in the DRC, which claimed 55 lives in Équateur province. A 35-year-old woman who owns a small shop in the local market of the Wangata health area, Bilepo trades in basic household items like sugar and milk, work that entails close contact with customers and leaves her especially vulnerable to viruses. On the day that her health deteriorated last fall, Bilepo assumed that she had malaria—a widespread disease in Wangata—and self-medicated for a few days. But when her health continued to worsen, she visited a hospital, where she tested positive for Ebola.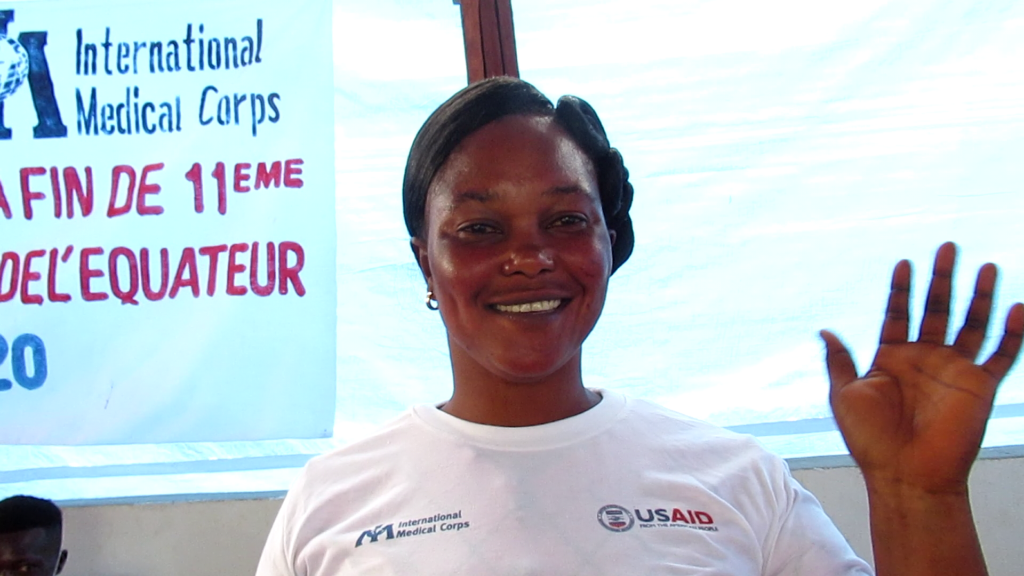 "At first I could not believe it," says Bilepo. "I used to hear people talk about how Ebola is fatal, but never did I imagine I could get it." She was immediately transferred to the Wangata Ebola Treatment Center (ETC), which is managed by International Medical Corps, for clinical care. "Ebola gave me the worst symptoms I have ever had," she says. "I would not wish this on anyone."
After one month of treatment, Bilepo was declared cured, and discharged. Today, she reflects on how dire her situation was—and how lucky she is. "Sometimes I would lie in that bed and worry that I wouldn't make it," says Bilepo. "I'm grateful that the International Medical Corps doctors went above and beyond to keep me alive." As an expression of her gratitude, Bilepo joined a team of caregivers at the ETC and helped other Ebola patients in their recovery until the 11th outbreak was declared over in November 2020.
The Challenges Persist
In February of this year, nearly three months after DRC's 11th outbreak was declared over, a resurgence of Ebola emerged on the country's eastern edge, in North Kivu province, through a sample collected from a woman in her mid-40s who later died. International Medical Corps immediately deployed a multidisciplinary team to conduct an assessment in Biena, where the woman had lived, and quickly set up an ETC in Katwa, where there was a very high likelihood of the disease spreading. Our teams managed 38 patients at the ETC, eight of whom were confirmed to have Ebola.
This outbreak, DRC's 12th, which was declared over on May 3, claimed six lives—far fewer than previous outbreaks. According to Dr. Ruffin Matafali, who worked at the Katwa ETC, a significant driver of this relatively successful response was International Medical Corps' timely deployment, coupled with the availability of supplies from earlier outbreak responses. "Timing is key in an Ebola response, and the fight against epidemics in general, as every second counts," says Dr. Ruffin. "At International Medical Corps, we're always working to make sure that we're one step ahead of Ebola." In addition, Ebola vaccination campaigns—run by the Ministry of Health in collaboration with the World Health Organization during the previous outbreak—played a significant role in reducing mortalities this time around.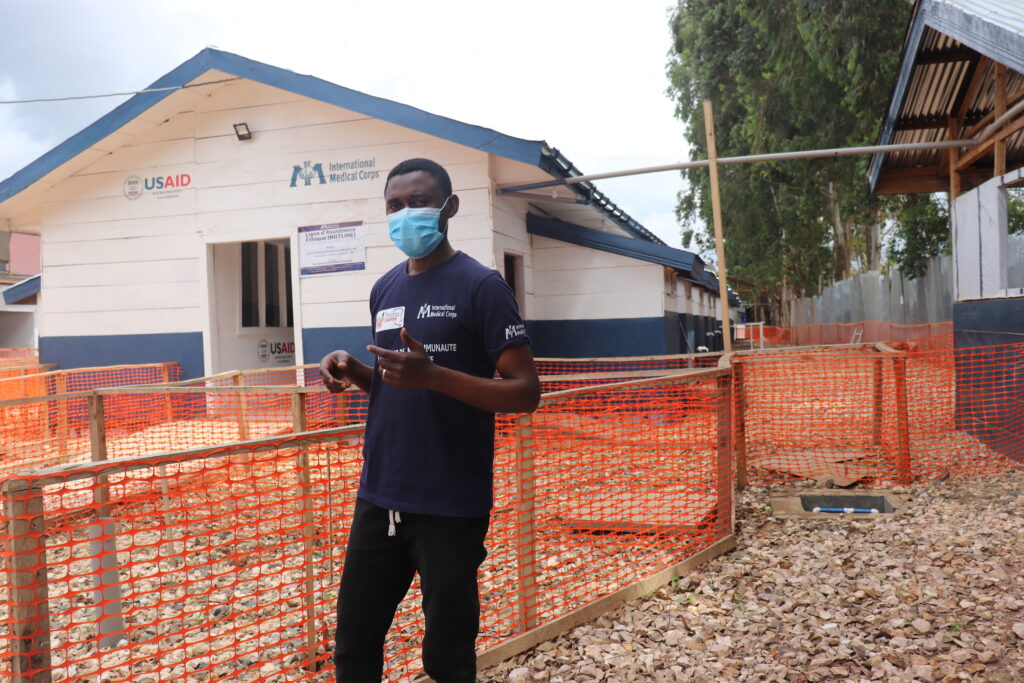 Nonetheless, significant challenges remain. Understanding why Ebola continues to persist in DRC requires knowledge of the region's history, where decades of civil war have destroyed healthcare systems and general infrastructure across the country. People in DRC generally depend on non-proven, alternative treatments for disease—in part because they often cannot rely on official facilities—and the use of self-medication and traditional healers is common. During Ebola outbreaks, people often turn to informal healthcare providers for another reason: a widespread belief that hospitals and healthcare facilities—particularly those run by NGOs—are the source of Ebola in the country.
This overwhelming fear of Ebola contributes to widespread resistance to treatment in DRC, as demonstrated by another survivor we treated, Mputu Basali. After feeling sick for a couple of days, Mputu visited the hospital and tested positive for Ebola—but fled the facility. A few days later, he was readmitted—only to escape once more. "I thought I was going to die," he recalls. For Mputu, it took the persuasion of his community to return to the treatment center and stay until he was discharged, cured.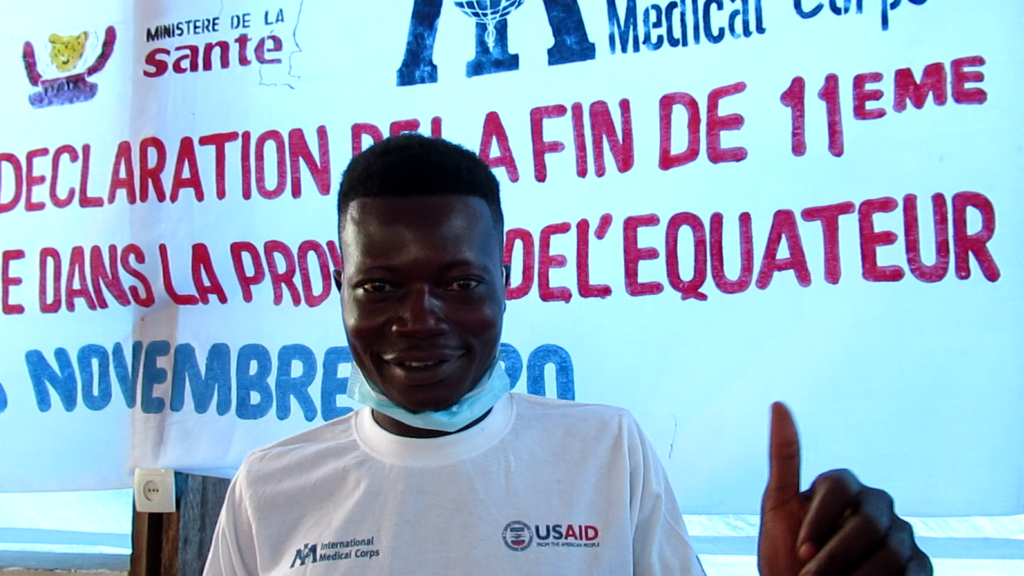 "The work wasn't easy," says Edwige Tiche, an International Medical Corps Nurse Supervisor. "We had to sensitize a community that did not believe that the disease is real."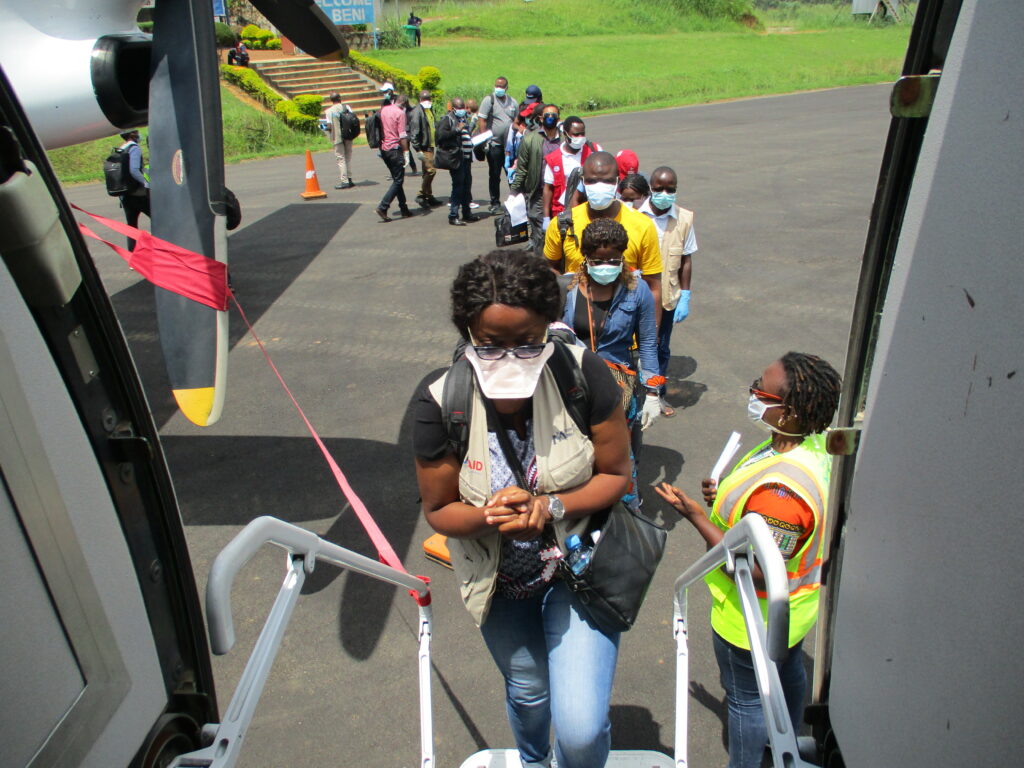 With affected communities spread across Équateur's 13 health zones, spanning a wide geographic area, access to many localities was difficult. In addition to the expansive distances, road travel remained limited in the densely forested region, with some remote areas only accessible by air. "Many people were wary and unreceptive of the response teams working to halt the virus, while lacking a clear understanding of Ebola prevention and treatment," says Edwige.
Solutions Require Patience, Persistence … and People
Against this backdrop, combatting Ebola in the DRC requires patience, persistence and the work of social mobilizers like Christophe Nzanzu and his team, who are key to spreading Ebola prevention messages in Kitsuku, a village in North Kivu province. Amidst intense heat, Christophe makes his way along paths in Kitsuku, spreading his lifesaving messages door to door. "Some people accept our messages, but some of them still think that the sickness is not there," says Christophe. "So we tell them how some of our families became victims of this disease and died, and how this disease affects us personally."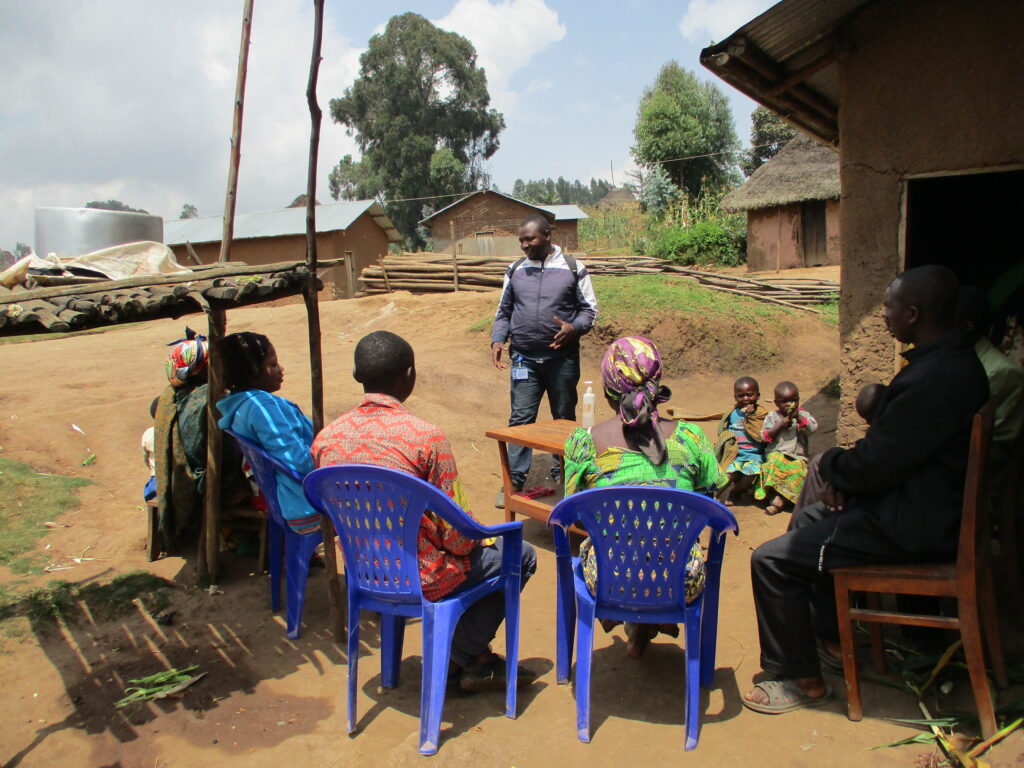 In light of the recurrent outbreaks and the devastation they bring, Christophe knows that the community cannot afford to relax its vigilance. He works to educate the community quickly and remind people how to prevent the spread of Ebola. "When they finally understand, they accept," he says.
International Medical Corps has been supporting the DRC Ministry of Health in its efforts to train and activate community workers like Christophe across the region, and continues to provide lifesaving assistance to communities affected by Ebola in DRC, where there have been no cases of Ebola since March 24. Declaring the country Ebola-free will not only be a triumph for the medical community, but also for the thousands of community mobilizers like Christophe, who continue to ensure that communities know what Ebola is, how it spreads and what to do if they come across people with symptoms. So, long as Ebola persists, we will, too.
International Medical Corps has worked in DRC since 1999, providing healthcare, capacity-building in the health sector, gender-based violence (GBV) prevention and treatment, nutrition support, food security programs, and water, sanitation hygiene services. More recently, we also have been responding to outbreaks of disease, including Ebola, measles and COVID-19. We have served more than 2 million people in the DRC, 80 percent of whom have been displaced by armed conflict.