Screams of delight and joy fill the soccer pitch on Tuesday morning in Azraq refugee camp in Jordan. Syrian refugee boys, aged 12 to18, are playing soccer and celebrating every goal. Inside a vehicle sits Zein Hudhud, International Medical Corps' Adolescent Friendly Space (AFS) Coordinator, captivated as 14-year-old Ahmad* is listing the positive impacts of the AFS activities that International Medical Corps offered him.
"Forgetting the past events, self esteem, no more fighting with my brothers" are among the items the young boy notes. Sitting in his wheel chair, two large bandages loop around Ahmad's legs. "I was 5 years old playing out in the snow in Syria. All of a sudden I could not walk."
Ahmad was diagnosed with a buildup of calcium around his feet. He underwent a surgery and recovered only for a short while. Several years later, after escaping the war in Syria, he settled with his family in Azraq refugee camp. In October 2014, Rawan Abu Khadra, a Case Manager for International Medical Corps, learned of Ahmad's medical history and refered him to an International Medical Corps doctor inside the camp. The doctor believes the solution is through a surgery that should remove the calcium deposits.
In November 2014, International Medical Corps accompanied Ahmad and his father to Al Bashir Hospital in Amman where his diagnosis was confirmed by an osteopathy specialist. "We assisted his father in hospital procedures and ensured a date for his son's surgery," recounts Rawan, thinking of the procedure that is now only 30 days away. "His case is completely curable, as several doctors confirmed."
Ahmad leaves the vehicle to join his soccer team in his wheel chair. "It is my favorite activity. I am the goal keeper. We are starting the match. They need me," he says mirthfully.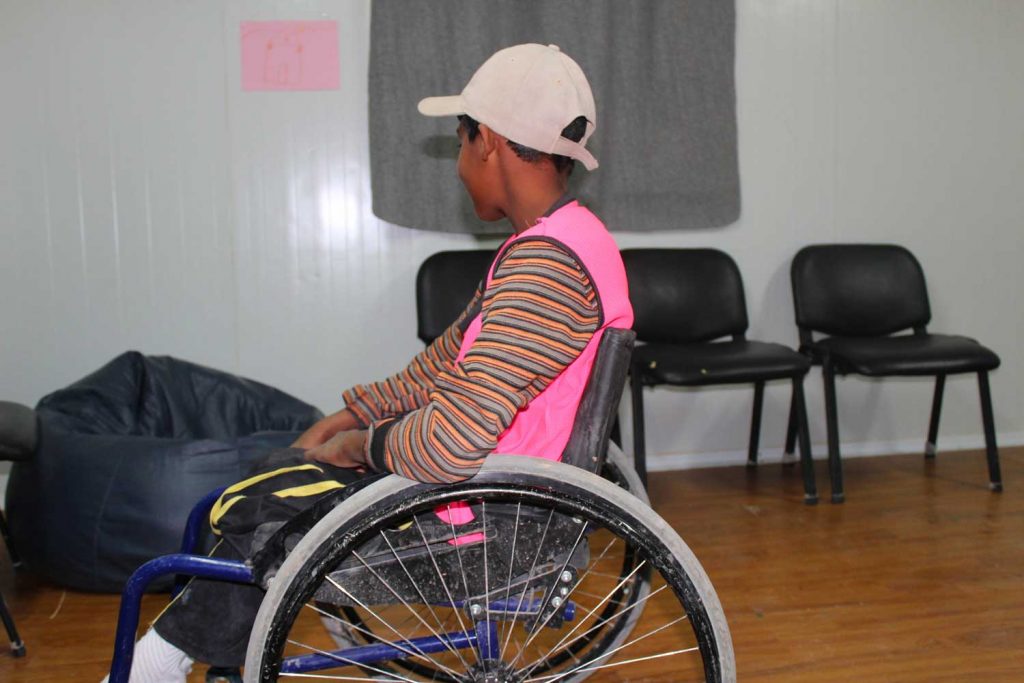 When the family fled Deraa in October 2014 under heavy bombing, Ahmed had to be carried by his father because he could not walk. "My family ran until the border with Jordan," said Ahmad. But in December 2014, another tragic event devastated the family. Ahmad's mother returned to Syria to visit her father, who had become ill in his old age. On her way to Damascus, the 40-year-old woman was killed amid clashes. Following the devastating event, the family suffered severe trauma. Ahmad's father became depressed and unable to maintain a conversation with his children.
"I met with him and his children, together with our psychiatrist," says Rawan. "After consultations, we decided he needed regular mental health sessions. Over the course of time we noticed improvement. He started doing daily routines such as taking care of his children. We are now giving him parenting skills sessions as we deemed it necessary for his case."
In another district, Rufayda* is giving her 15th tailor training class to a group of 12 fellow female refugees inside International Medical Corps' Women and Girls Center. "This gathering is like a healing activity for us here," she says. "Back home, I used to make clothing," she adds with a nostalgic smile.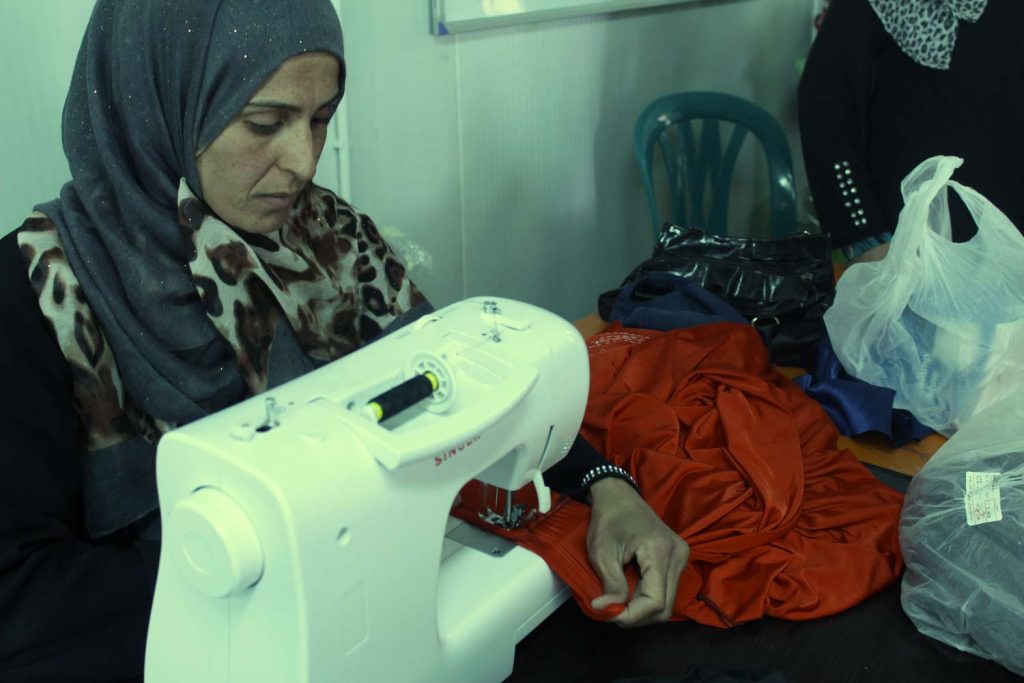 Rufayda, 38 and mother of seven aged between six and 20, fled her neighborhood in a Damascus suburb on April 27, 2014. "We just celebrated our first anniversary inside the camp. I remember that day very well. I was so exhausted I could barely talk or walk. I had no motivation at all. I refused to live in a refugee camp, and I didn't know what was awaiting me here."
Rula*, International Medical Corps Case Manager, confirmed that Rufayda generally appeared sad and was not talking to her children. "She and her family left under the bombs. On their way, her husband was stopped at a checkpoint and brutally beaten. He suffered from brain dysfunctions for a few months," said Rula.
With the help of International Medical Corps staff members, Rufayda started to break her isolation. "I attended mental health sessions and in due course, I was given the opportunity to give training classes in tailoring. This has completely changed my life. I have become famous in the camp!" she says smiling. "After our displacement, I felt weak and fragile. Now I am starting to rebuild myself and trying to be in control of my life. I feel useful and happily surrounded by new friends. I am grateful for the mental health support. It boosts the personality and production of women."