In northeast Nigeria, women and girls have borne the brunt of a 10-year conflict in Borno, Adamawa and Yobe states, where millions have been forced from their homes and faced exploitation and abuse. In this environment, where women and adolescent girls have lost their livelihoods, families and support structures, International Medical Corps has established women-friendly spaces (WFS) to serve as community focal points for women and girls to gather, socialize, participate in skill-building activities and receive protection information. The WFS also serve as safe spaces for survivors of gender-based violence (GBV), where they can seek help and receive individualized case management and support services.
Every year, International Medical Corps celebrates International Women's Day, to commemorate the achievements, empowerment and future of women and girls in Nigeria. This year, International Medical Corps dedicated a week of celebrations and activities for International Women's Day, focusing on the theme, "I Am Gender Equality: Realizing Women's Rights." The week culminated in an exhibition of crafts created at the 13 WFS that International Medical Corps supports in Maiduguri.
More than 100 local leaders, community members and allies came together to celebrate the achievements and creations of the women and girls who visit WFS. Each center showcased and sold products, including fabrics, bags, clothing, artwork, jewelry and food. As a friendly competition, a panel comprising community members, representatives of the Borno State inter-agency GBV coordination group and International Medical Corps named three WFS—Galtimari, Dala and Limanti—as the best-performing centers of the showcase. Along with the other centers, they received prizes, such as sewing machines, fabric and pasta-processing machines.
During the celebration, representatives from each WFS, and other community members, celebrated the achievements of women and girls through speeches and role-play drama. The Inter-Agency GBV Coordinator and member of the judging panel, Sylvia Opinia, echoed her support for the women and event:
"When we talk about celebrating women in Borno State, it takes a different turn because the toll of the conflict has affected the women in unimaginable ways. Women have taken on new roles that are not traditionally their own. They are holding families together in the different camps and communities they are living in, they have become the head of the households, and now we are celebrating the handmade products of these women. I don't know if there is any more strength than this."
To date in Borno State, International Medical Corps has established and supported 18 WFS to provide opportunities for women to safely gather, develop support networks, receive and share information, participate in psychosocial support activities and seek services after incidents involving GBV. Activities are focused on restoring self-confidence, strength and self-worth, while providing opportunities to relax and enjoy a safe space to share experiences, raise questions and seek emotional support.
One of the women of the "Old Maiduguri" WFS, Falmata, has been living in the town for three years after fleeing violence from her home in Magumeri. She is a single mother of four, and explains that life has been difficult for women from her community. "Some of us have been able to rent apartments, while others who cannot afford to are living in camps," she says. "Some girls were married off, out of fear of the insurgents." Like many other women, the WFS helped Falmata get back on her feet, gain a sense of belonging and improve her independence.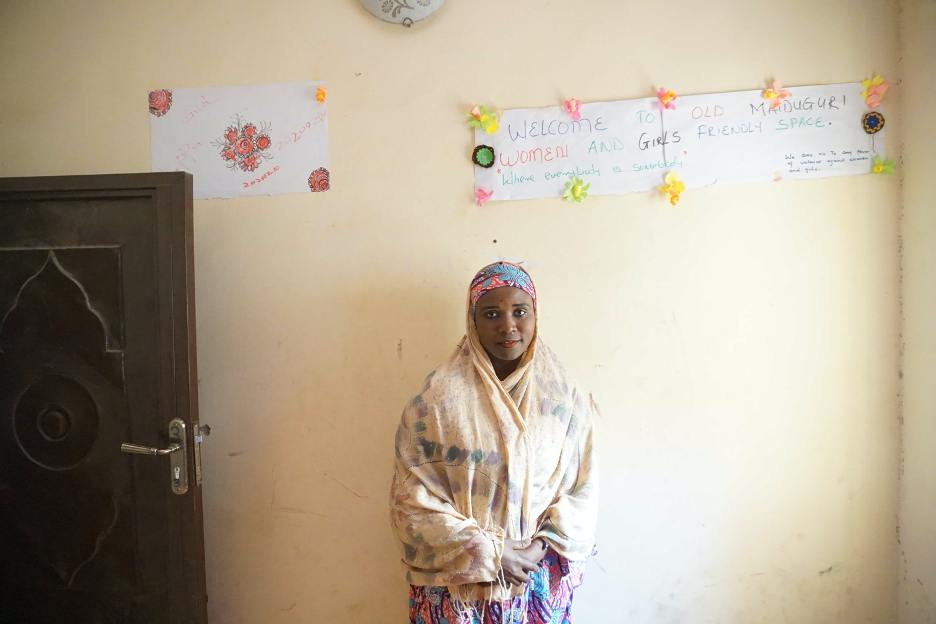 "I have been able to learn various skills at the women-friendly spaces and, after selling the items I have made, use the savings to support my children's education with the buying of their books, uniforms and school fees," Falmata says. "I have also taught other women, for them to become empowered and self-reliant." When looking toward her future, she added:
"My hopes are many. I want to help my community in the way that International Medical Corps has made me empowered and self-reliant. I want to be a female philanthropist and have my work be heard worldwide."
Alongside the WFS, International Medical Corps has established economic and social empowerment (EASE) groups, to help women develop business skills, form savings and loan associations, and increase their autonomy and empowerment. International Medical Corps has also established networks of 92 community volunteers to provide information on protection issues, and to link vulnerable women and adolescent girls to available services.
International Medical Corps has been providing GBV prevention and response services in Nigeria since 2015, and remains one of the key partners providing comprehensive GBV response services in Borno State, with support from USAID/OFDA and the government of the Kingdom of the Netherlands.