Baseco Health Center is located in one of the most poverty-stricken areas of Manila, capital city of the Philippines. At the Manila Health Department (MHD) District V office, International Medical Corps and MHD staff are loading COVID-19 vaccine doses into an International Medical Corps vehicle, ensuring the quick and safe delivery of the vaccine to Baseco and other local health centers, where residents line up to get vaccinated. But this wasn't always the case.
Distance can make it difficult for people to access vaccines. That's why International Medical Corps nurses and barangay (district) health workers are working together to bring COVID-19 vaccines closer to local communities.
In the beginning, they faced two challenges: transportation and efficient distribution.
According to Gloria Inocencio, District Nurse Supervisor of MHD District V, staff at local health centers previously would go to the district office to pick up their vaccines. However, since the health centers are far from the district office, this meant paying fares and possibly exposing the vaccines to heat for long periods of time.
To address this, the MHD District V office asked International Medical Corps for help. Our team began providing a service vehicle for three days each week, from Tuesday to Thursday, enabling the MHD office to transport vaccines to the health centers.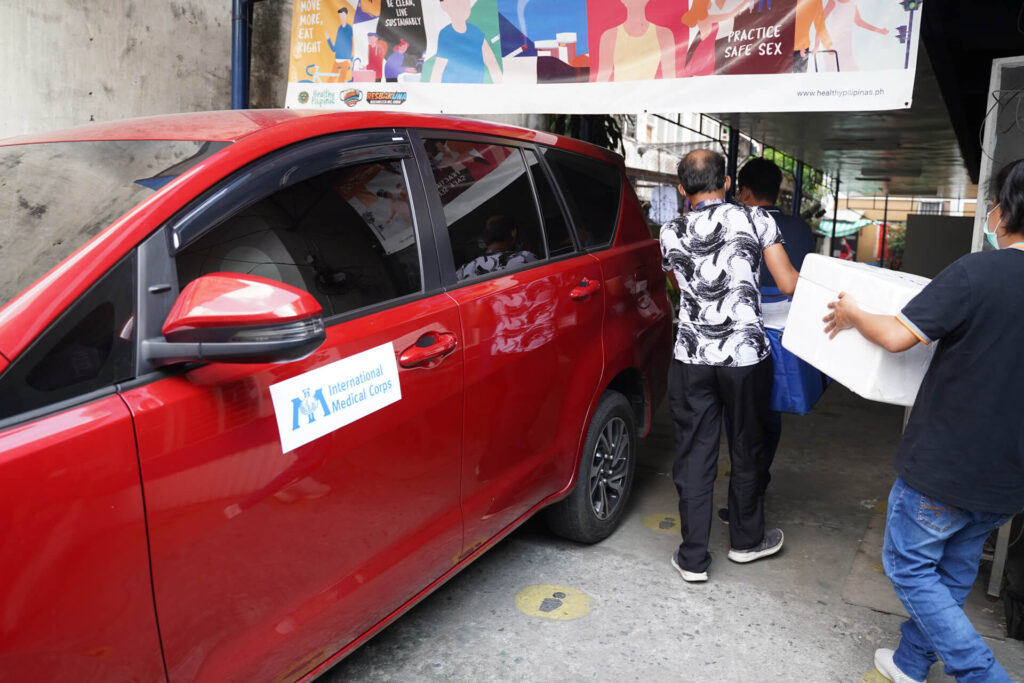 "International Medical Corps' vehicle is a big help to us," says Inocencio. "Our vaccines can now reach the health centers safely."
The second challenge was ensuring the complete distribution of every opened vial of vaccine—meaning that a vaccine vial could not be opened unless there were enough people to finish it. International Medical Corps nurses learned best practices from district health workers.
"I'm in contact with the barangay health workers, barangay chairman and barangay councilor," explains Gerryson David, an International Medical Corps nurse. "I call them and ask if there are still people who want to get vaccinated that day. If there are several people, I go to the barangay myself to conduct the vaccination there. If there aren't that many people, they are informed that International Medical Corps has a vaccination program and provided with transportation to get to one of our health centers."
Those who are vaccinated at a local health center commend the efforts of International Medical Corps to bring vaccines closer to their communities.
"It's faster, safer and more convenient compared to when I got my first vaccine dose," says Crisanta Sismundo, a high-school teacher who was vaccinated by our team at the Barangay 783 Health Center. "I didn't have to spare a lot of time to get vaccinated, since it's near my house."
Tackling Vaccine Hesitancy
International Medical Corps' approach to improving vaccine access is not limited to transportation and administration. It also includes education, so there is less hesitancy among the population and local communities learn to trust our team.
At Baseco Health Center, International Medical Corps' team splits into two groups: one group is stationed at the health center, and the other coordinates with the health center and barangay staff to go to the barangay and announce that they are conducting a vaccination program.
An International Medical Corps nurse, Caroline Corpus, shares her strategy for tackling vaccine hesitancy.
"When we are in the barangay, we discuss possible vaccine side effects with those who have doubts about getting vaccinated," she says.
Talking to and educating every hesitant person is a slow and tedious process. But in the end, Corpuz notes, most people decide to get vaccinated.
Effective Vaccine Delivery
Back at Baseco, our team opens the doors, and people begin to file in. Today, there are more children than adults. Some children come with their parents, and others come with a barangay health worker, Penida Lachica, who got permission from their parents to bring them to the health center to be vaccinated.
Lachica explains that many people want their children to get vaccinated, but don't have time to bring them to a health center.
"Some parents are too busy, so they allow me to bring their children here," says Lachica. "There are probably more people who wanted to get vaccinated, but can't come here because they have to work."
Efren, father of one of the children, shares that he was relieved when he heard that a vaccination program would be in his neighborhood—the convenient location brought him there.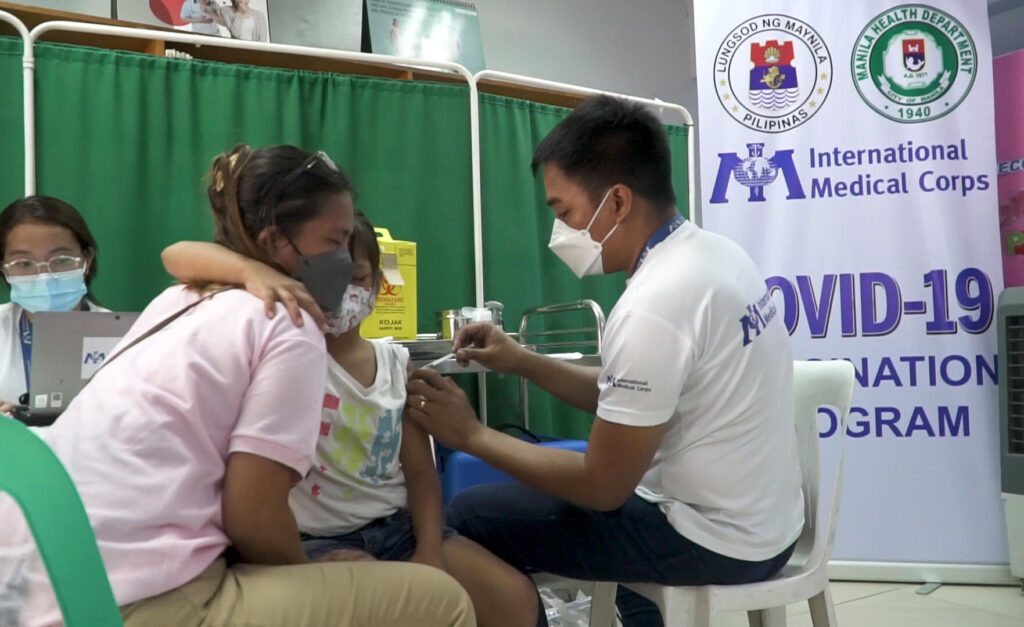 Quintessa, one of the children, explains why she got vaccinated: "I wanted to get vaccinated so I can go back to school. The internet signal in my house is too weak for online schooling."
She isn't the only one who feels this way. Online schooling is challenging for many children in this area due to an erratic cellular network signal. For them, going to school in person is preferable.
International Medical Corps' Philippines team is ready to help, working tirelessly with the MHD to deliver COVID-19 vaccinations. By adapting to challenging situations and working collaboratively, our team has administered 39,880 doses of vaccine in Manila and 58,478 doses across Manila, Angono and Malabon. And as long as people need the vaccine, our team will continue their work.