Vaccinations are regularly in the news these days, thanks to COVID-19. But a lesser-known side of the vaccination story is the work that NGOs like International Medical Corps have done for decades at the frontlines of immunization efforts in countries around the world. Vaccination is one of the best ways to prevent—and, in the case of wild poliovirus in Africa and much of Asia, eradicate—infectious diseases, so these efforts are incredibly important.
But they aren't without their challenges: vaccine hesitancy is a problem in more than 90% of the world's countries, according to the WHO and UNICEF. So while International Medical Corps continues to vaccinate people around the world against COVID-19, polio and other diseases, we also are doing more to determine the causes of vaccine hesitancy and come up with ways to combat it.
How we vaccinate
Vaccination typically takes place in one of two ways: through routine childhood immunization and through mass vaccination campaigns.
Because International Medical Corps is a primary healthcare organization, our healthcare professionals provide vaccinations for measles, tuberculosis, hepatitis B, flu, tetanus, polio, diphtheria and pertussis (whooping cough) during routine check-ups with infants and toddlers, as well as through door-to-door community outreach.
Where there is low uptake of routine vaccinations, local ministries of health might conduct a mass campaign, either during a disease outbreak or as a precautionary measure.
"Most of the countries where we work have weak healthcare systems, and the routine vaccination coverage is normally not very good," says Dr. Bilal Saleem, Public Health Advisor for North and East Africa, Asia and Europe. "There may be vaccine shortages or issues around human resources, cold chain, outreach or transport. So the desired coverage is not there, and to reach the desired level, mass vaccination campaigns are planned. They are a quicker way to reach a large population in a short period of time, although they are very expensive."
Though International Medical Corps does not conduct mass vaccination campaigns, we often partner with the local government and department of health to help with such campaigns.
"When these campaigns are conducted, the government might ask us to support with vaccinator training, vaccine transport, cold chain or logistics. We might provide vehicles or cover fuel costs," Dr. Bilal explains. "In other places, we might provide human resources—vaccinators, community health workers or staff to conduct monitoring activities."
Polio vaccination campaigns and hesitancy
International Medical Corps was instrumental in providing support to both the routine and mass polio vaccination campaigns that ultimately led to the eradication of wild poliovirus in Africa, which was declared in 2020.
"The hallmark of our polio eradication programs has been community involvement" says Dr. Dayan Woldemichael, Public Health Advisor for West Africa and Latin America.
International Medical Corps' volunteer community health workers go from house to house to encourage parents to have their children vaccinated. Whenever babies are born, the health workers make sure the infants are registered for immunization. They also regularly check children for the signs and symptoms of polio.
Because community members are often influenced by what their leaders say and do, our teams work behind the scenes with community leaders to make sure that they're on board with polio vaccination. We build relationships with leaders and stakeholders so we can have conversations with them about the importance of the polio vaccine, anticipating that those discussions will help them convince their communities to accept the polio vaccination.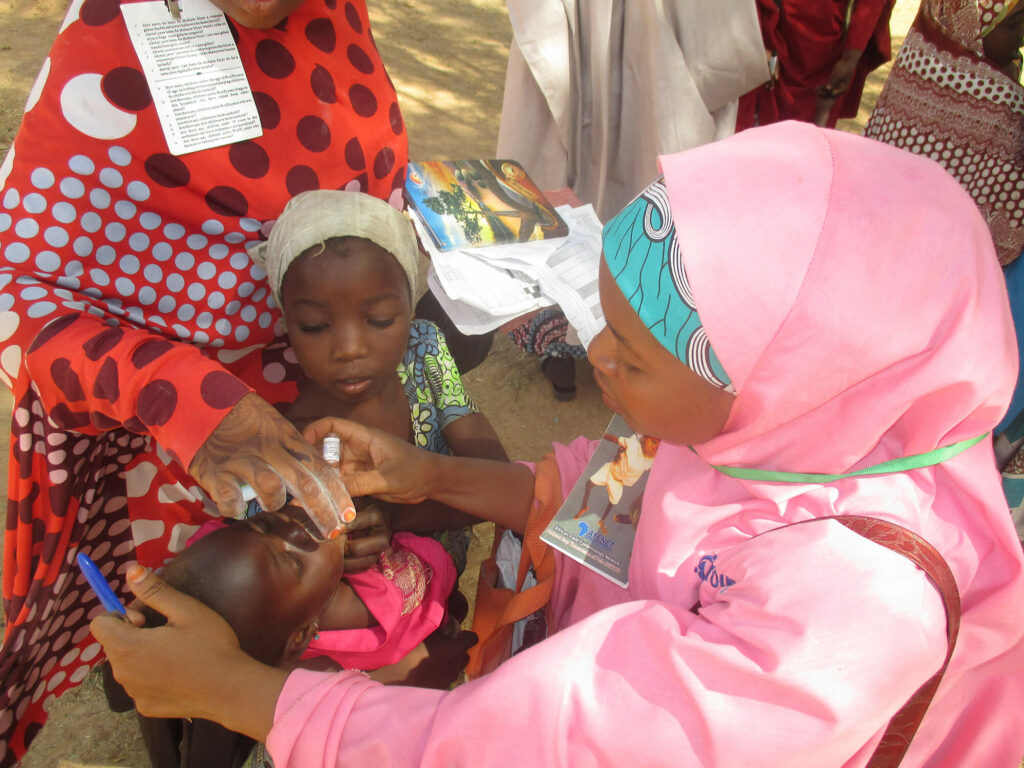 Even though wild poliovirus was eradicated in Africa—clearly demonstrating the success of vaccination efforts there—vaccine hesitancy was still common. "We overcame most of it with intensive communication through the right channel, which is the mothers," Dr. Dayan explains. "For example, if a woman refused the vaccine for her child, we would send our female community health workers to her home on a regular basis to try to build a personal relationship, until both parents were committed to bringing the child to be vaccinated. There were challenges, but they were overcome by persistent efforts from our community volunteers on the ground."
Regular polio vaccination campaigns are still being conducted to ensure that Africa remains polio-free. However, wild poliovirus is still endemic in Afghanistan and neighboring Pakistan, where eradication has been much harder to achieve. Though International Medical Corps recently has supported mass polio vaccine campaigns in Pakistan and Afghanistan, we do not do so currently, due to a number of difficulties.
"One of the challenges with mass vaccination campaigns for polio is that health workers go from house to house," explains Dr. Bilal. "In areas with difficult security situations—for example, along the border between Afghanistan and Pakistan—polio vaccination was banned for a couple of years because people did not want vaccinators coming to their homes. They were concerned about spying, and a lot of misinformation was spread about that."
Polio vaccine hesitancy has possibly also occurred in countries where public health officials conducted too many vaccine campaigns within a short period of time and were unable to effectively explain why the repeated campaigns were necessary.
"People got tired of vaccinators coming to their door. They didn't understand why they were coming again," Dr. Bilal says.
Getting at the root causes of vaccine hesitancy
In the countries where we work, vaccination hesitancy tends to be more isolated to certain vaccines, such as polio, than it is in the US and Europe, where suspicion toward routine childhood immunization has increased in recent years. Fortunately, our staff members haven't seen such general vaccination hesitancy in our missions in Africa, Asia, the Middle East and Latin America.
"In the places where we work, there are still communicable disease outbreaks happening, like cholera or measles, that cause loss of life," Dr. Jill John-Kall, Senior Health Advisor. "You just don't see these diseases in the US or Europe. There's a whole generation of people in the West who wonder why they should get the polio vaccine when they've never seen polio. But they've never seen it because of vaccinations."
However, there is enough hesitancy—particularly around the new COVID-19 vaccines—that International Medical Corps has begun to study its root causes. We are conducting research in a handful of countries, including Lebanon, Pakistan, Philippines, Afghanistan and Cameroon, to better understand attitudes toward the COVID vaccines and figure out ways to better educate the people we serve about the benefits of vaccination.
"We try to come up with simple questions in local languages, and look at the intent to vaccinate among these people—what percent wants to vaccinate, what percent does not. If people want to vaccinate, do they want to do it now or later?" explains Dr. Zawar Ali, Senior Specialist for Vaccine Program Planning.
According to Dr. Zawar, our team studies vaccine hesitancy among both the general population and among healthcare workers, looking at the issue from three different angles:
Confidence: How confident are people in the vaccine, in the healthcare system that delivers it and in the policymakers who create vaccination policy?
Convenience: How convenient is it for people to receive a vaccine? Are people willing to accept some inconvenience in exchange for vaccination? Do they encounter any barriers to accessing accurate information about the vaccine?
Complacency: Do people understand their risk of getting the disease and becoming seriously ill? Do they have opinions on developing natural immunity versus developing immunity due to the vaccine?
Because misinformation and rumors are a major contributor to hesitancy, we also look at where people get their information about vaccines.
"Some groups have social media, and they'll see a lot of misinformation there, but in communities where there isn't a lot of technology or where literacy is low, misinformation spreads through the traditional grapevine," Dr. Jill says. "In some communities, there may be religious or political leaders who are anti-vaccine, so they might push that agenda at church, the mosque or at a political rally. Depending on the information that's identified, that will dictate how we address the drivers of hesitancy."
As we gather data around misinformation and the causes of hesitancy, we are crafting solutions and messaging to reach people who have been reluctant or scared to receive the vaccine but who didn't indicate to researchers that they would never be willing to do so.
"Vaccine hesitancy is not constant. It changes because of different information or situations," says Dr. Zawar. "Hesitancy because of misinformation around fertility and hesitancy because of perceived side effects will require completely different messages tailored to each situation. What we're trying to come up with is a program where we can address all these different segments of society, with a particular focus on marginalized populations and healthcare workers because their actions matter a lot. We want to push the spectrum toward active vaccine demand."
Vaccine hesitancy in DRC
In the Democratic Republic of the Congo (DRC), we are looking at hesitancy around the Ebola vaccine, as well as COVID-19 vaccines. We've partnered with the Centers for Disease Control and Prevention (CDC) to conduct a study to understand why some people accept the vaccines and others do not. Our team began collecting data in early 2021, surveying households and healthcare workers, in addition to conducting focus groups with key community members.
Though the research is ongoing, Dr. Mbong Eta Ngole, DRC Deputy Country Director for Programs, says some general themes have begun to emerge.
"We've noticed that health staff are more open to accepting the Ebola vaccine, because they have had experience caring for Ebola patients," Dr. Mbong Eta says. "But in the community, some people still have doubts." Many of those vaccine skeptics think that if they eat well and wash their hands regularly, they don't necessarily need a vaccine. Some think the vaccine contains the Ebola virus itself and that if they take the vaccine, they will develop Ebola later. Others prefer to rely on traditional healers and natural remedies to treat Ebola.
Thankfully, those people tend to be outliers. "Because we have had 12 outbreaks of Ebola in the DRC since 1976, people are aware that Ebola is real," Dr. Mbong Eta says. "Ebola is really dramatic. It's a bleeding disease and very, very deadly."
However, the COVID-19 vaccine is a harder sell.
"What we notice is that the community still has a lot of doubts about COVID and whether it exists," Dr. Mbong Eta says. "Those who believe it exists have doubts about whether it is a problem in their communities. It is seen as a disease of urban settings and of the rich. In rural settings it is not seen as a problem. When a person does not perceive himself as at risk, he will not see the need for immunization."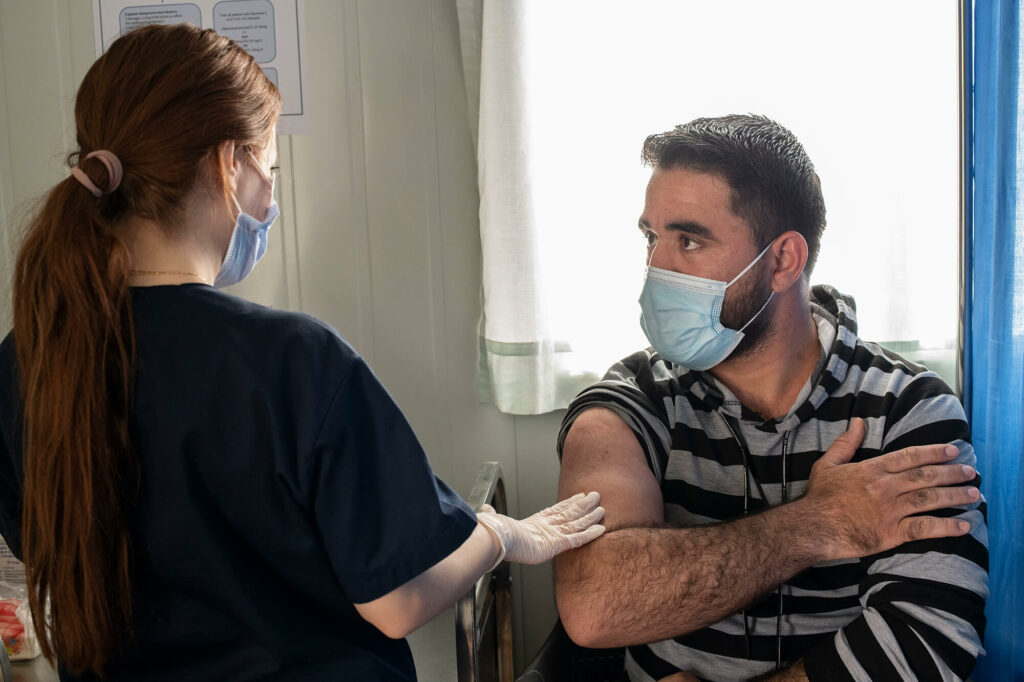 Others don't trust the source of the vaccines. They say they would be willing to accept vaccines manufactured locally, but not those that come from other countries. Still others are swayed by faith. "Some people say, 'God watches over me. Why should I take a vaccine?'" he explains.
For some people surveyed, the targeted approach to vaccination has raised suspicions. Like many other low-income nations, DRC has experienced a shortage of COVID-19 vaccines, and high-risk groups—such as healthcare workers and the elderly—have thus been prioritized to receive vaccines first. "There were two reactions to this," Dr. Mbong Eta explains. "Some have said that if the vaccine is the solution to the outbreak, why is a targeted approach being used? They find it hard to understand that there are not enough vaccines and that we have to prioritize who gets them. On the other hand, some members of the priority groups, like elderly people, find it very strange that they are being targeted. They think that officials must be keen to do away with elderly people so that young people can take over. There are a lot of conspiracy theories."
Researchers have noticed a correlation between people's experiences with the Ebola vaccine and their decision to take the COVID-19 vaccine. When Ebola vaccination first began in 2017, the dosage given was high, leading to a multitude of side effects. The dose has since been reduced, but if someone had previously taken the Ebola vaccine and experienced a lot of side effects, their likelihood of accepting another vaccine decreased.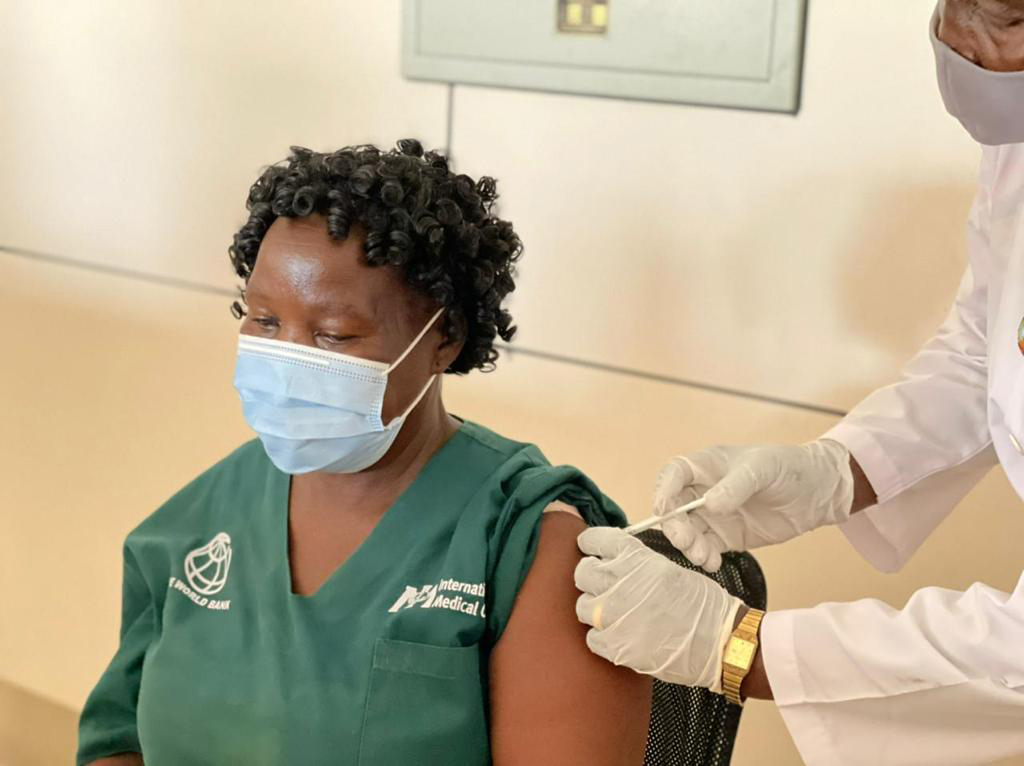 This research has yielded several recommendations for increasing COVID-19 vaccine uptake in DRC (the researchers have not yet formulated their recommendations for Ebola vaccine hesitancy). International Medical Corps presented these findings in a national workshop with the Ministry of Health in March, and we have already begun helping the government implement these recommendations.
Among the recommendations are to make the vaccines available to all, rather than just to targeted groups. Another suggestion is for governments and NGOs to make greater investments in religious communities, where persuading leaders to take the vaccine could have a big impact on their followers. Likewise, we also emphasized the importance of encouraging community leaders to take the vaccine themselves, to set an example and build trust in their communities.
The path to vaccine acceptance
Ultimately, many of International Medical Corps' recommendations for combatting vaccine hesitancy come down to two things: building relationships—and therefore trust—and providing accurate, evidence-based information to as many audiences as possible.
"Vaccine hesitancy has been around as long as vaccinations. History has shown that vaccinations are one of the most successful public health interventions, probably because we have been able to reduce vaccine hesitancy along the way," says Dr. Jill. "As in the past, if we make the effort to understand the drivers of hesitancy and address them with evidence-based, contextually appropriate interventions, we'll be able to reduce vaccine hesitancy and increase vaccinations."