Last year, for the first time, our mission in Ukraine created a team of water, sanitation and hygiene (WASH) promoters to take COVID-19 prevention messaging into the villages of the Donetsk region, near the contact line that separates conflict-affected people residing in government- and non-government-controlled areas of eastern Ukraine. From the start, the team was faced with a formidable challenge: a crisis of confidence among the population. Periodic shelling and the constant threat of heightening tensions led to extreme distrust—of both strangers and one another—among the local villagers. As a result, it was extremely difficult to find people in the region willing to take part in COVID-19 prevention activities. Some villagers who initially agreed to participate soon changed their minds and refused.
The WASH team had to make significant efforts to carry out their project. But they stayed in constant contact with the promoters through personal visits, phone calls and online messages—and as a result of their persistence were able to successfully achieve their planned targets.
In total, nearly 1,000 beneficiaries have received COVID-19 prevention messages and hygiene kits as part of risk communication and hygiene promotion activities that took place in eight locations.
Initially, the team measured the beneficiaries' level of knowledge of COVID-19 prevention measures using a pre-test. After a 15-minute information session, the team repeated the testing, using a tablet application. Overall, beneficiaries improved their knowledge of COVID-19 prevention by about 77%, according to statistical analysis. At the end of each session, beneficiaries received an individual hygiene kit and educational materials on COVID-19 prevention.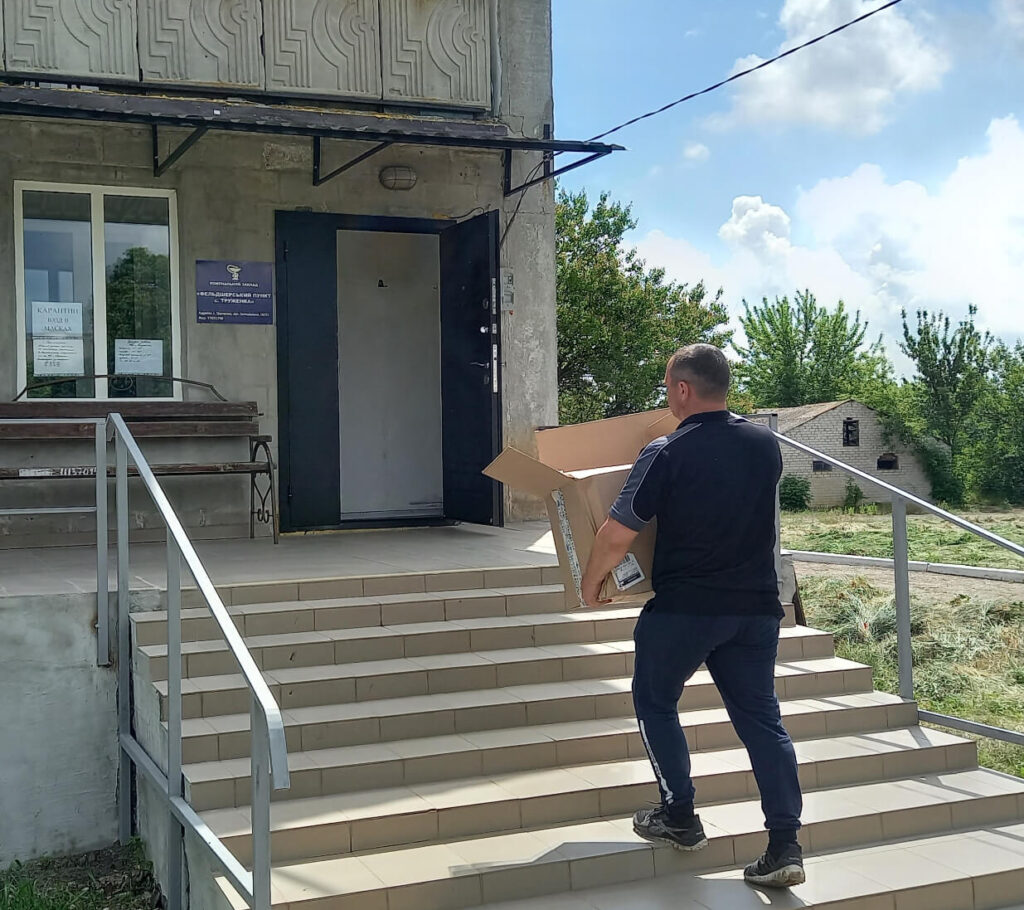 Throughout the process of conducting these educational activities, staff members from our health team also carried out weekly monitoring, and provided support to the COVID-19 prevention promoters.
In addition to doing health and hygiene promotion, we provided washing stations, soap dispensers and other hygiene items to rural clinics. Though some local health workers initially rejected the supplies, telling our team that there were no COVID-19 patients in their villages, the significant impact of the pandemic became apparent, and our hygiene supplies were soon in great demand and accepted with gratitude. Altogether, we have delivered nearly 2,000 hygiene items to 28 local primary care clinics.
Because of these efforts, International Medical Corps staff are now seen in eastern Ukraine as reliable partners who can achieve results. As a result, we've been able to expand the transmission of our health messages to the community and have updated our messaging with information about preventing other common diseases and about coping with stress.
Thus, through an attentive individualized approach, it became possible to overcome the villagers' initial distrust and successfully implement our plans.