American photojournalist Marissa Roth traveled to Jordan in December 2018 as part of her One Person Crying: Women and War photography project. In camp as well as urban settings, in International Medical Corps health clinics and women's centers, Marissa visited with multiple Syrian refugees whose lives have been torn apart by a brutal eight-year war. She gathered the stories of women and girls who are struggling to start over in the wake of violence — in both the political landscape and the confines of their own homes.
When working as a photojournalist, Marissa becomes intimately acquainted with the details of her subjects' lives, even as she remains on the outside looking in. Arriving in Jordan, she wrote in her journal:
"I'm trying to center myself to do this work — to meet and talk to the refugees — to secure my own mental health, anchor it to compassion, yet not get unhinged by the trauma. I can feel my armor coming back on — the edge of toughness, not sharp enough to cut anyone, but secure enough so I, hopefully, won't be injured."
Straddling the deep pain and resounding resilience of her subjects, Marissa emerged with captivating photos that simultaneously illuminate staggering tragedy and undeniable transformation. Below are some of those photos, and the stories she will never forget.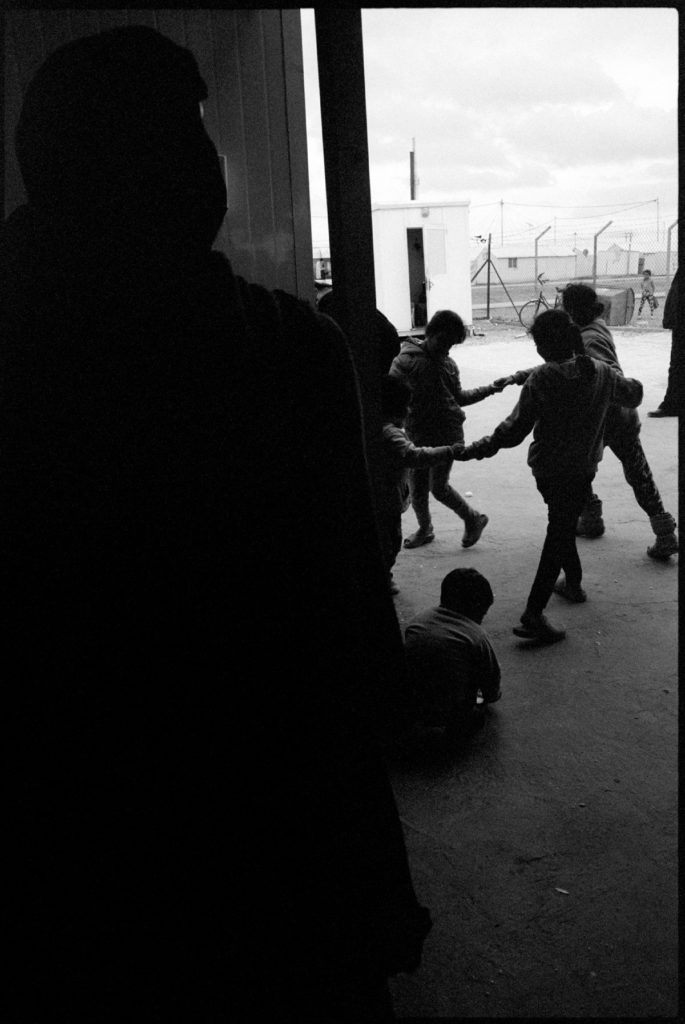 Eight years into Syria's civil war, the tiny Arab nation of Jordan houses 1.25 million Syrian refugees. Currently, 36,000 of them live in Azraq refugee camp, where International Medical Corps provides lifesaving care across three healthcare clinics. Throughout the camp, Marissa witnessed "sorrow under the surface" and "hope on the surface" in the menial daily tasks of refugees, the monumental efforts of aid workers, and across the spectrum of routine tea-making and urgent lifesaving interventions. Says Marissa:
"In spite of losing almost everything, they haven't lost their pride, their humanity or their dignity. They still have life."

Haneen Alawad, 16, is a refugee from Homs, Syria. She and her family came to Jordan in 2013. At the age of 14 — in the eighth grade — Haneen was forced by parents desperate to ease the financial burden of war to marry a man she barely knew. Haneen wanted to continue her studies and graduate; instead, she found herself a child bride, physically abused by her mother-in-law and sister-in-law, who beat her pregnant belly. Haneen is now divorced, but her son — who is 18 months old (the same age as Haneen's younger brother) — was taken by her husband, and she is not allowed to see him. Yet despite these tragedies, Marissa sees Haneen as "beautiful, strong, bold and hopeful."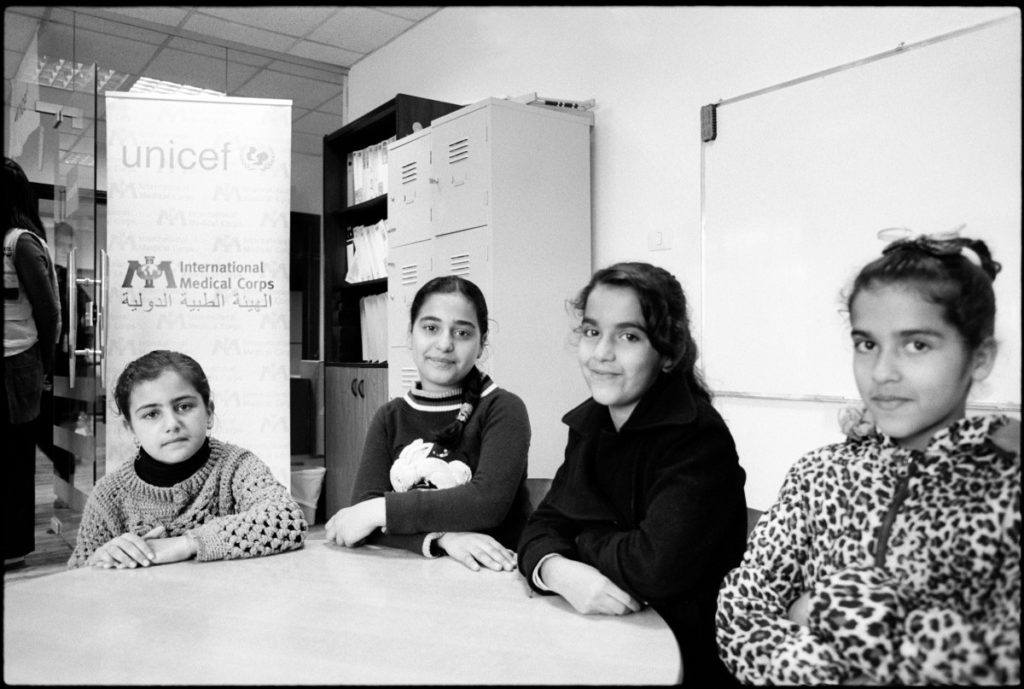 Makani means "a safe space to connect" in Arabic. International Medical Corps' Makani Centers provide child-protection services in an urban setting for Syrian refugees and local Jordanians dealing with war injuries, physical abuse and early marriage. Our staff told Marissa that the women and girls "just want somewhere to feel safe." Marissa says that in Syria, the culture is "not as progressive as Jordan regarding women's rights, work opportunities, and education" — meaning that many girls marry young due to cultural traditions, only to endure domestic violence. But in Jordan, women and girls are learning about their rights, finding economic freedom and learning to move forward on their own — at times from sheer necessity. Says Marissa: "The tragic irony for these women and their daughters is that war has twisted their fate in a potentially positive direction."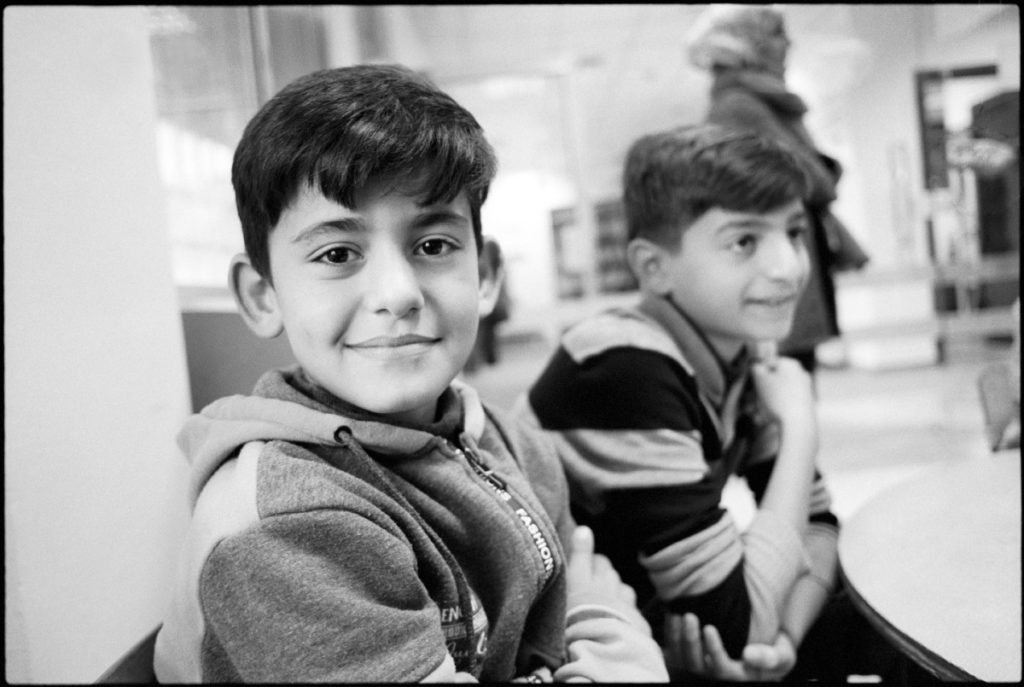 International Medical Corps' adolescent-friendly spaces in Jordan provide young people with learning opportunities, life-skills training and psychosocial-support services. Our Makani Centers help raise awareness about child rights, as well as gender-based violence and other protection issues. Ultimately, they promote social cohesion, as they are open to Jordanian and Syrian children and supported by community-based committees that help identify and refer vulnerable children. Ahmad (front) is a 10-year-old Jordanian boy. He told Marissa, "I love to learn, love to play and love Real Madrid!"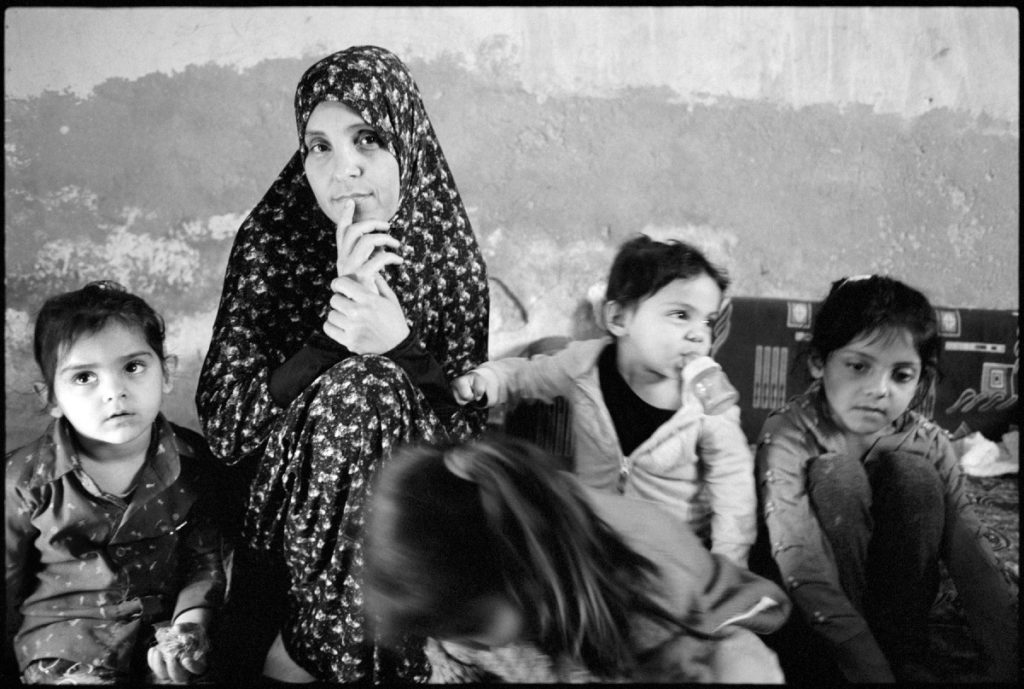 Muradeh Hussein Acrajab, 29, has been living in Jordan since fleeing Syria in 2012 with her oldest daughter, Rima, and has since had two more daughters. Her sister, Amira, did not want to leave Syria; she died during childbirth two-and-a-half years ago, leaving Muradeh to care for her two nieces in addition to her own children. Both her husband and her sister's husband are "missing" — Muradeh doesn't know anything about their whereabouts.
Even so, she says, "My hope is for a better life. I'm looking forward to the girls growing up, getting an education. I hope they can become engineers or teachers. I want to see them get a better life than this."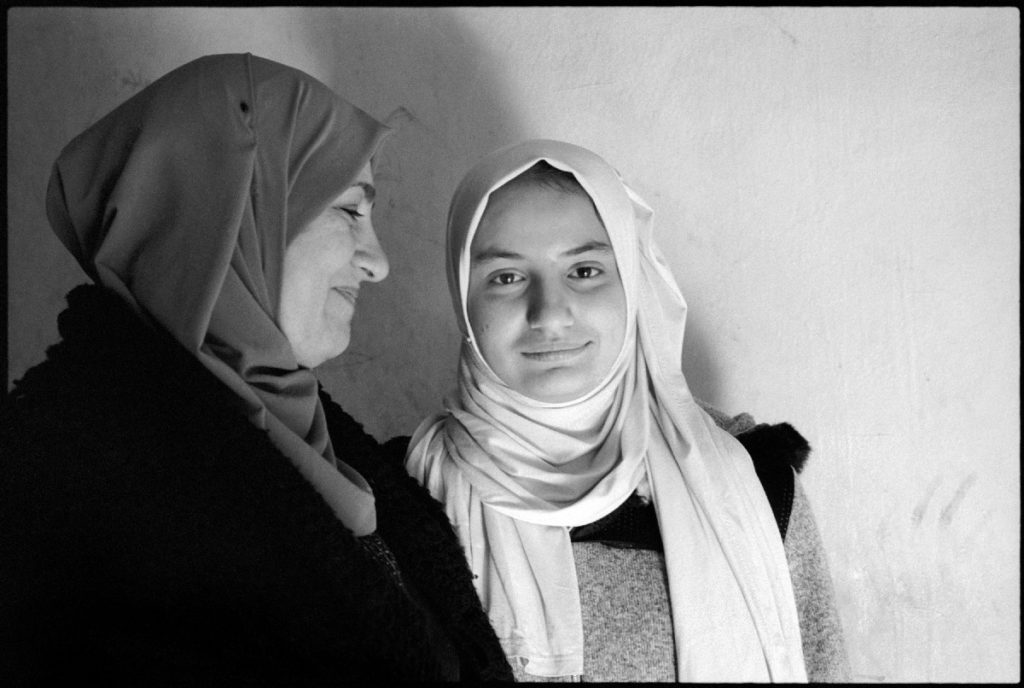 Syrian refugee Mouna Alnuaime, 42, came to Jordan with her family in 2012. Two years later, she adopted Alaa Deib — a 15-year-old who grew up in Mouna's neighborhood in Damascus — after Alaa was severely injured during a bombing campaign and evacuated to Jordan for medical treatment. After Alaa's family contacted Mouna for help, Mouna stayed with Alaa at the hospital through the course of multiple surgeries over three months. Later that year, Alaa's parents and brother were killed in another bombing in Syria. Marissa photographed Mouna at International Medical Corps' Makani Center in Irbid, Jordan. With her captivating smile, Mouna told Marissa that she relies on humor to deal with tragedy:
"If I didn't laugh, I would be dead."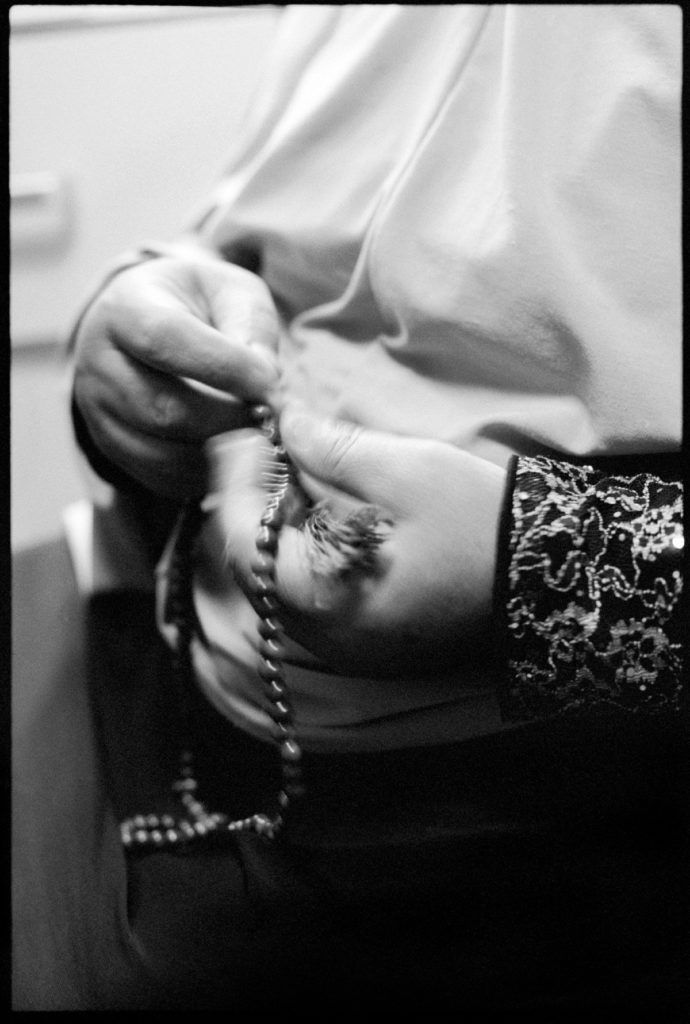 Marissa photographed Rabaa Zuobi, 48, at her daughter's bedside six hours after the 18-year-old gave birth. Rabaa and her family — three sons and three daughters — came to Jordan six years ago because of the war. Some families in Azraq camp are starting to go back to Syria, but Rabaa has no interest in returning. She says her husband is very depressed and that they are separated.
Marissa photographed Rabaa's hands, thinking of all they have to carry: "Her hands are used to pray with, sew with, plant seeds and cook with. Her hands cradle the children born too far from home."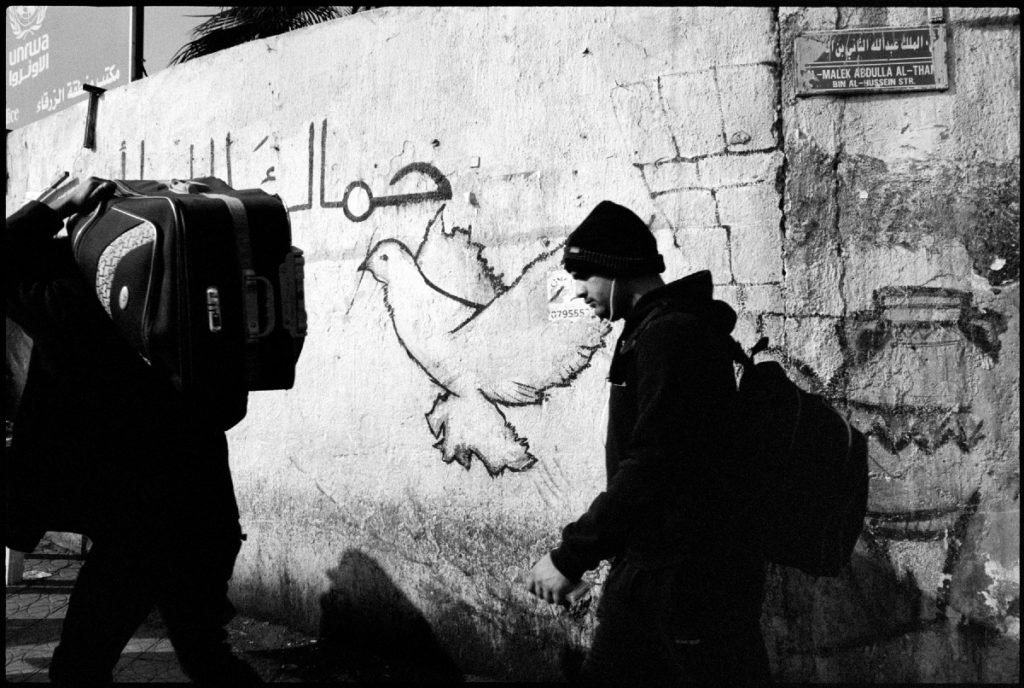 A tiny country embedded in a region of turmoil, Jordan has been perhaps irrevocably changed by the Syrian war and other conflicts across the region. Today, its population is made of 60% refugees — not only from Syria, but also from the Caucasus, Chechnya, the Palestinian territories of Gaza and the West Bank, Iraq, Syria, Sudan and Yemen. Most of the refugees came with nothing but the clothes on their backs, holding — if they were lucky — the hands of their loved ones. Many lost things or people that they will never get back. Some are working tirelessly to move forward — and some may never be able to move on. Yet, Marissa sees a story of hope in Jordan — symbolized here by a dove painted on a wall in the predominantly Palestinian city of Zarqa. To Marissa, it represents beauty in the wake of destruction, and an inevitable journey toward transformation.