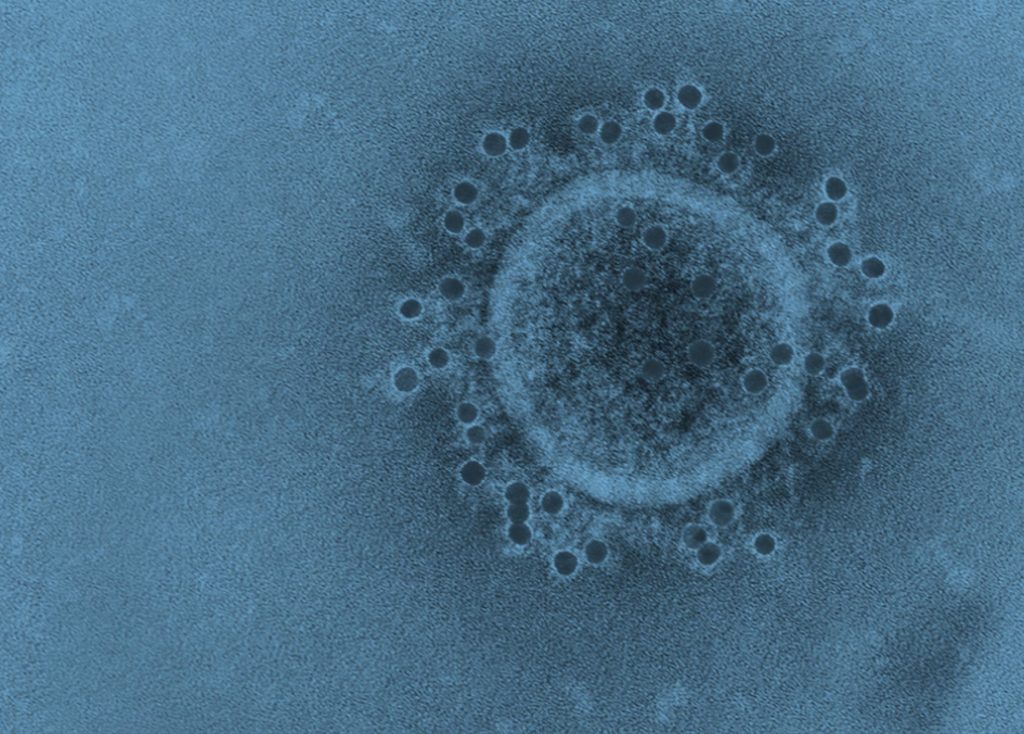 CORONAVIRUS (COVID-19)


Response in Asia
Afghanistan
Operating in 15 provinces, International Medical Corps has since the beginning of the pandemic integrated COVID-19 awareness into its programming. The country team has so far reached more than 1,439,181 million people with awareness messaging, and has trained 422 community health workers and 160 community hygiene promoters, who in turn have provided information on COVID-19 symptoms and infection prevention and control (IPC) measures to people in their communities. From May through November 2021 and in January 2022, we worked with the Ministry of Public Health (MoPH) to support rollout of a COVID-19 vaccination program in the eastern region of Afghanistan. We conducted a vaccine hesitancy survey, supported vaccination efforts in health facilities and raised awareness about COVID-19 vaccinations among target populations. The project has directly reached 73,153 people and indirectly reached more than 375,303 people in Kunar province. In addition, International Medical Corps has distributed 583,988 PPE items and vaccinators directly administered COVID-19 vaccines to 13,556 people from July 2021 to February 2022. In total, 7,605 people have been fully vaccinated at International Medical Corps-supported facilities, our team has trained eight health workers on vaccine administration and provided cold-chain support to 24 health facilities.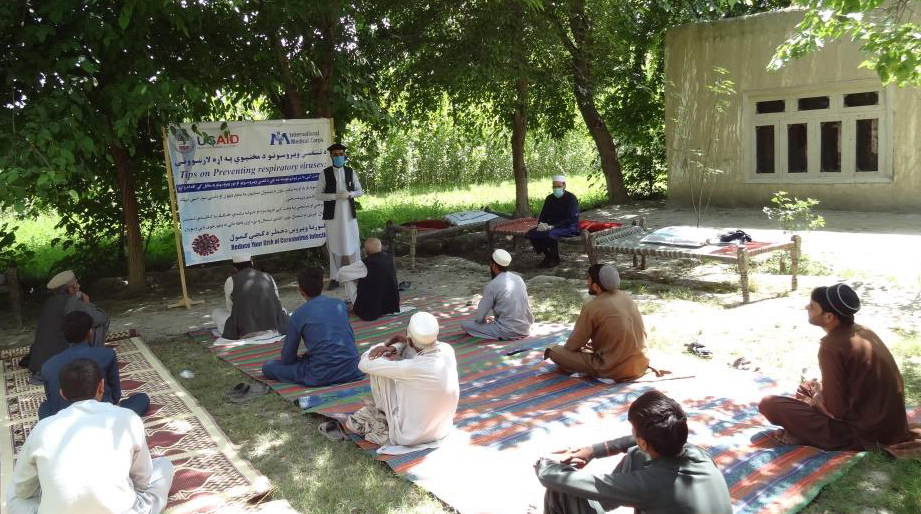 A COVID-19 awareness session in Nangahar Province.
India and Nepal
In response to the COVID-19 pandemic, International Medical Corps has been providing resources to strengthen India's existing—but overwhelmed—healthcare infrastructure. We partnered with three local organizations: Doctors For You (DFY), Sustainable Environment and Ecological Development Society (SEEDS) and Vision Spring. Together, we have enhanced critical-care capacity, strengthened infectious disease preparedness efforts at healthcare facilities and boosted vaccination efforts, particularly in rural areas. Since April 2021, International Medical Corps has provided urgently needed oxygen supplies, PPE, medicines and medical supplies in 17 states, including hotspots in Andhra Pradesh, Karnataka, Kerala, Maharashtra and Tamil Nadu. We supported 72 healthcare facilities with 1,440 oxygen-supply and equipment items and provided 223,891 PPE items, and we delivered 47,000 N95 masks to underserved communities. International Medical Corps' humanitarian response has reached 333,195 people directly and almost 7 million indirectly in India. In addition, we are supporting the efforts of Doctors for You (DFY) to rollout vaccination campaigns in nine states—Bihar, Jammu, Kashmir, Kerala, Maharashtra, Maniguda, Manipur, Odisha, Rajasthan and Udaipur—via 17 mobile medical teams. The campaign to vaccinate children 15 to 17 years old began in February, and DFY's mobile medical teams have been deployed to schools to increase vaccine coverage. As of April 2022, nine vaccination teams had vaccinated an estimated 150,715 people in five states: Bihar, Jammu and Kashmir, Manipur, Odisha and Rajasthan. From March 1 to April 30, 2022, the teams administered 29,296 vaccinations across five states. DFY also supported 65 training sessions on COVID vaccination, which were organized by district administration officials. In Nepal, our team has delivered ventilators, PPE, oxygen delivery systems and pulse oximeters to two healthcare facilities in Kathmandu Valley, to support preparedness efforts for subsequent spikes in caseloads.
Find out more about our efforts on our India COVID-19 Alert page.
Pakistan
Since March 2020, International Medical Corps has provided information to 359,363 community residents in our areas of operation about the symptoms and treatment of COVID-19 and how to protect against infection. We also have screened 17,695 patients for COVID-19. Our psychosocial counselors and gender-based violence (GBV) case managers located in Haripur, Lower Dir and Mansehra districts continue to provide both mental health and psychosocial support (MHPSS) and GBV case management and referral services to those in dire need, as cases of MHPSS and GBV have been increasing during the pandemic. International Medical Corps is also implementing a new project to improve COVID-19 vaccination coverage in Peshawar district. From May to October 2022, this project reached 141,197 people, including 85,574 people who received COVID-19 awareness messages, 16,740 people who were fully vaccinated, 23,023 people who were partially vaccinated and 15,367 people who received booster doses from four International Medical Corps mobile teams. In addition, 493 healthcare providers were given training on COVID-19 and IPC measures. We also distributed 18,956 medical equipment items (syringes, thermal guns, vaccine carriers, cold boxes and safety boxes) to support the government's COVID-19 vaccination efforts. In total, 55,130 people have been fully vaccinated at International Medical Corps-supported facilities.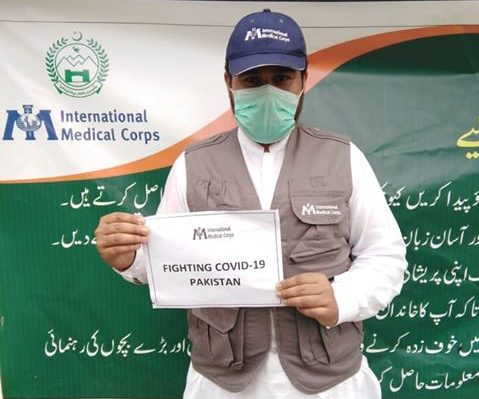 World Health Worker Week in Pakistan.
Philippines
International Medical Corps began COVID-related work in early March 2020, when our team first supported the Manila Health Department's efforts to protect the central city area's 1.8 million people from the virus. Since then, our team has provided a training-of-trainers course for health facility management staff on emerging infectious diseases, and installed triage tents where clinicians can screen all who enter and exit Manila's Santa Ana Hospital, the city's designated infectious disease center. To date, we have reached 36,069 people with COVID-19 awareness-raising activities through traditional and remote messaging. We have also distributed more than 5.8 million PPE items to health facilities and communities in Manila, Cavite, Rizal, Batangas, Laguna, Albay, Eastern Samar, Western Samar, Biliran, Davao and Quezon City. Our team provided logistical support to Santa Ana Hospital, Ospital ng Sampaloc, Ospital ng Dasmarinas, Ospital ng Binan and Manila COVID-19 Field Hospital. Among other items, we provided tents and donated 10 hospital beds, 25 oxygen tanks, 29 oxygen regulators, 82 pulse oximeters, 340 oxygen cannula and 200 non-rebreathing masks. We are supporting eight local government units in their vaccination campaigns— in the cities of Manila and Malabon, in the municipality of Angono, Basilan, Del Carmen, Gigaquit, Rizal, San Francisco, San Isidro, Socorro and Surigao city in Surigao del Norte. We also temporarily supported the vaccination efforts in the municipality of Agoncillo, Batangas. In total, our team has delivered 88,700 COVID-19 vaccine doses and 12,225 people have been fully vaccinated at International Medical Corps-supported facilities. In addition, our team installed handwashing facilities in 18 health facilities in Manila and Dasmarinas (Cavite). We also donated water, sanitation and hygiene (WASH) and environmental health consumables to health facilities and communities, including 4,842 liters of isopropyl alcohol. In addition, we distributed 100 patient care kits (including 50 medical masks, 100 gloves, one digital thermometer, one bar of bath soap, two bars of laundry soap and one trash bag), and 995 COVID-19 prevention kits (each with 25 medical masks, one liter of isopropyl alcohol and IEC materials) to vendors, drivers, cleaners and security guards. We also distributed 2,800 bars of soap. In addition, we distributed gloves, medical gowns and medical masks to two provincial health offices in areas affected by Typhoon Rai.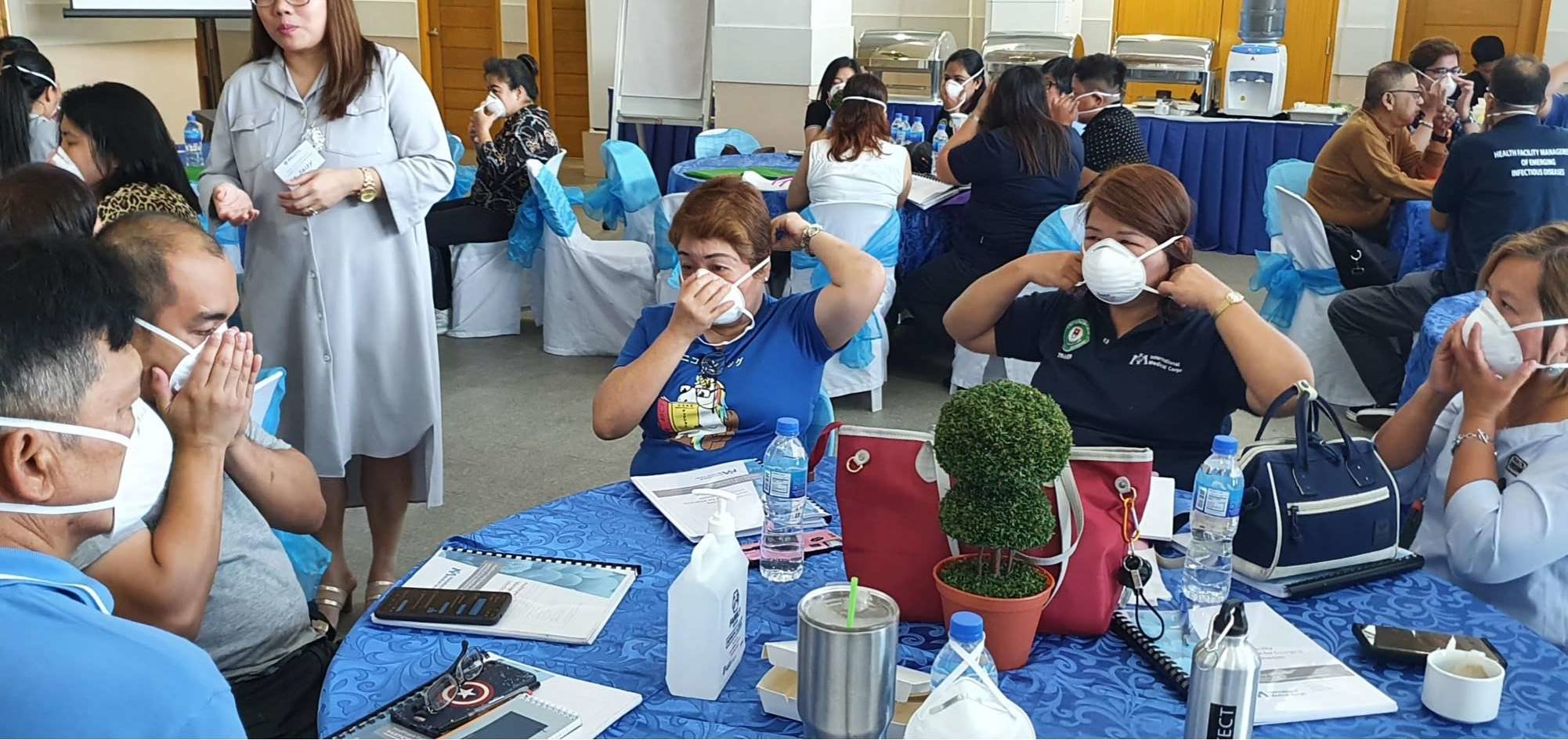 Emergency Response Training on the proper use of personal protective equipment (PPE).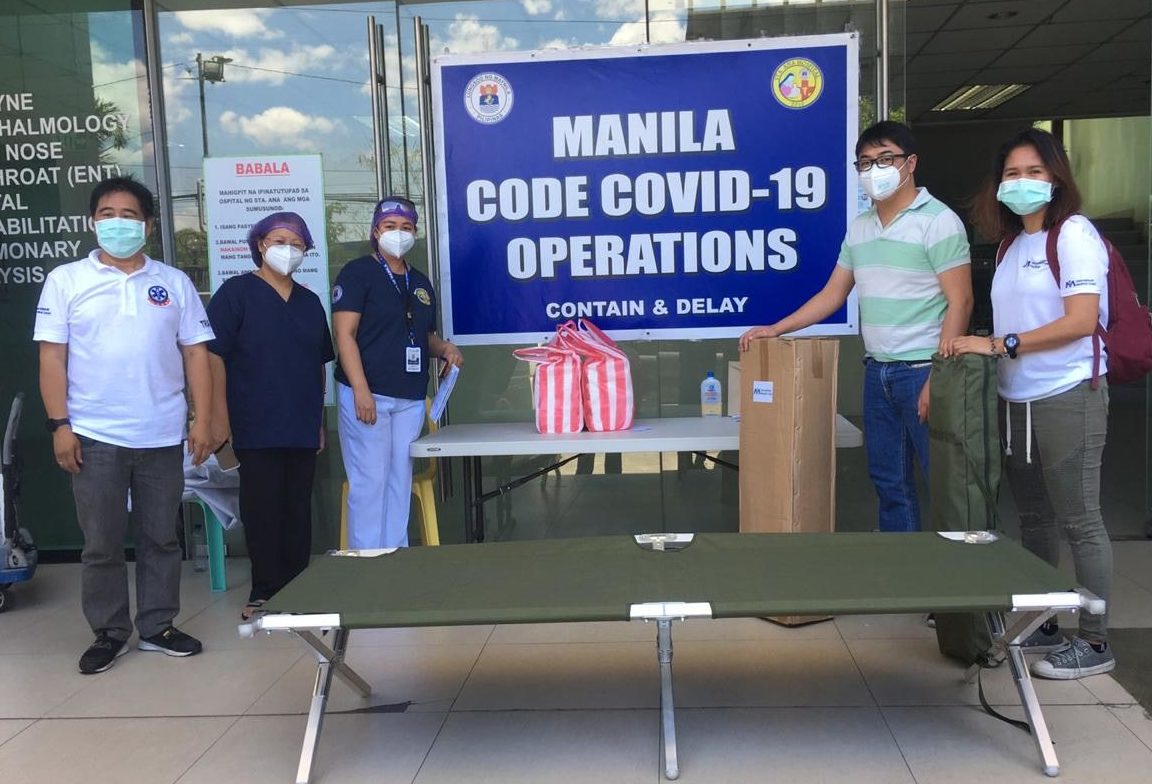 International Medical Corps' donation of 10 cot beds for patient use and 20 electric fans for health care workers use.