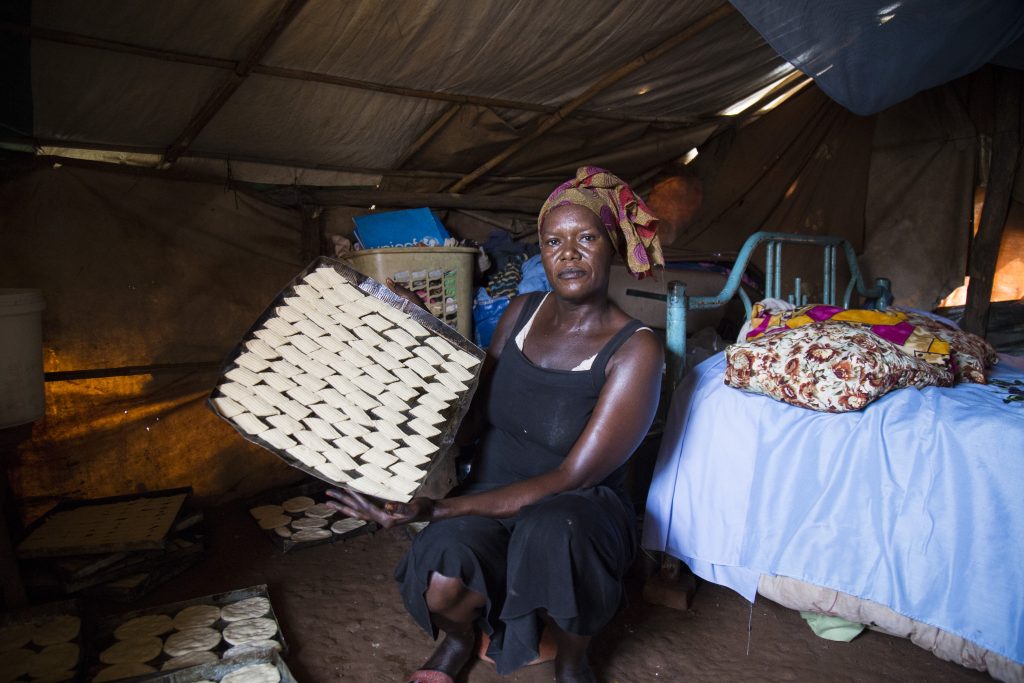 Livelihoods
Nutrition & Food Security
A livelihood constitutes the ability to make a living. A livelihood is sustainable when it can survive the stress and shocks of the surrounding environment while not undermining the natural resource base.
For more than two decades, International Medical Corps has provided livelihoods assistance to enable communities to recover from disaster. In the face of armed conflict or natural disaster, those most vulnerable are often forced to sell off their limited wealth—including livestock, seeds and household goods—to purchase necessities required for survival, such as food, medicine and clothing, or to pay for school fees and other essential services.
Because of this, protecting and promoting livelihoods is central to our mission to support swift recoveries from disaster and to strengthen local capacities to survive future shocks. We help expand temporary income-earning opportunities—focusing, for example, on rebuilding, strengthening and diversifying the centers of wealth that communities draw upon for their livelihoods.
We support entrepreneurship and other market-based livelihoods, such as vocational and life-skills training. We provide cash grants, cash for work and non-farm income-generating activities. We support village savings-and-loan schemes to create job opportunities within communities—including for younger members of the community, who might otherwise be forced to migrate to earn enough to survive following a disaster.
---
Our Response
SOUTH SUDAN: Livelihood Support for Women
We implement the gender-based violence (GBV) component of the Humanitarian Assistance for Resilience in South Sudan (HARISS) project. As part of this, we provide survivors with the assistance they need to improve their income, a pathway that we find contributes to an enhanced sense of self-worth as well as the ability to contribute to upkeep of the household. This added confidence reduces the vulnerability of women to gender-related violence. We have provided about 1,780 women with the training and resources needed, including micro-grants, to establish small businesses in eight of the UN administered protection of civilian (PoC) sites in the country.
NIGERIA: Livelihood Support for Women
As part of our psychosocial support to women survivors of GBV, we provide livelihoods support to enable beneficiaries to engage in the making of traditional goods. This has contributed to improving incomes and enabled beneficiaries to access some needed household products.
YEMEN: Livestock Replenishment
Livestock is important to both livelihoods and food security, particularly in the developing world. It is a cultural symbol of wealth in some societies, as well as an asset that can be liquidated to meet food and other needs in difficult times. As food, livestock is a source of protein and minerals. In Yemen, we have distributed 3,600 sheep and goats to more than 1,200 households whose farm animals were lost to war and whose children struggle with severe or moderate acute malnutrition. The new animals have helped these households rebuild their livelihoods and have improved their access to nutritious animal-source food. We also have undertaken large-scale veterinary vaccination, deworming and treatment campaigns, in partnership with the Yemen Veterinary Service, to protect the livestock from depletion and to inform herders about improved animal production techniques. In addition, we have provided households with livestock feed.
ETHIOPIA: Promoting Market-driven Economic Opportunities
In partnership with other INGOs, we are addressing the root causes of migration for youth and women in the Somali region by establishing self-help groups to promote savings among refugee populations, linking these groups to financial institutions to access loans for enterprise development, administering livelihoods, providing business and vocational skills training, and educating at-risk populations aware about the dangers of irregular migration.
As many as 2 billion people globally suffer from micronutrient deficiencies—a condition better known as "hidden hunger."
By 2050, the world will need to increase agricultural production by at least 60% to feed a projected 9 billion people in the world.
670 million people are living in poverty, with the global poverty rate expected to increase in the coming years. Poverty is one of the key drivers of vulnerability and hunger.