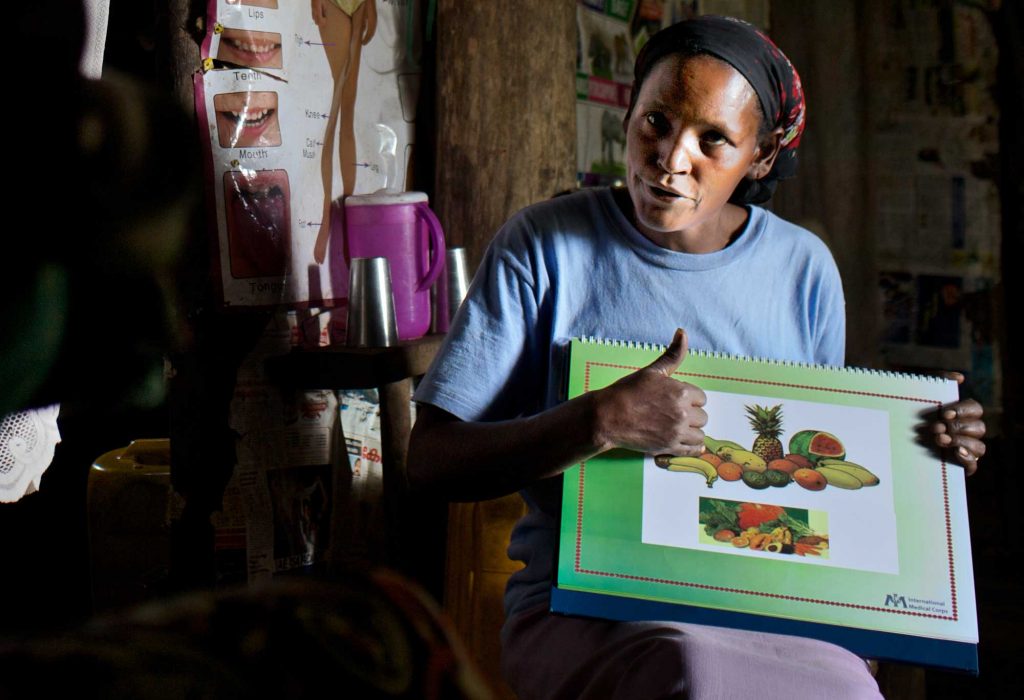 Nutrition
Nutrition & Food Security
Nutrition: The Pivotal Ingredient to Good Health
Nutrition is pivotal, especially during a child's first 1,000 days (from conception until reaching the age of 2). Suboptimal nutrition during this window of opportunity deprives a child of reaching its full potential and can impair physical and cognitive development.
Increased nutrition-related morbidity and mortality, the added risk of developing noncommunicable diseases later in life, and reduced IQ and school performance can all be attributed to malnutrition. In addition, malnutrition during childhood can have an effect on future generations—when malnourished adolescent girls have sub-optimal nutrition during pregnancy, it can lead to low birthweight babies, who in turn may experience malnutrition during childhood. It is therefore essential to break this intergenerational cycle of malnutrition with appropriate nutrition and food security interventions.
Nutrition in Emergencies
The number of people forced to flee their homes globally because of armed conflict or persecution hit a record high of nearly 80 million people in 2019, the most recent data available from the UN. In the majority of such emergencies, people often experience both long- and short-term challenges with dietary intake, which can lead to malnutrition. Common forms of malnutrition in emergencies are acute malnutrition, micronutrient deficiencies and—if the crisis is prolonged—a prevalence of stunting. Practices surrounding maternal, infant and young-child nutrition can also deteriorate. Because of this, both treatment and prevention are essential aspects of a nutrition response in emergencies.
Preventing malnutrition during emergencies is crucial to reduce the risk of nutrition-related morbidity and mortality. Prevention focuses mainly on infant and young-child feeding (IYCF) practices, such as early initiation of breastfeeding (within one hour after delivery), exclusive breastfeeding for the first six months and appropriate complementary feeding for children aged 6–23 months. Children who do not receive exclusive breastfeeding up to six months are 14% more likely to die than those who do. Exclusive breastfeeding also reduces episodes of child diarrhea by nearly half. IYCF activities can be implemented at a health facility through both individual and group counseling, linked with community-based management of acute malnutrition (CMAM). At the community level, these activities can also occur through the care group model, mother-to-mother groups and the men-as-partners approach.
Treatment of acute malnutrition, in both its moderate acute and severe acute forms, is critical in emergencies where inadequate nutrition is so often an issue. We provide nutrition services for acutely malnourished children aged 6–59 months and to pregnant and lactating women (PLW), the most vulnerable groups in any population. Acutely malnourished children aged 6–59 months receive ready-to-use supplementary or therapeutic foods (RUSF or RUTF) and routine medication, such as antibiotics, at outpatient facilities. Although we treat these children at home, they should visit a health facility frequently during their treatment to receive medical care, nutrition supplements and continuous monitoring. We admit children with acute malnutrition with medical complications, or those aged below six months, to inpatient facilities, where they receive specialized medical and nutritional treatment. Presently, almost 47 million children under 5 worldwide are acutely malnourished. Treatment of acute malnutrition is the most cost-effective nutrition intervention to prevent child mortality, with the potential to save more than 917,000 lives annually.
Community mobilization and sensitization are key to both preventive and curative strategies. They are essential to creating awareness among community residents about available nutrition services, to monitoring children and pregnant or lactating women and refering them to the nutrition services if necessary, and to conducting tracing for those children who have defaulted in the CMAM program. Community sensitization also involves social behavior change, which is tightly linked to IYCF, WASH, health and other technical areas. This makes cooperation with other technical sectors crucial to achieving maximum impact when nutrition programs are part of emergencies interventions.
Tech RRT
International Medical Corps initiated and leads the Tech RRT, which includes Action Against Hunger and Save the Children as implementing partners. The project goal is to improve overall emergency nutrition response by providing technical advisers quickly for in-country or remote support during humanitarian crisis, and building the capacity of all involved in emergency nutrition responses. In 2021, Tech RRT—created initially as a technical rapid response team (RRT)—is changing both its role and its name to become the technical support team of the recently formed Global Nutrition Cluster Technical Alliance. It will continue to fulfill its same function in emergencies, but will have added capacity to draw expertise from a larger number of organizations.
Global Nutrition Cluster (GNC) RRT
International Medical Corps is an active member of the GNC, as well as host to a roving Nutrition Cluster Coordinator and Information Management Officer on behalf of UNICEF, who deploy to emergencies as needed. We are also a co-lead of national nutrition clusters in South Sudan, Yemen and northeastern Nigeria.
In 2020, International Medical Corps supported 1,105 sites globally, managing either moderate acute or severe acute malnutrition without medical complications. We supported another 82 treatment centers that managed severe acute malnutrition with medical complications.
According to the Global Panel on Agriculture and Food Systems for Nutrition, reducing malnutrition will help alleviate poverty and generate government budgetary savings.
In 2020, we screened more than 1.5 million children under 5 for malnutrition.
Our Response
International Medical Corps has a strong history of responding to nutrition needs in emergencies, starting with the 1992 famine in Somalia. International Medical Corps' malnutrition treatment evolved from a strictly center-based approach in the 1990s to a community-based approach using the best-practice approach of the Community-based Management of Acute Malnutrition (CMAM) model to manage moderate and severe acute malnutrition.
International Medical Corps' nutrition strategy for 2021–2022 contains four components that anchor our work: standards and approaches, evidence-based best practices, global knowledge management and transfer, and capacity strengthening.
Standards and approaches. This component prioritizes strict adherence to minimum standards to assure high-quality programming. Our work involves setting end goals to then determine what conditions must change to reach those goals—a technique known as the theory of change.
Evidence-based best practices. This component underscores that all programs and initiatives we implement are evidence-based, using either design findings from the global nutrition landscape or evidence generated from our operational research to address needs and capitalize on existing resources and national protocols. We create and apply current best practices, including innovative approaches, wherever possible. One such example involves ongoing research to assess nutrition risk factors, such as anemia and acute malnutrition, and how they affect the progression and outcome of COVID-19. Together with Johns Hopkins University, International Medical Corps conducts this research in the Democratic Republic of the Congo and South Sudan.
Global knowledge management and transfer. This component contributes to global learning. We document and disseminate the results of our work and programmatic learning through global communities of practice, such as the Emergency Nutrition Network and the Global Nutrition Cluster.
Strengthening capacity. This component is conducted both individually and organizationally through formal training, learning exchanges (such as digital platforms) and field exchange visits. We also work to build the capacity of ministries of health, local partners and local communities.
International Medical Corps implements our nutrition programs globally. Long-term development programs focus primarily on preventing all forms of malnutrition while treating those who are already malnourished. We have implemented emergency nutrition programs—providing, among others, CMAM and IYCF services—in 19 countries and territories on three continents: Afghanistan, Cameroon, the Central African Republic, Democratic Republic of the Congo, Ethiopia, Gaza, Iraq, Lebanon, Jordan, Mali, Nigeria, Puerto Rico, Somalia, South Sudan, Sudan, Syria, Turkey, Yemen and Zimbabwe.
International Medical Corps' malnutrition programs focus on the period from conception through the 23rd month of a child's life—the "1,000-day window of opportunity"—as a critical opportunity for preventing stunting and the physical and mental disabilities associated with malnutrition. We provide a combination of growth monitoring, nutrition education (including individual counseling), the use of micronutrient supplements distributed through health facilities and, as part of our ante and postnatal care, infant checkups and community outreach. Our nutrition education and counseling promote healthy pregnancies and IYCF practices that include exclusive breastfeeding and appropriate introduction of complementary food, to ensure healthy growth at the fetal stage, during infancy and during early childhood.
To reinforce nutrition messages and create behavior change within the community, International Medical Corps works with local residents to develop peer support groups including the care group model, such as mother-to-mother groups and the men-as-partners approach. Care groups are led by local female volunteers trained by International Medical Corps who meet on a regular basis with mothers and their young children. The goals of these community-based behavior change interventions are to:
prevent malnutrition by disseminating nutrition, health, family planning and hygiene information;
improve mother/child interaction through methods like infant stimulation; and
empower mothers and fathers, and their community, to take responsibility for the growth and development of their children.
Mother care groups improve behavior change, reduce costs and build a sustainable community-level health promotion structure. Health and nutritional improvement cannot be ensured unless communities are aware of and utilize available health services. In addition, because most of the decisionmaking regarding critical influential behaviors occurs in the home, International Medical Corps targets households and individuals, as well as health facilities and community leaders, to bring positive and lasting changes in attitudes, knowledge and behaviors.