The entry below is written by Fayad Al-Derwish, our Senior Officer responsible for water, sanitation and hygiene (WASH) programming in Yemen's southern governorates. Since late 2020 he has written about his work, describing the people he and his team have met and helped along the way. Later this month, after five years with International Medical Corps, he will leave to continue his lifesaving work elsewhere in Yemen's humanitarian sector. In his final post below, he recalls some of the highs and lows that have been part of that journey.
So much has happened—it seems a lifetime has passed since I began this work in February 2017. It was my first  experience with humanitarian work, and the changes were jarring  as I struggled  to adjust from my previous life at an international  commercial trading company while living at home with my family in the relative safety of the capital, Sana'a. My new job was in the city of Ibb, about 100 miles south and a world away culturally from where I had spent much of my life.
In just about every respect, it was a new beginning.
Fighting Communicable Diseases
Although slightly less than 100 miles on a map, the distance from Sana'a to Ibb is half again as far using the winding roads that lead there. Years of war and neglect have left those roads in such disrepair that the trip by car today is a major undertaking. In 2017, it was already an arduous and risky journey.
Within two months of my arrival, heath authorities had declared a major cholera outbreak in the region around Ibb and elsewhere in central Yemen. The number of cases grew with frightening speed, topping 1 million by the start of 2018. By the end of the following year, that number had crossed 2.2 million, making it by far the largest cholera outbreak in world history. It was exhausting trying to keep up with the demands for assistance. There was no time to relax.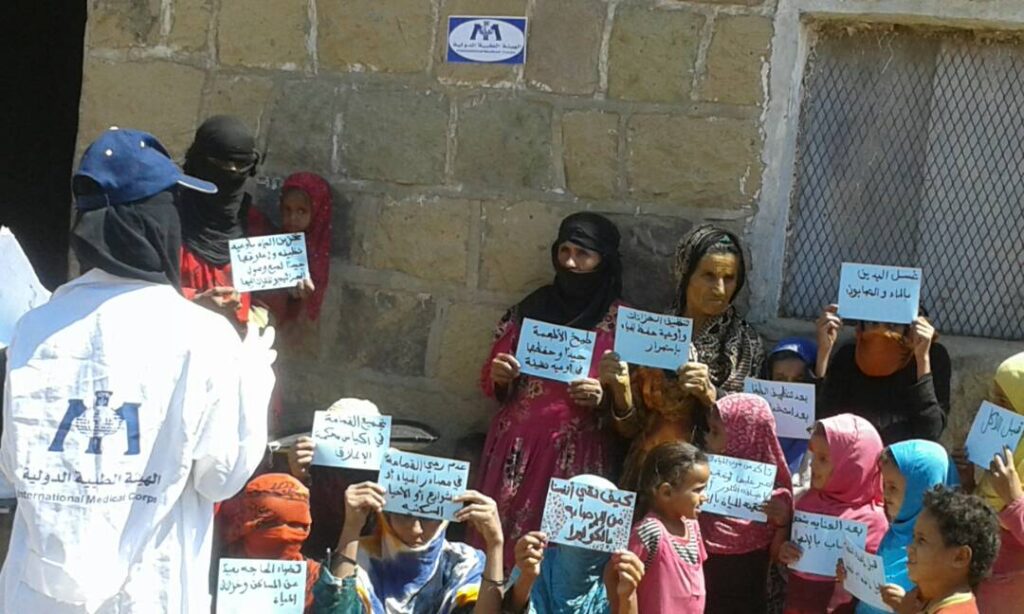 International Medical Corps was among  the first international relief groups to fight the outbreak, opening fully equipped diarrhea treatment centers (DTCs) in Sana'a, Taiz, Ibb and elsewhere. We distributed more than 50,000 hygiene kits containing soap and other hygiene materials to stop transmission of the disease, and trained health workers and volunteers on simple—but effective—measures, including messaging on the importance of handwashing. In early 2018, a smaller but equally worrisome outbreak of diphtheria was detected, centered in the central areas of Yemen where I was working. We carried out an immediate field treatment campaign, sending in a rapid response team that went house to house in areas affected by the outbreak, distributing 2,500 hygiene kits.
In the beginning of 2020, a new plague began knocking on the doors of Yemen's beleaguered and hungry people—only this time they were not alone. It was a global pandemic. We worked with Yemen's health authorities at both local and national levels to responding to COVID-19, providing expertise, equipment, training, triage and treatment services. We provided thousands of personal protection items and related equipment to local health facilities.
With great effort, we managed to defeat cholera and diphtheria. Our hope now is that COVID-19 may soon also belong to Yemen's past. I am proud to have been part of this great battle against communicable disease.
Repairing Broken Water and Sanitation Systems
With the front lines of Yemen's war never far away, I also became involved in long-overdue projects to repair water and sanitation systems, delayed by unsafe security conditions due to the war. During my time with International Medical Corps, our teams rehabilitated dozens of drinking water systems in both urban and remote rural areas that had fallen into disrepair, systems that had been abandoned with no maintenance or repairs because of the war. I vividly remember being part of the first humanitarian aid group since the war began to reach the beleaguered village of Al-Hanakah, which had the misfortune to be situated in the middle of three actively contested war fronts. Our work there was difficult, but it also rewarding: we were able to change people's lives and restored their dignity and health.
I have many happy moments and stories from my time with International Medical Corps, but I will never forget the sheer happiness—the unrestrained euphoria—that overwhelmed village residents on the day in 2019 when, for the first time in eight years, they saw fresh drinking water flowing from the local well, supplied by the new pump we had just installed. Villagers hugged each other and danced. For the people of Al-Hanaka, it seemed little short of a miracle that deserved the equivalent of a national holiday. I could see the tears of joy in the eyes of village women and male elders. For me it was also an emotional—a very proud—moment. I've kept in touch with residents there ever since. It's clear that our project really did change their lives.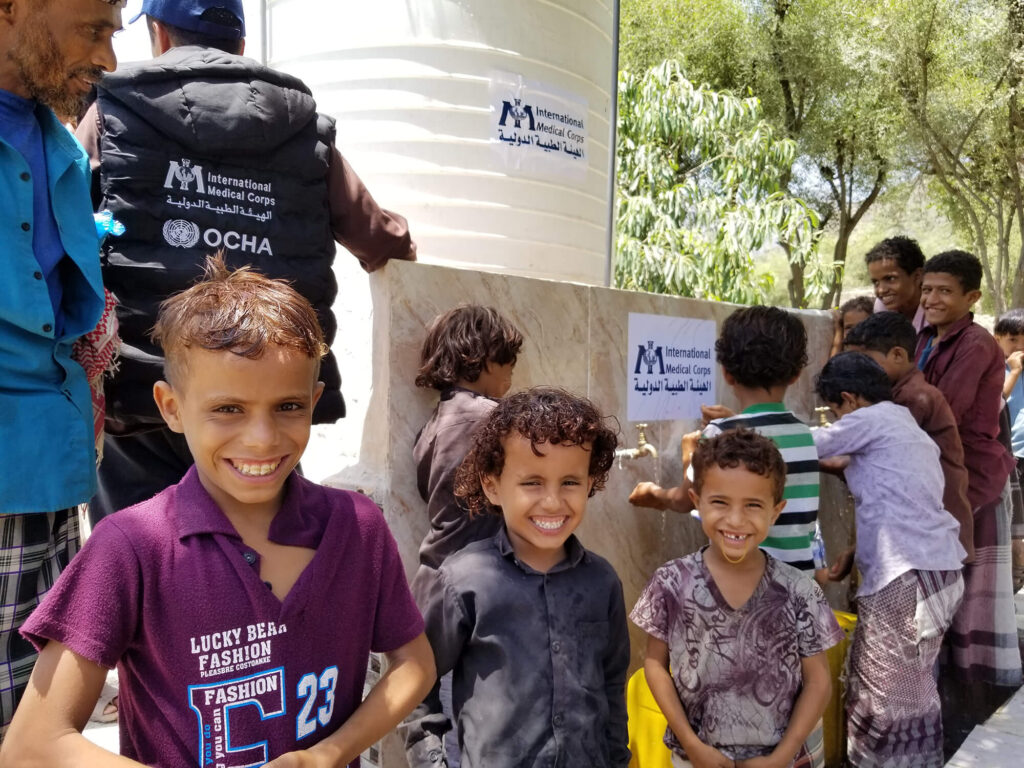 Our team also worked on solid- and liquid-waste management projects—rehabilitating sewage networks, managing large campaigns to clean badly littered public spaces, and building latrines for displaced families living in makeshift housing in villages and urban areas. We rehabilitated the main solid-waste landfills in Ibb and Taizz, the region's two largest cities. Such work isn't glamorous, but it's a critical component of strong public health, and a proven defense against communicable diseases, such as cholera. To sustain the progress achieved with this work, we trained local government employees responsible for water and environmental sanitation on how to maintain water and sanitation systems and keep them in good repair, then supported their efforts by providing essential operational materials and spare parts.
Our work also included rehabilitating hundreds of small clinics and health posts across Yemen that had been forced to close due to a lack of government funding to pay staff salaries, purchase medical supplies or equipment, or conduct basic maintenance.
A New Challenge: Climate Change
Recently, my team and I visited the remote village of Samakha, in the Al-Azariq district of Al-Dhalea governorate in southern Yemen. The village was home to a huge solar-powered water project that had been implemented by an another international organization six years ago. In the last two years, the project had been threatened unexpectedly by torrential rainfalls that passed through the area during the rainy seasons. Water levels reached record-high levels, threatening to wash away the entire solar panel system and other valuable equipment, leaving local residents with nothing.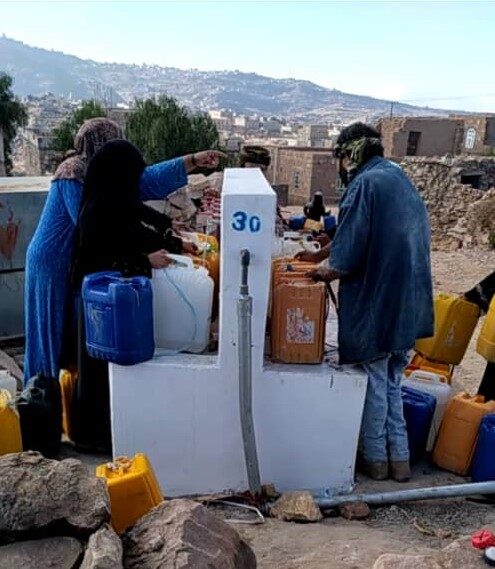 Scientists attributed the sudden, unprecedented rise in rainfall to global climate change—an assessment implying that new rainfall levels would be a long-term issue. As a result, we responded to this new type of disaster by moving the panels and the central control unit to higher and more stable rocky terrain nearby. After helping to rebuild or restore so many projects damaged or destroyed by the whims of war, it was a strange feeling to save a valuable investment for residents of a small village threatened by an entirely new adversary: climate change.
For me, it was one more learning experience in my chosen career of providing humanitarian relief, which has taught me so much. In these five years it has become more a calling than a job, thanks mainly to all of those whom I have worked with as colleagues and those whom I have served. You have helped strengthen my knowledge, my experience and—hopefully—given me the wisdom and a greater understanding of the human condition that so often comes with doing such work.
I am very proud and thankful for it all. I'm confident it has qualified me well for the leadership role I will soon begin elsewhere in the humanitarian sector in Yemen.
---
View previous blog:
Fleeing the War in Yemen: One Family's Odyssey