Aisha Daramy Kabia, Consultant Midwife and Founder of Friends of PCMH
St. John of God Catholic Hospital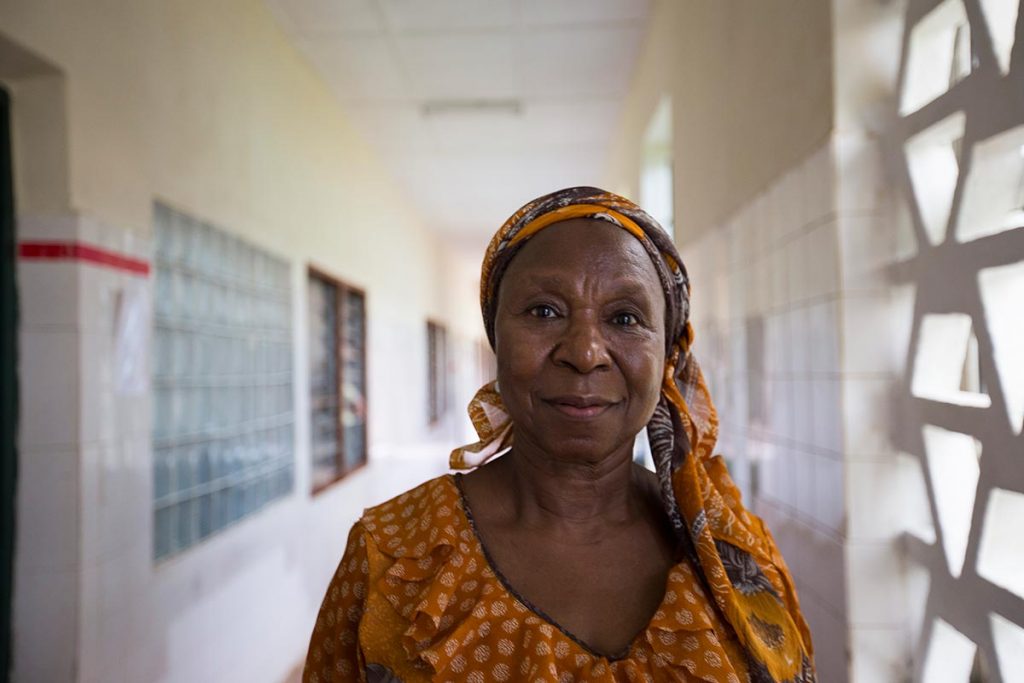 A trained midwife, Daramy Kabia returned to her native country of Sierra Leone after decades living in England to help improve the dismal maternal and child mortality rates in the country. She set up a maternity clinic and founded an organization, Friends of PCMH, which supports a nationwide referral hospital. Then, in March 2014, Ebola erupted in Sierra Leone and Aisha found herself on the frontlines.
"I heard Lunsar was very badly affected," says Aisha. "People were dying and burial wouldn't take place for 2-4 days and that was really bad. I am from Lunsar so because of that I decided to head to Lunsar with the hopes that I could be of assistance there."
The first thing Aisha did was clean the markets with chlorine in an attempt to sterilize high-traffic areas. She also distributed food to quarantined houses, all with her own money. "You cannot hold people in a house together for an extended period without feeding them and that is what was happening here in Lunsar," Aisha explains. "It got to the point where people were dying here of hunger, not Ebola."
In June or July of last year, Aisha teamed up with Brother Michael at St. John of God Catholic Hospital in Lunsar. Together, they rolled out infection prevention control trainings and went out into communities to serve more quarantined homes.
"We dealt with 63 quarantined houses in total," she says. "We gave them wood, coal, water, fish, everything that makes a proper meal. We gave them supplies once a week depending on the household…Every day for 21 days, we would visit these households to take their temperature. So if we had 10 quarantined houses, we went to those 10 houses every day until the 21 days were over and that helped us manage the disease."
When International Medical Corps' Ebola Treatment Center (ETC) opened in November 2014, Aisha was one of the strongest referral links, reporting suspected cases to the staff and following up with those Ebola patients she had been in contact with.
Just before the ETC opened, St. John of God Catholic Hospital was forced to close in September after Ebola snuck into the hospital, killing eight staff members, including their chief surgeon, Dr. Manuel García Viejo. Together with International Medical Corps, Aisha helped establish a triage system at the hospital's entrance to carefully screen for Ebola and immediately isolate any suspected cases. It was because of these efforts that the hospital was able to reopen in January.
"[The triage] gave the confidence to staff because we have so many checkpoints to keep a case from coming into our hospital," says Eugene Osei-Wusu, the hospital's administrator. "What we are doing now was all imparted by International Medical Corps."
Now that Sierra Leone has been declared free of Ebola, Aisha is turning her attention back towards maternal and child health, but continues to work with St. John of God Catholic Hospital and International Medical Corps in her wider mission to improve the health care conditions in her country.
"I am happy," Aisha says. "I think this is my happiest moment in Sierra Leone honestly. I fought and the people in the village they recognize and they appreciate and everywhere you pass through Lunsar they will tell you if it was not for Mrs. Kabia…"
---
Mariatu Kamara, Ebola Survivor and Psychosocial Officer
Lunsar Ebola Treatment Center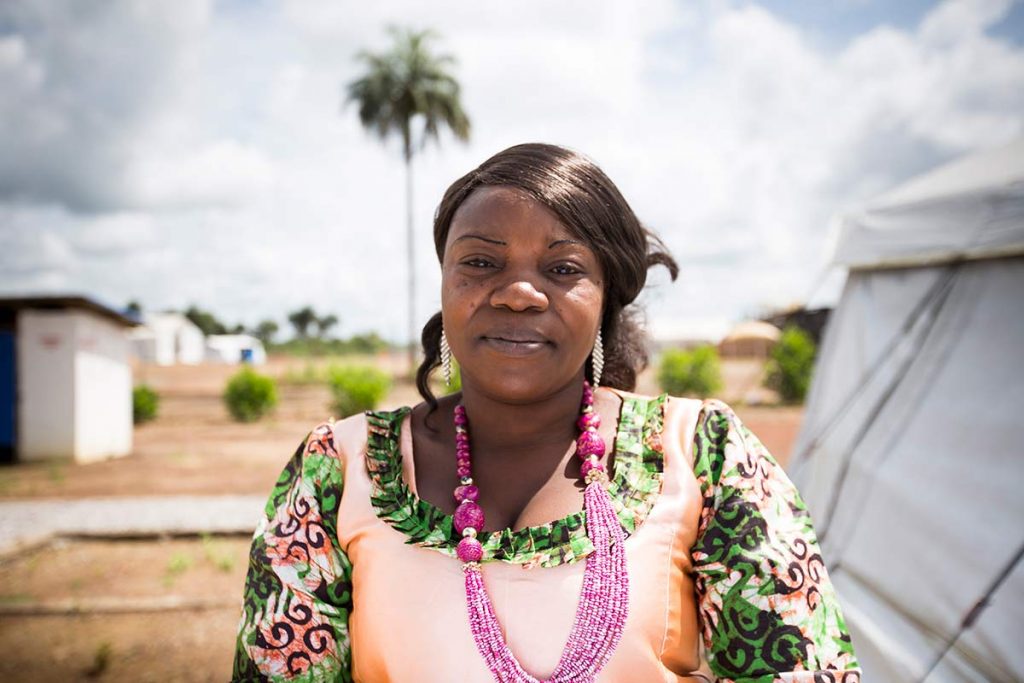 "When we first heard about Ebola, we thought it was to do with politics," says Mariatu Kamara. "We denied it. There were those who said it was witchcraft. While others said it was a curse that had been placed on some people. When my sister, who was a nurse, got very sick, I wondered whether it was indeed a curse. I cared for her. I washed her. I hugged her. I held her. I didn't want her to die, but she did."
Two weeks later, in September 2014, Mariatu, her 24-year-old daughter Rainatu, and her adopted 12-year-old daughter Fatmata all got sick with the same symptoms. She hired a taxi to take them to Port Loko Hospital, where the doctor advised his staff not to touch them because they suspected they had Ebola. They were put in a big hall on their own. Hours passed and not a single person checked on them.
At around 6 pm that night, Rainatu died.
"Fatmata and I struggled to call out for a nurse but no one came," she says. "It wasn't until day break that they came to take her. So I slept with my daughter until they came for her in the morning."
Four days later, Mariatu and Fatmata were transferred to Kenema Hospital. They picked up three other people along the way—two of them died en route. "I thought, 'God, after these people, the next has to be me,'" Mariatu recalls.
But she and Fatmata miraculously survived. They returned to their home in Lunsar and found that all the people who rented rooms with them had died or left. "Our area was like a ghost town when we returned," Mariatu says. "It used to be full of people and was very lively. But Ebola claimed a lot of lives in my area. There are two houses nearby that are empty now. Everyone in those two houses passed away. Whole families were wiped out."
Mariatu could not shake the grief and guilt of her daughter's death. When Georgina Campbell, International Medical Corps' psychosocial coordinator in Sierra Leone, asked to meet with survivors around Lunsar, she went to voice her concerns. "I told them I was hurting and really stressed," she says. "Out of all the ten people who I know who died, none hurt more than my own child. I told them that even though I had recovered from Ebola, I was stressed and needed help."
She also said she wanted to work.
"I told them that if they gave us jobs, survivors like me could be an example to the other patients who are refusing medication and losing hope and the will to live," Mariatu says. "And we could go into the communities to let people who want to deny that Ebola is real know that it is not witchcraft or a curse because of theft."
The next day, Georgina asked Mariatu to come by for an interview. She was hired as a psychosocial officer, a role that had her sitting beside patients in the Ebola Treatment Center (ETC), encouraging them to stay strong, and out in communities to share the facts on the virus and how it can be prevented. "It is very rewarding for me to have this opportunity because I can see the difference that it makes," she says.
Through her work on the psychosocial team, Mariatu has become a leader in her community, and no longer faces stigma as an Ebola survivor. When people have problems, they often turn to her for advice. "I have a happy life," she says. "Everyone is coming to my house now."
But not a day goes by when she does not think of her daughter. "I still miss my daughter, but I am learning to cope with the pain," says Mariatu. "If I had held onto that pain it would have killed me even if Ebola did not."